8/30/2017 7:49 pm

There are less then 40 days left until the return of Supergirl, if you go by our countdown clock! There is a lot of action starting to spin up as we get closer and closer to that October 9th return date! One of the signs you can tell that The CW is gearing up to start bringing the new content is this new extended four show "Super Saver" trailer. It shows all of the DC TV Shows in the Arrowverse but does have some new footage of our Girl of Steel. Also, considering the comradery between the shows, this promo actually is cut together quite well! Check it out for yourselves below:
Let us know what you think of the action in the comments below and in the forum! Also keep us going as your advertisement free source for Supergirl news and visit the support page!
8/26/2017 11:21 am

Now that Supergirl is going into their third season, fans will remember how the schedule of a TV show works. Usually there is a big premiere which is followed by new episodes for a while until a first act break (generally around the first third of the season). This is because its not as profitable to run new episodes when you can do reruns of Christmas specials and so forth. That said, its always a question of how many episodes we'll get before the first break. We can confirm today that at least the first eight will be uninterrupted! This means that we'll have new episodes of Supergirl from October 9th through to the crossover on November 27th! Not a bad way to spend two months! As for new episodes after the crossover/after the holiday break, we aren't sure but going into a holiday break with the crossover like last year makes sense.
In other news, two decent sized spoilers were announced from Entertainment Weekly. We've added them to our spoilers page but when they are this big, they are already in the main stream. The first is the fate of Maggie Sawyer. While we still don't know what that ultimately is, we can report on what it isn't. Maggie Sawyer does not die, as confirmed here. Executive Producer Andrew Kreisberg said:
Maggie does not die. I'm sure a lot of people are afraid of that. Maggie will continue to exist in the world and we hope that if the opportunity presents itself for her, that she'll come back from time to time. Unfortunately, Floriana decided to move on, which left us with, how do we write her out as a regular while still honoring these two women who were deeply in love with each other? Taking a page out of some of our own personal dating history, we've come up with a story that we really feel like honors what's come before them, and honors how much they love each other, how much they mean to each other, and how much they've changed each other's lives. It's some of the most emotional stuff we've ever done, and Floriana has been so good in these first five episodes. Episode 3 is all about Maggie and her dad, played by Carlos Bernard, and it's some of the most heartbreaking stuff I've ever done on anything I've ever done.
The second spoiler comes from a Spoiler Room article also found on Entertainment Weekly. Kara and Lena will have many more adventures as the season begins. Executive Producer Andrew Kreisberg said:
Lena and Kara's friendship will continue to grow. There's a lot of Lena-Kara adventures early on in this season. The most interesting thing about Lena is that she is so good, and so moral, and believes in second chances, but she comes from this family of truly evil people. As people are going to realize over the course of this season, it doesn't take much to make you bad. People don't just turn evil. They do one small bad thing and then that leads to another, and then to another, and so any time you're watching Lena, you're always wondering, 'Is this the moment when she does the one small thing?'
In our eyes, both help give clues to how the season will unfold but don't provide details to the plot or hardships the Girl of Steel will face this season. Supergirl returns to The CW on October 9th at 8pm! Let us know what you think of these spoilers and if you plan on watching all the new episodes in a row like we'll be doing! Comments are below and the forum is the perfect place to share your opinions. Keep us running and advertisement free and visit the support page!
8/23/2017 12:14 pm

BREAKING NEWS! One of our favorite directors, as well as the fans' favorites, Larry Teng has confirmed that he'll be back behind the camera and calling the shots for Supergirl's eighth episode in season 3 as the director! What makes this news even more exciting is that the eighth episode is scheduled to be the first part of the officially announced "TRUE" four show crossover event starting Monday, November 27th 2017! Larry's previous directorial credits on Supergirl include; "Human for a Day", "Falling", "Better Angels", "Changing" and "Homecoming". The fact that we'll get to see Larry's direction yet again is mighty exciting but added that this is a crossover episode means the amount of character's he'll be able to work with blows this news out of the water with excitement!
Supergirl is currently filming their fifth episode of season 3 with director Kevin Smith in Vancouver BC. They are scheduled to be on location for a night shoot tomorrow going into Friday at the Walnut Grove Community Centre. Filming will take place in the parking lot and in the pool. If the production schedule holds, Larry Teng should be arriving to prepare for the episode probably in a couple of weeks.
Supergirl returns for its' third season October 9th on the CW at 8pm! Let us know what you think of Larry's return and it being a crossover episode in the comments below and in the forum! Keep us your Supergirl source for news and spoilers and visit the support page to keep us advertisement free! Seriously a $1 donation a month means the world!
8/21/2017 2:45 pm

Many great figures were discovered at San Diego Comic Con this year. Arguably the best one in the 1/10 scale had to be the newest offering from Kotobukiya Craftmanship. Kotobukiya has been a personal favorite of ours for decades, so when we learned that Kotobukiya was going to make a figure in the likeness of Melissa Benoist's Supergirl, we were elated! We have a great gallery for you to check out below. The four images below show the three variations that the figure allows. Each perfectly showcases the attitude that Melissa brings to the tv screen each week on The CW. If you really want to examine the incredible detail this figure has, we are adding four direct links to the ultra hi-res images we have that showcase just how incredible this figure is!
---
Hi-Res: Image 1 | Image 2 | Image 3 | Image 4
Here's the best part! If you think this figure is as amazing as we do, then you can have a chance to win one! Supergirl.tv, in partnership with Kotobukiya, are giving one away! All you have to do is fill out the form below! The contest is open globally so no regional restrictions. The figure is available in late February 2018. While we will select a winner on September 1st, the winner will not receive their figure until the figure is released by Kotobukiya in late February 2018.
Contest Complete: Thank you for participating.
(Why are we asking for this information? We need to know who you are and where you live so if you win we can contact you that you've won and know where to send the figure. Only entries submitted at the website (Supergirl.tv) may be used to enter the contest. Winner will be selected at random from all eligible entries received. All blanks must be filled in accurately or entry may be considered ineligible. Your email may be used to contact you with information about new Kotobukiya products. You can easily remove yourself from their list if you so choose after the contest winner is announced. One entry per household. Multiple entries will be removed.)
Not willing to play the odds? Then don't wait! These figures sell out FAST! You can get your own Supergirl figure on pre-order by going here:
Supergirl returns to The CW, for season 3, October 9th, 2017 8:00pm! Let us know what you think of this figure in the comments below and in the forum! Also, keep us rolling as the biggest Supergirl site in the world and advertisement free by visiting the support page!
8/17/2017 8:45 am

Many of you have been asking us when will the season 2 soundtrack for Supergirl's second season be released? Well today we have a date for you! Ever since our exclusive interview with Arrowverse composer Blake Neely at San Diego Comic Con 2017, we've known that there will be a soundtrack released but many want to get their hands on it. According to the main man himself, Blake Neely, via Tweeter, all of the Arrowverse soundtracks for last season will be released October 10th, 2017! That sounds like a perfect date for us! We get our season premiere of Supergirl on the 9th, then we can enjoy the music from season 2 on the 10th!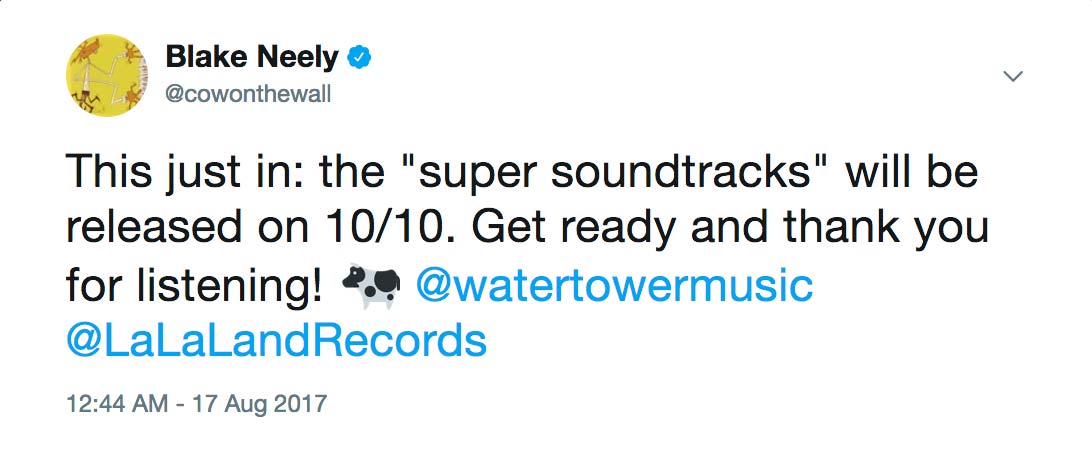 Keep an eye out for order information on Watertower-music.com or Lalalandrecords.com. We also believe that the albums will be available for digital download the same day via the usual source iTunes and Amazon but we'll look to confirm that.
Supergirl returns to The CW October 9th, 2017 at 8pm! Let us know what you think about the second season soundtrack release in the comments below as well as the forum! Keep us your advertisement free source for Supergirl news by visiting the support page!