9/16/2018 12:10 pm

We are only four weeks away from a new episode and new season of Supergirl and Sunday is the perfect day to reveal a new poster for season 4! As you all should know now, Supergirl is heading a brand new night of television for the CW by moving to 8pm on Sundays! This marks the sixth original programming day for the network, up from five last year. The network's move to make more shows on a new night shows the popularity of Riverdale and the Arrowverse shows are making money for the company! A great sign for longevity of the series! But enough with that, let's get to the new poster!
Last year's theme was "What does it mean to be human?". This was explored very literally in the beginning of the season with Kara falling deep into her Kryptonian personality. This year the theme is "A force against fear". This will be addressed by a game-changing first episode in season four that will set the tone for the rest of the season. Interestingly enough, while we don't believe all the rumors about Parallax from Green Lantern being brought to Supergirl in episode five this season, it is interesting to note that Parallax was empowered by fear and thus, Kara could be the remedy. Just some fun food for thought there. Check out the poster below: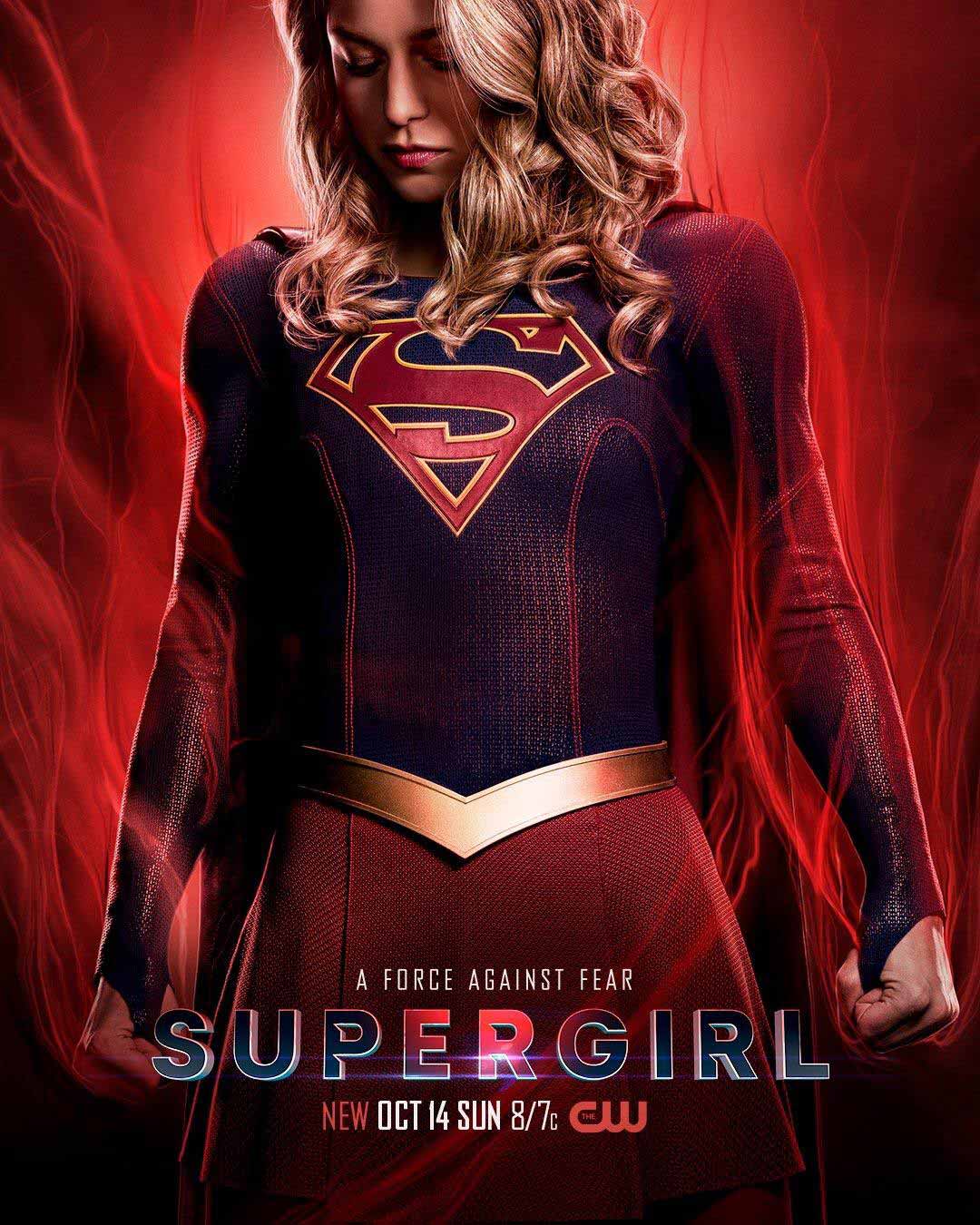 After you are done setting this at your phone's new background let us know what you think in the comments below and in the forum! Keep us advertisement free and visit the support page!
9/15/2018 12:06 pm

The flood gates have opened! Casting news is coming out at a breakneck speed, a couple of new trailers have launched and now we are getting our first look at episode 1 in the form of 17 new images! The images give us a great first look at Nicole Maines' Nia Nal, Rhona Mitra's Mercy Graves and Robert Baker's Otis Graves. In addition, we get to see James and Lena working their corporate look and some very stunning images of Supergirl looking heroic. The last photo is pretty interesting too and the only photo of J'onn. He seems to be consoling or getting information from an alien. From what we are hearing, episode one is going to be game changing!
Let us know what you think of the new images in the comments below and in the forum! Keep us advertisement free and visit the support page!
9/14/2018 1:00 pm

This year's crossover event has been shaping up to be epic! We asked once how the pros at CW were going to top the Dominators and they did with Crisis on Earth X! After Crisis, we wondered how could they top that? Well yet another piece of that puzzle is revealed today! In addition to Superman, Lois Lane and Batwoman making their debut on the crossover, Nora Fries, wife of the infamous Batman villian Mr. Freeze, has been cast! Speaking of wives, Cassandra Jean Amell, wife to Stephen Amell (Oliver Queen/ Green Arrow) has been tapped for the part! We are already hoping for a scene with Nora and Oliver! Additionally, this might indicate that the crossover is going to be based in Gotham or at least there will be more scenes in Gotham. First Lois Lane, and now Nora Fries ... This is going to be amazing!
Let us know what you think of the news in the comments below and in the forum! Keep us advertisement free and visit the support page.
9/14/2018 11:00 am
It's a question fans have been wondering about since the crossover featuring Superman and Lois Lane was announced; who will play the incredible Lois Lane? Today we have our answer! Elizabeth Tulloch, famous for her roles on NBC's Grimm, Parkland and The Artist, has been cast as the intrepid reporter! Tulloch will be featured on the opening episode of the crossover, The Flash, as well as the ending episode of the crossover Supergirl (note both shows have swapped places for this one time event). Tulloch brings a rich plethora of acting credits as well as an impressive academic career. She attended Harvard University and graduated magna cum laude with a double major in literature and fine arts. Lois is described as:
Daughter of US General Sam Lane, Lois is a tenacious, righteous and stubborn reporter who will go to any length to get the story and almost never fails.
In addition to the great news, Elizabeth herself took to social media to share her overwhelming excitement for the part! Here's what she had to say about becoming Lois Lane:
Excuse me while I fangirl for a moment: I am so excited (thank you Warner Brothers, the CW, DC Comics, @gberlanti, @davidrapaport, Jessica Queller et al) to be playing the iconic Lois Lane on the Arrowverse crossover episodes. And I can't wait to work with my friend @dpanabaker and of course @tylerhoechlin.

When I started acting, one of my teachers asked me to watch the screen tests for the role of Lois Lane for 1978's Superman. All of the actresses were terrific, but it was always clear to me why Margot Kidder won the role: she seemed lit from within, full of joie de vivre. Now, at a time when the noble profession of journalism feels under siege, it's a privilege to join the club of actresses who have played the dogged reporter.

As far back as 1938 when she first appeared in Action Comics #1, Lois Lane has defied and subverted society's expectations of how women should behave. She was portrayed as opinionated, inquisitive, and an unapologetically badass career woman at a time when many representations of women leaned more towards meek and demure.

One of the reasons the character has remained so compelling for the last 80 years is that she has all these formidable, strong-willed qualities, but she's also vulnerable, romantic, and feminine. A truly modern woman.
Let us know what you think of the big news in the comments below and in the forum! Keep those advertisements off Supergirl.tv and visit the support page!
9/14/2018 9:47 am

Supergirl is moving to Sundays! Have we said this enough for everyone to remember? If you're a user on our site, likely this has been hammered into your brain enough. However, The CW wants to make sure folks that are not as fortunate to be members of our site remember the new night too. A new promo has been launched that features Supergirl, Brainy, and the Charmed sisters where they discuss their powers. The video is adorable! It reminds us of the first season and the quirkiness of Kara. There isn't any new footage from the show but the premise was just too cute. Check out the promo below:
Let us know what you think of this promo in the comments below and in our forum! Keep Supergirl.tv the web's number one source for Supergirl related news and visit the support page!