4/1/2017 12:00 am

Oh wow, ok, thanks for solving Mr. Myxzptlk's riddle for us! He's been messing around with us for a while and it looks like today, he finally took it to the next level! Thanks for your help! On to real news, Peter Gadiot's Mxyzptlk was very well received but not as you think. The CW show-runners have been thinking long and hard about the actor and his iconic Super-Mxy suit. While Tyler Hoechlin was a great Superman, Executive producers are looking to bring in Peter Gadiot to replace Tyler as Superman officially. Executive Producer Robert Rovner had this to say:
He just looked too good in the Super-Mxy outfit. All of us on set kept looking at him, his hair, and his body positioning ... we couldn't help but say 'wow', this guy has got it. We got to get him in a real Superman outfit immediately!
The change is said to be addressed in an upcoming episode of Supergirl which will .... aajdjald ... hey, give us the keyboard back! UGH, sorry about that, Looks like Mxy had one more gag to play on us and on you! Happy April Fools day! Obviously there is no truth to this and Tyler is still our favorite Superman! Have a great weekend everyone!
So did we trick you at all or were you on to us all along? Let us know in the comments below as well as the forum! Also, help us to keep doing these gags for years to come and visit the support page! Thanks!
3/31/2017 4:18 pm

Recently, you might have seen articles revealing the true identity, or at least, true alien race of United States President Olivia Marsdin. Comicbook.com was able to get Lynda Carter to reveal that she is indeed playing a Durlan. For those that don't know, Durlans are shape shifters. They are so good at it, rumors abound that they have even forgot what they originally looked like.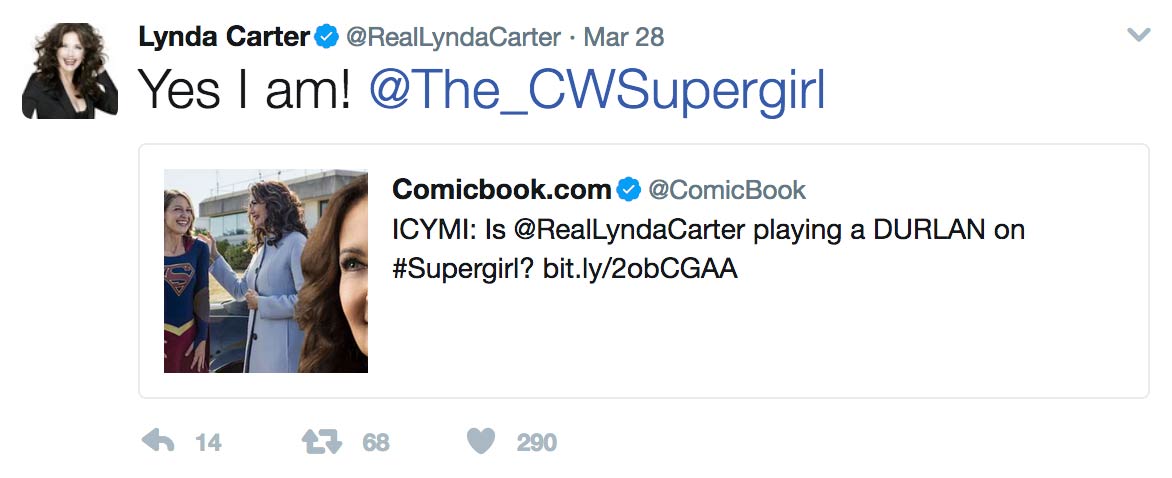 So now that we know Lynda Carter is playing a Durlan, the next question is, what does this mean for Supergirl? In a recent interview with David Harewood for DC All Access, David said that they were all building up for a war. Originally, the Invasion mini-event in the comics included the Dominators, but also were aided by Daxamites, and the Durlans. Could Supergirl be gearing up for a true Invasion event for the season finale? Dominators are strong as well as Daxamites. Durlans can only be exposed by a telepath. This could stretch all of team Supergirl to their limits. Even if Superman came to help, it would be Superman, Supergirl, Guardian, Mon-El, Lyra, J'onn, Alex, Maggie, Winn vs an army made up of three alien races. Just a theory but WOW talk about epic. To add further to the possibilities, David did say the enemy of my enemy is my friend, which in this case could mean that the DEO has to work with Cadmus to save Earth from an invasion!
Let us know what you think in the comments below and in the forum! Also keep us up and running as well as ad free and visit the support page!
3/29/2017 5:55 pm

Hello everyone, we wanted to let you all know what happened yesterday and today regarding our site. If you follow us on social media, you know we had some trouble with the server. Here's what happened: We have worked with a local hosting provider for a long time, even before we launched this site. Its a smaller provider but he has been very good and sweet to us! Sadly, he was thinking of retiring soon right as this terrible hack happened. The server was compromised by a hacking group which took screenshots of their infiltration and demanded a ransom to not attack the sites on the server. With our provider already considering retirement, he took this as a sign to close his business. We had to shut the site down to protect it and look for a new hosting service. Here's what this means:
The Site is 100% Safe: It was not harmed in anyway. None of our users were affected and nothing has been stolen. Since we don't have advertisements and don't use the site for any revenue, nothing monetarily was compromised. Basically all is good.
The New Server Is Dedicated: Our new server is much bigger, much faster, and we control it completely! There are no other accounts on the server that we don't have total management over so we'll be able to monitor the site much better!
New Costs: The new server does come with a bit of an increase so our monthly fees did go up a bit.
Moving forward, if you are seeing this post it means the new site has propagated to your area. There are some areas that may be seeing the site via the old server, which is safe, but is going away. This means you could see some comments disappear, because they were on one server and not on the other. Also, our email is propagating as well which means for the next 24 hours we may not get your email right away. Thank you for bearing with us and if you have any questions feel free to use the comments below, the forum, or the contact page. If you use any of those methods of contact, our server will make a record of it so even if there is a delay in email, we'll be able to see it. Thank you everyone, and El May Arah!
3/27/2017 6:22 pm

Could this be the classic hero trap? Suspect that someone is a superhero and get them into a situation where you know that if they aren't a superhero they will die and if they don't, BAM you've got proof! Well if this trailer for episode 218 "Ace Reporter" is any indication, that is exactly what is in store for Kara Danvers! The explosion ruined her shirt exposing the iconic S underneath! But in this case, the visuals are way better than our words, see for yourself below:
Let us know what you think in the comments below and in the forum! We'll be here to help you through the long wait until April 24th too! Keep that time advertisement free and visit the support page!
3/27/2017 4:28 pm

It's the return of Kevin Smith in the director's chair! The fabled director returns for his second shot at a Supergirl episode and this one was filled with action and mysteries! Apart from Kevin Smith, the mighty Lynda Carter returned to the show as The President of the United States! And if that wasn't enough star power, Teri Hatcher and Kevin Sorbo reprized their roles as Rhea and Lar Gand respectively. There was much to unpack in this episode, here are the points that stood out to us:
Bacon: Melissa has always had a hilarious reaction with food as Supergirl. BACON! Very much the reaction we have! Also, hilarious how fast Supergirl is compared to Mon-El. You know, "his stuff was at the DEO"! Ha ha ha! Fitting that Supergirl would use her speed more after an episode with the Flash!
Yoga: It was a very cute start to the scene with Alex and Maggie walking together after the failed yoga trip! Even though they ran into her ex, Alex was "being pretty cool about all of it". Very interested to see where this goes!
300 Quartz Crowns: Mon-El confronts his parents to get the real scoop on who hired bounty hunters to kill Supergirl. This obviously made sense to us. Aside from Cadmus, who'd hire intergalactic Bounty Hunters? And Cadmus wouldn't want more aliens on the planet, so logically it must be the Daxamites. Calling a spade a spade.
Mon-El vs Supergirl: Kara is much stronger than Mon-El which is a fact that is necessary for the show we think! That said, it wasn't a light fight for Supergirl and Mon-El. He did throw her into a car! That said, it was pretty funny to see them fight. Their reactions to hitting each other was hilarious! As Mon-El said, he had it coming.
Rhea Slashes Supergirl: Well someone's true nature showed pretty quickly. Rhea pulls a Kryptonian Dagger out, slashes Supergirl across the face and then stabs her in the leg! WOW it was a vicious fight! Then Mon-El agreed to go home to Daxam to be the prince and save Supergirl. The biggest revelation from this fight though was that Lar Gand didn't know that Rhea put out the bounty. This means that Lar Gand could be a good guy in the end.
Alex and Maggie: Alex could have come down on Maggie like a ton of bricks but somehow she channels what's best for the health of their relationship and does a stand up job being there for Maggie! Maggie, more or less, is given permission to be vulnerable with Alex and that is the recipe for a successful relationship! Way to knock it out of the park Alex.
Mon-El Wants to Change Daxam: Resigned to his fate to return to Daxam, Mon-El takes a rare moment with his father to plead for a better system than the monarchy that Daxam had. Taking all that he's learned on Earth, Mon-El considers what he could do at his home planet. Then Rhea appears! She is running everything and clearly the more dangerous one of the parents. Lar Gand didn't even know that Rhea put the bounty out on Kara.
The Old J'onn Switcheroo: J'onn takes on Kara's form to fight off the Daxamite crew and void any advantage the Kryptonite weapons gave Rhea. Love seeing a good J'onn fight sequence! Not to mention, Winn shows up to save Mon-El and you get the best Star Wars joke of all time! Winn's reaction to Mon-El finally seeing Star Wars wins the comedy award of this episode!
Final moments as always have a lot to unpack. J'onn has to take the President's discipline for going to the Daxamite ship. We liked that J'onn chose his Supergirl family over orders but who the heck is the president? Maggie gets closure with Emily on behalf of Alex's work which was very sweet! Mon-El and Kara share a moment of victory in Kara's apartment. Most shocking however, Rhea kills Lar Gand! We knew she was fierce but for goodness sake, killing your husband because he wants your son to be happy? FIERCE!
What did you think of Kevin Smith's second time in the director's chair? Let us know in the comments below and in the forum! Also, keep the advertisements off our site and in low orbit like the Daxam ship. Just visit the support page. Also, in our previous article, we are looking for ways to improve the community here. If you have any suggestions feel free to use the contact page and we will agree to keep it private if you so choose.