9/28/2021 7:00 pm

Guardian's debut was quite the success and the people of National City are excited to see their new hero. For team Supergirl, the ripples of that debut remain felt as Alex continues to give Kelly space to digest all that is going on in her life. Nyxly, however, has not slowed in her grand plan of revenge against those in the fifth dimension and against Supergirl. With magic being as strong as Kryptonite to Kryptonians, Supergirl may need to rely on her friend's new powers (Lena) to get the upper hand. The rules of magic don't follow those of science, and being a brilliant mind in her own right, these new rules may be quite difficult to learn for Lena! Did the team get the upperhand? Here's what stood out to us:
Lena's Return: Lena returns and is caught up on the chaos. She and Kara go to the Fortress of Solitude for advice from a Kryptonian Witch named Vida, about courage totem. Museum scientist says a former partner pulled funding for her experiment. The museum has received the shipment that contained the totem of wisdom. Nyxly, now aware that the totem is in the city, gears up to steal it from the museum. Andrea berates William for not being able to find the Superfriends, causing him to have unknown flashes of Supergirl. Superfriends return to the tower to research and narrow it down to the slingshot artifact. Nia slips William the tip about the museum. Nyxly holds the totem in her hand. Before she can activate it, Supergirl slices it in half with her laser eyes. Nxyly barely escapes, holding on to her piece. Supergirl picks up the other. Lena states that the totem is radiating an incredible about of 5th dimensional energy. Brainy goes to inspect the totem, and is controlled by the Kryptonian witch.
The Possession of Brainy: The Kryptonian Witch has possessed Brainy to give the answers they need. The totem is broken and they need to master their half of the totem to call the other half to it. To master this totem, Kara must face the gauntlet. She can only do this alone. It is supposed to cost her a major emotional cost. Supergirl goes to begin the gauntlet and we are returned to the moment when Kara became Supergirl. We see a moment after the saving of the plane and Kara looks like she's saved someone after that moment but for some reason, this is a failure in the totem's eyes. Nyxly begins her mission and we are revisited to when Nyxly attempted her coup. She kills her father in the dream and the totem says that is a failure too. More citizens of National City are influenced by the 5th dimensional energy.
Dragon Battle: Team Supergirl arrives to stop the Dragon attack. Everyone is behaving oddly because of the energy. J'onn is just complimenting everyone. Alex is too aggressive. Brainy can't seem to fight at all. 5th dimensional energy has affected the team. Supergirl and Lena are the only two not necessarily affected. Nyxly also is struggling with the gauntlet. It turns out that Nyxly needs to kill the thing she loves, her brother. Supergirl and Lena sit to try and figure out her trial. Supergirl tries the trial again and fails. The scientist that wants to harness lightning is overly courageous and attempts her experiment.
Witches Congress: Lena speaks with the Kryptonian witch. Lena must embrace her powers if she is to overcome the 5th dimensional magic. Supergirl dispatches the team to stop the lightning strikes while she ponders the gauntlet. Nyxly tries the trial again but doesn't kill her brother. She pleads with her brother instead. This seems to be the right course of action and Nyxly passes her test. The shard that Supergirl had starts to move toward Nyxly's half even while Supergirl holds it.
Totem Trapped: Lena has a trap for the half of the totem that Supergirl has. Alex rushes off to face the scientist without her team. Supergirl figures out that Brainy is also affected with courage. Supergirl arrives to stop the lightning machine. Her team isn't functioning right and in the interest of the greater good, Supergirl tells Lena to let the totem go. This heals her team and they are able to figure out how to stop the lighting super storm. When the totem is finally repaired, Nyxly and Supergirl share each other's trials and Supergirl falls to the ground.
In the final wrap up moments, Supergirl awakes in the tower's med bay. Supergirl might have shared a psychic bond but traditional science isn't revealing the issue. At Catco, Nia and William talk about the time that William was shot. William has an idea to ask the superfriends to be embedded into their team for a new piece. Alex and Kelly debrief back at their place. Lena and Kara share a meal with each other at Kara's place. Lena tells Kara about her powers. Kara sees and feels Nyxly. She is angry. Supergirl remains hopeful and Nyxly doesn't understand why.
Let us know what you think in the comments below and in our forum! Keep us advertisement free and visit the support page!
9/24/2021 5:42 pm

Good Friday Afternoon Supergirl fans! Today we have a treat for you to enjoy as you go into your weekend! New images from Supergirl's fourteenth episode this season, Magical Thinking! One thing we've noticed about Supergirl this season is that the show is paying special attention to it's new place being on Earth Prime and working with other heroes. We had a quote from Jefferson Pierce aka Black Lightning, we've had Diggle visit, and we've had references to Superman. Furthering that Arrowverse feel is the totems that need to be hunted down. They seem very similar to the paragon's from Crisis on Infinite Earths. Did you catch their names in the images below?
Let us know what you think in the comments below and in our forum! Keep us advertisement free and visit the support page!
9/23/2021 5:17 pm

Welcome back Supergirl fans. This episode synopsis is the last of six remaining synopses for the show! Yikes it's starting to feel real that the show is coming to an end! Who's looking forward to seeing Chyler in Armageddon though? We certainly are! Who is able to get the totem of Courage isn't known from this synopsis but what we do know is that Supergirl will have to fight Nyxly for the remaining totems! Of course, Nyxly never makes it easy or fair and she ends up kidnapping William to keep Supergirl at a disadvantage! Next we see that Alex is going to be facing the biggest challenge of her life?!?! What could that be? Full episode synopsis below:
NYXLY KIDNAPS WILLIAM – Supergirl (Melissa Benoist) continues to fight Nyxly (Peta Sergeant) for the remaining totems but after Nyxly kidnaps William (Staz Nair), Supergirl realizes she needs to take a more proactive stance to keep National City safe. Meanwhile, Alex (Chyler Leigh) faces the biggest challenge of her life. The episode was directed by Tawnia McKiernan with story by Robert Rovner and teleplay by Emilio Ortega Aldrich & Nicki Holcomb (#615). Original airdate 10/12/2021.
Let us know what you think in the comments below and in our forum! Keep us advertisement free and visit the support page!
9/21/2021 7:00 pm

After more than a decade, the Arrowverse has accomplished a lot and led the way with many firsts. It can be surprising sometimes that there are still firsts to happen and a big one goes to our very own Azie Tesfai! The first Eritrean/Ethiopian actress to play a superhero ever, Azie joined "Supergirl" in season 4 as ex-military psychologist Kelly Olsen, a BIPOC and queer character in the Arrowverse. With writing her debut as the Guardian, Azie got to add some personal touches to the episode. Our interview with the multi-talented actor, and writer, Azie Tesfai begins below:
Supergirl.tv: The you're the first series regular to co-write an episode in the entire Arrowverse. How did that opportunity come about?
During the pandemic, I was writing and had been working on an idea with our showrunner and the creator of a previous show I was on, and I was loving that experience. I also worked with a writing coach learning structure, and I wrote a sample script for Supergirl, a spec script, exploring the idea of a PTSD, war vet storyline for Kelly—looking at her past and how we treat our veterans when they come back.

I sent this to our showrunners, and they were so wonderful and supportive. Initially, we were thinking about exploring that storyline. Then the pandemic went on longer than anyone initially thought, and then we found out it was going to be our last season. So, they rewrote the whole season and still kept their commitment for me to write an episode. I come to find out that I was going to be able to write the episode where I become a superhero, which was otherworldly!
Supergirl.tv: That sounds amazing!
Yeah, so it was great! I had about three or four episodes off the first half of this season, where I joined the writers for over a month. I did 10:00-5:00 every single day with our writers, and rewrote the arc of 610 and then into 612. That was amazing.
Supergirl.tv: You added some personal touches to the episode, like the Ethiopian restaurant has your mother's name on it, and gold in your costume to reflect your Eritrean roots. What other elements of you are reflected in this episode?
I haven't really talked about the fact that the Ormfell building, which is the building that comes down, it was a combination of the Grenfell tower fire in London and Jackie Ormes—who was one of the first black comic book writers. There are little nuggets like that throughout the episode were things that that I really enjoy.

As for the costume, I am a huge Malcolm Duncan and Bumblebee fan, so paid a little homage to their superhero suits through my Guardian costume.

There's a lot of personal things that I love in comics, and also my identity and my culture that I tried to put into the show. Things like the signage on the restaurant, something that my mom was wanted, when our set designer sent me the options, I let my mom pick.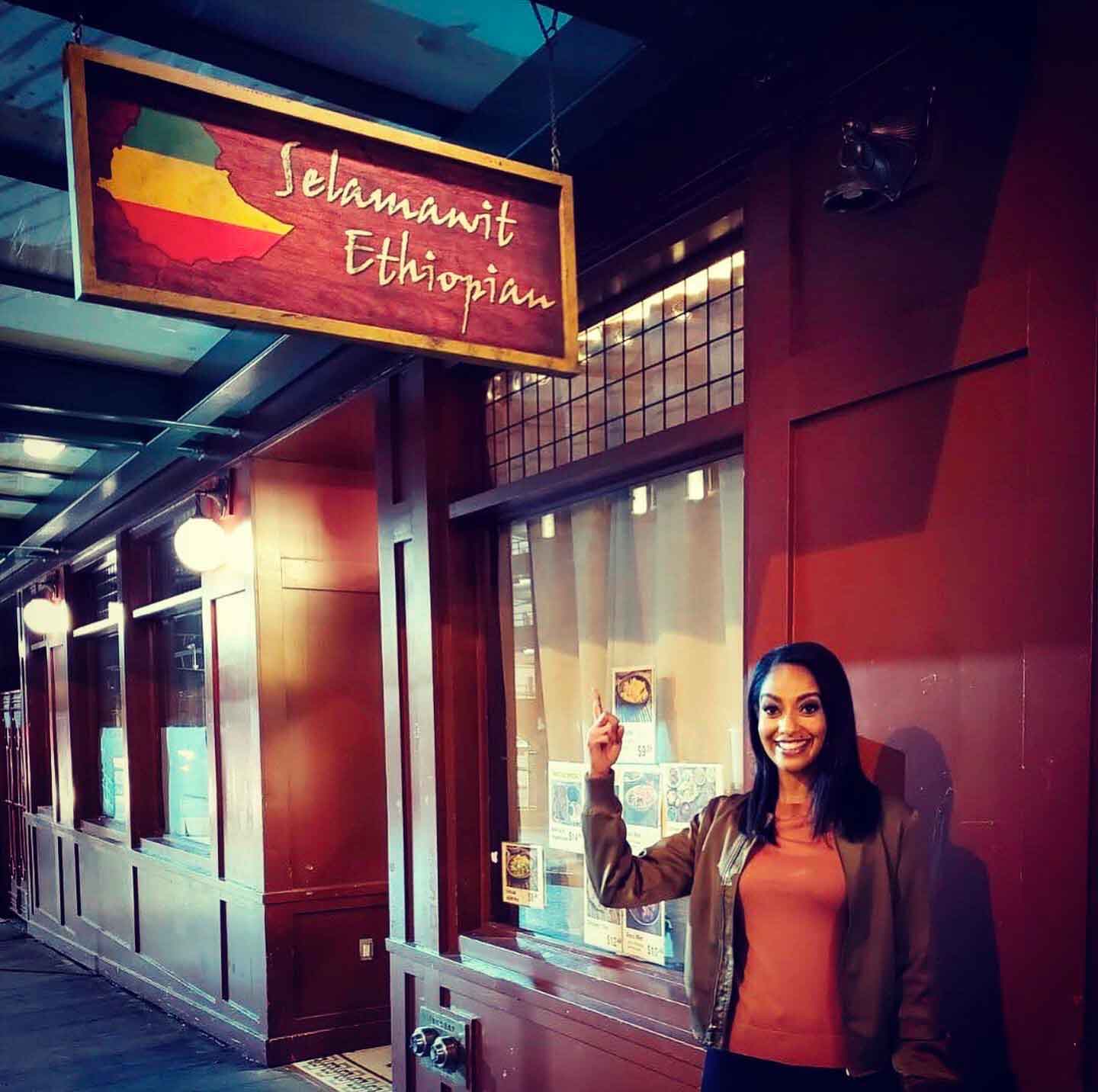 Supergirl.tv: How did it feel wearing the suit for the first time?
I didn't think I was going to get emotional, but our head of wardrobe, Andrea, got very emotional and then I started feeling that way! I walked in and everything was laid out so beautifully, like it was my wedding. We had a full, first experience, and it was very weird! It's not an experience that many people tend to have, you know, a custom super suit that was made for you.

It's empowering. It really is. The minute you put on that suit, you stand differently and all of a sudden, you can take on every bad guy. I will never forget that moment—I still see it so clearly.
Supergirl.tv: Kelly is fighting hard for to fight injustices, and she uses the word exhaustion a lot. When do you think someone should also step away to focus on their own mental health?
It's so complicated because there's also so much of exhaustion that is in yourself, things that you have taken throughout your lifetime. When you start to unpack that, it's not just a physical exhaustion, it's an emotional and spiritual exhaustion.

Within the same breath, when you have a moment to make some change, you feel like you have to push past that. It's something I personally understand, even in unpacking all this to cowrite this episode. You want to do it because it feels very purposeful, and you can take all this pain and trauma and transmute it into something that could do some good in the world.

With Supergirl, Kelly has this conversation she doesn't necessarily want to have in the hopes that this person can be an ally for real change, even though in private moments, she has nothing left in her. What it looks like out in public and what it looks like when you're at home are two very different worlds.

The idea is that we're catching Kelly decompressing, but moments later also setting boundaries with her partner and saying, "I'm not going to push back past something so that you're comfortable. I'm going to protect my mental health." Both are important, and I'm glad we got to show both.
Supergirl.tv: In that scene, we see books by Ta-Nehisi Coates and Robin DiAngelo. Did their work influence your writing for this episode?
I think it was a sign of the times with so many people reading their work for the first time, trying to understand and do the work. It felt like the first step for Alex, after her conversation with J'onn, not burden Kelly with: 'Explain everything to me. Educate me.'

I'm very protective of Alex and Kelly's relationship. Alex is the best partner to be with if you're going to be in an interracial relationship, in that she would do that work. She would really try to learn and understand as much as she could before ever approaching Kelly. So, I think the placement of the books was that sort of more of a nod to Alex since those are hers.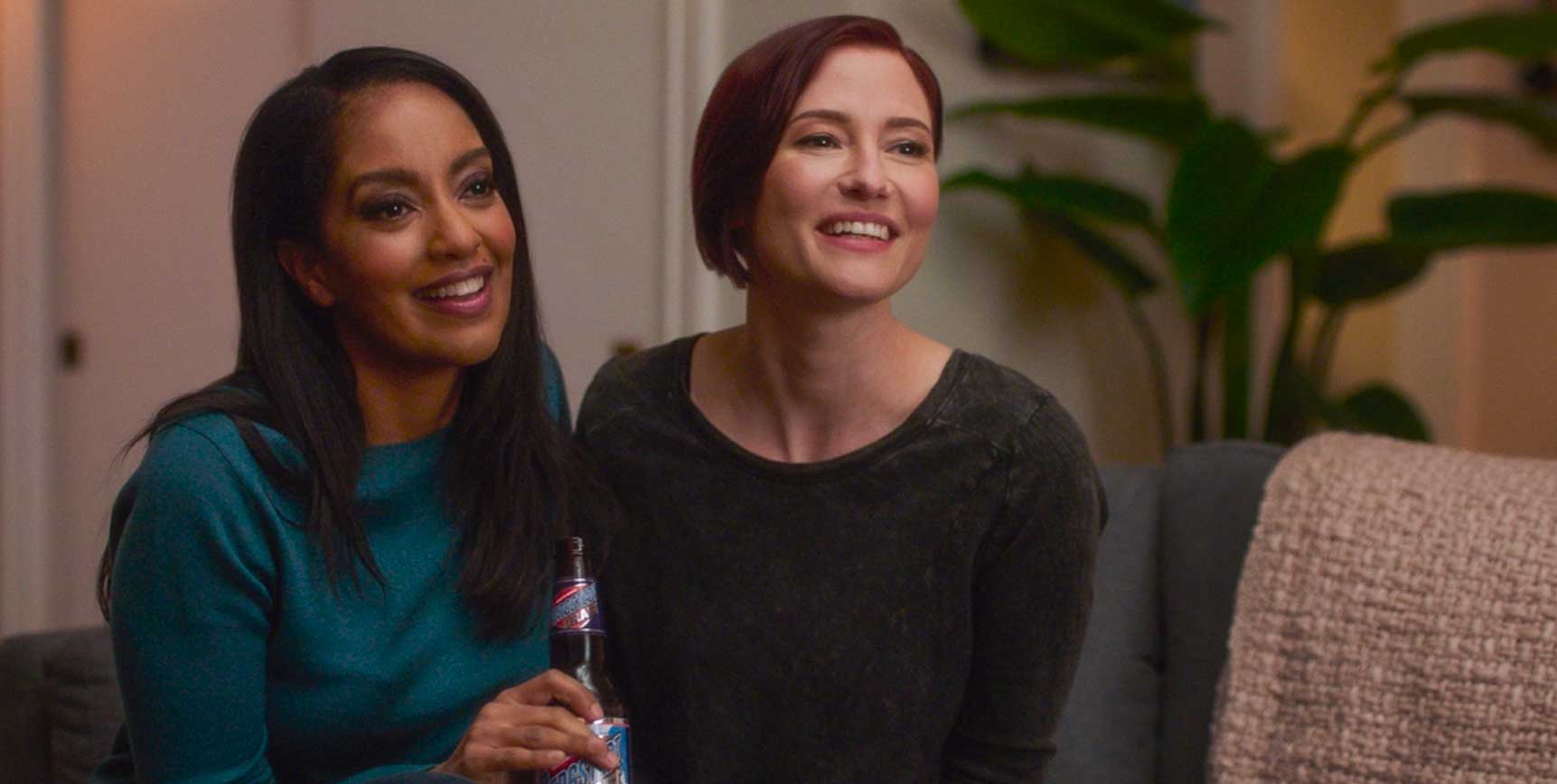 Supergirl.tv: What was it like seeing your words come to life?
It was really intense, if I'm honest. A lot of it were things that I wish I would have said that I didn't have the strength to in the moment, or to feel empowered enough to say. I was able to say these words as Kelly, but this is so deeply tied to my personal experiences. It was emotional to say the words that come out of your mouth, like "I don't feel seen." That was very cathartic, and hopefully it translates in a way that resonates with people on both sides.
Supergirl.tv: When you cowrote the episode, did you know David Ramsey was going to direct?
When I started writing with J (Holtham), I knew Diggle was going to be our guest star but didn't know he was directing till a bit later. At dinners we would talk about Diggle and would do edits and passes to make sure he was authentic and hearing what Ramsey's experiences were like.

He became such a ying-yang for me. I have such trust and love for him, and we became really close. When some scenes are hard to shake, he's the first person to call me after a day's work and see how I'm doing. To have that trust in a director and an actor that you're in almost every scene with was really special.

We were texting this morning that we're the only actor duo has ever directed and written for the network ever. For us to be the first, we both took it very seriously and want it to not be the last.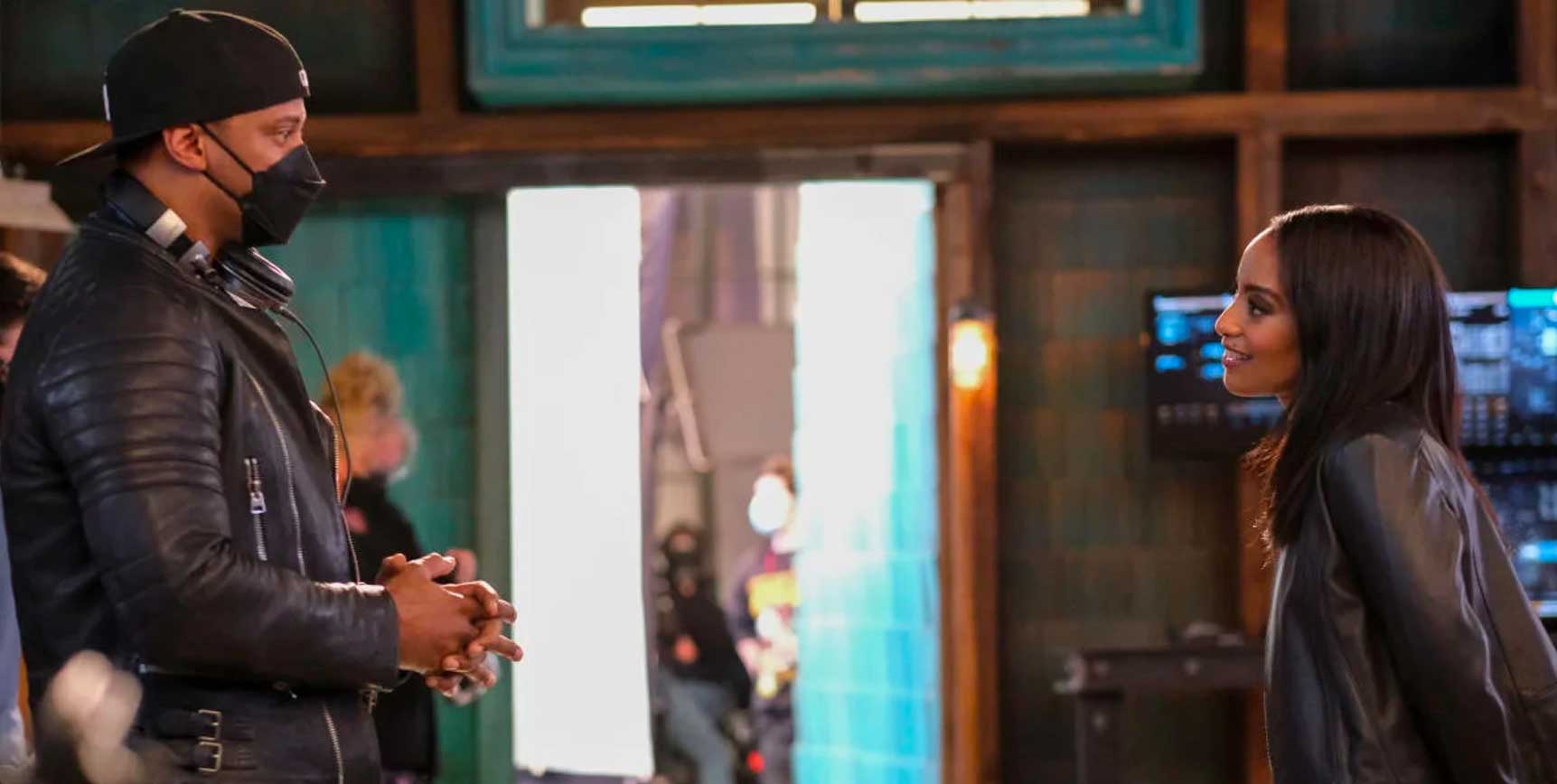 Supergirl.tv: Are there plans to write more in the future? Be it in the Arrowverse or somewhere else?
Yes! I'm currently writing right now, which is exciting. This is definitely my focus, even more so than then performing. Telling stories has become such a huge passion of mine, and I love it so much. I am writing and developing purely from a writer's perspective and not anything I'm acting in, so that's exciting!
We want to give a very special thank you to Azie Tesfai for sharing her writing journey with us and taking time out of her day to speak with us!
Let us know what you think in the comments below and in our forum! Keep us advertisement free and visit the support page!
9/21/2021 7:00 pm

It's a big night for the Arrowverse! First Stargirl deals with the aftermath of Eclipso, head over to Stargirl.tv for more on that, and tonight, Arrowverse royalty! First we have our very own Azie Tesfai who has become the first actor on an Arrowverse show to co-write and episode that she is in. Congratulations to Azie, we'll have a HUGE post episode interview with her coming soon where she'll break down everything, and we mean everything, in tonight's episode. Also joining tonight is David Ramsay aka John Diggle from Arrow! Not only did he guest star tonight, he also directed! The birth of the new Guardian, the conclusion to John's Green Lantern story, all up ahead! Here's what stood out to us:
24 Hours Earlier: If Kelly felt a bit absent last episode, it turns out this was on purpose. Blind spots takes place 24 hours earlier and shows Kelly's story during the Mxy and Nyxly battle. Kelly heads to the collapsed building where Orlando and other future residents are breathing in particles. Kelly rushes Orlando and his brother to the hospital. The city counsel woman is also there and she demands to be taken to a different hospital. There, she demands a new drug rp90. The drug reacts with 5th dimensional energy in the counsel woman's body and she is given powers. Kelly can't get anyone to pay attention at the hospital and she calls James for advice.
Newfoundland: Lena works with the coven to develop her magical powers. She gets a news alert about Supergirl fighting the cat and she heads home immediately to help. Supergirl and team are working to track Nyxly. Kelly calls Andrea to complain about the news coverage of the building. They are running it through the traffic lens not the human cost lens. John Diggle arrives to help Kelly at the behest of James. Kelly notes that team Supergirl is facing off against Supervillains, they are missing the people. Kelly and John head to the collapsed building to find the source of what is making people sick. The counsel woman checks in on the building and it turns out she kills people when she uses her powers. They fuel her abilities. Team Supergirl runs into Diggle and Kelly who are also looking for the 5th dimensional energy. Meanwhile back at the city center, the counsel woman bribes another for her vote and the pay out causes more distress on the low income housing residents.
Supergirl and Kelly: Kelly tries to explain the situation to Supergirl but she isn't really getting it. She is focused on getting Mxy back and stopping Nyxly. At the hospital, Diggle and Kelly discover 5th dimensional energy is in the residents. Diggle notes they may need to suit up to face this. Orlando faces off against the counsel woman and when her body guards attack, Kelly is there in the original Guardian costume to stop them. Diggle takes on the body guards and Kelly goes after the cousel woman. Kelly gets a grip on her but she flashes away. Back at the tower, Kelly calls out team Supergirl for not listening to her. Team Supergirl is after the cause but are missing the people that are hurting. Team Supergirl give her space and Diggle goes to speak with her. In his comfort for her we discover Diggle turned down the green lantern ring so he could be with his family. Kelly then defines the hero she wants to be. Diggle leaves to give Supergirl and Kelly some space. Supergirl finally hears Kelly for what she was trying to say.
A Guardian for National City's Forgotten: Brainy has a plan to help the people and they are preparing to take back the 5th dimensional energy. They won't be able to use it to track Nyxly but the people are the priority. Brainy then makes the changes to James' suit and makes Kelly's Guardian! team Supergirl and Guardian arrive to stop the counsel woman and reclaim the 5th dimensional energy. The siphon they need to use has to be in line of sight with all those affected by the energy and the counsel woman. Guardian asks Orlando for trust and he is able to gather all those hurt out onto the street. Supergirl holds the counsel woman in place and Guardian is able to restore their energy to them healing the neighborhood. The missing energy goes to Nyxly however.
Guardian to Stay: Guardian inspires Orlando to run for city counsel. The children start to play and pretend they are Guardian. Diggle returns to the tower and quotes Black Lightning. "Be a hero for the people"! Supergirl and Guardian speak and Supergirl gives her word she wants to continue the conversation. While the big stuff is always there for Supergirl to deal with, Guardian will remain the hero for the people. Nyxly has the location of the first totem and Lena returns home to find the magical book she left already there.
In the final wrap up moments, Kelly decompresses at home. Alex arrives and Kelly breaks down. She explains just how tired she is with this all and while she isn't able or ready to explain it all, she's happy to just be vulnerable with Alex. Check back with us shorty for our in-depth coversation with Azie Tesfai about tonight's historical episode!
Let us know what you think in the comments below and in our forum! Keep us advertisement free and visit the support page!