11/13/2017 10:05 am

On to happier topics than what transpired over the weekend (you can review the previous article if you are unsure what we are referring to), it's time for Midvale sneak peeks! This episode was the one we have been looking forward to the most this entire season so far. The origin story of the Danvers sister is a worthy story to be told! We can't wait to see how the two formed a bond that transends two planets of origin and has been an example of what a positive sisterly relationship can be since we first saw Supergirl on CBS. Check out sneak peek one below:
While tonight will welcome Izabela Vidovic and Olivia Nikkanen as the new younger versions of Kara and Alex (respectively) don't count out some powerful scenes from Melissa and Chyler too, like this sneak peek below:
Jessica Queller and Robert Rovner have put together this week's inside look. We're always excited to hear their thoughts on the episode but additionally, the added sneak peek footage in this one is rather great! Feeling extra excited now, check it out below:
Let us know what you think of these sneak peeks in the comments below and in the forum! If/when new sneak peeks or the inside look becomes available we will add it here as well. Keep us your number 1 resource for all things Supergirl and visit the support page!
11/12/2017 8:06 pm

By now, many of the Supergirl audience has heard of the allegations raised against Executive Producer Andrew Kreisberg. On Friday evening, Variety.com broke the story that 15 women and 4 men have brought allegations of sexual misconduct from Kreisberg. Out of fear of retaliation, the accusers asked not to be named in the article. However, the accusers range from extras to prominent show employees, as well as former and active employees. Warner Brothers TV Group issued this statement and action:
We have recently been made aware of allegations of misconduct against Andrew Kreisberg. We have suspended Mr. Kreisberg and are conducting an internal investigation. We take all allegations of misconduct extremely seriously, and are committed to creating a safe working environment for our employees and everyone involved in our productions.
The Arrowverse is a group of television shows comprised of Supergirl, Legends of, The Flash, and Arrow which are all produced by Berlanti Productions. Greg Berlanti and Production Company President Sarah Schechter offered this statement:
We were recently made aware of some deeply troubling allegations regarding one of our showrunners, We have been encouraging and fully cooperating with the investigation into this by Warner Bros. There is nothing more important to us than the safety and well-being of our cast, crew, writers, producers and any staff. We do not tolerate harassment and are committed to doing everything we can to make an environment that's safe to work in and safe to speak up about if it isn't.
Kreisberg has strongly denied the allegations and has gone on record to state his position. He is quoted as saying:
I have made comments on women's appearances and clothes in my capacity as an executive producer, but they were not sexualized. Like many people, I have given someone a non-sexual hug or kiss on the cheek. I have proudly mentored both male and female colleagues for many years. But never in what I believe to be an unwanted way and certainly never in a sexual way.
The article continues with several quotes from the unnamed sources noting the nature and type of abuse that Kreisberg is accused of.
---
It is at this point we would like to note our site's point of view as Supergirl.tv. We apologize that it has taken us this long to offer our thoughts, but we gave this the necessary time and processing that we needed to personally do before forming our opinion. Upon hearing the news, we have remained in a state of shock and disappointment. As investigations continue, it important to keep in mind that there are those that strive to endlessly uphold the ideals of Supergirl herself. We believe that the users of this site and the community we've built here are one such group of people who understand the power and inspiration that Supergirl provides.
Although there are people in power who fail us by betraying the faith and trust given to them, there are hundreds more who continue to reform the industry itself, much like our own Girl of Steel, Melissa Benoist who added this statement via social media this evening: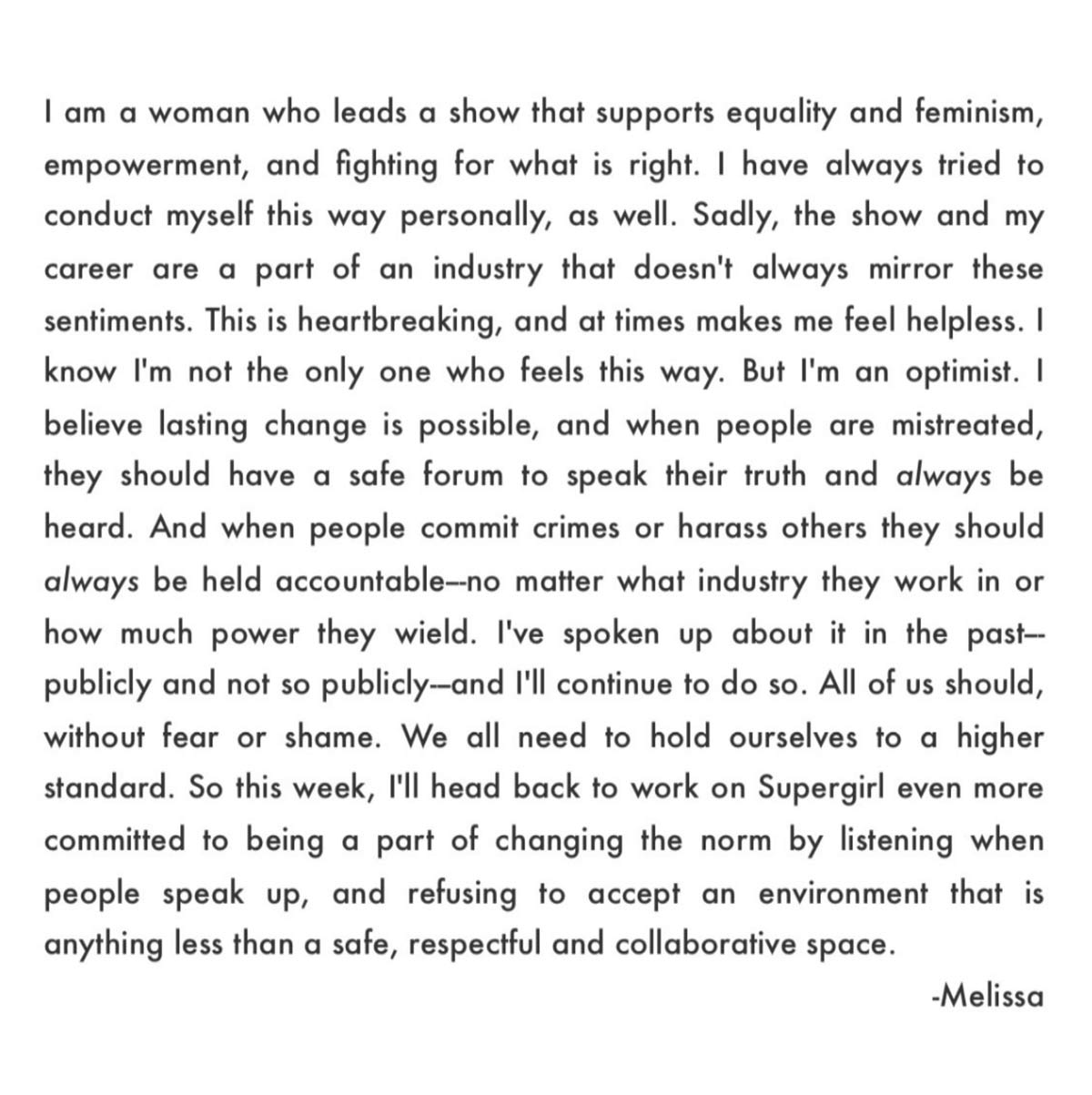 Remember that Supergirl has, and always will stand for:
"Hope, Help, and Compassion for All."
~Kelsey Johnston
11/9/2017 9:50 pm

The true four-part, two-night event, Crisis on Earth-X, finally has a synopsis! Unlike the three-part crossover event last year, the synopsis for all four shows is more or less the same. Regardless, there are some very positive notes from the synopsis! As everyone was expecting, Chyler Leigh's Alex Danvers is indeed in all four parts as she is specifically mentioned in the synopsis! We've seen from behind the scenes images that Winn will also be involved which has Flash and Supergirl fans crossing their fingers for the most anticipated meeting in the Arrowverse since Supergirl met the Flash, Arrow and Legends. Of course, we mean that of Cisco (Carlos Valdes) and Winn (Jeremy Jordan). As for the synopsis, check it out below. Please note, it is the same for each show except where "guest star" applies or does not apply (below is the Supergirl version):
THE EPIC FOUR-WAY CROSSOVER WITH "ARROW," "SUPERGIRL," "THE FLASH" AND "DC'S LEGENDS OF TOMORROW" BEGINS — Barry (guest star Grant Gustin) and Iris's (guest star Candice Patton) wedding brings the gang together, but things go awry when villains from Earth-X attack the ceremony. All of the superheroes band together with help from their super friends like Citizen Cold (guest star Wentworth Miller), The Ray (guest star Russell Tovey), Felicity Smoak (guest star Emily Bett Rickards), Iris West and Alex Danvers (Chyler Leigh) to take on their most formidable villains yet. Earth's mightiest heroes – Green Arrow (guest star Stephen Amell), Supergirl (Melissa Benoist), The Flash (guest star Grant Gustin) and White Canary (guest star Caity Lotz) – lead their teams into battle to save the world. Larry Teng directed the episode with story by Andrew Kreisberg & Marc Guggenheim and teleplay by Robert Rovner & Jessica Queller
Also, we shared this earlier today but if you missed it and would like it, below is a desktop to commemorate the epic four-night event that we made in the likeness of the television spot we first saw on Supergirl's episode 305. Right click and save as, to make it your own: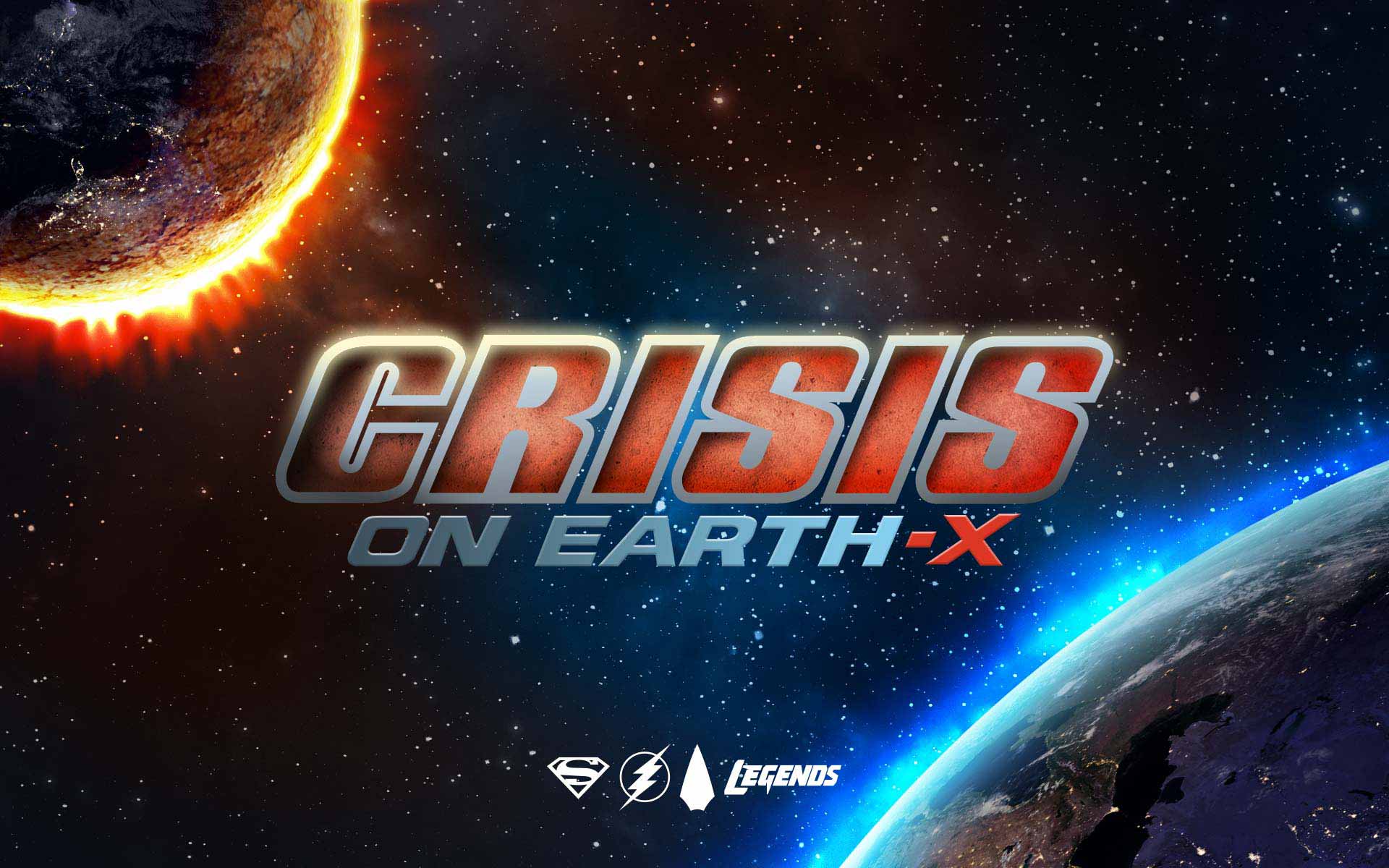 Let us know what you think of the first official news of the four night crossover event this year in the comments below and in the forum! Keep us your advertisement free source for Supergirl news and visit the support page!
11/9/2017 12:09 pm

TVline.com has learned that Laurie Metcalf, known for playing Roseanne's Jackie Harris from 1988 to 1997 has been cast as Winn Schott's estranged mother. In Season 1 we learned all about Winn's father, The Toyman, and his sick and twisted ways of getting revenge, but what is in store for Winn and revisiting with his biological mother is anyone's guess. Fans can look forward to this Winn-centric episode in 2018. It is scheduled to be episode 315. On a more endearing note, Metcalf told Vanity Fair that her initial interest in the part was because she wanted to get close to the show so her daughter could meet her idol, Melissa Benoist. How cute is that!
Let us know what you think of the casting news in the comments below and in the forum! Keep us advertisement free and visit the support page!
11/9/2017 10:45 am

We learend earlier this week that episode 310 would be titled "The Legion of Superheroes", which carries some incredible weight, as Supergirl comic fans know. Today, we have the title for episode 311. Following The Legion, it sounds from the title of the episode that Supergirl will need to deal with an issue from season 1, Fort Rozz! That is indeed the title to the episode as well, "Fort Rozz".
Let us know what you think that could mean and if you think the Legion will be sticking around to help out in the comments below and in the forum! Keep us advertisement free and visit the support page!