12/11/2016 10:28 am

Well after the first eight episodes of an incredible sophomore season, followed by 3 more special appearances by Supergirl herself in the four show crossover, we've got to take a break. Of course if we had our way there would be a new episode of Supergirl every Monday, but those wonderful actors, crew, writers, and producers have earned a bit of a break. Unfortunately it looks like the return of new Supergirl episodes is going to take a little longer than we anticipated. Supergirl will return January 23rd!!!! Yikes! But fear not, we'll be bringing some pretty cool stuff in the near future to help get you through the break. Also, we want to point you to the CW app that has a special sneak peek at episode 9, "Supergirl Live" the Kevin Smith directed episode! We usually post sneak peeks but this one is exclusive to the app and watching on the app supports the show, so get to downloading, its free!
Comments are available below, the forum is live, and if you want us to help keep those scrooge advertisements away, visit the support page!
12/2/2016 9:33 am

That's correct! You read that title correctly! The jester of the multiverse, the trickster of the 5th dimension is coming to Supergirl for not one, but two episodes this season! Mr. Mxyzptlk was created by the one and only Jerry Siegel, back in 1944! His powers are undetermined but seem to rival even Superman's abilities! Before Crisis on Infinite Earths, the only way to get rid of Mr. Mxyzptlk was to make him say his name backwards or have him spell it backwards. That has lapsed in later iterations where the 5th dimensional being will simply set a condition or set of rules in which to play a game. What Mr. Mxyzptlk is doing on Earth 38 and what his intentions are for Supergirl are unknown but since we are going to see him in two episodes, this could be big! So far no actor has been cast for the role but look for Mxyzptlk to first appear in episode 13 of season 2!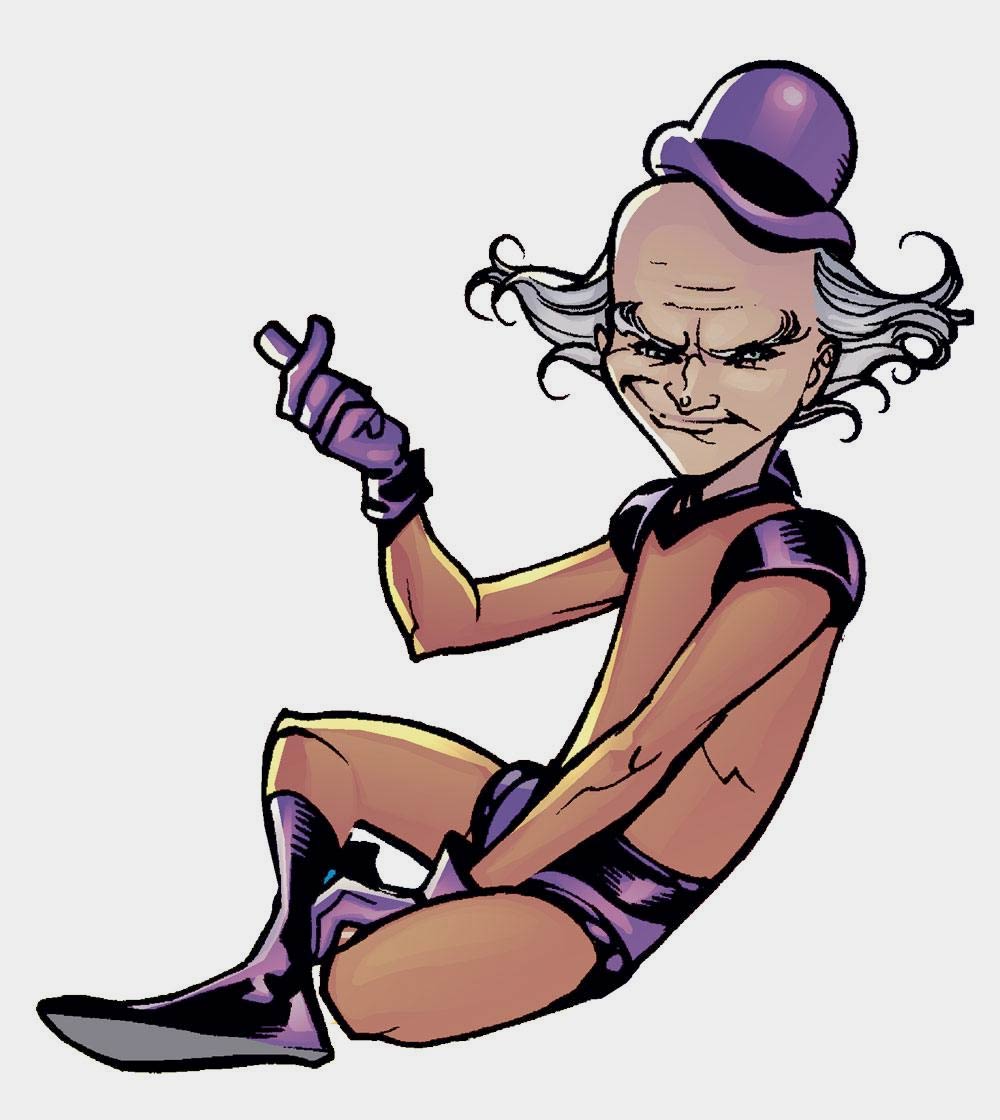 Photo courtesy of DC Entertainment
What do you think of Mr. Mxyzptlk coming to Supergirl? Any ideas why he'll appear? Let us know in the comments below and in the forum! Also, you don't have to say our site's name backward (vt.lrigrepus) to keep the advertisements away, its as easy as going to the support page!
12/1/2016 8:57 pm

This is it! Is anyone else hearing "The Final Countdown" in their head? Ha, but in all seriousness, tonight held the final events from the 4-night crossover event on The CW! Historically we've never heard of four shows crossing over before let alone one of those shows enjoying their 100th episode! It's really been an incredible event! Of course, tonight, our vessel for the crossover was Legends of Tomorrow. Their slightly goofier and team-based format would prove to be the perfect level of seriousness and fun tones to wrap a bow on this unbelievable journey! Here are the moments that stood out to us:
Oliver's Mistake: Last night, we learned that Oliver basically lived his dream life and then suddenly remembered that his real life had nothing of what he wanted in it. So we suppose if you twisted our arms, we could understand that he wouldn't want the most powerful hero in DC's TV universe hanging around him, but COME ON! Kara is your biggest asset and even though he may not trust her yet, he trusts Barry, and Barry trusts her, so isn't that enough! Sorry, we are showing our Supergirl bias!
Cisco's Mistake: So in the Arrowverse, there is a lot of emotional difficulties going on and one of the ones that hurts to watch the most is Cisco and Barry. Its like if Alex were mad at Kara, Cisco is one of the lights of the show on the Flash! One thing we keep hearing though is, "Barry did what he had to to save his family", but wouldn't Cisco have done the same thing? We hope Cisco and Barry get over this soon!
Barry Allen's Bullet Grab: This was the kind of speed we love to see! It was always shown really well on Smallville and even more so on X-Men Apocalypse. Slowing things down so we, the average humans, can see how Barry can perceive the world is one of the best perspectives into being a meta-human.
Cisco's History Flub: Well as we just were explaining, we wished Cisco and Barry could stop being frienemies and go back to being just friends! Well it looks like Cisco's little time travel trip was enough to give him a new perspective! Barry was ready to march himself over to the Dominator camp and let them take him away but it was Oliver, Mick, Supergirl and Cisco to stop him!
Final Dominator Fight: First of all, Supergirl saves Arrow! Let's say that one more time, Supergirl saves Arrow! YES this was amazing! We feel like they can get along now! Next, it was hilarious to hear Felicity say "this looks like a job for Supergirl"! Of course The Flash and Supergirl are the only two who could tag all the Dominators! In fact, we think it was the first time we've seen both of them cover that much ground that fast! Even though they weren't together, just seeing them do the same job felt like Flash and Supergirl's chemistry is something to marvel at.
The Final Goodbyes: This was a outstanding adventure in television and we were so excited to see they gave everyone an appropriate amount of time to say good bye. The Atom's joke about Kara looking like his cousin had us in stitches! Then Kara, totally using her reporter skills to help form a DEO on Earth One banishing that four-eyed monster to Antarctica was a nice touch! We also got what we were so hoping for, which was Kara gaining the ability to return at will and contact the team when she needs help! This made for a great balance between the two universes while not needing to "merge" them. In the end, Kara won over Oliver like she does with everyone, and Barry and Oliver forgave themselves and shared a drink together!
Here's "To Life Being Full" ~Oliver Queen!
What did you think of tonight's episode and for that matter, the full crossover? Let us know in the comments below and in the forum! Also, We can't do it without team work, help us and join our team by visiting the support page!
11/30/2016 7:01 pm

Tomorrow is it! Tomorrow we wrap up this epic television event! A historical event too may we add! While some may say that the Arrow's portion of the crossover has an Arrow focus and Flash's portion has a Flash focus, we are thinking this wrap up on Legends is going to be all about teamwork! Something that Legends is known for anyway! Something important to note right off the bat, did the US Government try to offer up Barry as a sacrifice to the Dominators? See for yourself in this trailer for tomorrow's final crossover episode!
Let's hear from you in the comments below and in the forum! Also, we aren't living in a shared illusion which is why we keep the advertisements off the site but help us stay out of any illusions and visit the support page to keep advertisements away from your favorite site!
11/30/2016 6:52 pm

Here we go again! Can you believe this week so far? We had the Winter finale of Supergirl that featured Barry and Cisco let alone a couple of kisses and Lena Luthor becoming a hero! We also got to introduce Supergirl to the Earth One crew and see just how powerful she can be by having every other hero fight against her for training! And now, we get to see the next chapter of this television history event! It is also worth mentioning that this is Arrow's 100th episode! Congrats to the Arrow team! Here is what stood out to us:
Arrow Starts Fast! We know not all of our readers watch Arrow so there can be some confusion going on here in the start, but it is Arrow's 100th episode too! That said, how much did this feel like "For the Girl Who Has Everything"? Oliver gets to have a normal life with his parents still alive, just like Kara did with her parents and younger cousin Kal-El!
Team Computer Hacker: We sent this out in the Tweets earlier, but when it comes to hacking alien computers, Winn Schott is an ace! We're sure that Cisco, Felicity and Curtis can figure it out, but when it comes to alien tech, we put our money on Jeremy Jordan's Winn! Heck, if Curtis is excited about alien tech, the DEO has at least two ships of alien tech to play with! (both Kara's ship and Mon-El's, that we know of)!
Green Arrow: It seems like in this alternate reality, there would be a Green Arrow no matter what! This is interesting about vigilantes without powers because of how their role can transcend the individual! Just like the Dread Pirate Roberts in The Princess Bride, the mantle can be passed down and onward to the next person! Just like how Diggle was the Green Arrow in the illusion.
Supergirl, Barry, Maddog: Maddog clearly doesn't like the powered or meta-human, but when you've got the two biggest heroes on your side, (Supergirl and The Flash) you don't walk away! Supergirl did a great job maintaining who she is throughout last night and tonight's episode! Arrow's 100th episode did have that dark Arrow feel, but Supergirl was just as bright and sunshine-filled as she always is! Having her scene with Barry was perfect and gave us another reason why the two get along so well!
Supergirl and Flash Tag Team: The chemistry between Supergirl and Flash is incredible! Or should we say Melissa Benoist and Grant Gustin! The same amazing comradery that the two had in last season's crossover is still there and the way they naturally know how to work together is what makes them so fun to watch! Can't wait to see their musical crossover!
Waverider for the save! We mention this outside of our usual countdown because it all came together so fast! First, you have the Dominator ship which looked amazing and had to be bigger than a Borg ship! (Star Trek we know, we nerd on many levels). Then the swarm that chased Oliver and the non-metas. Then BAM, we hear they are making a weapon! The comic book tells us the Dominators are afraid of the meta-humans, so maybe they are the target? Join us tomorrow and we'll wrap this thing up together!
Let us know what you thought of the 3rd episode of the crossover in the comments below and in the forum! Also while Arrow celebrates its 100th episode, help us get to 1,000 articles, advertisement free, and visit the support page!