8/14/2017 1:01 pm

Kevin Smith, fan favorite director, annouced he's going behind the camera and in control of another episode of Supergirl coming up in season three. The now three-time director of the series will score his hat trick for direction in episode 305. The news came to us directly from the director via a tweet today at 12:55pm PST. The episode is written by Eric Carrasco and Cindy Lichtman and is tentatively scheduled to air as the first episode in November (Nov. 6th, 2017 8pm on The CW). Serendipitously, the director actually shared a plane to Vancouver BC with series star Melissa Benoist. The director tweeted he was excited to see her, but was disappointed she actually needed the plane to fly: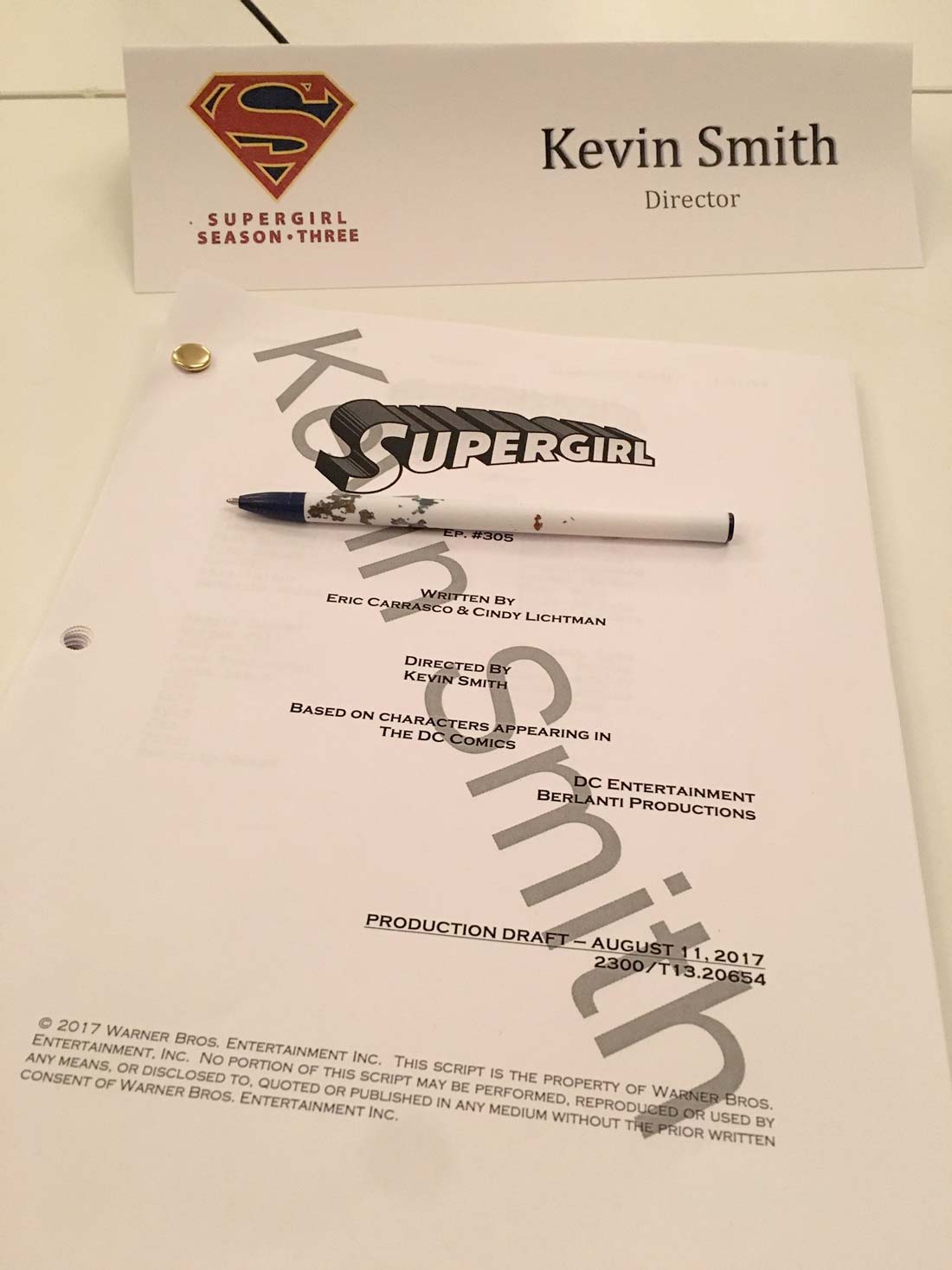 Supergirl returns to The CW on October 9th at 8pm! Let us know what you think of Kevin Smith's return to the director's chair for a third time in the comments below and in the forum! Keep us going and visit the support page and we'll keep the advertisements off the site!
8/13/2017 6:28 pm

It was a big night for the Girl of Steel, Melissa Benoist! The actor walked away with a Teen Choice Award in the major category of "Choice Action TV Actress"! Somewhat perfectly, Benoist was surprised with the award by network co-star, Grant Gustin (The CW's Flash). Grant was also a big winner of the night and walked away with "Choice Action TV Actor". Congratulations to the CW's dynamic duo! In her acceptance speech to the audience and viewers at home, Melissa said:
You guys, thank you so much, this is my first Teen Choice Award. I'm so glad I get to put on a cape and fight like a girl everyday! And I hope that every girl in this room knows that you are as strong as you think you can be! Thank you guys so much!
Supergirl returns on The CW October 9th at 8pm for Season 3! Let us know what you thought of the award in the comments below and in the forum! Keep us your advertisement free source for Supergirl news and visit the support page!
8/9/2017 7:40 pm

Another Kryptonian is coming to Supergirl, however, there isn't much known about the new role yet! The news comes to us from TVLine.com's "Matt's Inside Line" segment. The part is described as, "a forty-something actress to play a mysterious and 'sexually compelling' Kryptonian who is being likened to Game of Thrones' Melisandre". Now that is quite a provocative description! From what we've heard from the showrunners, as well as the general tone we believe season 3 will have, we think it's doubtful this Kryptonian will be on Earth. Rather, with the casting of Erica Durance and the increased availability of Alura's character, this seems more likely to coincide with flashbacks and a component to enrich Reign's backstory, a fact that Jessica Queller told us in person would be a focus this season. Either way, the fact is another Kryptonian is coming to the show!
Supergirl returns to The CW for season 3 on October 9th, 2017 at 8:00pm. Let us know what you think of the news and if you agree with our thinking of the new character's role in the comments below or in the forum! Also, keep us rolling as the biggest Supergirl site on the internet and advertisement free and visit the support page!
8/7/2017 8:04 pm

They've been known as episodes S301, S302 and S303 but in our heart of hearts, we know that just can't stand. No one thinks back on when Kara blew up Red Tornado and thinks "ooh, episode S106, that was a great one". Heck no, they think, "Red Faced was one of my favorite episodes ever!" That is of course how we want to remember them and today, we have titles for the first three episodes of season 3! The kick off to the season is aptly titled "Girl of Steel" which is quite fitting considering what we know about the premiere. (Just see our Comic Con coverage and Spoiler Page if you don't know). Following "Girl of Steel" is "Triggers" which we think will address elements of Kara's life that result in her remembering the human connections she has. Essentially the "Triggers" that make her question her humanity (see season 3 trailer). Finally episode 3 is titled "Far From the Tree". As you know from our recent news that we broke concurrently with TVline, Maggie's father shows up on the show played by Carlos Bernard. Could Dean Cain make an appearance? Maybe even Zor-El? We don't know but we are excited for them all!
Supergirl returns to The CW, Monday, October 9th, 2017! Let us know what you think of the titles in the comments below and in the forum! Keep us your advertisement free source for Supergirl and visit our support page!
8/4/2017 4:30 pm

Breaking News! We can definitively confirm that Carlos Bernard, known from Fox's 24, and Flame Ventures' Alien Raiders, will be guest-starring as Oscar Rodas, a cop and Maggie Sawyer's father! He was excited to tweet out that he would be working on the show (see below). What event brings Maggie Sawyer's dad to National City is anybody's guess but we are certainly excited to see it! You may remember in season 2, Maggie told the story of being kicked out of her home when her conservative parents did not approve of her coming out, so expect this reunion not to be an easy one. Fans know that Floriana Lima's schedule didn't allow her to return as a full-time cast member so it's fair that speculation on what Oscar Rodas is doing in National City, and if it will affect Maggie's story in season 3, is to be expected!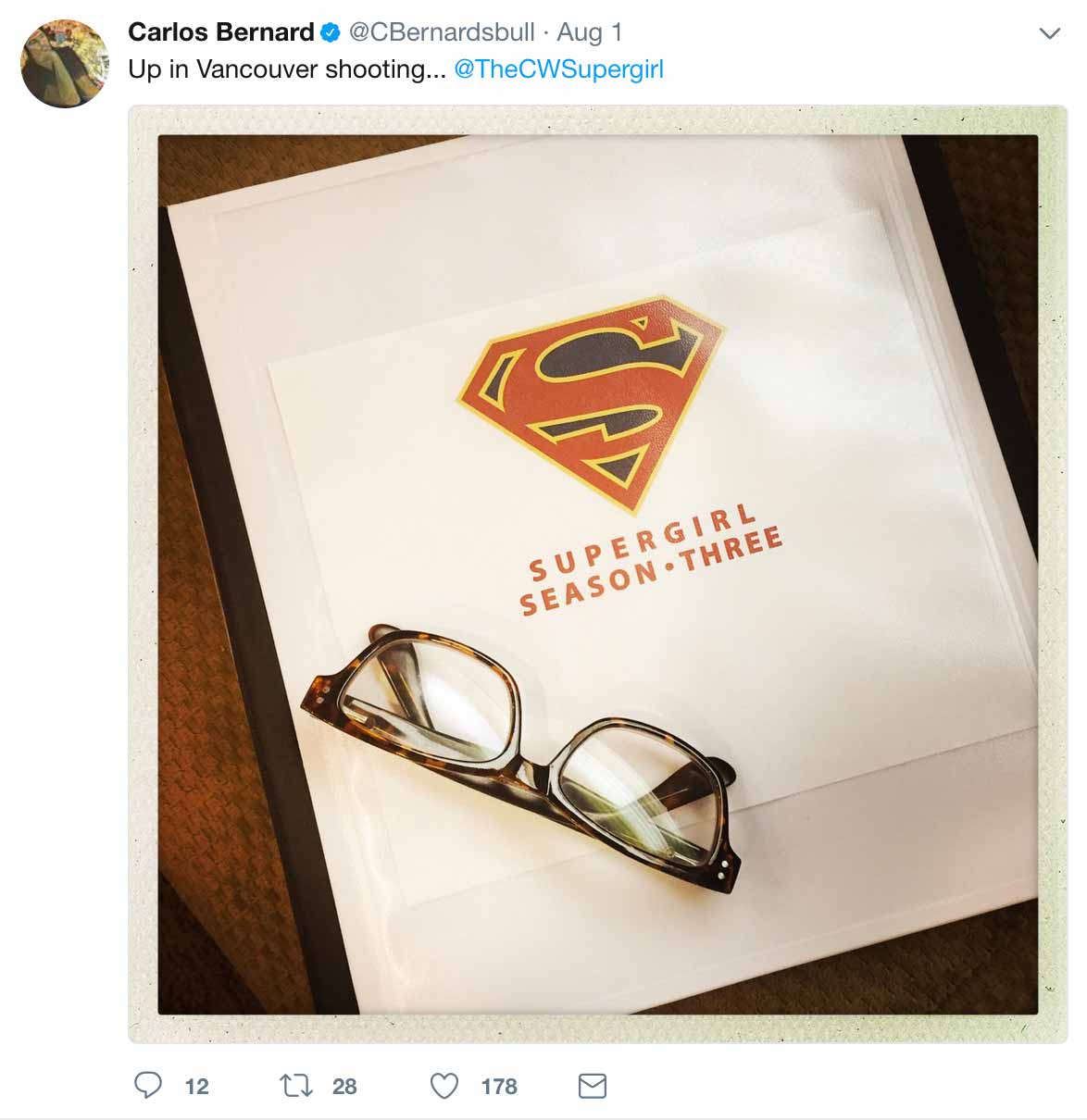 Lucky fan, Julie Holden, had the opportunity to meet Carlos on set and took the picture below!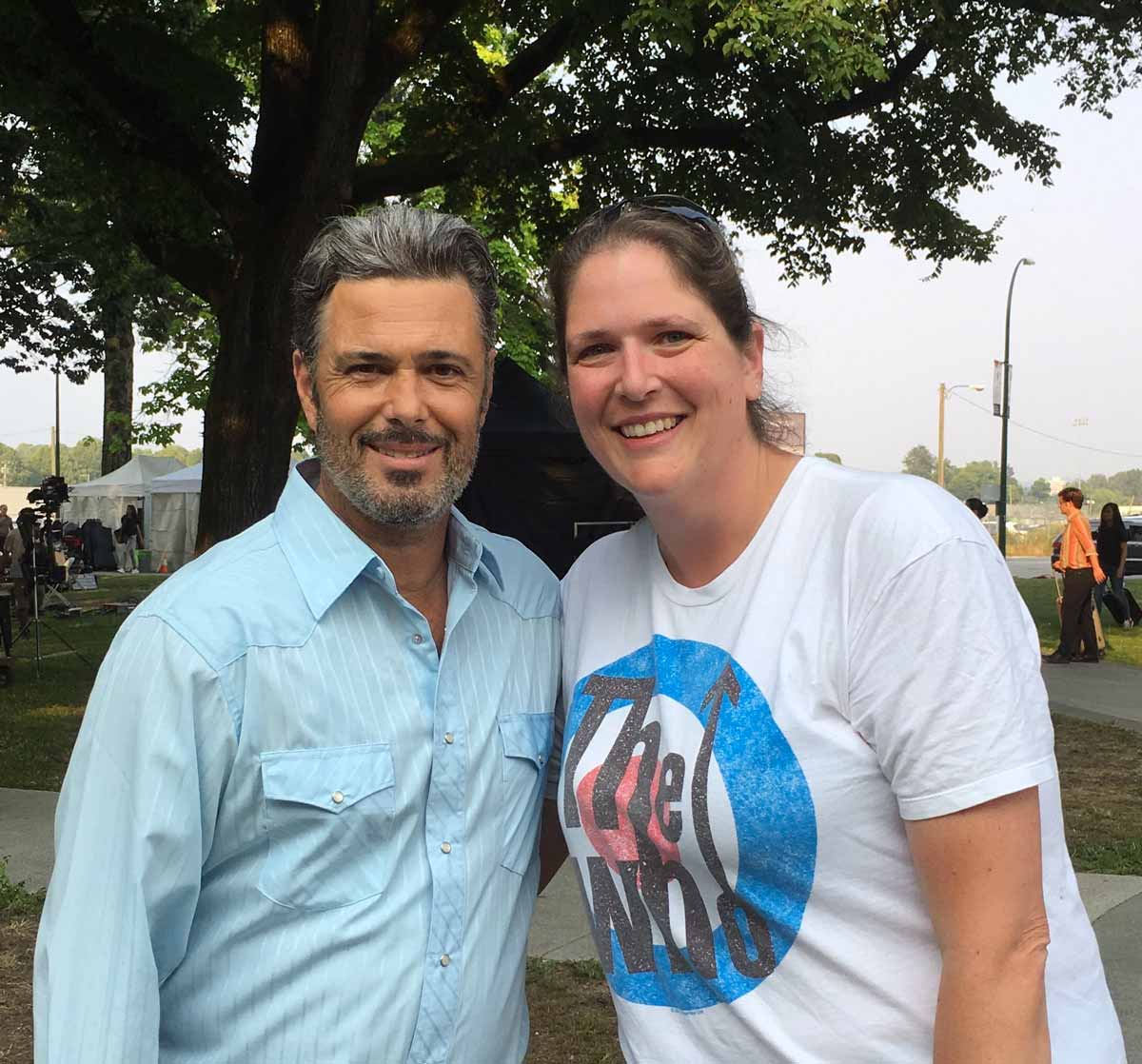 Finally, Suffering Sappho, was able to capture this footage via twitter that shows some hints at a scene between Maggie and Oscar!
Let us know what you think in the comments below and in the forum! Keep us advertisement free and visit the support page!