6/17/2019 2:12 pm

Supergirl is set to begin filming at the end of this month! Earlier than any other Arrowverse show this year! We are expecting a great new trailer for the show at San Diego Comic Con 2019. With that said, the release dates for the start of season 5 have been revealed and we are excited to shave a week off of our countdown clock! Supergirl will begin season five following the debut of Batwoman on October 6th at 9pm! With, what we believe to be a 22 episode order, this looks like another banner year for the show!
Let us know your thoughts in the comments below and in the forum! Keep us advertisement free and visit the support page.
6/16/2019 9:35 pm

We've been thinking about this for a while but to be honest, it was kdogg87 that put us over the top! He recently described his favorite scene in our previous article and it pulled us back into the power of that scene almost instantly! Eric will admit that "Red Faced" was one of his top three because of the scene and the music when Supergirl blew up Red Tornado with both her power and her rage! UGHHH So good! Supergirl is a very unique show because there are moments when it dares to go very deep, very challenging for actors, and they ALWAYS deliver! Chyler and Melissa, Melissa and David, Mehcad and Katie, we could go on and on but the end all is that there are moments in this show where the human condition is on full display!
So ... with four seasons and 87 episodes, there is no way that we are going to accurately create a poll off the cuff. With that said, we want you, our Supergirl.tv users, to nominate a scene for best scene of the show! Here's how this is going to work:
READ HERE FORWARD IF YOU'VE SKIPPED SO FAR:
---
At this stage, we are in nomination mode. As best as you can, describe the scene you want to nominate. Give it a unique descriptive name (short is appreciated), include the episode number (or name), the season, and if you are able roughly the time in the episode it appears without commercials. Secondly, you can support someone's nomination by saying "I support (name of scene)" where (name of scene) is replaced with the name the commenter previously gave it (two per commenter please). I know this is going to be a bit difficult and I know that there are going to be a lot of duplicates not knowing a scene was already nominated, but I promise I will sort through it all and create a poll for top 20! Below is an example nomination:
"Supergirl Destroys Red Tornado" Ep: Red Faced, Season 1, Occurs around end of episode.
Share your favorite scene with us as we described above in the comments below but persuade your friends in the forum! Keep us advertisement free and visit the support page if you can!
6/16/2019 11:42 am

It's been three weeks in the making. Three rounds of voting, four seasons in battle. In the end, it was season one episode sixteen that took the crown as the best episode of Supergirl so far! Now, it has been pointed out to me that there is a potential that due to the rules of voting, we can really only be 100% sure that Falling is the one episode that will end up in people's top three more than any other. But at this point, we think we've voted this topic to death. So with that we will name "Falling" as the best episode of Supergirl so far! Here are some interesting facts about the episode for you:
The episode originally aired March 16th, 2016
It was directed by Larry Teng who did many of the season 1 episodes
Current showrunners, Jessica Queller and Robert Rovner wrote the episode!
The episode did a 1.4 live in the ratings with an adjusted 2.1 live + 7.
Viewership was 6.7 million viewers live and adjusted to 8.8 million live + 7.
Of course, Falling has some pretty good competition. Specifically the second and third place positions. When we did the polls the first time (two rounds), Midvale edged out For The Girl Who Has Everything by one vote! This time, For The Girl Who Has Everything edged out Midvale by one vote! It's difficult to apply the mathematics about the poll, elements like poll fatigue, demographics, and poll engagement. Basically, we think we could go back and forth on these two episodes each time we hold a poll.
Finally in forth and fifth place were Red Dawn and The Pilot respectively. These results seem to match up with all rounds of the polls. We'll let you guys draw your own conclusions from how everything ended up!
What we'd like to know next is, how did you guys enjoy this exercise? Was it fun? Are there ways we can improve? Would doing more events like this in the off season be fun? We have a few ideas but want to hear from you as well! As always, share your thoughts with us in the comments below and in the forum! Keep us advertisement free and visit the support page!
6/12/2019 9:58 am

We are mostly digital these days, but when it comes to Supergirl, getting our hands on any or all content we can is essential. Even more so, we are in it for the extras! Today, Warner Brothers has shared the release date and list of extras for the season four dvd and blu-ray releases. You can purchase your copy beginning on September 17th! Additionally, if you purchase the Blu-Ray copy (and only the blu-ray not the DVD) you'll get the other two hours of Elseworlds included! Probably most important to us, season 4 has a GAG REEL!!!! Check out the list of all the included elements below:
Just in time for the fifth season premiere on The CW, catch up with one of TV's favorite DC Super Heroes as Warner Bros. Home Entertainment brings you Supergirl: The Complete Fourth Season on Blu-ray and DVD on September 17, 2019. Fans can purchase the sets which, in addition to all 22 super-powered episodes from season four, also contain the DC Crossover featurette, the show's 2018 Comic-Con panel, deleted scenes and a gag reel! All three DC Crossover: Elseworlds episodes will also be available only for fans who purchase the Blu-ray set. Supergirl: The Complete Fourth Season is priced to own at $39.99 SRP for the DVD ($51.99 in Canada) and $44.98 SRP for the Blu-ray ($52.99 in Canada), which includes a Digital Copy (Available in the U.S.). Supergirl: The Complete Fourth Season is also available to own on Digital via purchase from digital retailers.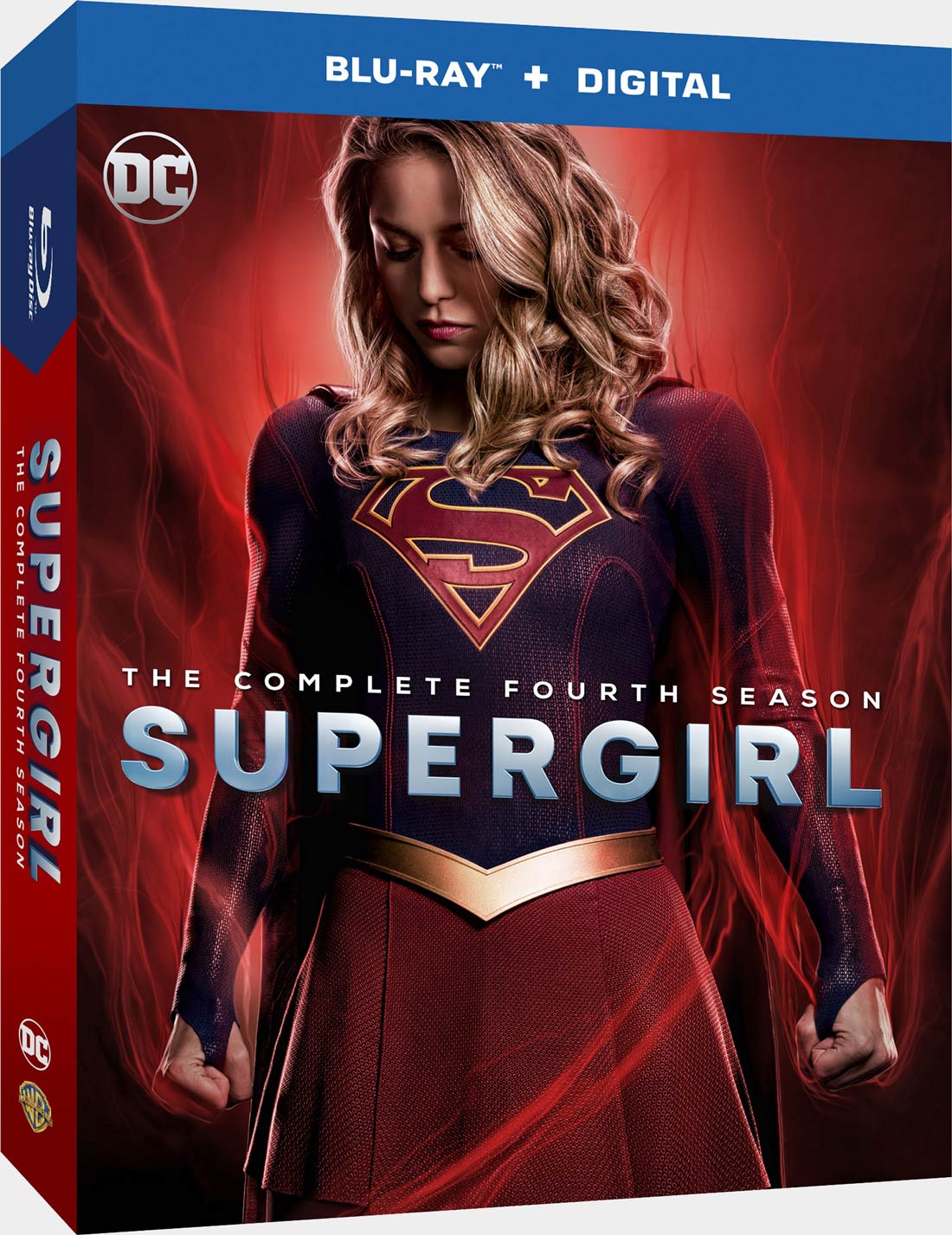 Let us know if you'll be picking up a copy in the comments below and in the forum! Keep us alive and kicking through the summer and visit the support page!
6/8/2019 4:18 pm

Surprise! There's a third round in our quest to find the best episode of Supergirl so far! While in round one, we restricted voting between seasons, now we are going to have an all-out free-for-all! We want to know, if the boundaries between seasons were removed, would the results for top 5 episodes be the same? To further add to the difficulty of this round, we are taking away two of your votes! You will only be able to vote for THREE EPISODES PER USER! We didn't want to make it a one vote and done because that seems a bit too difficult. Speaking for myself, there are a few episodes I love equally. Be sure to use your three votes wisely!
The question remains, will Falling continue to be our users absolute favorite episode? Will the other four continue to be in the top 5 or will the removal of seasonal boundaries push a few episodes aside? We will keep the poll running for one week and this time next week on Supergirl Sunday, we will have an absolute answer!
You must be logged in to see the vote and results button, some additional css classes were added so you might need to refresh your cache.
Let us know your thoughts and try and persuade your fellow users in the comments below and in the forum! Keep us alive and kicking this summer and visit the support page!