10/22/2019 2:25 pm

The fourth episode of Supergirl's fifth season welcomes Jay Faerber as a writer. He is partnered with Jess Kardos on this episode. As we've reported earlier in the synopsis, this episode's description starts out by stating "Saying Goodbye is Hard to Do". Judging by the photos below, this could be Mehcad Brooks' last episode. Of course, Kelly and James are in hiding until Supergirl can capture J'onn's brother and with the whole gang back together at the bar, does this mean Ma'alefa'ak is done for? Check out the images below:
Let us know what you think in the comments below and in the forum! Keep us advertisement free and visit the support page!
10/20/2019 7:20 pm

Tonight, J'onn's world was changed forever! Now the title for "In Plain Sight" makes a lot of sense because Ma'alefa'ak is back at full power and can now incept his own thoughts into anyone! He could really be one of the most dangerous enemies Supergirl has ever faced! It has yet to be seen if Ma'alefa'ak can incept his thoughts into Supergirl. If so, then all of Earth could be at risk! How will the team handle Ma'alefa'ak going forward and just where are Kelly and James headed? Get your first look at next week's all new Supergirl below:
Let us know what you think in the comments below and in the forum! Keep us advertisement free and visit the support page!
10/20/2019 3:38 pm

Happy Batwoman/Supergirl day to you all! Tonight was another great evening of television with Batwoman finally claiming her real role and our Girl of Steel once again saving the day! On Supergirl, J'onn investigated possibly the biggest mystery he's had yet. Who, how and why was his memory wiped of his brother's existence. Kara worked a genuine effort to mend her relationship with Lena and Kelly tried to help out an old friend. Of course there was much more to the episode than just that! Here's what stood out to us!
Spider Kills: The mysterious woman that has the spider tattoo seems to kill right from the start! William was at the same club warning someone that they should play ball. We'll get more on that later. Meanwhile, the Danvers sisters and the Olsen siblings head out for a walk. Kara expresses that she is nervous about her lunch with Lena, it will be the first time the two have hung out since Kara told Lena she was Supergirl. We cut quickly to Lena and Hope where Hope learns that there are journals that Lex kept on Q-waves that could be used to take away Superman's invulnerability. Lena derives a plan to use Kara to steal the journals for her.
J'onn Needs His Memories: J'onn asks Dreamer to help him get his memories. The theory is that if J'onn can discover them through dreams instead of technology it would be safe. In the mean time, Lord of the Rings actor, Sean Astin, makes his debut. He is actually Ma'alefa'ak disguised as Kelly's friend Pete. Of course, Ma'alefa'ak's goal is to actually get rebooted via Q-Waves.
Lena and Kara's Lunch: Lena and Kara seem to be ok on the surface. Kara actually flies to France to get Lena her favorite desert! Lena, however, seems to waste no time in manipulating Kara to do her bidding. She needs Lex's journals and so she claims that the only way she gets relief from her battle with Lex is to read the journals. Kara, kind of in a moral gray area, offers to get them for her friend. Kara already feels bad though when James notices that Kara isn't herself and he jokes that she looks like she just robbed a bank. Kara clearly doesn't feel great about what she did.
Carl Lumby is Back: During J'onn's dream we discover that Ma'alefa'ak can't connect to the Martian hive mind. He can, however, inflict his will on others. Carl Lumby's M'yrnn returns in the dream sequence. He feels that the only way keep the Green Martians safe is to take away Ma'alefa'ak. M'yrnn continues to pray for Ma'alefa'ak but it isn't enough. J'onn keeps visiting Ma'alefa'ak from time to time but in the end, it's the White Martians that find Ma'alefa'ak and free him. It is clear that White Martians recruit Ma'alefa'ak to their side and that's why Ma'alefa'ak was so evil. He was abandoned by J'onn and M'yrnn.
Kara and Caroline: The spider woman is identified. Caroline O'Conner was a sniper for the army but now has bonded with an alien that can take tattoos and turn them into real things. Kara is able to get to Caroline's apartment and find a flash drive but Caroline is able to get away after Guardian and Supergirl fail to capture her. James is infected by the tattoos and is taken to the DEO where Alex can remove them.
J'onn Wipes M'yrnn's Memory: J'onn can't take the pain his father is in since he failed to save Ma'alefa'ak. With Ma'alefa'ak being on the other side of the civil war, J'onn knows that his people will need M'yrnn's leadership in the coming war so he is the one that actually erases M'yrnn's and his own memory.
Battle on Two Fronts: Supergirl and Alex take on Caroline and after a few scuffles, Supergirl and Alex are victorious! Of course the two sisters win easily! On the other hand, Kelly puts her friend Pete into the Q-Wave machine and just like that Ma'alefa'ak's ability to incept minds returns. He can make you think or feel whatever he wants you to feel. The only side effect is that now Kelly can see Ma'alefa'ak in whatever form he is in. This puts Kelly's life in danger so Alex and team decide to send her away for her own protection. Just when Caroline is about to speak to who she works for, a black cloud of shadow appears, stabs her in the heart, and poofs away. Was this Acrata?
Final wrap up moments. Kara does end up stealing Lex's journals for Lena. She states that for a friend like Lena, there are no boundaries. Kelly is whisked away to safety with James but Alex and team don't know where they are going. Kara gives James a transmat watch that Lex Luthor used in case he needs it. Ma'alefa'ak is still on the loose.
Let us know what you thought of the episode in the comments below and in the forum! Keep us advertisement free and visit the support page!
10/17/2019 4:00 pm

So far after only two episodes, it doesn't feel like Andrea Rojas is really in anyone's corner but her own. Judging from the synopsis for episode 505, it sounds like Andrea might have her own moment in the sun as her contact lenses make their public debut! Also, whatever has lead William to investigate Kara seems like it's going to be on hold because the two team up to get to the bottom of a story that ends up revealing a terrorist plot! More in the synopsis below:
A NEW DANGER ARISES – On the eve of the worldwide launch of Andrea Rojas's (Julie Gonzalo) VR contact lenses, Kara (Melissa Benoist) and William (Staz Nair) team up on an investigation that exposes a terrorist plot. Kelly (Azie Tesfai) and Alex (Chyler Leigh) celebrate an anniversary, but Alex's safety is in jeopardy. Alysse Leite-Rogers directed the episode written by Rob Wright & Daniel Beaty (#505). Original airdate 11/3/2019.
Let us know what you think in the comments below and in the forum! Keep us advertisement free and visit the support page!
10/17/2019 12:27 pm

Here's a fun post for you all! If you've been a fan of Supergirl then chances are you've likely seen at least one piece of art from Sarah Leuver. She goes by @Comickergirl on Twitter and has been doing doodles and illustrations of the Girl of Steel for ages. She is also a freelance storyboard artist with a BFA in Animation. Lately Sarah has been working on a fun little side project. If you play Magic the Gathering or any strategy-based card game, then this will feel quite familiar. Sarah has created a Supergirl based card game named: National City Knock Out!
Even more amazing than the art and thought put into this game, is the generosity of Sarah offering this for free. That said you can name a price for it and with all the work Sarah put into this, we suggest at least $20. You can download it and print out the cards yourself! If anyone plays the game we'd love to hear about it! You can download the game here: https://gumroad.com/comickergirl#qVcbH. Also Sarah is available for commissions and other art related projects! A sample of the cards is below: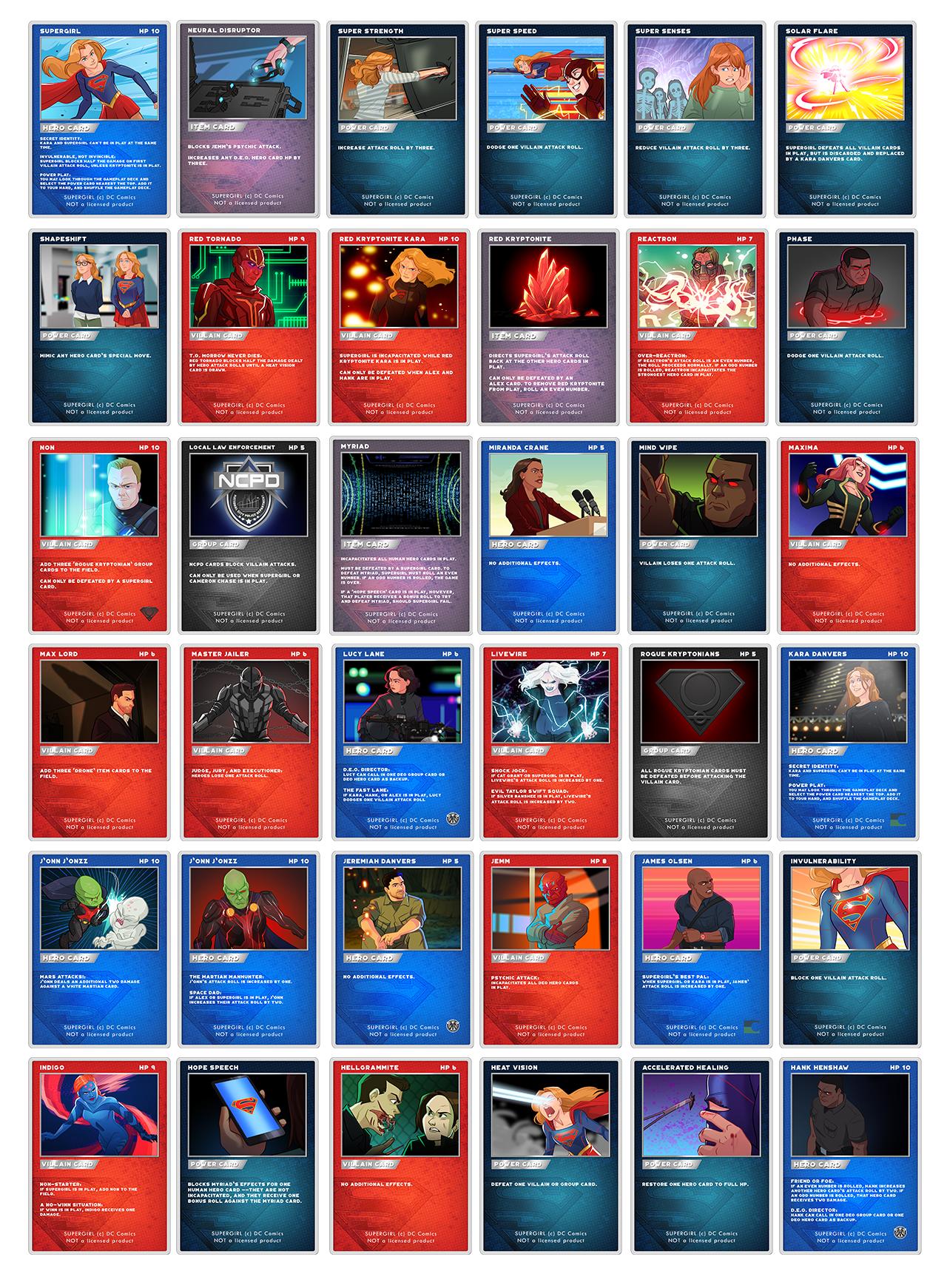 Let us know your thoughts in the comments below and in the forum! Keep us advertisement free and visit the support page!