5/28/2018 6:13 pm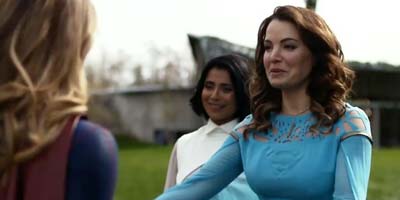 You spend 12 years of your life growing up in a culture that seems on the very cutting edge of technology and knowledge. Then, you spend 24 some years trapped in space. Even still, the next 15 years of your life is on a planet that the people look like you, but don't share your power or knowledge. Struggling where to go and what to call home certainly applies in this situation and from the look of this trailer for episode 321, Kara is going to make just such a choice. Moving back to Argo, however, we feel would only happen if Supergirl thought that Reign was defeated. When it turns out she isn't and Kara is gone, all hell breaks loose! Check out the trailer for next week's Supergirl below:
Let us know what you think of the trailer in the comments below and in the forum! Keep us advertisement free and visit the support page!
5/28/2018 4:37 pm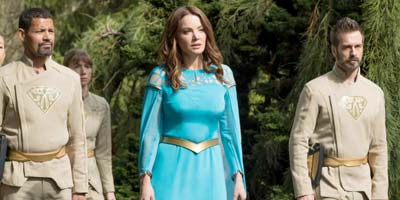 Tonight's all new episode of Supergirl happened to land on Memorial Day! We hope all of you had a good and restful day while honoring our veterans. Because there was primarily no work for most of America, this episode was unique. We got a feeling of what it will be like to watch Supergirl on Sunday's next season. For us, this was the perfect way to cap off our weekend! Of course, there was a lot more from tonight's episode than just a Sunday feeling. Here were the moments that were memorable to us:
Alex and Ruby Go for a Walk: This was a pretty shocking and unforeseen attack on Alex and Ruby! While Alex has been tapping into her maternal instincts, her super secret agent training is as sharp as ever as well! She is able to catch the attack before it happens and bravely throws a bomb into a container which minimizes the damage! At this point, who or what is going after Alex and or Ruby is a mystery!
Kara and Mon-El Land on Argo: Despite J'onn's ship's abilities to hide and change shape, Kara and Mon-El are hunted almost immediately on the asteroid. They look like the inhabitants of the city but clearly are not dressed the part. After a quick change to cover up their super suits, the two head into the city to find the needed sunstone. Just as we saw from the sneak peek, Alura arrives on the scene to stop the defenders and find her daughter alive and returned!
Zor-El Makes the Argo Shield: With his dying breath, Zor-El created the Argonian shield to protect the city from the planet's destruction. It uses the very rock that Supergirl needs to restore Sam and defeat Reign. With the destruction of Krypton, Argo is the only refuge for the Kryptonians. With Daxam's destruction, Alura offers a place for Mon-El as well. Two entire worlds destroyed, yet sister planets that shared a sun.
Alura and Kara Reconnect: It was pretty insane for us to listen to Kara tell Alura about all of the events from season 1. Astra, Non, the Kryptonian burial rights, all of it came back around full circle! Both Alura and Kara felt like both had let down the other in some way but the circumstances as large as they were, it was easy for the two to forgive and embrace.
The Kryptonian Counsel: Kara, with Alura's introduction, addresses the counsel of Argo. She needs just a small piece of the rock powering their civilization. Tim Russ, who played Tuvok on Star Trek Voyager, leads the meeting and suggests the counsel deny Kara's request. But in a big toss up, Reign's mentor appears to be real and a member of the counsel. She votes to let Kara take the stone. By doing so, it must be to Reign's advantage. Perhaps removing the human side of Reign frees her to be fully powered!
Alex Defeats Her Would-Be Killer: This scene was fast and over quickly but we wanted to mention it because of the awesomeness that Alex pulled off! She was able to defeat him using a Batwoman like attack! The Bat family would be proud! That, however, pulls into question the responsibilities of being a parent. Alex is concerned that her actions as a DEO agent could get her killed. As a parent, her responsibilities to her future child would demand caution. Alex needs to think what she's going to do in the future.
Kara and Mon-El Return: In the last moment, Kara and Mon-El return to L-Corp just as Reign escapes from her containment! A battle begins and the rock is thrown to Lena. This of course after Lena hits the kill switch on Sam but is too late!
We hope you all enjoyed "Dark Side of the Moon"! Let us know your thoughts on the episode in the comments below and in the forum! Keep us advertisement free and visit the support page!
5/28/2018 10:32 am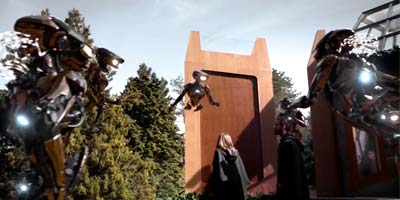 Happy Supergirl Monday everyone! This is the 4th to last Supergirl Monday we have left but its also a very special Monday as well. Because it's Memorial Day, we are getting a bit of a preview of what it will be like to watch Supergirl on a Sunday next season! From our perspective, its a lot nicer and easier to stay on top of the news. Speaking of which, we have our first sneak peek at tonight's episode! Check out Kara and Mon-El's realization on where they've landed below:
Let us know what you think of the sneak peek in the comments below and in the forum! We'll add any inside looks or sneak peeks here as/if they become available. Keep us advertisement free and visit the support page!
5/23/2018 2:58 pm
We just got images from next weeks episode and now we have the images from the episode after! "Not Kansas" now has thirteen new images! From the looks of it, Kara's trip to Argo city is a short one. The threat of Reign needs to be dealt with as fast as possible. Furthermore, Sam's fate hangs in the balance as well. In a very telling photo in the gallery, Lena seems to have created a very needed element for Sam! Of course that's our speculation, what's yours? Check out the image below:
Let us know what you think in the comments below and in the forum! Keep us advertisement free and visit the support page!
5/22/2018 3:16 pm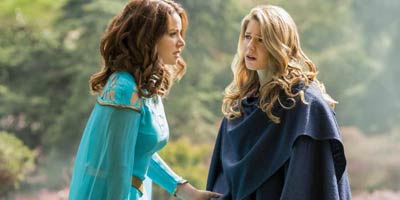 Alura is alive! Many have known that is the case from several images floating around the internet but after last night's trailer and today's new images, we can finally confirm it! How is she alive and in what capacity still remains a mystery. Right now we are curious if there is some level of time-travel taking place. The trailer seemed to suggest it. It would also need to address the time gap. Kara was in suspended animation for 12ish years. Living under a yellow sun Kryptonians age very slowly (via Superman season 2) but is Argo getting yellow sun energy? Check out the images for yourself below:
Let us know what you think in the comments below and in the forum! Keep us the only advertisement free source for Supergirl news and visit the support page!