3/20/2017 12:09 pm

Paleyfest is becoming a very special event for us at Supergirl.tv. This was our second year attending and we were surprised that we had more fun this time than last. Both years we went, we were granted the absolute honor of being on the red carpet to ask the actors and showrunners questions! Beyond that, we were able to absorb the full panel in person and enjoy some extras too! Here is our recap of Paleyfest 2017 Heroes vs Aliens:
First of all, we don't live in LA so going to Paleyfest takes a plane trip for us to attend. Through you guys, our wonderful fans, the site donations helped ease some of the cost of travel (though some comes out of our pockets). Ultimately, the trip was pretty easy for us and we arrived a day early which gave us plenty of time to set up and get all our tech ready. Unlike last year, this event was on Saturday and it was taking place in the afternoon rather than the evening. It was perfect timing for families out on the weekend that wanted to see their favorite heroes in person.
On Saturday we woke up early and started testing our equipment. We double checked all the batteries were charged and tripled checked that the camera had enough space to record all the amazing events! Our plan was to show up an hour early and set up our cameras. Well your admin here made a big mistake and didn't realize that they actually allow you to set up an hour and a half early so we were LATE! We ran to our designated location on the red carpet and began frantically setting up. We asked our red carpet neighbor if we had already missed someone but luckily we hadn't. In the blink of an eye we were set up and talking with David Harewood!
To see our interviews check out our Paleyfest red carpet interviews article here.
The interviews went great except for a small hiccup on our end when Melissa Benoist came by. We had 4 questions prepared but knew we'd only have time for one or two. Our first question went out perfectly and Melissa's answer flowed and engaged us. So much so, we froze and forgot the next question! (hand to forehead!). So our second question was actually our last question (in order of importance) because it was the only one we could remember after hearing Melissa's beautiful answer to working with Chyler.
Any way, after the red carpet interviews, we were escorted to the best seat in the house where we were able to record some of the panel. In fact one of our users (maybe not a member) recognized us and tagged us on twitter. If you see us in public (which is easy, we wear Supergirl.tv shirts and hats) feel free to say hi!
The panel was amazing and will be available to watch in it's entirety on hulu. Kevin Smith was hilarious! His introduction might have run a bit long but we were laughing the whole time. Kevin does have a "take-him-as-he-is" mentality so as far as family friendly, we would encourage viewers with younger children to watch ahead of time to censor some parts. The language and a very specific question about the ATOM suit may not be best for younger viewers.
Adventures of Supergirl fans will remember that Sterling Gates gave the Girl of Steel her first motto, "Hope, Help, and Compassion for All". Well, that is coming to fruition as Melissa herself stated the motto on stage! We hope that we are going to get to hear it on the show soon too! Its about time that Supergirl get her own motto and we can't think of one better than what Sterling has coined!
All in all we can't recommend Paleyfest high enough. At the end of the event the cast all came to the edge of the stage and signed autographs. Its a very good way to get to see and meet them without having to do the whole convention madness. Check out these professional images from the event below:
Let us know what you think of the photos and our adventures at Paleyfest in the comments below and in the forum! Also, help us continue to do events like this and bring special coverage to you by visiting the support page!
3/20/2017 11:05 am

My goodness this has been a MAJOR Supergirl related last three days for us and we still have a new episode tonight and the crossover tomorrow! Whew! Tonight marks the first full episode featuring Teri Hatcher and Kevin Sorbo which is going to get Mon-El in some hot water! Sounds like the Daxamites come to Earth swinging already and its going to take some action from Mon-El to set things right. Also, we have our first look at how the Music Meister is apparently on both Earth 38 and Earth 1. Get your answers and ask your new questions below, there is a lot to unpack in these two new sneak peeks at tonight's episode:
Share your thoughts with us in the comments below and in the forum! Good news, Cisco gave us one of those interdimensional gateway devices too. We've been sending all advertisements to Earth 43 (they don't have advertisements there so they actually love it). Help us keep sending those advertisements to the good people of Earth 43 and keep them off this site by visiting the support page!
3/19/2017 6:22 pm

Finally! This is what we've all wanted to ... hear?! Today, the day after Paleyfest, finally we have a first sneak at the musical crossover with singing! The clip features Jeremy Jordan (in his dream version role), as well as Melissa and Grant singing away! It's also the first time we can hear the original song "Super Friends"! Check it out below:
Let us know what you think of the first sneak peek at singing in the crossover in the comments below and in the forum! Also, if you liked our Paleyfest coverage help us keep it up and visit the support page!
3/18/2017 9:27 pm

Today has been an incredible day! We are still on cloud nine from our day at Paleyfest and we want to share it with you. Like last year, we will take some time to recount our day and all that happened but for now, we want to share the most important parts, the interviews with the cast and show runners! Hear what Melissa Benoist, Grant Gustin, David Harewood, Brandon Routh, and Executive Producer Todd Helbing, had to say right below!
What do you guys think of interviews? Did we do a good job? What did you think of what the cast and crew had to say? Let us know in the comments below and in the forum! Also, keep us the number one source for Supergirl news anywhere, and keep advertisements off our site and visit the support page!
3/17/2017 10:50 am

This is quite a beautiful poster if we do say so ourselves! A lot of Supergirl news is coming forward and to get us started, The CW has released this amazing photo of the duet musical scheduled for March 21st! Of course fans know the crossover starts on the 20th but likely at the end (as it was in Heroes vs Aliens). Speaking of Heroes vs Aliens, we are going to be on a flight pretty soon to head to Paleyfest and cover all the heroes as they walk the red carpet! So bear with us as we might not be able to update as fast as we normally do when we are in transit. Thanks and enjoy the poster below!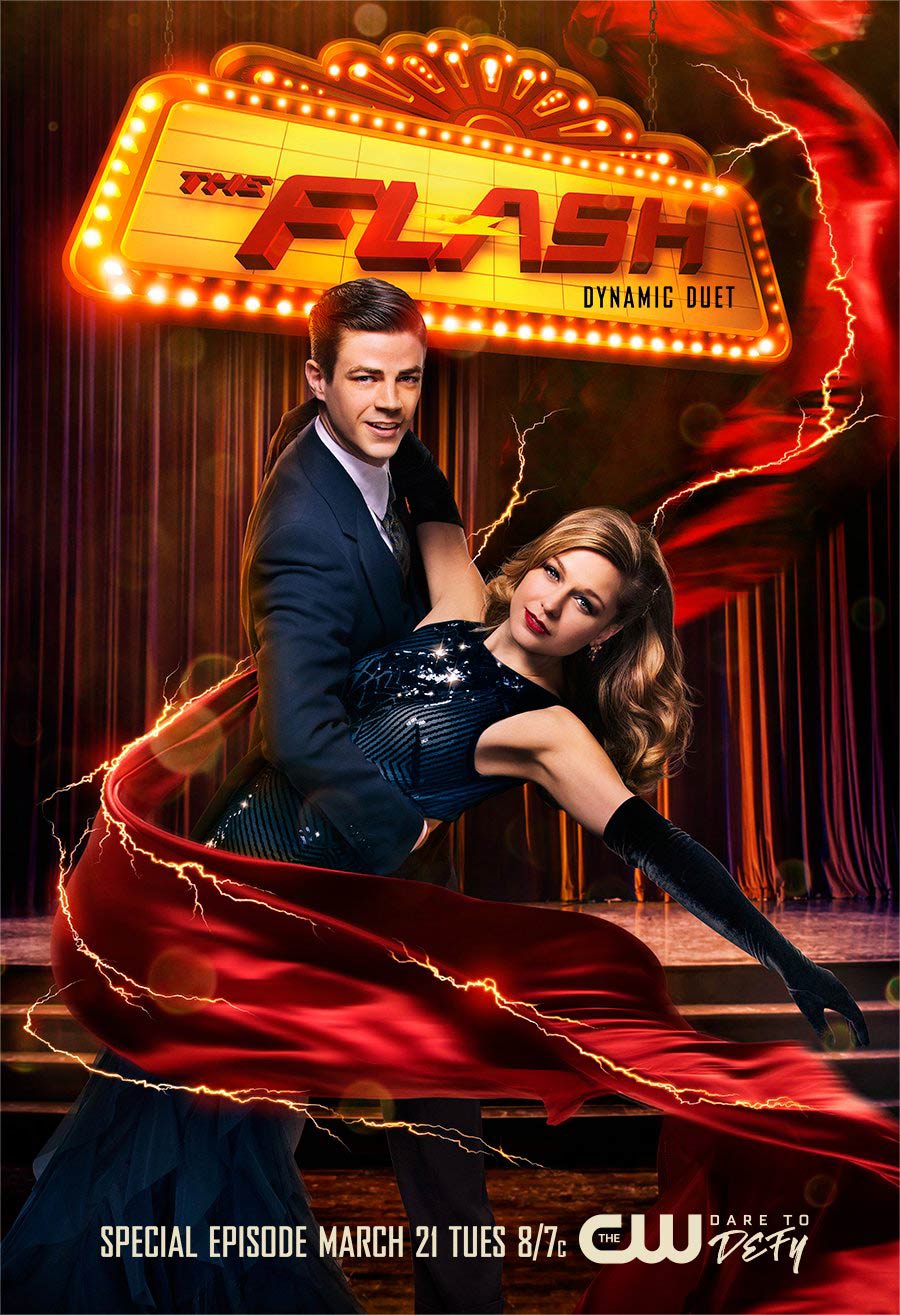 What did you think of the poster? Wasn't it awesome to see Kara's cape entwined with Barry's lightning? LOVE IT! Share your thoughts in the comments below and in the forum! Also, imagine how annoying it would be to have your favorite song interrupted by an advertisement, well we aren't your favorite song but hopefully we are one of your favorite sites! Help us keep advertisements off this site and visit the support page!