7/20/2019 6:09 pm

San Diego Comic Con has been a blast! Yesterday we talked with the cast for a little bit at the invite only Warner Brothers Media Mixer! This morning we got to sit down with the cast and do the roundtable interviews and this afternoon we got to see our first look at season 5! One of the fun things about the round tables is what you learn that isn't in the panel. For example, David Harewood is going to direct again this year, episode 511! We know that Melissa will direct but next year, Chyler is going to direct an episode! She even considered trying to co-direct with Melissa! Talk about a perfect Danvers sisters episode! Anyway, check out all the fun hidden little facts in our roundtable interviews below:
Let us know what you thought of our roundtable interviews in the comments below and in the forum! Keep us advertisement free and visit the support page!
7/20/2019 4:02 pm

Coming to you live, well as live as a written article can be, from San Diego Comic Con, we've got all the Supergirl news fit to print! This morning we got to interview the cast in twos. Because there were so many cast members and showrunners at the convention, they paired up. We are uploading those videos as we speak. In the meantime, there was some interesting news coming from the Supergirl panel. First is the addition of two new characters.
Andrea Rojas: She is the new owner of Catco.The character has an alter-ego in the comics too that may make an appearance! She will be played by Julie Gonzalo Andrea and is described as:
A polished businesswoman and heir to a Central American tech empire [who is] now making a hostile advance into the world of media. Unapologetic and unafraid to make waves, she also holds a mystical secret
William Dey: New reporter joining Catco and will make Kara question if she wants to even still be at Catco. William has worked with Andrea before. He will be played by Staz Nair. William is described as:
On the surface, he's a cynic and a sellout who looks down on Kara's earnest idealism. Dey's not interested in making friends, he just wants to get the story — but his ties to the criminal underworld could prove problematic.
Additionally, we learned that Ma'alefa'ak will be voiced by Phil LaMarr but will not be played by an actor. Ma'alefa'ak is an adept shape changer and wants to keep his true form hidden as best he can. Jon Cryer made a special appearance to moderate the panel! If you thought we were done with Lex then guess again! He's coming back! Of course we got to see our first footage from the show. Season 5 only has episode 1 in the can for now so the footage was likely all from the first episode. You can check it out below: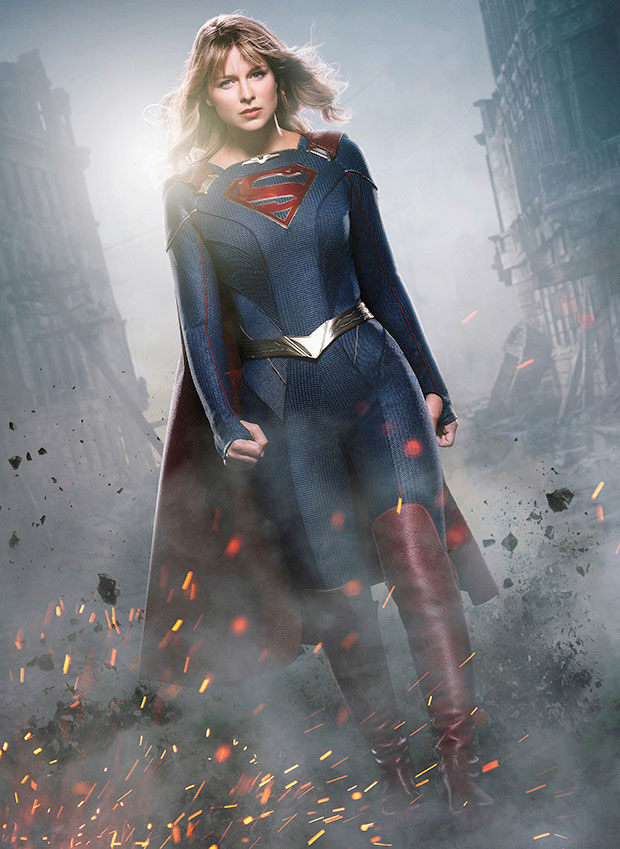 Let us know what you think in the comments below and in the forum! Keep us advertisement free and visit the support page.
7/19/2019 3:16 pm

It's with a heavy heart that we bring you this news. Entertainment Weekly has just reported that James Olsen, played by the incredible Mehcad Brooks, will be walking away from the show in the first half of season 5. So far, it is not known how the character will be written off but the departure sounds like it was the actor's choice to pursue new opportunities in features films, music and writing. We wish Mehcad the best and hope that much like Jeremy Jordan's Winn Schott, this won't be the last time we see James Olsen. Showrunners Jessica Queller and Robert Rovner had this to say:
We love Mehcad and we're sad to see him leave the show as a series regular, but we're excited for both Mehcad and James Olsen's future. He'll always be a part of our Supergirl family and we look forward to James returning to National City at some point to visit his sister and his super friends.
Let us know what you think of the news in the comments below and in the forum! Keep us advertisement free and visit the support page!
7/19/2019 9:40 am

We already saw John Wesley Shipp put on his 1990's Flash costume and reprise his role as Barry Allen on last year's Elseworlds crossover event. We even saw some familiar costumes from Smallville and other shows that preceded the Arrowverse. Well today, Deadline.com is reporting that Crisis on Infinite Earths will once again dive into the history of DC and ask a familar face to suit up as Superman! Of course Supergirl fans know that the Arrowverse's Superman is played by Tyler Hoechlin! His reviews have been incredibly well received as his portrayal of the Man of Steel likened much to the Christopher Reeve's version. However, he won't be the only Man of Steel. Brandon Routh, who is currently Ray Palmer on Legends of Tomorrow also played the roll in the 2006 movie, Superman Returns. According to Deadline.com, his version of Superman will make an appearance in the mega-crossover event as well!
What do you think of the multi-superman idea? Could we see other Karas? Other Arrows? Let us know your thoughts in the comments below and in the forum! Keep us advertisement free and visit the support page!
7/18/2019 5:42 pm

Jeremy Jordan fans, your worries can be laid to rest. The intrepid best friend of Kara Danvers (before Lena), Winn Schott, is returning for three episodes in the second half of this season! Entertaintment Tonight broke the story earlier today. The context in which Winn's return happens is being kept underwraps. What is telling is that this is going to take place after the biggest crossover event in the Arrowverse to-date. Many fans have speculated that the events of Crisis on Infinite Earths might merge the multiverse into one singular universe. Could that have a part to play in why Jeremy Jordan's character returns? Your guess is as good as ours!
Let us know what you think in the comments below and in the forum! Keep us advertisement free and visit the support page!