10/11/2018 4:11 pm

One of our greatest pleasures being in the entertainment reporting business is getting to preview landmark episodes before they debut. It just so happens that this applies to Supergirl and we, once again, get the privilege of reviewing a season premiere for you, spoiler-free! Our initial reactions to the premiere are that Kara is back! She is happy and strong and from her perspective, Earth is in a great place. With three years of Supergirl under her belt, Kara has really adopted her leadership role. In addition, whatever magic Melissa found on the Broadway stage has made its way back to Vancouver. Kara feels familiar but Melissa has brought a little something special that we haven't seen before.
Brainy makes waves in his first full-time role on Supergirl. If you forgot even the slightest bit of how Brainy reacts in the 21st century, he will jar you back almost instantly. Look for great moments between him and Alex. Speaking of Alex, if you were worried that taking up the director role at the DEO would put the cuffs on Alex's innate badassery, then worry no more. Alex comes off very strong and even gets some field work too. As we know most of you are wondering, there is definitely a couch sister scene and it, as always, is incredibly sweet and addresses J'onn's commitment from the end of season 3.
J'onn is certainly different, both in attire, and attitude. There is a gracefulness that comes from seeing one of the most powerful aliens on Earth take up a pacifist role. While J'onn may be "out of the fight", he does take on a new and interesting role that keeps him continuously crossing paths with the Danvers sisters. Lena seems to be Lena again. Her Chaotic-Good nature continues to shine through as she helps James through the difficult times ahead of him after revealing he is The Guardian.
Finally, Nia Nal makes her big entrance this episode and she couldn't be any more like season one Kara Danvers. The relationship between the two is very Cat Grant/Kara Danvers-like. Kara even gets called out for channeling her inner Cat Grant. Nia makes a passionate plea for a new take on an otherwise dreary story which places her as someone to watch in Kara's eyes.
There are some incredible plot developments this episode as well, but we'll save that for our recap. We will say that for those who were worried that this season would be too political, we did NOT feel that way at all during this episode. There are some corollaries to real world events but they were handled in a way that, if you weren't looking for them, they would pass you by.
As for the loose ends that we were left with from the season three finale, we can say this:
Sam and Ruby are mentioned.
The show does address the doppelganger, but just a bit.
Lena has a new product on the market.
Sadly no Calista Flockhart this time.
For now, that is all we can say. Hopefully you enjoyed our spoiler-free review of the Supergirl season 4 premiere! You can watch and tweet along with us Sunday, October 14th at 8pm on both coasts! Come back to see our official recap too! For now, let us know your thoughts in the comments below and in our forum! Visit our support page and help keep Supergirl.tv advertisement free!
10/10/2018 4:07 pm

Some might argue that this was the kind of trailer we were hoping to see at Comic Con this year. But we can't blame Melissa Benoist for chasing her dream in the summer while still doing Supergirl. That said, now that we are seeing this all new one-minute long trailer for Supergirl's fourth season, we are more excited for SUNDAY than ever! Kara is HAPPY and dancing around as Supergirl again! Mercy Graves looks like she's delt with Kryptonians before, and from the looks of it, Kara will get to see if she is just like her cousin and indeed more powerful than a locomotive! Check out the trailer below:
Let us know what you think of the extended trailer in the comments below and in the forum! Keep us advertisement free and visit the support page if you can!
10/8/2018 7:50 pm

There is something that is so iconic about a "Bat" costume. The ears have to be just right, the utility belt needs to be functional but not too big, the emblem needs to visible and incorporated into the look and feel of the uniform and finally the cape needs to be long enough to have a regal length but also keep the bat curves. If you can hit those hot spots and keep a two-tone color scheme, you just might have an iconic look that will last for a long time. Today, Colleen Atwood, Academy Award Winning costume designer, has knocked it out of the park yet again! Ruby Rose puts on the cape and cowel for the first time and she looks amazing! It should be noted that Atwood has done all the title characters for the Arrowverse including Supergirl and The Flash! Check out the image below and click on it to get full size!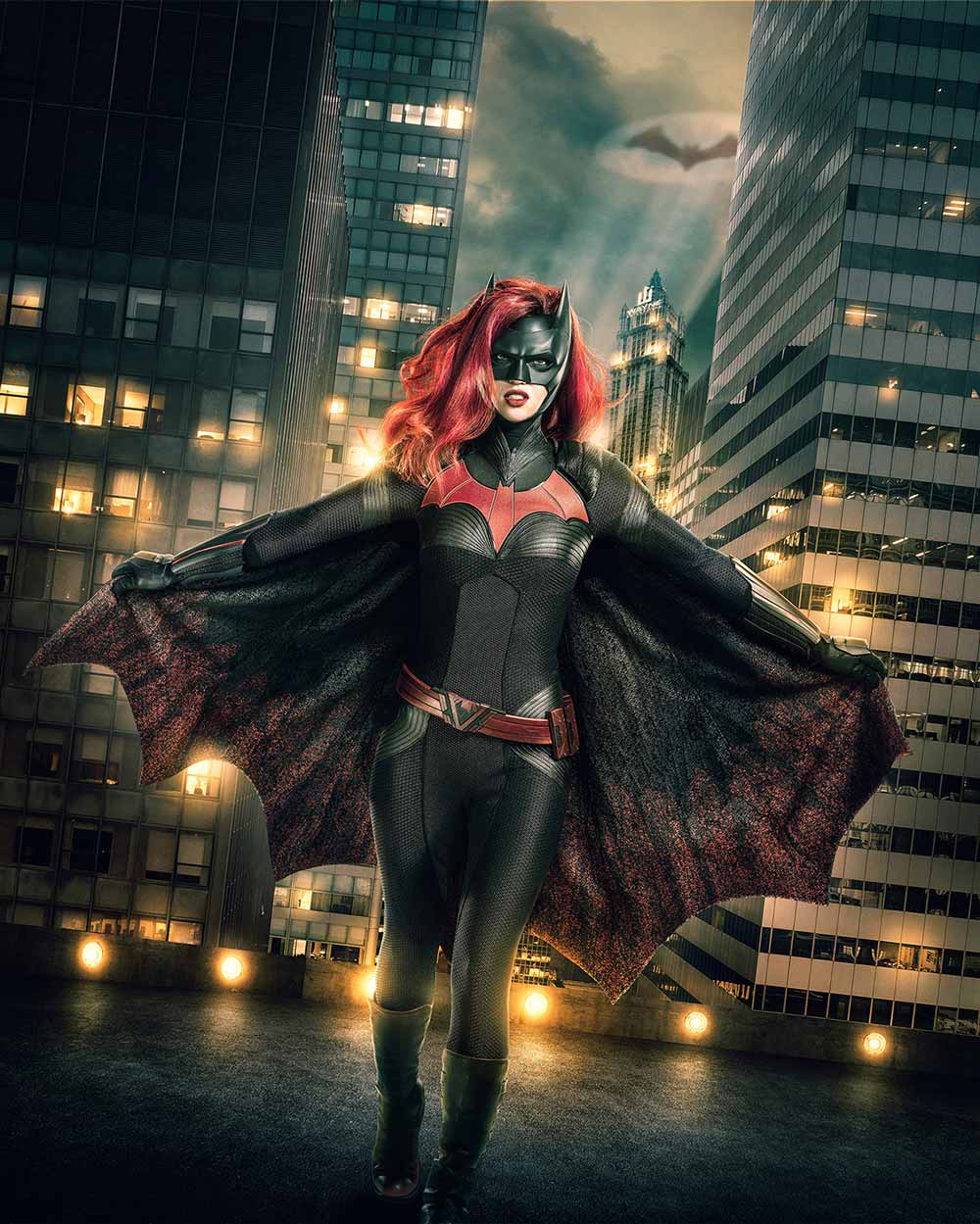 Let us know what you think of Ruby's Batwoman in the comments below and in our forum! Keep us advertisement free and visit our support page!
10/4/2018 2:16 pm

Supergirl's fourth season is just around the corner and today we are getting our first idea of what is featured in the second episode of the season. The episode is titled "Fallout" which seems to carry over the events of the premiere and takes them forward. In addition we are going to see Brainy and Nia meet, but in a "precarious" situation and Alex will rev up her role as the lead at the DEO. Kara will also use her reporter persona to go after one of Lex Luthor's most trusted advisors. Check out the full synopsis below:
CHAOS IN NATIONAL CITY — A shocking revelation causes chaos in National City. Supergirl (Melissa Benoist) sets out to capture Mercy Graves (guest star Rhona Mitra), while Alex (Chyler Leigh) takes control at the DEO. Back at CatCo, Kara decides to write an investigative story on Mercy and asks Lena (Katie McGrath) if she can interview her as Mercy has ties to the Luthors. Meanwhile, Brainy (Jesse Rath) meets Nia (Nicole Maines) and the two end up in a precarious situation. Harry Jierjian directed the episode with story by Dana Horgan and teleplay by Maria Maggenti & Daniel Beaty (#402).
Let us know what you think of the synopsis in the comments below and in our forum! Keep us advertisement free and visit the support page!
9/27/2018 12:45 pm

Here we go! It's finally time for us to get started with season four's synopsis. We'll be getting these weekly as new episodes begin. For today, we are excited to have our first look at the season four opener, "American Alien"! The very first sentence should have a lot of folks happy as Kara is going back to being a reporter! Shockingly, Cadmus actually returns and the events that Cadmus puts into motion seem like they are going to set the course of this season! Check out the synopsis for season four's premiere below:
HOPE VS. FEAR — Diving back into reporting, Kara (Melissa Benoist) welcomes a new cub reporter to CatCo. Meanwhile, James (Mehcad Brooks) and Lena (Katie McGrath) argue about James' impending indictment for acting as the vigilante Guardian, while Alex (Chyler Leigh) and Brainy (Jesse Rath) struggle to get in sync at the DEO. Supergirl (Melissa Benoist) is called into action when remnants of the anti-alien terrorist organization Cadmus try to assassinate pro- alien leaders, but their endgame turns out to be much more sinister than she expected. J'onn (David Harewood) relishes his peaceful new life, but an outing with an old friend causes him concern. Jesse Warn directed the episode with story by Robert Rovner & Jessica Queller and teleplay by Gabriel Llanas & Aadrita Mukerji (#401). Original airdate 10/14/2018
Let us know what you think of the new synopsis in the comments below and in the forum! Keep us advertisement free and visit the support page!