7/17/2019 10:04 pm

Good evening Supergirl fans. A very tired crew here tonight. We just got back from preview night. We were able to get in room reactions from the fans who watched the Batwoman pilot early, picked up some of our swag bags, and got a few colllectables. By now you likely know (thanks to some of our impressive forum users) Andrea Brooks has been promoted to a season regular in season five! So excited to see her more and to speak with her at the convention. That of course wasn't all the Supergirl news today (why do they do this when we are traveling).
---
On Entertainment Weekly, Melissa and showrunners, Jessica Queller and Robert Rovner spoke about their feelings on season 5. Melissa described the season as a fight for Lena's soul! As we all know now, Lena learned the truth about Kara at the end of season four when Lex dropped a bomb on her! Speaking about season 5 Melissa said:
This season's going to be a fight for Lena's soul. I was devastated that it was Lex Luthor that told her. That was such a shot in the heart to Lena, a character that my character loves so dearly. It was painful.
Jessica Queller and Robert Rovner were excited to share that this will be the first season that their predecessor hasn't had any involvement with. The show's vision will be entirely owned by them. This is what they had to say:
It's our Black Mirror season. What we're looking at is how technology is impacting the way people engage and giving them an escape not to engage. It seems like nowadays, everyone is kind of on their phones or not really present, and so we wanted to speak to that and kind of how it might be hard to live in the ugliness of what's going on, and how a character like Kara can try and help us overcome that. It speaks to a lot of the stuff the characters will be going through. Lena throws herself into a type of work that is going to increase people relying on tech rather than relying on humans who can hurt you. The way Lena found out about this lie definitely colors how things are going to unfold between [Kara and Lena].
There were a few more comments from the showrunners and some amazing new photos which you should certainly check out via the link above!
For now, its time to get some sleep! Share your thoughts with us in the comments below and in the forum! Keep us advertisement free and visit the suppot page!
7/16/2019 9:25 am
Yesterday's news cycle was dominated by one image! The new Supergirl suit as posted by Melissa Benoist on her Instagram page! We were caught up in the hype as well! While we totally believe that the suit deserves the attention it is getting, there was another big story yesterday that sadly went under the cracks a bit. The Saturn Award nominations were announced yesterday and of course, Supergirl showed up big! The show has been nominated for four awards including Jon Cryer's depiction of the infamous Lex Luthor! Here are the nominations:
Best Superhero TV Series (Suprgirl)
Best Actress in a Television Series (Melissa Benoist)
Best Supporting Actor on a Television Series (David Harewood)
Best Guest-Starring Performance on a Television Series (Jon Cryer)
While in our minds, it's a no-brainer that Melissa and David as well as the show are nominated, we are so happy to see Jon Cryer getting recognition for the incredible work he did as Lex last season! Let us know what you think in the comments below and in the forum! Keep us alive at San Diego Comic Con (leaving tomorrow) and visit the support page!
7/15/2019 1:56 pm

HERE WE GO! THE FIRST LOOK AT MELISSA BENOIST'S NEW COSTUME! It looks amazing to us! The red long boots help keep the suit color balanced and we are loving the nod to Superman's costume with the cape being clipped down on the shoulders! Her belt looks much more prominent than before and certainly does a great job of breaking up the costume. Finally, the arms and shoulders look like they are more armored. She looks like she is ready for a fight much more than before! Check out the costume for yourself below: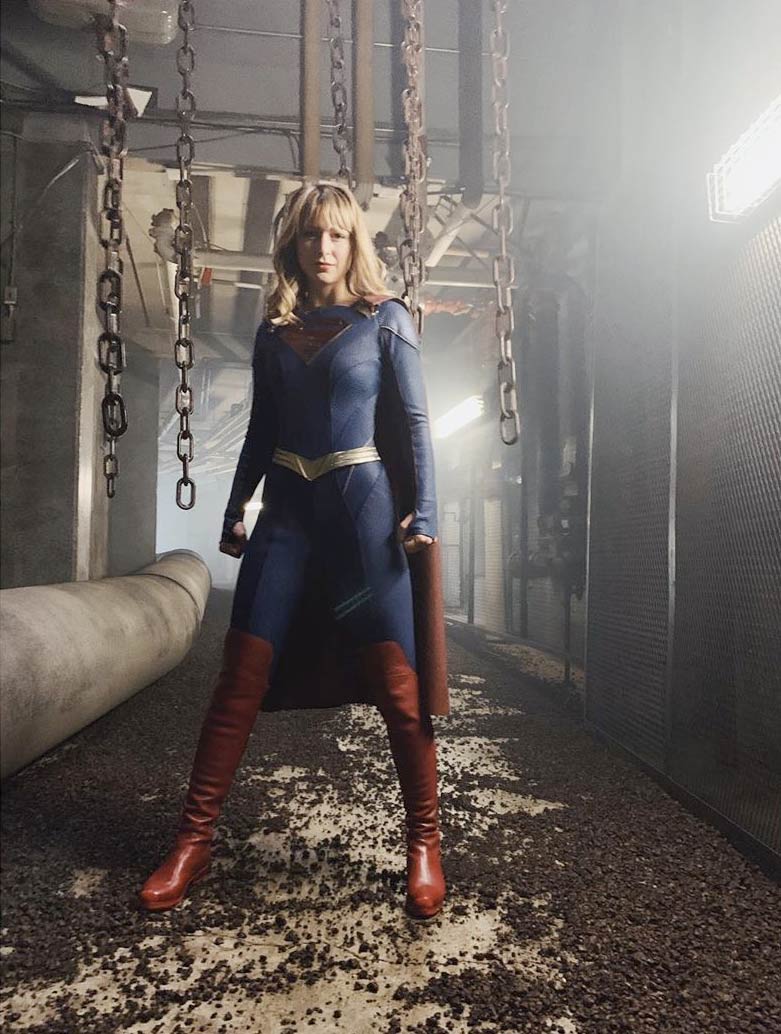 Let us know your thoughts in the comments below and in the forum! Keep us advertisement free and visit the support page!
7/15/2019 10:12 am

Sometimes news is too big to wait for San Diego Comic Con and we are ok with it! Entertainment Weekly has learned that the lead actor herself will helm an episode of Supergirl this season! Melissa has had aspirations to get behind the director's chair since season three but scheduling conflicts wouldn't allow her to do so last year, hence we got to see David Harewood in the director's chair first. Fans can look forward to Melissa's directorial debut in episode 17 this season! When asked about the new opportunity, Melissa had this to say:
I've been wanting to direct since season 3, but couldn't last year because of scheduling conflicts, so [star] David Harewood did it first. I just felt really drawn to it for a couple of seasons now, just because you know the show so well, and you get to know the character, and the world, and the tone of the show so well that you can't help but envision certain scenes in a certain way. I want to play with that.

These shows are so massive that it's not like directing any other show on TV, I would imagine, and everyone has said as much to me. I'm literally trying to be a sponge, and I will learn something new every single day I'm shadowing. It's just a matter of talking to actors, making sure everyone feels creative and collaborative even though we have these massive constraints with budget and special effects. It's like a chess game, I've realized. You move your pawn one way, and then someone knocks your rook down because you can't do a certain stunt you wanted to do. It's all about compromising and trying to be as creative as you can within those boundaries, which is a cool challenge.
---
Additional news dropped today, the official SDCC collector swag bag is out! It features the key art from season 4 though. Check it out below: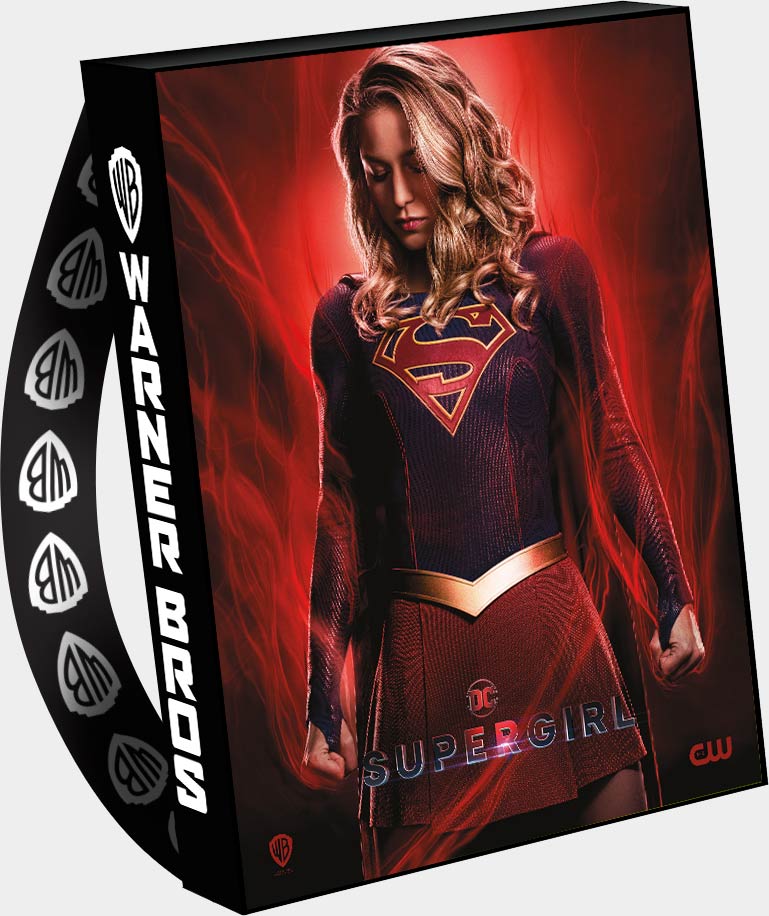 Of course look for even more exciting news about Supergirl coming from the SDCC floor where we will be giving you up to the minute scoops! Share your thoughts below and in the forum! Keep us alive and kicking at SDCC and visit the support page!
7/13/2019 7:48 pm

Just on the cusp of San Diego Comic Con, Melissa Beniost was at a video gaming event with Kevin Smith and Jay Mewes this weekend. During the celebrity videogame challenge, Melissa was defeated early by another player but Mewes took the win. That, however, gave Kevin Smith and Melissa Benoist some time to catch up after the match. Kevin was quick to turn the conversation to season five of Supergirl. Melissa admitted that she was in fact getting a new super suit this season! Additionally, she was able to mention that she is going the way of pants! That's not all though, Melissa was able to speak about her upcoming wedding to co-star Chris Wood and a few other extras! Check out the interview below:
What do you think of this new costume news? Let us know in the comments below and in the forum! Keep us alive and kicking during Comic Con and visit the support page!