1/23/2019 11:15 am

Ever since Superman was created and defined what a "Superhero" was, there has been his antithesis, Lex Luthor. He is possibly the most well known villain in comic book history! We know he is coming to Supergirl and will be played by Jon Cryer, but now we get to see him in the flesh! On top of that we know now when he'll be debuting and the episode title that he'll debut in! Look to see Lex on episode 415 titled, "O' Brother, Where Art Thou" which will air March 17th, 2019. Check out the man himself below:
Click to enlarge:
Photo credit: Jordon Nuttall
Let us know what you think of Jon Cryer's Lex Luthor in the comments below and in the forum! Keep us advertisement free and visit the support page!
1/20/2019 6:15 pm

If you are still sitting on the edge of your seat after tonight's all new episode of Supergirl then you are not alone! That ending was incredible and extremely shocking! For our money, one of the best plot twists and acted scenes this season! Judging by the trailer for next week, the repercussions from this major action are going to be more than anyone thought they could be! Alex has lost a very important part of her formative years and she might not be the Alex we need at the DEO! Check out the trailer for next week below:
Let us know what you think of the trailer in the comments below and in the forum! Keep us advertisement free and visit the support page!
1/20/2019 4:53 pm

It's been a whole year since we've seen you last. Well not, but it was 2018 since the last episode of Supergirl aired and that was part three of Elseworlds! Tonight, we are back to Earth 38 where we followed the next chapter of Supergirl's continuing battle against The Children of Liberty, Manchester Black, and now it would seem, her old work place, The DEO. It would seem you can take the hero out of the DEO but not the hero out of the girl! Here are the moments that stood out to us:
Red Daughter: It's been a while since we've seen the Red Daughter, but she is making a big impact! She is chasing down rockets, throwing drones at tanks and simply being awesome. The officers overseeing her, however, wonder if she can be controlled. They note that she won't be facing tanks ...
Mysterious Attack: A shimmering alien jumps aboard a tanker ship where there is a military presence. Supergirl, while still dressed as Kara, hears the call for aid. She fakes a cramp while pretending to work out with Lena and hobbles off to change into Supergirl. She arrives a little late and sees that most of the guards have been killed. The shimmering alien grabs one of the soldiers and escapes as Supergirl throws the bomb meant to destroy the ship into the sky. The DEO arrive and let Supergirl know that her presence is not needed. Kara lets Colonel Haley know that just because she isn't with the DEO doesn't mean she is going to stop being a hero. Haley becomes determined to discover who Supergirl is.
John Jones: J'onn officially gets his detective license. He has set up a very great looking office where he can continue to help humans and aliens alike. Brainy visits to ask/pay for J'onn's help to support Supergirl while she is no longer in the employ of the DEO. J'onn objects and simply notes, all Kara need do is ask.
Alex Rallies The DEO: Alex is able to call all the agents that know who Supergirl really is into a meeting. It was a little bit of a surprise how many people didn't know about her identity. That said, she was able to reach them all and each agent stood up and agreed that they would protect Kara and Alex.
Brainy Asks Nia Out, Sort Of: Oh how Brainy knows language and yet misuses it. It's clear he wants to talk to Nia over a meal and thus, when pressed, he asks her out. But Brainy doesn't understand that there is a different meaning to asking someone out in this century. Nia is clearly elated but this miscommunication could lead to disaster.
Alex, J'onn and Supergirl: Colonel Tan is making a run for it just as J'onn, Alex and Supergirl arrive. They press him to tell them what is going on. It turns out that the Morai were alien children who had an incredible ability to cloak themselves. They were trained by the US government to become assassins. They had a 100% success rate. However, when the President of the United States gave the order to cut ties with all alien assets, Colonel Tan gave the order to eliminate the assets. The Morai were furious, obviously, and have been attacking those that were their handlers. Kara and Alex are able to stop one but the other is able to get Tan before J'onn could stop him.
Nia and Brainy's Date: Brainy puts his foot in his mouth almost right away. He kind of saves it by saying that he "didn't even think someone as beautiful as her would be interested in him." Nia then notes that she isn't sure if she is into him or not but is willing to hear him out. He makes his pitch about making Nia a member of the "Super friends". He then has to go after the DEO calls.
Lena and James' Dinner: Lena and James have a make-up dinner. James is baking when Lena lets him know that she is close to being able to give regular humans powers! James agrees to be her moral compass while she continues her research.
Haley Finds Out: Haley is able to break one of the agents and finds out that Supergirl is Alex's sister. Haley notes that Alex had her fooled. Just as she is about to bring down the hammer, the proximity alarm goes off and the whole DEO goes into position. Brainy has set up good defenses but Haley has allowed the use of lethal force.
Attack at the DEO: The aliens cut the power to the DEO making their laser defense plan impossible. Haley allows many of her agents to be taken out as she runs from the attack. Alex helps the agents. Haley is then cornered by one of the Morai but "Plan S" takes hold and Supergirl shows up and subdues the alien immediately. Shockingly, Haley quickly turns on Supergirl and starts to threaten her with all the things she is going to do. Alex shows up and objects, noting Supergirl just saved Haley's life. Haley doesn't budge and enough is enough and Alex drops Haley to the floor with one punch! The sisters stand together!
Haley is put into a cell where Kara and Alex call in J'onn. J'onn hesitates but agrees immediately to help Kara and Alex. Haley is reset but her purpose hasn't changed. She brings in an alien that can't be manipulated and is known as a truth seeker. In order to beat the truth seeker, all the agents at the DEO agree to allow J'onn to wipe their minds. Terrifyingly, Alex has to have the procedure done as well. Alex will no longer know that Kara is Supergirl. The scene was probably our favorite from this season so far! Chyler, Melissa and David really crushed it!
Let us know what you thought of the episode in the comments below and in the forum! Keep us advertisement free and visit the support page!
1/18/2019 10:30 am

Some of the biggest and exciting events in the comic book world and by extension, the TV superhero world, are when we can get a first look at a superhero's uniform. Seeing the suit, costume or emblem makes the alter-ego become real. Today, this is even more special as we get to see Nicole Maines as Dreamer, the first transgender superhero on TV! Her look has some familiarity with her comic book character as well as her 31st century Legion of Superheroes relative. Further enhancing the image is the artistic dreamer waves emanated from her in this new poster!
As you've seen in the season return trailer posted here, there is a shot of Nia opening the box that holds her future suit. It should be noted that while we will get to see this iconic suit in episode 411 titled "Blood Memory", it won't be until episode 412 titled "Menagerie" (which airs February 17th) that Nia Nal will fully wear the suit and embrace her alter-ego! This is a very special reveal and we are so excited to share it with you. Check out Dreamer below:
Click to Enlarge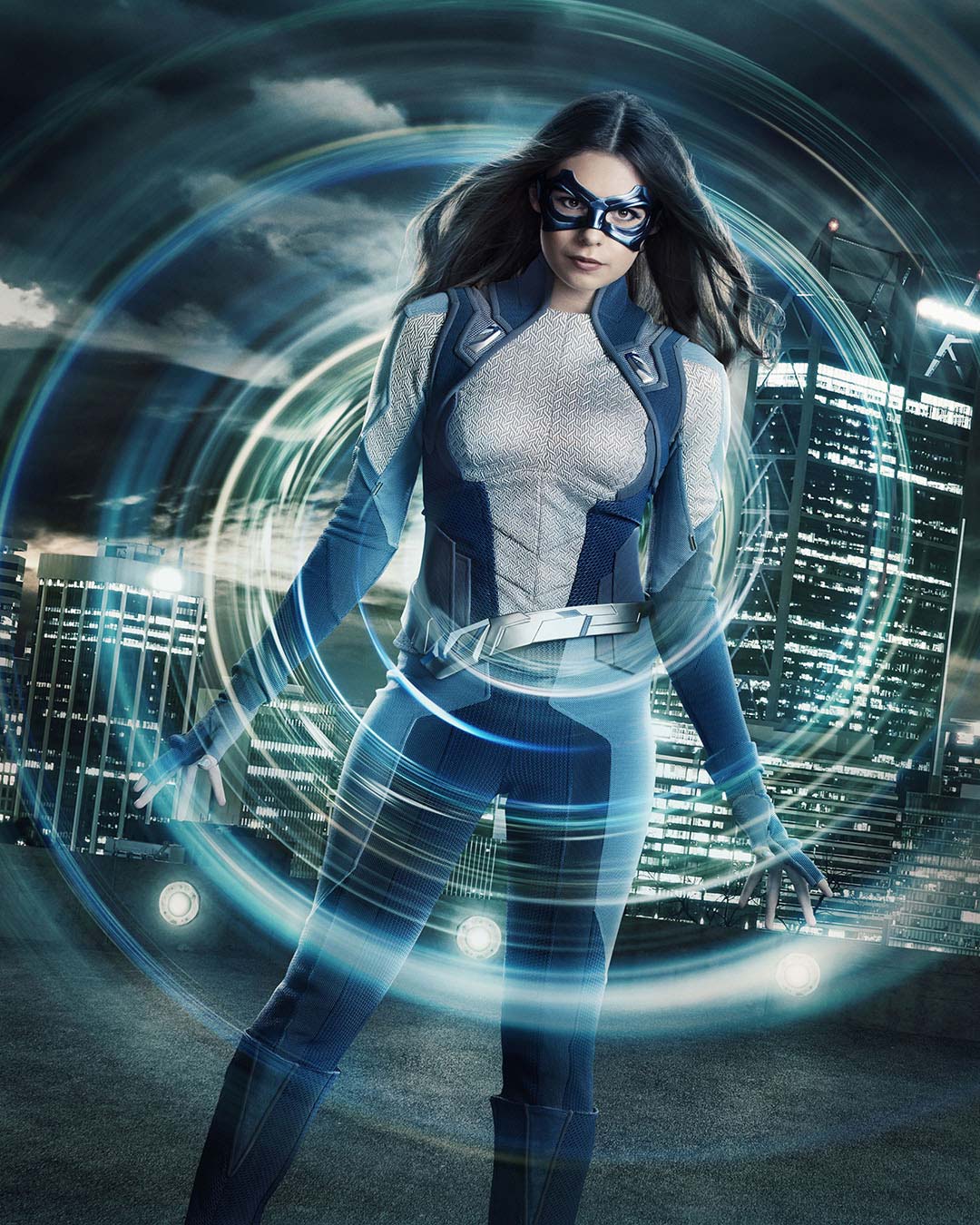 Such an incredible look! We love it! That said, there was an important piece of the puzzle revealed about the show's schedule as well. Because of the Superbowl and other award shows (at least it would seem), episode 412 that has this huge debut won't happen until a few weeks after episode 411. Certainly an understandable pause which will only grow our anticipation of seeing Dreamer in action!
Let us know what you think of the big reveal in the comments below and in the forum! Keep us advertisement free and visit the support page!
1/18/2019 7:56 am

Happy Friday everyone! Only two more days until The Girl of Steel flies again! Any DC Universe fans out there might be celebrating three more new episodes of Young Justice! Don't forget to visit our sister site for those recaps! So we've got some pretty big news to share a little later today but before we do, Entertainment Weekly sat down with Executive producers, Robert Rovner and Jessica Queller to talk about the second half of Season 4 and they revealed some interesting choices. Here are the big elements that stood out to us, you can read the whole article here:
Jeremy Jordan: This was the biggest news for us at least. Given how season 4 has been going and where the executive producers want to take it, there doesn't seem to be room for Jeremy's return this season. They said they are interested in doing a big arch with him in season 5 which has all sorts of implications. Does this mean season 5 is a sure thing? Likely so with the Crisis on Infinite Earths revealed. Does Winn bring back the Legion with him? So many questions come to mind. Here is what the Executive Producers had to say:
We love Jeremy Jordan, we love Winn. It looks like, in terms of our storytelling, something we'd like to do at the beginning of next season as opposed to this season. We have a lot of stories that coincided with his availability at the end of the play. We don't want to short shrift Jeremy or the character. So, we think it's something that's better served in season 5.
Lex Luthor: It wasn't a big surprise for us to hear that Lex would stay pretty close to how he's been portrayed in various other outlets. So far, Lex has not made his way on screen but the Executive Producers did mention that he has been seen in wardrobe and make up so the vison of Lex is complete! Jon Cryer, who is tapped to play the part, will make his first scenes starting next week! Here's what the EP's had to say about Jon Cryer's Lex Luthor:
Robert Rovner: We're super excited about the introduction of Lex Luthor into our world and Jon Cryer's portrayal of the character. I think that he's the biggest supervillain we've had in the show, and his plans will kind of touch every character and impact the entire season moving forward once he arrives. Jessica Queller: The character is not that dissimilar to what we've seen in canon. He just [has] a sparkle in his eye and is smarter than everybody in the room and 12 steps ahead of everyone, and just a large, delicious villain.
A Culminating Multi-Piece Theat: We know through casting announcements that Manchester Black is building his "Elite" team. Additionally we saw in the end of episode eight that Agent of Liberty's popularity was growing. With the addition of Colonel Haley being perhaps more foe than friend, that still leaves Red Daughter and Lex Luthor coming up. The Girl of Steel could be facing a five-way attack where she'll need to play against others to prevail. Here's what the Executive Producers had to say:
Rovner Regarding Seeing More of Red Daugher: Very much more. The Red Daughter story becomes, well not front and center because we have a lot of stories going, but it plays a much bigger role. We'll get to see a lot more of her and see her origin story in the second half of the season. Queller: Also, something that you're going to see is that it may not appear so right now but all of our big bads and storylines are going to dovetail, including Red Daughter. So, they're all of a piece, and how those pieces fit together are hopefully going to be pretty exciting.
Whew, so with that, we've learned a lot about how season four's second half is shaping up! Let us know what you think about Jeremy, Lex and these new villainous plans in the comments below and in our forum! Keep us advertisement free and visit the support page!