5/15/2017 12:40 pm

Oh man, we've been dieing to see these! Finally! CW has released their first sneak peek from tonight's episode featuring Cat Grant as well as the inside look! First of all, our expectations about Catco being in bad shape seem to be true! The office has never looked so bad, and of course, Cat has something to say about that! As for the inside look, we get a bit more as to how this invasion is all going to happen. More importantly, Calista Flockhart, Teri Hatcher, Lynda Carter, and Brenda Strong are all going to fight for the future of the planet! This could not be more epic! Check it out below!
This is going to be the first hour of essentially a TV movie! We can't wait! Let us know what you think in the comments below and in the forum! Also, visit the support page to keep us advertisement free!
5/9/2017 4:00 pm

As we saw with the trailer from the end of last night's episode of Supergirl, there is a lot going on next week! Today, The CW released some incredible images from the episode that are giving us a detailed look as to what to expect! What stands out the most to us, besides seeing Calista Flockhart's Cat Grant back, is the way Lena is dressed. Could Rhea's affections for her mean that Rhea wants to force her to marry her son? We know Mon-El is guilt-stricken over the death of his dad and he may be just depressed enough to follow through. Check ou the images for yourself below:
Let us know what you think in the comments below and in the forum too! Keep us advertisement free and visit the support page!
5/8/2017 6:19 pm

OMG this is it; we are all speeding toward the finale now and next week is going to be amazing! The preview for next week's episode has some insane things all packed into a short little package! First and foremost, Cat Grant returns! WHEW can't wait to see her back! Her building is in a bit of disrepair at this point. Possibly more shocking however, is seeing team Supergirl working with Cadmus! This fits the enemy of my enemy to a T! Check out the trailer below:
WAHHHH, ok this is exciting, we are going to be jumping around in our seats for the whole week waiting for this one! Let us know what you think in the comments below and in the forum! Also keep us advertisement free and visit the support page! New site enhancements coming soon!
5/8/2017 4:30 pm

After tonight, there will only be two episodes left of Supergirl this season! That is pretty incredible to think since last year at this time we were done and we didn't know if we would have a season 2. Tonight, however, there was a new episode and there was much to unpack. From the inside look and the sneak peek, we knew that James would be questioning himself, his role as Guardian, and where he'd go next. Furthermore, Rhea has started moving the last few pieces into place for her master plan. From all that, here's what stood out to us:
Guardian Inspires Fear: James' choice to become Guardian has been one that we have said several times we can understand and would make the same choice in his place. That said, we think the writers did a good job of tying this back into Supergirl for this episode since James' actions as Guardian are scaring people. Batman inspires people because we know he is Bruce Wayne and we know his story about his parents. If you didn't know that and heard there was a man dressed as a bat running around a city with better than ninja like swiftness, we'd be scared too! Even knowing he is targeting only criminals. Supergirl's over-arching theme of Hope was explored with this story and that is why we liked it and felt it was warranted.
Rhea and Lena: The two seemed to be playing each other but not in their conventional "get-one-over-on-you" way. It was clear they both were getting more out of their relationship than just business. There was a motherly overtone that Rhea was giving off and Lena was allowing it. Also Rhea was feeling like a mentor too!
Mon-El Sees Rhea: It made us feel like there was good change in Mon-El when he "thought" he saw Rhea. He checked it out with the DEO but importantly, he told Kara about it. Good communication is key in a relationship folks! His feelings of missing her however, might change when he finds out what she did to his dad ...
James and Marcus: These two had very good chemistry. We don't watch "This Is Us" but we've heard that he is amazing in that show! He certainly was in this episode as well. James learned to be a new kind of hero with Marcus. Furthermore, the scene with David Harewood's J'onn giving advice to Mehcad's James was pretty powerful! The addition of J'onn's backstory on Mars are the garnishes that really enrich the show.
One Good Friend: James takes a moment to talk with Marcus about being different and learning to let your walls down. When he talks about how he grew up, met a guy that was different too, that was pretty incredible. One thing this show has continued to do extremely well is represent Clark, and James and Clark's friendship extremely well. The sister relationship is the core of the show but a Clark and James bromance episode would be pretty awesome too.
James Inspires Marcus: James becomes the hero through the way Clark and Kara have shown him. Rather than beating people up, he inspires Marcus to be better and stronger. In the end, it was classic Supergirl. Inspiring people to do what they didn't think they were capable of is exactly what she does!
Rhea Goes Full Evil: Rhea finally makes her move and it's a BIG ONE. She convinces Mon-El that his father committed suicide, and through that guilt gets him to stand down. She also gets a large enough portal opened to gather all of the remaining Daxamite ships which cover National City; then she claims Earth as new Daxam! Oh, and lets not forget she trapped J'onn in an endless nightmare! Good lord this is evil! Basically, buckle your seat belts everyone, we are on the train to the finale at full speed!
Only two episodes left, but there is still much to cover! Before season two comes to an end, let us know what you thought about tonight's episode in the comments below and in the forum! Also, keep us advertisement free and visit the support page. More exciting enhancements to the site coming soon!
5/8/2017 1:23 pm

Hope prevails! That is possibly Supergirl's greatest strength. With the coming invasion of Daxamites, Cadmus' plans left unknown, and Lena teaming up with Rhea, Supergirl is going to have a lot on her plate very soon. But our Girl of Steel doesn't back down that easy. In fact, she never backs down! Even when she is shaken or hits her low point, she "stands up and fights back"! That is the motto on this new Season 2 finale poster released by The CW today! Check it out below: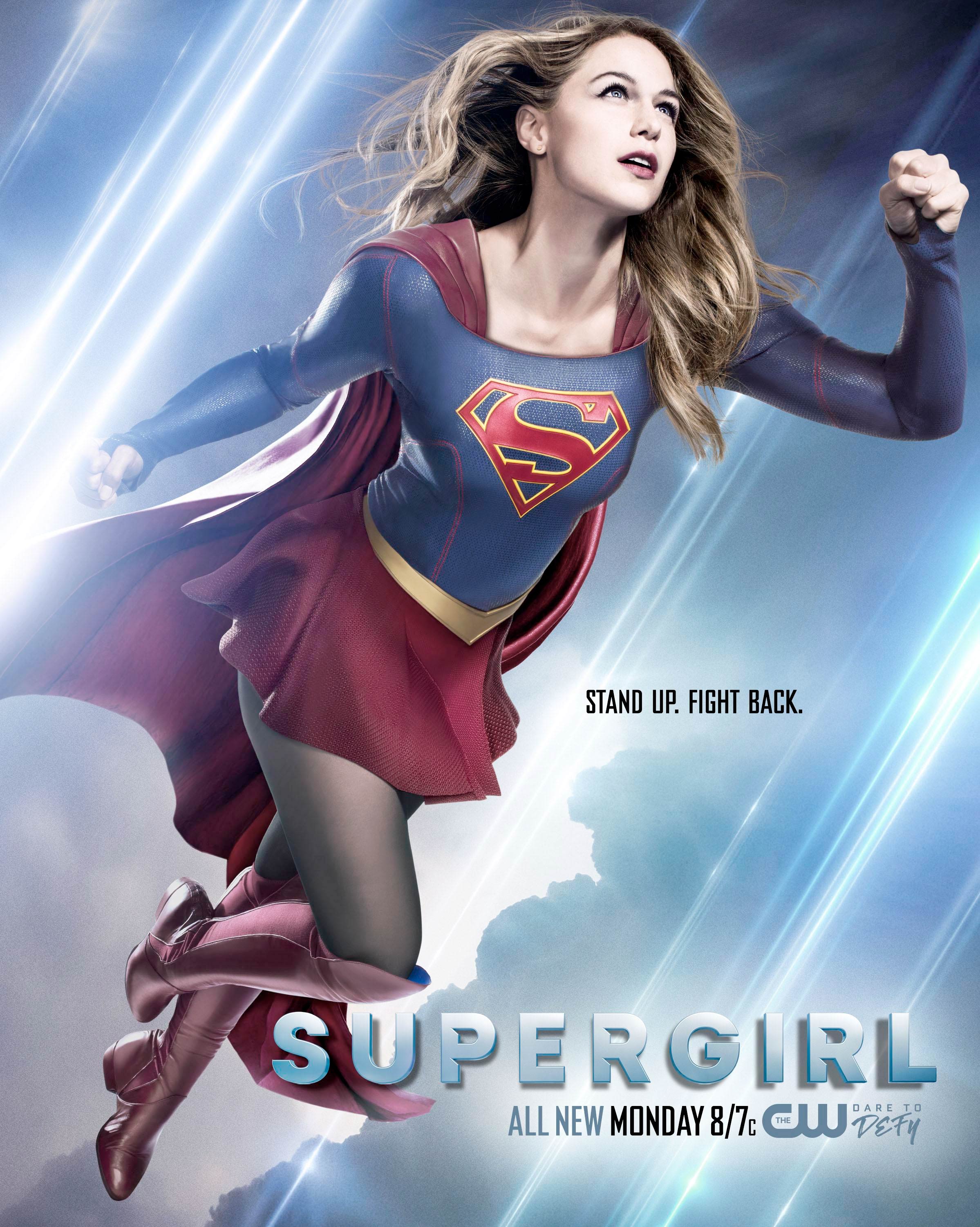 Let us know what you think of this poster in the comments below and in the forum! Also keep us advertisement free and visit the support page!