12/4/2018 3:26 pm

Supergirl might be facing political pressure to reveal her secret identity but with Manchester Black and Agent Liberty behind bars, the immediate threat will actually turn to the Elseworlds crossover coming next week! Of course, we can't believe that Manchester or Agent Liberty are done yet. Today, Deadline.com has learned that another villain has been cast. Jessica Meraz from Major Crimes has been cast as Menagerie. Menagerie aka Pamela Ferrer has some history in the comic books with Manchester. She is described as:
An iconic DC villain and a member of Manchesters Black's "Elite," Menagerie is a jewel thief who doesn't mind hurting people.
The Elite gave Superman quite a run in the comic books. This newest development makes us wonder if Manchester and the Elite might take the season bad guy spot in act 2.
Let us know what you think of the casting news in the comments below and in the forum! Keep us advertisement free and visit the support page!
12/3/2018 3:11 pm

We are now less than a week away from the conclusion of part one of the Arrowverse this season. Of course that culminates in the epic crossover event Elseworlds. Today, The CW is helping to hype the event by releasing a brand new poster banner that features all the heroes and villains including Superman and his black clad doppelganger. Even the Monitor and Lois Lane make an appearance! Check it out below and be prepared to set it as your new desktop or phone background!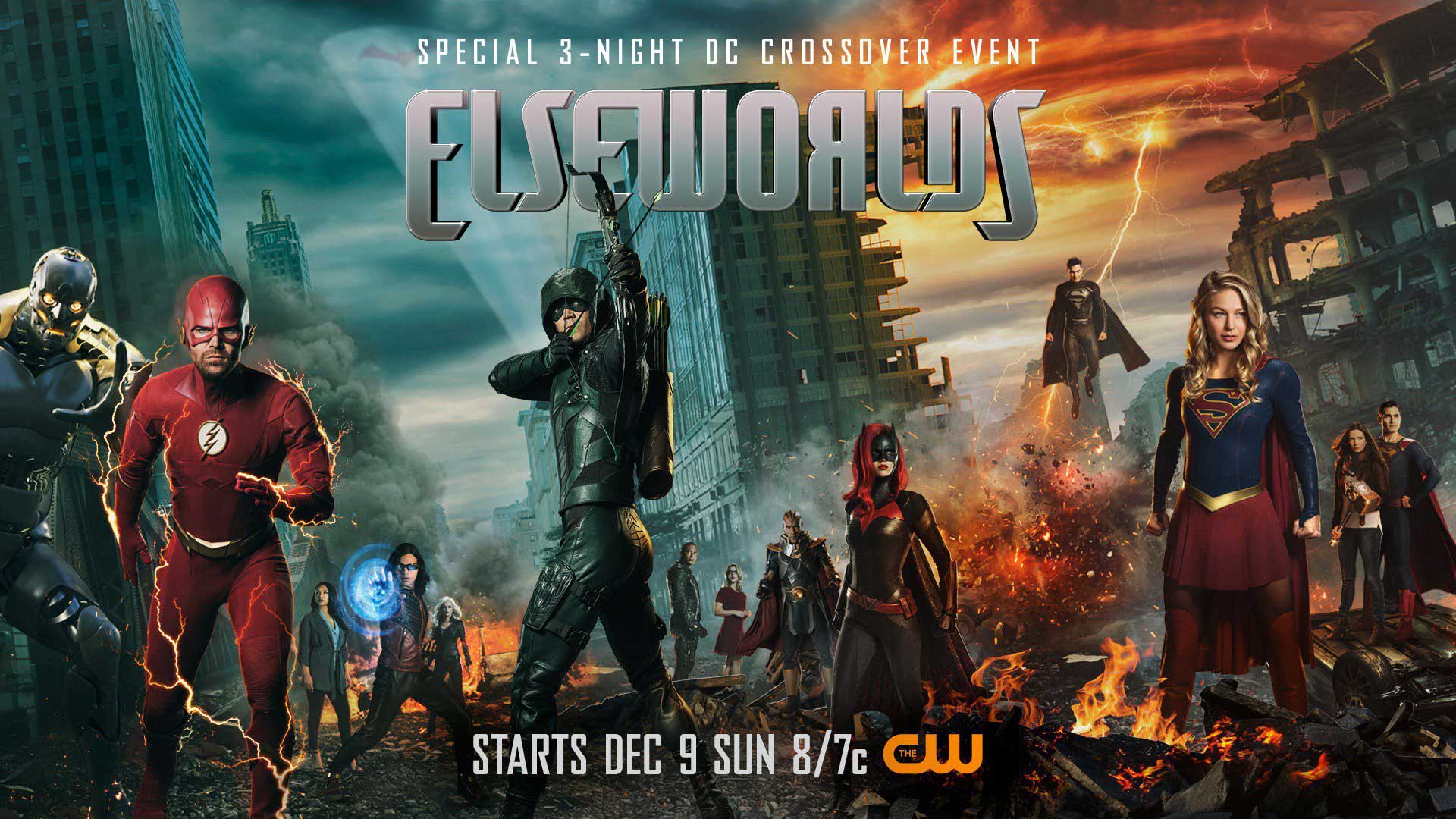 Let us know what you think of the new banner in the comments below and in the forum! Keep us advertisement free and visit the support page!
12/2/2018 6:17 pm

Tonight's episode of Supergirl had a ton of action and wrapped up some very interesting storylines. But the biggest surprise was what happened at the end of the episode when the audience was taken to Earth 90 where John Wesley Shipp's Flash was fighting a losing battle against an altered reality. Standing right in front of him was The Monitor, who claims the Flash has failed his Earth and looks to move on to a new one! Here comes Elseworlds! Our sister site, Batwoman.tv, has had the trailer for a bit. But for all you Supergirl fans out there, here it is!
Let us know what you think of the trailer in the comments below and in the forum! Keep us advertisement free and visit the support page!
12/2/2018 4:53 pm

Supergirl was excited to welcome Kevin Smith back to the director's chair for the fifth time and first since the director's recent heart attack. The cast and crew certainly have a special place for him as the actors and crew always speak so fondly of him while he is on set. Smith is known to "reward" good acting with treats like donuts or candy bars. Perhaps that paves some of the way for his good reputation. Aside from that, Eric Carrasco co-wrote this episode with Rob Wright. Carrasco has written many of Smith's episodes that have stood out as some of the best. Tonight's comedy and wit stood out, but that wasn't all, here's what stood out to us:
Fast Start: The first 10 minutes had a lot going on in this episode. Nia's powers are manifesting and we see her in her place with her roommate who was tasked to keep her awake. Nia seems to fear her dreams more than actually sleeping. J'onn and Kara went to find Manchester Black and entered his apartment to try and find a totem that J'onn could use to mentally seek out Black. Back at the DEO, we learn that captured members of the Children of Liberty are using the Spartacus defense where they all claim to be Agent Liberty. In passing, Kara mentions that Nia has been having issues sleeping and seeing disturbing dreams. This rings true with Brainy who already knows who Nia is.
Manchester and Nia: Manchester Black shows up at Ben Lockwood's house and deceives his wife to gain access to the home. We hear Ben talking on the phone outside his house with other members of Children of Liberty where he is confused at his own identity playing so many roles. With his show doing well, he is looking to take Agent Liberty down a bit while they've had a few set backs with their war attempts. Trapped Ben plays along with Black's game to keep his unknowing wife safe. Meanwhile, Nia agrees to ask for help and Brainy arrives to talk her through her powers. The three track down Ben's wife in a possible future and use that information to head to Ben Lockwood's neighborhood.
The Hunt for Agent Liberty: Manchester has one goal it would seem before he kills Lockwood's wife. He wants to out just who Ben Lockwood is and what he has been doing. Lydia Lockwood has no idea that Ben has been running around as Agent Liberty. J'onn, still trying to find Black via his powers, inflicts a little more stress on Black but Manchester cuts himself to break free. Meanwhile, Kara, Brainy and Nia all get caught and taken to a Children of Liberty hang out.
Nia Saves the Day: The trio, now caught in the evil lair, are about to be killed by the Children of Liberty when Nia's powers take hold and she sees the bullet coming before it is shot. She uses it to break her chains and the bullet hits a steam vent. In the confusion, Kara knocks out the COL agents by flicking them in the head. Brainy uses physics again and totally ruins another with his legion ring. J'onn stops Black from killing Agent of Liberty and his wife but a chase ensues. Kara calls Alex who is able to trick their captive into confirming that Ben Lockwood is in fact Agent Liberty and she arrives at the Lockwood home.
Final Battle: Ben, Lydia and Manchester all head to the Nth metal factory where Black is planning to kill the Lockwoods. Supergirl arrives in time to stop Manchester from killing Black. Black, however, is able to encase Kara in Nth metal after hitting her with a moon dust grenade which was like a pepper spray bomb for Kara. She quickly recovered and actually is able to fly still trapped in the nth metal. The result is the whole building being lifted up and Supergirl is able to save the day and arrest Manchester and Lockwood!
At the end of the episode, the President arrives at the DEO and makes a demand of Supergirl. She is asked to reveal her secret identity if she is going work for the DEO still. Knowing what it will cost, Kara says no and leaves. Supergirl watches as Lockwood is put in jail and a large crowd gathers to protest his arrest. In a MAJOR surprise ending, we are whisked away to Earth 90 where we see John Wesley Shipp's Flash fighting what looks like a hopeless battle. There, the Monitor from Elseworlds picks up a mysterious book and claims The Flash has failed.
Let us know what you thought of the episode in the comments below and in the forum! Keep us advertisement free and visit the support page!
12/1/2018 2:20 pm

Tomorrow Nia Nal starts to really explore her powers! Bunker Hill also welcomes back Kevin Smith to the director's chair! As you guys might know, Nia is the great relative of the 31st century Legion of Superheroes member, Dreamer. The two share the same powers which is to see into the future through their dreams. Nia's abilities are starting to become more and more powerful and she needs to learn how to control them. To get an idea of what Nia is going through, check out this sneak peek below:
Let us know what you think of this sneak peek in the comments below and in the forum! Keep us advertisement free and visit the support page!