8/31/2021 3:16 pm

Things seem a little backwards today but it's still a new Supergirl episode day which makes every day a good day. Backwards we mean because this morning we got the synopsis for a future episode and now, just hours before the new episode airs, we have new images from next week's all new Supergirl episode "Still I Rise". From the looks of it, it seems that Kelly is going through some training at Alex's hand. Nyxly seems to be out and about and Nia's mother is in person either in the dream realm or what looks like a couch in an apartment!? Perhaps there are some clues to tonight's new episode check out the gallery below:
Let us know what you think in the comments below and in our forum! Keep us advertisement free and visit the support page!
8/31/2021 10:06 am

For Supergirl's 11th episode, Mxy is back and ready to shed some light on what Nyxly's plans are - in a song no less - in order to help Supergirl and the team figure out how to stop her. For Lena, she'll be in Ireland, trying to piece together her mother's past, though it'll take a bit more effort than she had imagined, as the townspeople aren't exactly keen to help her out. Check out the synopsis below:
THOMAS LENNON RETURNS AS MR. MXYZPTLK – Supergirl (Melissa Benoist) and team must stop Nyxly (Peta Sergeant) from vanquishing a familiar face from Supergirl's past – Mr. Mxyzptlk (guest star Thomas Lennon). Mxy returns and explains Nyxly's dark history to the super team in the best way he knows how – in song form. Meanwhile, Lena (Katie McGrath) visits her mother's birthplace in Ireland, eager to dig into her past but is shocked by the small town's icy reception towards her. The episode was directed by Glen Winter with story by Rob Wright and teleplay by Elle Lipson & Chandler Smidt (#611). Original airdate 9/14/2021.
Let us know what you think in the comments below and in our forum! Keep us advertisement free and visit the support page!
8/25/2021 11:30 am

As we sit here sipping soda out of our Fortress of Solitude inspired glass and munch on some wonderfully delicious Supergirl cookies, we couldn't help but feel like we were in Kara's apartment on game night! Fans know that we are going to have to say good bye to The Girl of Steel this season but, the Arrowverse as a way of keeping the story going! Fellow Arrowverse fans may have heard about the five part Flash opener for season eight. They will welcome guest stars from around the Arrowverse and our very own Sentinel, Alex Danvers, will be fighting along side team Flash to save the world! The five part mini-series welcomes back several charaters and is described as:
A powerful alien threat arrives on Earth under mysterious circumstances and Barry (Grant Gustin), Iris (Candice Patton) and the rest of Team Flash are pushed to their limits in a desperate battle to save the world. But with time running out, and the fate of humanity at stake, Flash and his companions will also need to enlist the help of some old friends if the forces of good are to prevail.
Also helping save the world yet again will be Javicia Leslie as Batwoman, Brandon Routh as The Atom, Cress Williams as Black Lightning, Kat McNamara as Mia Queen and Osric Chau as Ryan Choi. In addition, Tom Cavanagh and Neal McDonough return as the adversaries we love to hate – Eobard Thawne/Reverse Flash and Damien Darhk. Executive producer for "The Flash" Eric Wallace had this to say about the can't miss television event:
Simply put, these are going to be some of the most emotional FLASH episodes ever. Plus, there are some truly epic moments and huge surprises that await our fans. And we're doing them on a scale that's bigger and bolder than our traditional FLASH episodes. So yes, ARMAGEDDON is a lot more than just another graphic novel storyline. It's going to be a true event for FLASH and ARROWVERSE fans, old and new. Honestly, I can't wait for audiences to see what we've got planned.
Let us know what you think in the comments below and in our forum! Keep us advertisement free and visit the support page!
8/24/2021 7:00 pm

Welcome back Supergirl fans! Here we go once more into the breach and unfortunately for the last time. No more hiatus, no more breaks, no more comic con meet ups, we have these last treasured thirteen episodes of our favorite Girl of Steel, then we have to say good-bye. A much more and deeper retrospective will come from us once we are closer to the end but for now thank you all for going on this journey with us! We are so excited to have you with us as we allow the sun to set on Supergirl! Tonight, Kara was finally fully reunited with her friends and her dad came along for the ride! Here's what stood out to us:
Welcome Back Kara Party: Kara needs to stay under yellow sunlamps to rest and regain her strength. The team is planning a welcome back party for her once she is healed. From our interview with Jason Behr, these moments were Melissa's first time seeing her cast members for months! At the party we learn that Argo City is still there and Alura is still alive post Crisis. Zor-El has opted to stay on Earth for a bit to see how his daughter lives. They all head to Catco where we learn that Nia has created a cover for Kara and Catco is ranked 8th in national media coverage with The Daily Planet at number 1. Kara learns of the Phantom attacks on National City and she is tasked to do a Supergirl exclusive about the Phantom attacks. Kara apologizes to William and we learn he is dating someone in Kara's absence.
Satalite in Crisis: Zor-El sees a satellite falling into Earth and alerts Kara. The father-daughter duo work together to stop the damage! We learn from saving the satellite that there is a garbage island caused by the DEO and Lex Corp. William is given the story and Andrea forces Kara to pursue the Supergirl story. Zor-El notes that the death of the Oceans is what caused Krypton's demise. He fears the same for Earth. The fires are reignited and they need Krypton data to see if there is a correlation that can help Earth.
Fortress of Solitude: Kara takes Zor-El to the fortress where they can use data from Krypton to see if there is a solution for Earth. Kara is having post traumatic stress from being back in the Fortress. Kelex arrives to help. J'onn and Brainy were able to stop the fire and Alex works to find other DEO resources that might be out there. Kara and Zor-El return with their new Oscar robot. He is able to go out and clean the oceans. Before doing a proper analysis on the Garbage islands, Oscar is released and begins cleaning.
Tanking Catco: With Catco continuing to decline, Andrea suits up to find more info against Lex. She finds the DEO files on J'onn and Alex instead. Oscar malfunctions and starts collecting mass. Kara suits up in her Kryptonite armor and heads to find Oscar. He's turned into a giant Garbage DEO monster set on destroying Earth.
Garbage Battle: All the tech in the garbage is making Oscar invincible. Brainy is trying to get to the virus to release it manually. Kara's suit is ruptured and she takes Kryptonite damage while having a PTSD episode. Dreamer buys them time with her energy shield but Brainy is the one who brings Oscar down. Supergirl flies the garbage into space and throws it into the sun.
In the final wrap up moments, Zor-El is ready to go back to Argo City. Zor-El is scared of facing Alura. He holds Krypton's destruction as a personal failure. Back at Catco, Andrea has discovered the superfriends and she wants to cover Supergirl's allies now. Lena calls Nia to let her know that she is going back to her birth place to get to know her real mother. Kara and Alex share dinner and Kara explains how terrible it was in The Phantom Zone. Kara notes how Iris covered the City after it came back from an attack. Dreamer has a vision of Nyxly.
Let us know what you think in the comments below and in our forum! Keep us advertisement free and visit the support page!
8/19/2021 11:56 am
Over the last seven years we've been given quite a few special opportunities. Interviews with the cast and showrunners at Comic Con. Red Carpet interviews at Paleyfest, the list goes on. When the pandemic hit and Comic Con was cancelled, interviews and press relations all had to change. But with that change new opportunities have arisen and we are so excited to share with you our conversation with Roswell star and newly Earth-bound Kryptonian Jason Behr, who plays Zor-El on Supergirl returning next week August 24th at 9:00pm! Our very heartfelt thanks to Jason who was so kind to answer our questions about working in a pandemic, filming with a seasoned cast and which powers are his favorite!
Supergirl.tv: The pandemic remains, even now, at the forefront of our minds. You filmed during the pandemic with a co-star who just had a baby, what was the filming process like working with Melissa during a pandemic?
So, I love Vancouver, and I love everything that it has to offer, but going into quarantine for two and a half weeks, not being able to leave the hotel room, definitely puts you in the mind space for the Phantom Zone. When I was able to actually go outside and feel the sunlight on my face again, I had such apprehension because I didn't want to be that guy who came into a series after six years and being in this worldwide pandemic, to be the one who somehow brought COVID inside that world. So I was extraordinarily cautious. I went to work. I sat in my trailer, put my mask on, went to set. They had these really amazing protocols where the green light goes up and it's just actors on the set and everyone steps aside. It was interesting because you're doing a scene with Melissa, and I'm kind of shouting extra loud to make sure she understands what I'm saying [through the mask]. The scene's not really going to play that way, and I know that in about five minutes when they say last looks, we're going to shoot the scene and take off our masks and it's going to be completely different. So there was a lot of sort of adjusting on the fly once the masks came off and you actually did the scene. But I wanted to be very, very safe. I didn't go to any restaurants, I didn't go really anywhere. Went from my hotel room, to my trailer, to a set and back.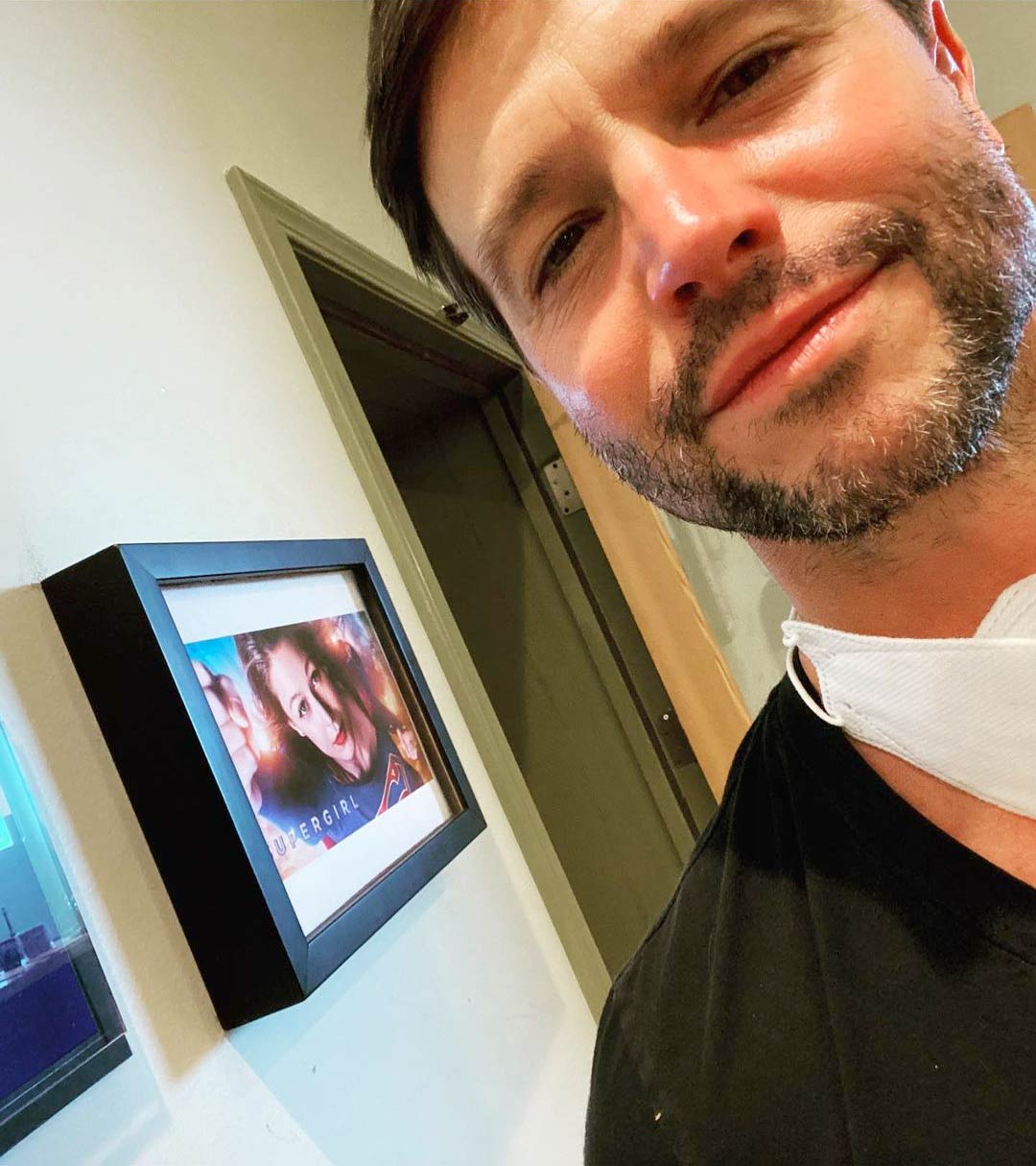 Photo Credit Jason Behr Instagram
Supergirl.tv: Zor-El is a character Supergirl fans have seen before, as an actor, is there anything different you must do to prepare for a role that was played by another actor already?
I don't think so. I think when there are beloved characters in this extraordinary world of Superman and Jor-El and Zor-El, I think that there are going to be actors before me who play this, or who play these roles, and they're going to be actors after us who play these roles, and it's just up to us to individualize and personalize the experiences and really make it our own. I didn't feel like I had anything that I had to do to replicate anybody else's work and I just really wanted to bring my own self to it.
Supergirl.tv: Zor-El and Kara were saved from the Phantom Zone when we last saw them and now Zor-El finds himself on a planet where he has powers that are God-like. What can you tease about Zor-El's time on Earth?
Well, I think at first Zor-El just wanted to experience the life that Kara had created for herself, along with some other new Kryptonian perks. Imagine if you were waking up tomorrow and having all these abilities. How you would deal with that? Some of them are fun. Like flying is definitely a plus. But you have other sorts of adjustments to make, like, super hearing, hearing everything all at once at a really high volume can be pretty intense. So, that wall of sound coming into your head, I mean I think there's a calibration that has to be made, and some room for adjustment.
Supergirl.tv: You've had a very full career, especially as Max Evans on Roswell, joining Supergirl in their sixth season, is it difficult joining a cast that's been established for more than a half decade?
I was in a very special circumstance where after Melissa had her baby, I was the first actor that she was working with, and it continued to be just me for seven episodes. I mean there's a couple other actors and Peta who was in there for a bit as well. But it was just me and her. So not only did I get a chance to really get to know her in the environment of Supergirl, but she hadn't worked with anybody else. So I was able to develop a bond with her. Then when we got to Episode 608, when she sees some of her castmates for the first time, it's the first time on screen, it's the first time she'd seen them in months. It was a real special situation so I felt wonderful to be around that group, it's an extraordinary group of human beings and wonderful actors. I just felt very honored to be a part of it.
Supergirl.tv: We've seen from the previews of the coming episode, Zor-El gets his own kind of super suit, what's it like wearing that on camera and seeing yourself in it for the first time?
I've actually worn a super suit before. This was a little bit different, but it's a lot more restricting than one might think. And you need a lot of help to get in and out of it. But once you have that on and you see that image in the mirror, it's like you're an eight-year-old kid again. It just feels amazing.
Supergirl.tv: I bet, especially with that "s" on your chest.
Without a doubt, it's not a homemade "s", it's not a store bought "s" it's the superhero suit made for your character. I was grinning ear to ear, like some silly eight-year-old, just living the dream.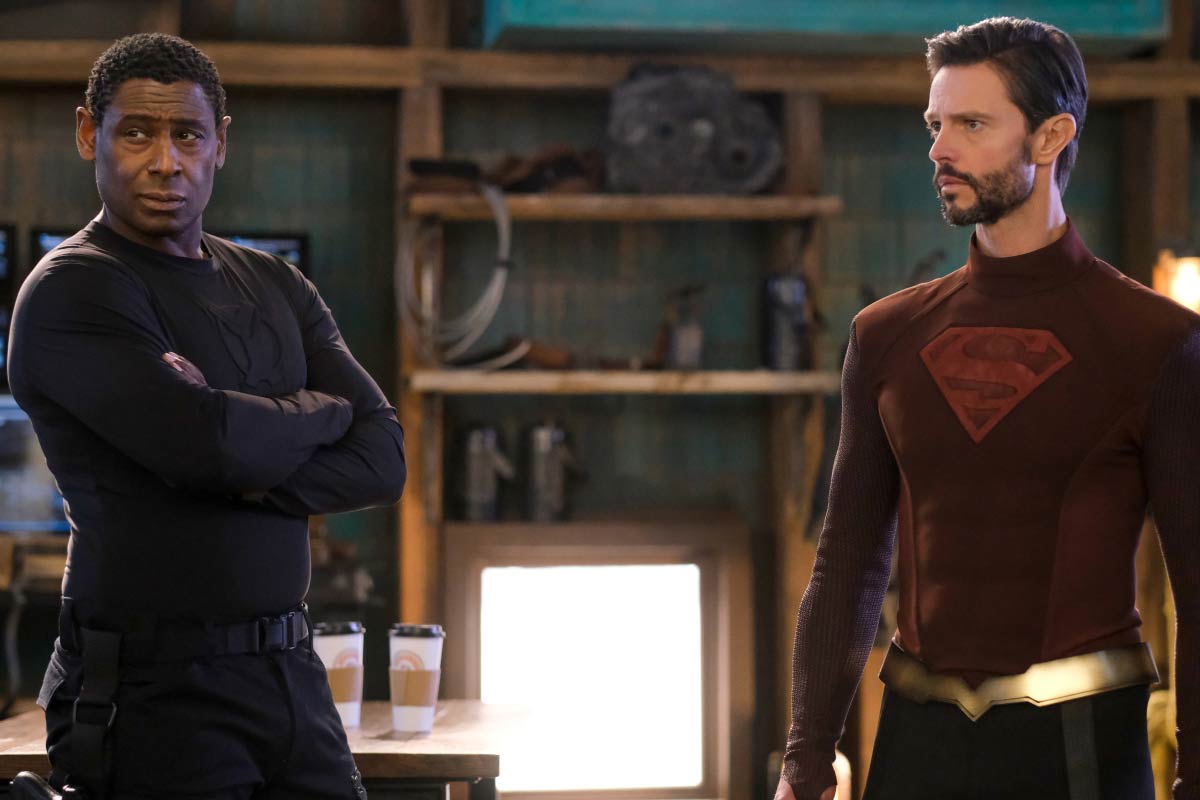 Supergirl.tv: On social media, the behind the scenes shots from this crew show a very fun set, do you have a favorite memory of filming Supergirl?
I would say it was the first time we all got together, and it was every cast member, there were a couple of exceptions. It was most of the cast. And it was a pretty intense scene that just had to keep moving and moving and moving and everyone had dialogue peppered throughout the scene. And when one person gets a little case of the giggles, it infects the entire room. Just having that belly laugh with a group of really wonderful actors is an extraordinary feeling. Especially after being in such solitude and depression and darkness with the Phantom Zone to just be on set with a bunch of other actors and just laughing so hard that you're, you know to tears and bellyache is a wonderful feeling.
Supergirl.tv: Welsh Dragon on Twitter asks, "would you rather have - Zor El's Kryptonian powers from #Supergirl or Max Evans' alien powers from #Roswell & why?"
That's a great question. The ability to heal someone, to manipulate molecular structure is an extraordinary ability. But the idea of flying and all these, what Zor-El has, to fly, to have heat vision, you know ice breath, superspeed, and I think I'm going to lean more towards that. I think there's a little more fun to that. Also both of them have the question of these godlike powers and who you choose to save and who do you not. You know, there's a lot of responsibility that comes with that but I think Zor-El's powers are just a little more fun.
Once again our biggest thanks to Jason Behr for taking some time to speak with us about his time as Zor-El! Supergirl returns for the final season August 24th at 9:00pm. Let us know what you think in the comments below and in our forum! Keep us advertisement free and visit the support page!