1/5/2017 8:41 pm
Supergirl returns on January 23rd with a big Kevin Smith directed episode! Tonight we are excited to share the synopsis with you! As you may know, Smith's daughter Harley Quinn Smith makes an appearance in the episode and now we have her role as well. On top of all of that Maggie and Alex's relationship continues and Roulette returns! Check out what the synopsis says below:
SUPERGIRL LIVES — Kara is moved by the story of a missing woman named Izzy (guest star Harley Quinn Smith) and decides to investigate despite Snapper Carr's order to leave it alone. Kara takes Mon-El with her to the last place Izzy was seen and the duo find themselves thrust through a portal to another planet, Slaver's Moon, where the downtrodden are sold as slaves. The leader of the trafficking ring is none other than Roulette (guest star Dichen Lachman). To make matters worse, Slaver's Moon has a red sun, which means Kara and Mon-El are stripped of their powers and stuck on the planet with no way home. Meanwhile, back on Earth, Alex blames herself for Kara's disappearance, fearing she's become too focused on her new relationship with Maggie and too complacent in watching out for her sister.
What do you guys think? Is this going to be a landmark episode? Let us know in the comments below and in the forum! Also, visit our support page if you love our site. Thanks!
1/5/2017 3:52 pm

Adventures of Supergirl writer and seasoned Supergirl comic book author Sterling Gates has written an episode for Supergirl season 2! For all of you who remember reading the Adventures of Supergirl and reminiscing on that feeling of it being just like the show, it seems the Supergirl production team thought so too! Gates has written episode thirteen for the second season, one which includes the mysterious and complicated villain, Mxyzptlk! Further more, @Natblida snapped this photo of the filming of Supergirl which could include the fifth dimension trickster himself, check it out below: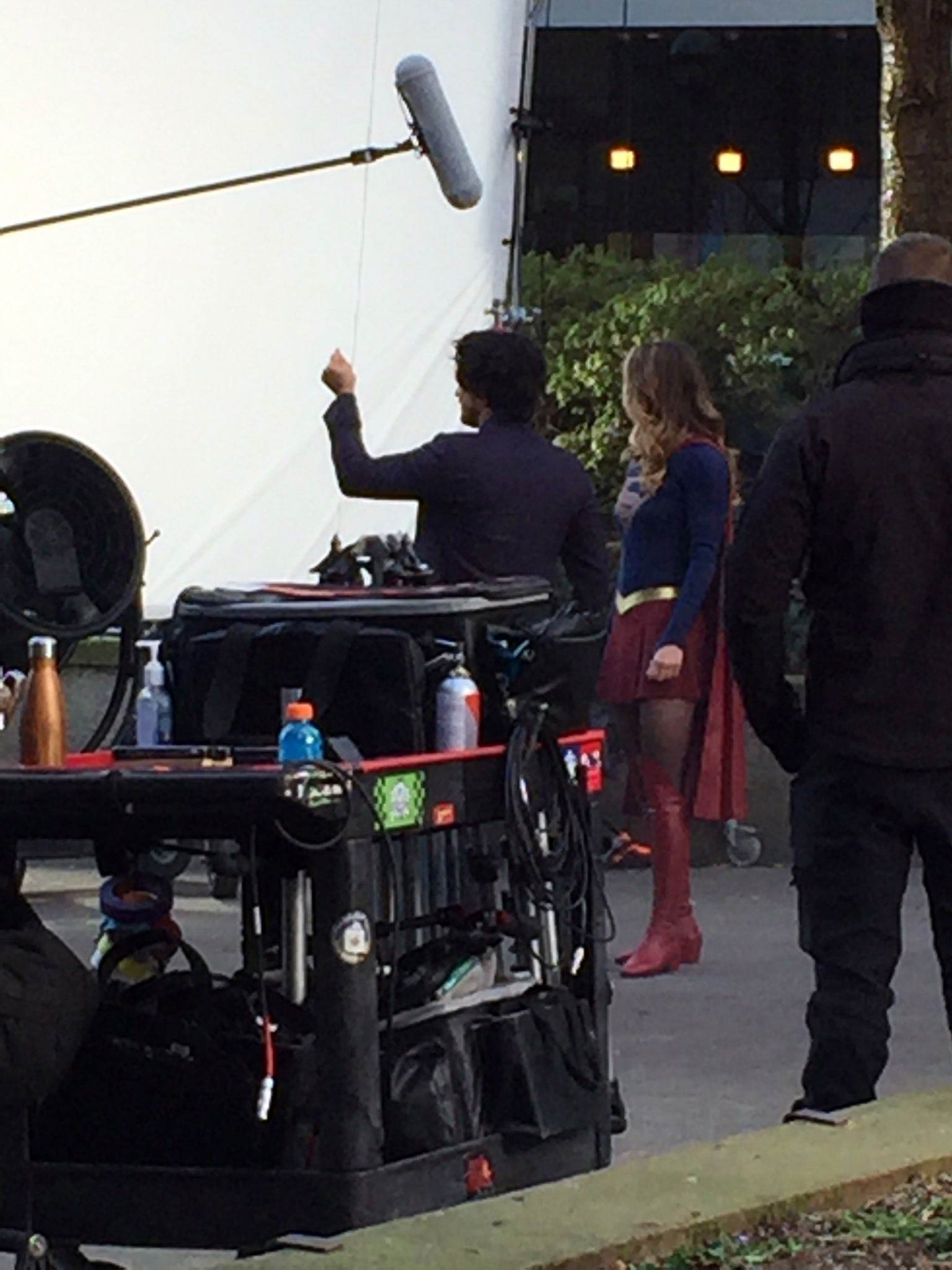 Let us know what you think of Sterling writing an episode of Supergirl in the comments below and in the forum! Also, keep us running and visit the support page
12/28/2016 4:39 pm

There's been a lot of tragedy and loss lately in the world and especially 2016. Friends of our site admins joke how they can't wait for this year to be over. Well on a bright note, DC Comics is trying to bring a little light back into the world. Today they released the "Love is Love" comic collection book. This book features stories from many different writers and illustrations from many different artists. All proceeds of this book go toward the victims of the Pulse nightclub shooting via equality Florida. What is even more of note is that "Adventures of Supergirl" writer, Sterling Gates, has prepared a special one shot story featuring Supergirl for the book (illustrated by Matthew Clark). It also includes a story written by Amanda Deibert who is the wife of "Adventures of Supergirl" cover artist, Cat Staggs. Staggs illustrated the story written by her wife as well. The book is currently available via digital download and in your local comicbook stores.
Let us know your thoughts on Love is Love in the comments below and in the forum. Also, keep us going and visit the support page if you can! Thanks!
12/27/2016 6:24 pm

Well here's a great piece of information to get your Tuesday going! Ali Adler has confirmed through TVLine.com that fan favorite villains from Supergirl's past will be returning. While a complete list can't be made available right now, the two notable villains Adler was able to confirm are Metallo and Livewire! Season 1 fans will remember that Brit Morgan played the supercharged villain in episode 5 (airing a week early) and in episode 18 the epic Flash and Supergirl 1st crossover!
What do you guys think of the big return? Let us know in the comments below and in the forum! Support page available too!
12/21/2016 11:45 am

The night is dark and full of terrors, wait that isn't this show. But the big holiday break is a long one and there isn't much new about the show going on in this dark time. Today, however, we get a ray of hope! Featured below is our first look at the return episode of Supergirl in 2017. This one is the Kevin Smith directed episode and is titled "Supergirl Lives". Judging from just the footage shown, this looks to continue the epicness set forth from the crossover. We don't know who those aliens are but WOW, big stuff coming in 2017.
What is that stargate looking thing in the background? Who are those aliens? Let us know your opinions in the comments below and in the forum! Help us keep our site running too and visit the support page! Thanks