1/30/2020 4:06 pm

Brainy has taken off his inhibitors and embraced his full true green-self! Working against Leviathan seems to be the only goal Brainy can focus on. So much so that he is keeping his work with Lex Luthor from the Super Friends. All that seems to come to a head in this synopsis for February 16th's all new episode of Supergirl! Brainy will have to make a choice, does he go with Lex or does he choose Alex? We know who we'd pick! Check out the synopsis below:
BRAINY MUST CHOOSE BETWEEN ALEX AND LEX; JEREMY JORDAN GUEST STARS – Supergirl (Melissa Benoist) helps Winn (guest star Jeremy Jordan) face his greatest fear. After Alex (Chyler Leigh) sets out to find evidence against Lex (guest star Jon Cryer), Brainy (Jesse Rath) must decide between helping his friend or continuing to secretly work for Lex. Alexis Ostrander directed the episode written by Rob Wright &J. Holtham (#512). Original airdate 2/16/2020.
Let us know what you think in the comments below and in the forum! Keep us advertisement free and visit the support page!
1/26/2020 7:22 pm

It may be three weeks away but we are here with you during the break! After the Superbowl, Supergirl will be back February 16th. We are in the middle of three episodes featuring our Winn Schott! We certainly learned a lot about Winn this episode (who was jokingly named Marty to keep his identity safe) but judging by the trailer for the next episode, Kara and William will take the center stage! Love is in the air for the two reporters! Check out the trailer below:
Let us know what you think in the comments below and in the forum! Keep us advertisement free and visit the support page!
1/26/2020 5:43 pm

Tonight's all new episode welcomed back a beloved series regular, Jeremy Jordan's Winn Schott! On top of that, tonight was David Harewood's second time directing! While the episode continued the drama, we just know these actors had a ton of fun! Before we jump into what stood out in this episode, we should note that this will be the last new episode of Supergirl for at least two weeks because of the Superbowl and other award shows. With that out of the way, let's jump into the episode:
Toyman's Back: Winn is back but he isn't our Winn. This one is from a different Earth and is pretty evil. Lex uses Brainy to bust Winn out of jail. Lex sizes him up and sets him on a course to attack the toy convention in National City. Lena is continuing to investigate Q-waves but the universe has changed and she is back to square one. She needs Lex's help but Lex is so laser focused on Leviathan he bargains for Lena's help and offers a new source for Q-waves in two days. At the Toy Con, Supergirl hunts this new toy man but it's our Winn Schott who saves the day!
Winn's Back: Our Winn is back! He has a wife and a daughter but this new Toyman could destroy everything that Winn has become. He is hunting down this doppelganger with Supergirl's help. Brainy is hiding something from the team but Supergirl and Alex didn't notice. Alex says she doesn't want the Legion ship anywhere near Lex and they take it to J'onn's new headquarters at the Tower! Winn then gets J'onn's brain dump and realizes EVERYTHING! Toyman then pops onto all TVs in National City. He says he needs 1 million followers and he'll light the biggest firework ever!
Exclusive: The Superfriends start looking for Toyman but everyone is pulled in different directions. Andrea is looking to capitalize on all the coverage that Toyman is getting. Because they don't know that Winn isn't Winn, Andrea wants Kara to use her personal connection to Winn to get an exclusive. Kara tries to say no but Andrea waves her job in her face and forces the matter.
Dreamer to the Tower: With all the different waves and technologies, the team is looking for Toyman through Dreamer! Her proximity to Brainy really only let her focus on him. She goes to the balcony to de-stress. Winn Schott heads out to show Dreamer how powerful she really is. He convinces her to try again! Kara then shares a moment with Winn. Winn has an epiphany and they find where Toyman was working but it's a bit too late. Toyman is going to attack the Rojas!
Toyman's Attack: Lex, with Brainy's help, is able to get into the Legion ship and look up Leviathan. Lex recognizes the woman from Catco. Then tigers attack! At the university, Andrea is almost killed by Toyman who is dressed as the mascot. The Superfriends get there in time to save everyone but Winn can't stop Toyman's bomb. He is saved via his legion ring. Supergirl pulls a regular Barry Allen and super speeds all the people in the auditorium to safety.
Final wrap up moments. Winn is safe, there is no longer a warrant out for him. Winn goes to confront Brainy because he was acting odd and spills his guts to Winn. It turns out Brainy is worried he is becoming the bad guy. Lex is too much for him to handle on his own. Lex takes the information cube to Lena and provides her the answer on Q waves. Finally we cut to Game night! Winn, William, J'onn, Alex, Kelly, are all there. They jokingly name Winn Marty because he's back from the future! In the last scene, we see Toyman has some kind of bomb in the DEO!
Let us know what you thought of the episode in the comments below and in the forum! Keep us advertisement free and visit the support page!
1/22/2020 4:05 pm
Ever since Superman comics in the early days, there have been stories of power-transfers, Kryptonite that can split whole people into two and even merging people back together. Now, we don't know how, what, or who this is character-wise, Chyler Leigh did send out a very awesome Instagram photo that would lead us to believe that the episode currently filming would have Alex Danvers with powers like Supergirl. What makes us think that this is more of a merge of the two sisters than it is a power transfer is how perfectly it would seem the suit is merged. It has black color and pads on the shoulders like Alex's DEO uniform would, but it has Blue like Supergirl and Supergirl's emblem. The sleeves don't go over the thumb like Supergirl and the collar is risen like Alex's DEO suit. Finally, Alex is sporting Kara's haircut.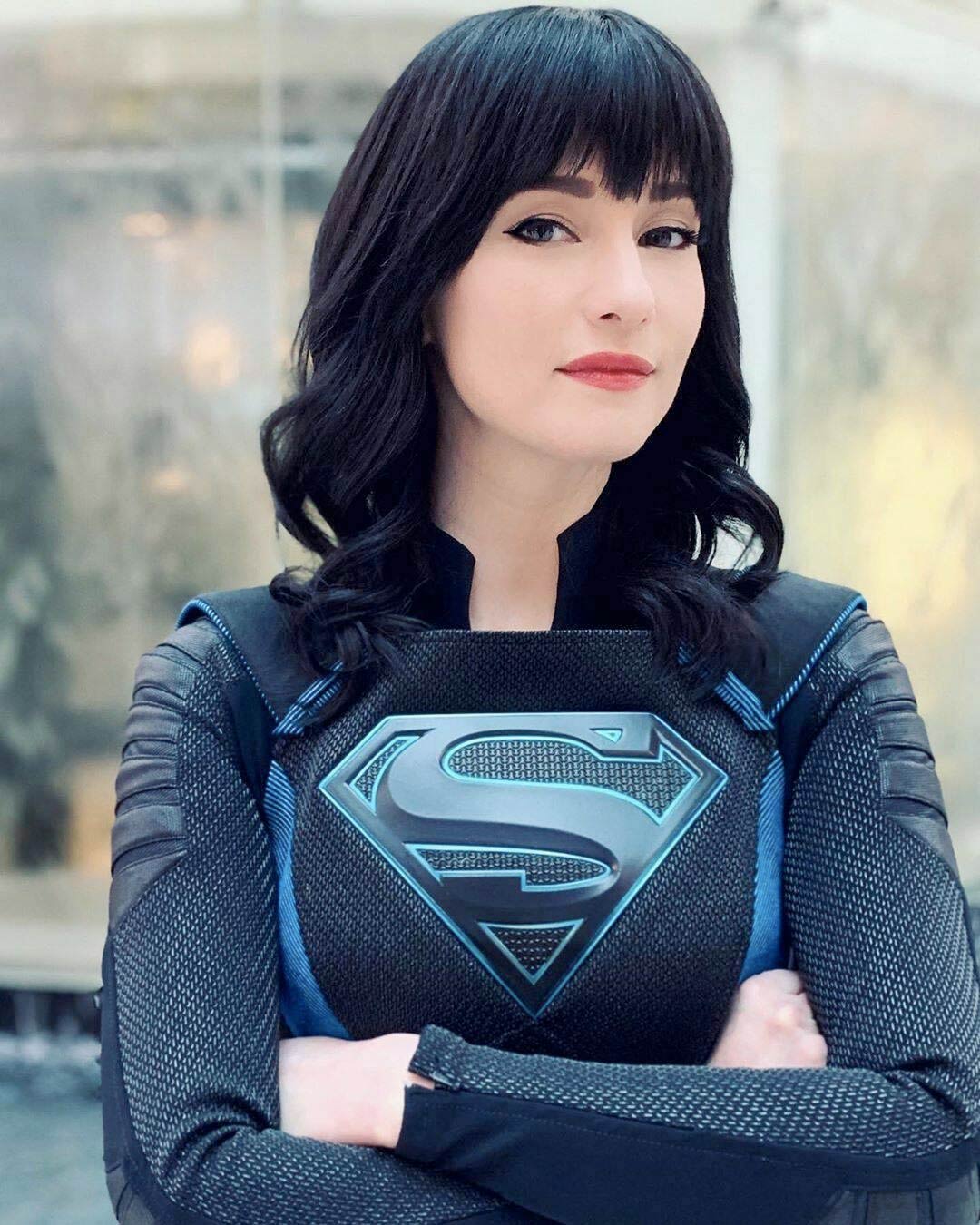 So far no plot points have been shared about this new suit but my goodness, are we excited to see it! What do you think is happening? Will Helen Slater and Olivia Nikkanen be in this episode too? Let us know in the comments below and in the forum! Don't forget to visit the support page and help us get through 2020.
1/22/2020 3:16 pm

He certainly didn't look or sound like our Winn Schott in the trailer for Sunday's all new episode of Supergirl, but seventeen brand new images have us starting to question whether or not this really is our Winn Schott? Fans likely know that Jeremy Jordan (Winn Schott) is slated to be around for at least three episodes this season including the big 100th episode! So we ask you guys to take a look at these photos below and let us know if you think it is our Winn pulling a necessary ruse? or some evil doppleganger?
Real Winn or Doppleganger? Let us know in the comments below and in the forum! Don't forget to visit the support page and help us get through 2020.