3/8/2020 7:42 pm

Supergirl learns to lean on her friends a bit in the upcoming episode trailer. Dreamer is more than happy to step up and take on the responsibilities of National City. But someone isn't going to take Dreamer's enhanced role very easily. This mystery villain doesn't think Dreamer is a good role model but you know Supergirl and Dreamer aren't going to stand for that. From the trailer for next week's all new episode, it looks like Dreamer can even stop a tsunami! Check out the trailer below:
Let us know what you think in the comments below and in our forum! Keep us advertisement free and visit the support page!
3/8/2020 4:54 pm

Welcome back!!! It was a short hiatus but wow did we learn some big news! First of all, the 100th episode was a smashing success. You all voted it very highly and it was very well received. Next, we learned that Melissa is pregnant! This shouldn't affect production this season but next season might be a little different. No further details are known at this time. All of that in just two weeks! WOW! Now let's get to tonight's all new episode. Here's what stood out to me!
Lex's Plan Progresses: Lex is using the Toyman code to reverse Leviathan's advantage. We learn that the race Leviathan's from is near the same location as Krypton. They will need a different kind of Kryptonite to penetrate their skin and infect them with the new code. To get more information on it, they will need Andrea. Lex tasks Supergirl to be her bodyguard with the leverage he has over her secret identity. Lex then goes to confront the Chairman of the Board for Obsidian and offers her Supergirl. This will allow him to investigate Leviathan.
Lena's Tech Goes to Human Trials: The Luthors own a jail with some prisoners that are willing to test out Lena's tech and see if her tech will remove violent impulses. Lex suggests that Lena head to the jail to test her tech and Lena is delighted to learn that there are indeed prisoners there who are interested in the tech. J'onn and Alex head to the alien bar to check up on a lead about the alien hunting Andrea. They ask Brainy for his help and he misleads them. He has a conversation with another Brainy about what he's doing but he is told once again he must align with Lex. "It's what the math demands". Back at the prison, it turns out that Lena's tech works! All violent impulses are removed from the prisoners. Just then we go to Andrea giving her press interviews and she is again attacked by the pink energy assassin. Supergirl stops the energy but the alien escapes.
The Chloriphilian: Alex and J'onn head to check out the farm they heard about from the alien bar despite Brainy's attempt to fool them. They arrive to find the green thumb of the Chloriphilian. He then zaps down from the lights and attacks J'onn and sets the farm on fire! Alex calls for Supergirl's help and she has no choice but to take Andrea to the DEO and head to help J'onn. In the meantime, Lena's tech hits a glitch. The man that could only feel fear now can feel only rage! After investigating the farm, Supergirl learns that it's actually the wife of an ex-Obsidian employee who killed himself after being home sick and becoming addicted to the lenses. The wife vows vengeance and heads to CatCo to stop the launch of the new lenses.
The Battle for Andrea: Supergirl and Dreamer head to CatCo to stop the Chloriphilian. Kara takes a few hits but Dreamer is there to help. They, with J'onn and Alex's help, begin to evacuate the building. The fail safe for the launch is designed to pull power from the city if the building loses power. That means the city could explode with the new drain. Kara is able to get to the Chloriphilian and convinces her to stop her attack. Andrea uses her shadow powers to escape the DEO and heads to help Brainy. They don't get the launch deactivated in time, but Kara stopping the attack allows for the launch to go forward.
In the final wrap up moments, Kara pleads with Andrea to slow the roll out. She doesn't claiming her tech will be used to heal the trauma of the day's event. Alex is given a brand new shape-shifting weapon. It will take the shape of anything that Alex thinks of. We then jump to Lena and her new algorithm can now help those that feel wronged or have suffered injustice. The Danvers sisters share a dinner at Kara's place. William texts Kara to make sure she is ok. Kara agrees to go out with William. Brainy goes to confront Lex. It turns out Lex's powercore code couldn't be turned off without Lex's authorization. Brainy even texts Lex for help to no avail. Lex then goes to meet with the Leviathan boardwoman. He leverages a deal where he'll become the brand ambassador for Obsidian and she will introduce Lex to Leviathan.
Let us know what you think in the comments below and in our forum! Keep us advertisement free and visit the support page!
3/6/2020 12:33 pm

If you've been following Chyler Leigh on instagram you know that she has a very exciting episode coming up! Chyler is putting on her own Super suit! Today, we finally know how this will be accomplished. Obsidian tech's new contact lenses allow Alex to discover a new National City where she is the superhero, though we would argue she already is one but this time it's with Kara's powers! Read the full synopsis below:
ALEX TAKES ON A NEW ROLE – Alex (Chyler Leigh) uses a pair of Obsidian contact lenses to visit a virtual National City where she takes on a whole new persona. Meanwhile, Kelly (Azie Tesfai) helps William (Staz Nair) investigate Lex. Kara (Melissa Benoist) deals with difficult news. Tawnia McKiernan directed the episode with story by Rob Wright and teleplay by Jess Kardos & Mariko Tamaki (#516). Original airdate 3/22/2020.
Let us know what you think in the comments below and in our forum! Keep us advertisement free and visit the support page!
3/4/2020 12:02 pm

A HUGE Congratulations is in order today for our Girl of Steel! Melissa Benoist went to her instagram with husband (and fellow two season co-star) Chris Wood to announce that there would be a new addition to their family. Melissa is pregnant! This isn't the first member of the cast to have a baby, our very own Andrea Brooks also was pregnant and has welcomed her child to the world this year! Notably "The Flash's" Danielle Panabaker aka Killer Frost is also pregnant this season! We want to wish Melissa, Chris and their family all the love and support in the world!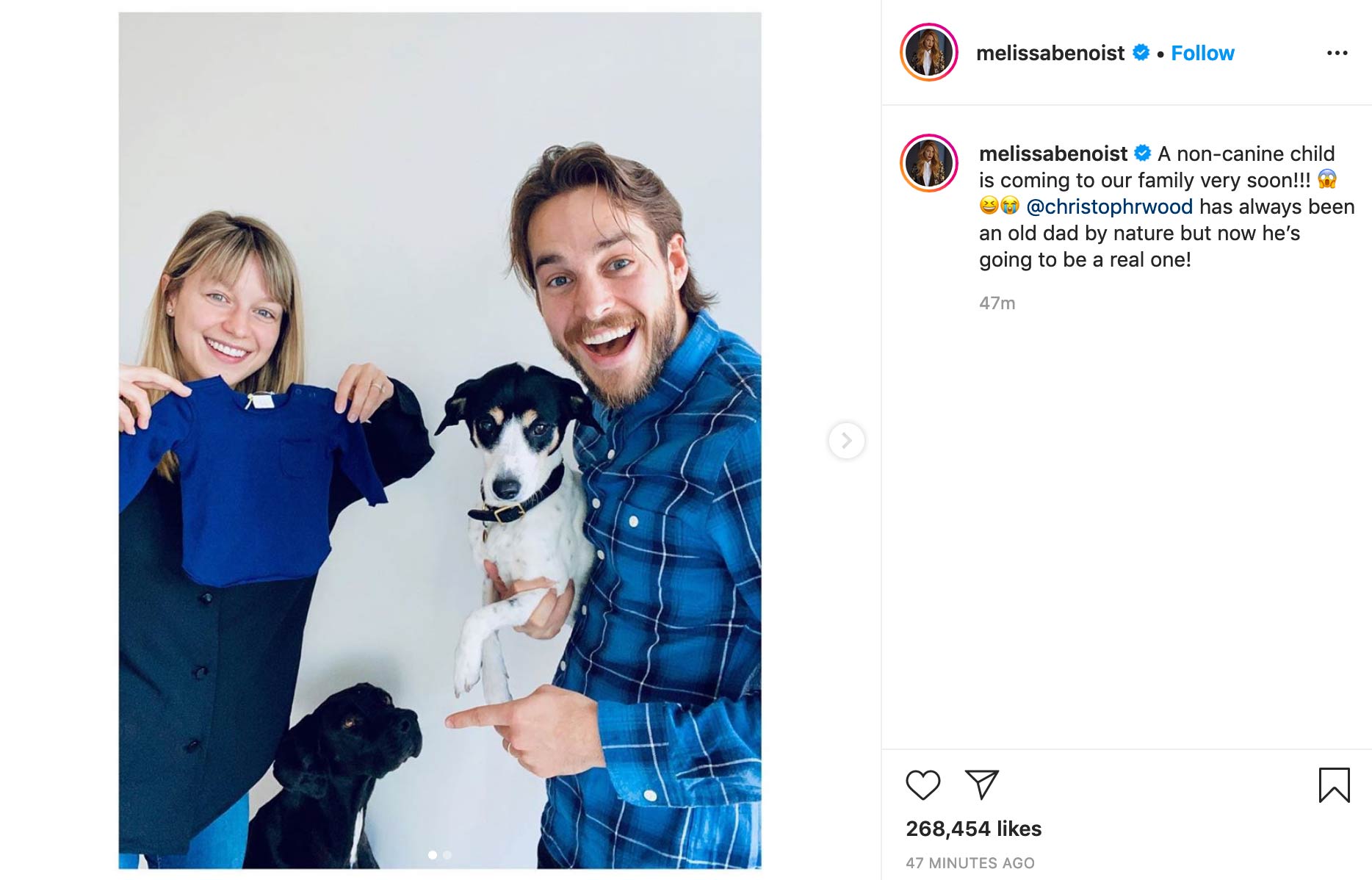 Let us know what you think in the comments below and in our forum! Keep us advertisement free and visit the support page!
2/28/2020 11:49 am

Well we didn't get a preview for the March 8th all new episode of Supergirl (we are keeping the video there as a placeholder until we get the real one). But today we are getting our first look at the first episode after the very well received 100th episode. In "The Bodyguard", from the images we can see Camille Sullivan as Amy Sapphire. We are also getting our first look at Director Brainy in the DEO. Alex and Kelly look to have some quality time too. Check out the images below:
Let us know what you think in the comments below and in our forum! Keep us advertisement free and visit the support page!