4/8/2018 12:25 pm

Just a little over a week to go and then Supergirl fans will be on a non-stop train ride with all new episodes for ten weeks! While we mention it a lot, the second hiatus was rough. The only bright side of it comes from that previous statement, ten weeks of new episodes back to back! Of course, now that we are so close to new episodes returning, we are getting more and more looks at what's to come. Today, we have a synopsis of episode 315 "In Search of Lost Time". Check it out below:
J'ONN HAS TO FACE THE TRUTH ABOUT HIS FATHER - When M'yrnn (guest star Carl Lumbly) inadvertently causes psychic disturbances at the DEO, Supergirl (Melissa Benoist) must work with J'onn (David Harewood) to contain the resulting chaos. Meanwhile, Mon-El (Chris Wood) begins training Kara in fighting techniques he's learned in the future for battling Worldkillers. Andi Armaganian directed this episode with story by Eric Carrasco and teleplay by Katie Rose Rogers & Nicki Holcomb (#315).
Let us know what you think of the synopsis in the comments below and in the forum. Keep us here to help bring you all the Supergirl news and visit the support page.
4/8/2018 12:18 pm

There is a brand new Supergirl poster making it's debut today. The detail and the pose is pretty incredible! It really honors the strength of the character. The only thing we don't like about it is the tagline on it. It says "Miss Me" which kind of makes us angry. We wouldn't have "missed her" if we didn't have to go through the big hiatus! Ugh, maybe I'm just being cranky but the poster is amazing the break is almost over, finally! Check out the poster below (click for hi res):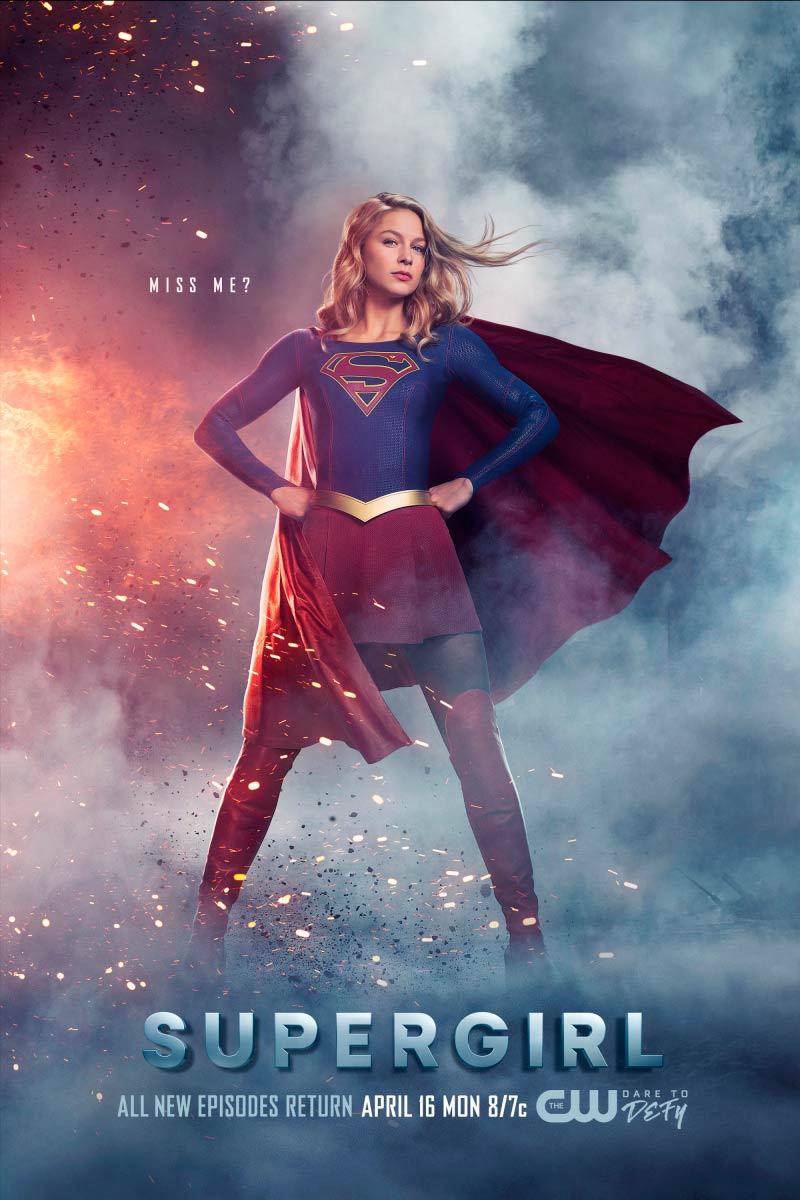 Let us know what you think of the poster in the comments below and in the forum. Keep us going and bringing you all the Supergirl news by visiting the support page.
4/5/2018 8:35 pm

Supergirl is stepping up their game ... or maybe their Game of Thrones cast members! Esmé Bianco, famously known for her role on the MEGA hit series "Game of Thrones" as "Ros", has joined the cast of Supergirl for a mysterious part this season! Many sources are remaining tight-lipped about the part making our speculations even more wild. What fans can expect is to see this new mysterious role for at least two episodes this season! With the recent announcement of season 4, combined with the new mysterious character, it isn't irresponsible to wonder if this role could play a part in the next season!
Let us know what you think this role could be in the comments below and in the forum! Keep us bringing you the Supergirl news and visit the support page too!
4/3/2018 11:22 am

Good morning everyone, I am excited to bring you another guest column from one of you, our valued users! Today, Chrystal Eve is going to share with you her experiences working with the Saturn Awards and remind us all that our favorite Girl of Steel is up for yet another award this year! Check out the articles below!
---
Melissa Benoist is a nominee this year for the 44th Saturn awards. She is being considered for "Best Actress on a television series." The show "Supergirl" has also been nominated for "Best Superhero Television series."
The Saturn Awards
Many people feel they do not have a voice when it comes to various awards given to performers in the Arts. There is one award academy that I can honestly say gave me a chance to participate in the complex activities surrounding their awards. Their name is The Academy of Science Fiction, Fantasy and Horror Films (a non-profit organization). The organization was founded in 1972 and has been bestowing awards for 46 years. The award they provide to entertainers is called the Saturn Award. Some may not be familiar with the Saturn Awards, if so, the reason may be because they are currently not televised, like most other award shows. This Academy hopes to one day find a production company who may wish to air their awards show on television.
The Academy welcomes anyone who is interested in shows/films of science fiction to join. There is a small fee which completely goes toward the actual production of the awards show. This past year I was given the privilege of working with the Academy as a junior member of the television committee. I learned the process that the Academy uses to ensure that all programming falling within the Academy's genre categories, for the timeframe being reviewed, has an all-inclusive scope. This ensures that no show/film is missed in the review process. Please take the time to go to the homepage of the Saturn awards and possibly consider becoming a member and giving yourself a voice in an award distribution that welcomes your voice and your vote. http://www.saturnawards.org/.
Let us know what you think of the awards and if you're planning to vote in the comments below and in the forum! If you'd like to write a guest piece for Supergirl.tv be sure to become a supporter and visit the support page!
4/2/2018 11:19 am

Now this is something that we don't have to do a joke about! No April Fools here! The CW has announced today via Variety that they are renewing ten of their shows that are in current production. Among them of course is SUPERGIRL! Along with the Girl of Steel coming to us for a fourth season, the Arrowverse remains intact as well. That means a new season of Arrow, The Flash, and Legends of Tomorrow will also be coming with Supergirl! So finally fans can rest and relax knowing that we are going to get OFFICIALLY another season of Supergirl following season 3! Here's to season four and hopefully many more! You know Supergirl.tv will be here with you along the whole journey!
Let us hear your celebrations in the comments below and in the forum! Help keep us around for a season 4 and visit the support page as well!