6/11/2018 6:15 pm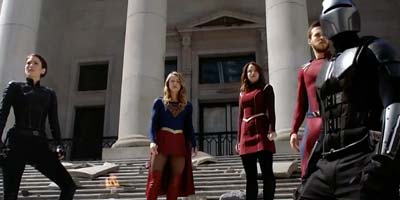 After tonight's new episode of Supergirl, the stage was set for an epic finale! This looks to be on a scale that an Arrowverse show has never even attempted! The entire planet is beginning to change into a form of New Krypton and it is going to take two green Martians, at least two Kryptonians, a Daxamite, and the whole of the DEO to even attempt to stop the chaos! Check out the trailer for part two of the finale of season 3 below:
Let us know your thoughts in the comments below and in the forum! Keep us advertisement free and visit the support page!
6/11/2018 4:58 pm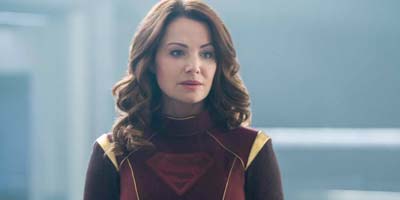 According to Jessica Queller and Robert Rovner, tonight was part one of a two-part finale for this season of Supergirl. That said, ever since Reign made her debut, it's been feeling like everything was moving toward this moment. In a new and uncharacteristic move, the Supergirl is the first Arrowverse show to reveal the big bad with only three episodes to go! Not to be outdone by their constant call backs to comic culture, Selena (likely named in honor of 1984's Supergirl The Movie's main villain) arrived with two other Kryptonian witches to raise Reign again and wreck havoc on the world. So much was packed into this first part of the finale it was hard to keep up writing, but that aside, here's what stood out to us:
M'yrnn Says Goodbye: This was probably the first scene that we knew was coming yet still crushed us. M'yrnn says, "Home isn't a place. It is living among those that love and honor you" and it is because of this, M'yrnn knows that J'onn is home. A part of him will live on in J'onn for eternity!
Reign is a Doomsday Weapon: While Reign is like a supped up Kryptonian, it isn't her power that is going to take over the world. She is actually a weapon that affects Earth. Her sacrifice will cause the planet to terraform and be reborn in Krypton's dark image! We learn this when a hologram is found in Selena's house on Argo and a bomb goes off after the message is relayed injuring Thara.
Zor-El's Transmat Tech: Zor-El was feverishly working on many solutions to save Krypton when Jor-El announced its impending fate. While he was able to save Kara and Argo city he failed at protecting the planet. One of his earlier ideas was to create a transmat portal like we've seen on Slavers' Moon. Selena not knowing if Kara would return with J'onn's ship likely completed Zor-El's work and Kara and Mon-El might have a way to get back to Earth!
Trinity's Blood: In order to bring Reign back, the blood of Pestilence and Purity must be incorporated into the new god of darkness. The blood sadly still exists in the DEO though. Coville directs the three dark Kryptonian witches to the DEO and they begin their attack on the clandestine agency just as Winn was about to get the second transmat portal online and working.
Mon-El and Kara return with Alura: Using the AI hologram in the DEO, Kara is able to trick one of the Dark Kryptonians to turn on the transmat portal which allows Kara and Mon-El to return. Alura joins in knowing she can help. Demos, played by Curtis Lum, the agent that Winn works closely with, is attacked by the three witches and is killed but gets the blood to Kara in the nick of time. Kara then tosses it to the witches but burns it with heat vision.
Reign is Reborn, Sam is Linked: The two are still linked together but through a non-localized quantum connection! Be proud of me that I remembered that! Sam will get weaker and weaker as Reign gets stronger. Reign takes up the sword of Juru and the three witches begin the ritual to destroy Earth and remake it in Krypton's image. Only a trip back to the dark valley will give Sam the strength she needs at Reign's expense.
Just at the end of the episode, Reign dives into the planet's core to begin the terraforming process! M'yrnn and J'onn stop the reach and return to the DEO to help. As the Earth begins to fall apart, M'yrnn suggests that he can bond with the planet to help shape shift it and safely return it to its rightful place. Kara and Mon-El are tasked with saving as many lives as possible and all hell breaks loose! We are really set up for an epic conclusion next week!
Let us know your thoughts on this in the comments below and in the forum! Keep us your advertisement free source for Supergirl news and visit the support page!
6/11/2018 10:28 am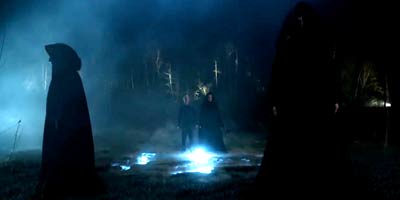 Tonight is part 1 of the two part finale for season 3 of Supergirl! Last week we were left with many cliffhangers and tonight we are going to start getting some answers. To help get a preview of some of those answers, Executive Producers Jessica Queller and Robert Rovner have offered up this inside look at tonight's penultimate episode! Check it out for yourself below:
---
Let us know what you think of the inside look below and in the forum. If there are any sneak peeks we will add them here as well. Keep us advertisement free and help us get to comic con and visit the support page!
6/4/2018 6:21 pm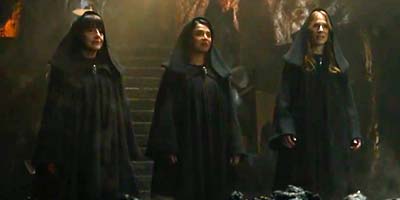 In a pretty big twist from traditional Arrowverse shows, the BIG BAD was more or less finally revealed tonight! Selena and her followers have decided to take Earth for themselves. Their powers on the planet will make them unstoppable and just as General Zod said in Man of Steel, "The foundation must be built upon something", which does note bode well for humanity! With Mon-El and Kara trapped on Argo, a race to figure out how to get back-up to Earth begins! Check out the trailer for next week's penultimate episode below:
Let us know what you think of the trio of Kryptonian witches in the comments below and in the forum! Keep us advertisement free and visit the support page too!
6/4/2018 4:46 pm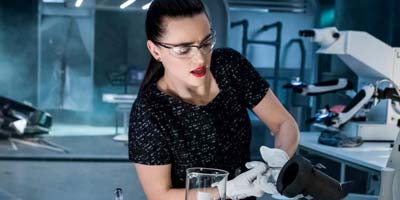 Tonight was the third to last episode of the season and we can't remind you enough, also the third to last Supergirl on a Monday (the show moves to Sundays next season). Based on the events of last week's episode, this week felt like it could have been the season finale. We started right off with a HUGE fight between Reign, Mon-El and Supergirl. Of course, knowing that the season is 23 episodes long, the bigger twist was just being set up! There was a major leak in the DEO also! Beyond that, here's what stood out to us:
Reign vs Supergirl & Mon-El (with Lena): The last episode literally ends with Reign's escape and Kara and Mon-El's arrival. The three lunge at each other and the fight begins. Tonight, we joined up right were we left off! I was really impressed with how well done the fight scene went. I took special note of the destruction caused in Lena's lab. At one point, Mon-El dives at Reign and takes out a huge chunk of her old cell. There was a ton of strength in that battle!
Reign is Subdued: With the help of cape tricks and a few luck punches, Reign is subdued and the concoction Lena created is injected into Reign. The liquid takes effect almost immediately and Sam is separated from Reign. We are led to believe that Reign evaporates just after...
Alex and Kara Talking Argo: Alex almost immediately knows that Kara is saying goodbye for an undetermined amount of time. There are some incredible lines between the sisters here that you need to see and not read, no one can do them better than Melissa and Chyler.
Guardian Saves a Police Officer: With Supergirl off to Argo, National City needs to ramp up its policing. Guardian is now the only superhero in town. He shows up in the nick of time to save a police officer targeted with weaponry likely created for use by the DEO. Guardian heads to the DEO to tell J'onn and let Winn inspect the weaponry.
Kara and Mon-El Escape a Construction Accident: While on Argo, Mon-El and Kara take a stroll through Argo and Mon-El runs into his friend Val. Just then a construction accident happens and nearly crushes a newly un-powered Kara. Mon-El is able to grab Val in the nick of time. Shortly after, Mon-El offers Kara his legion ring in case she needs it to fly.
Kara is Having Trouble Adjusting to Argo: Just like she did when she arrived on Earth, Kara is having a difficult time letting go of her Supergirl persona and her heroic persona. She is also using her investigative journalism skills to hunt something she thinks she sees on Argo. Of course, while Kara's friend Thara Ak-Var (better known as Flamebird from the comics) and her mom think that Kara isn't adjusting well, we know Selena is up to something.
Kara and Mon-El Talk it Out: Kara has Mon-El with her on Argo and he provides a perfect balance of knowing what it's like to be somewhere new while being a link to her life on Earth. While they start talking about Kara's uneasiness about being on Argo and the feeling that something is somehow working against her, Mon-El tells Kara that he is there to also sort out his feelings for Imra and for Kara. Kara and Mon-El seem just on the cusp of kissing when another attack on Kara's life commences! Thankfully the legion ring saves the day but postpones Kara and Mon-El's talk.
J'onn Stops a Gunman then Eliminates the DEO's use of Deadly Weapons: This kind of speaks for itself but J'onn is able to stop the gunman at the law firm using inspiration just like Kara does. The event persuades J'onn to ban all future use of deadly weapons at the DEO and J'onn asks Winn to develop new weapons for the DEO.
Major wrap-up moments in this episode are almost too much to cover but ... Kara's would-be murderer is captured by Thara Ak-Var and the almost killer reveals that she is a follower of Reign's religion. Furthermore, Selena and two of her followers steal J'onn's ship to return to Earth and thus trap Supergirl and Mon-El on Argo. Selena's ship is guided to a landing spot via Coville where Selena immediately rebuilds the Fortress of Sanctuary. Kara knows she's trapped, Alex looks at an adoption website and J'onn and M'yrnn discuss and prepare for the reach which shares all of M'yrnn's memories with J'onn. Finally, the connection with Selena and Sam is not fully gone and their arrival is felt by Sam. Whew! And that all happens in roughly 55 seconds at the end!
Let us know what you thought about the episode tonight in the comments below and in the forum! Fun Supergirl.tv fact, we crossed the 1,200 news articles mark! Thank you all for being with us for so long! Here's to another 1,200! Keep us advertisement free and visit the support page to keep those news articles coming!