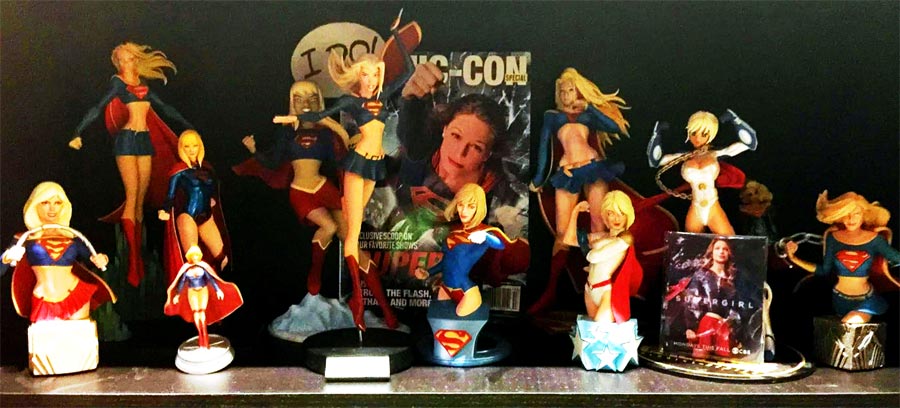 Lend Your Support to Supergirl.tv
We are here to do everything we can to give you the best professional Supergirl experience possible! But we can't do it alone. Even though we're non-profit, just like other sites, we still have bills to pay. There are hosting fees, photo fees, conventions, travel, equipment and advertising. Currently we pay for this out of our own pockets. In the beginning the site had very little cost to run, but as the popularity of the show increased, we started growing by leaps and bounds! Its been a very exciting and humbling experience to see the site become the web's number one source for Supergirl News, Rumors, Spoilers, Videos and Media. We are also committed to keeping this site 100% advertisement free. To do this, we humbly ask for your help.
Before you donate, know this:
100% of your donation goes toward running our site which includes, paying hosting fees, bringing you new episodes of SupergirlTVTalk, purchasing exclusive paparazzi photos, and to pay for media privileges at various comic book conventions. Not a single penny goes to anything other than Supergirl.tv business. Our staff is 100% volunteer, so rest knowing that every cent is used to further the day to day work of the site and not go into anyone's pocket for profit or salary.
Here are a few ways you can help support Supergirl.tv
Spread The Word: We know that not everyone is in a place to donate. Because of that, the best thing every fan can do is spread the word about our site. We are here for all Supergirl fans. So tell your mom, your friends, your family, this is the best place for all things Supergirl!
Follow Us On Social Media: We spread the word of Kara Zor-El as much as we can. One of the ways we do that is through our social media accounts. We have Facebook, Twitter, Tumblr and Google Plus. If you aren't yet, please consider following us on these social media platforms to get our instant updates when the new stories are posted.
Donate: There are costs to running our site and we appreciate any help you can provide. To make this option open to as many people as possible, we have several donation options:



($5) Beginner Level Donation: Every little bit helps! Just $5 can help us substantially with hosting costs!
($10) Medium Level Donation: Double the beginner level donation, this level can help us even more with hosting costs!
($20) Advanced Level Donation: A $20 donation can help cut our advertising costs substantially! (Most Popular Option)
($30) Hosting Fee Donation: This $30 donation can pay for a chunk of our hosting fee for the month! This will help us keep the site fast and responsive!
($50) Hero Level Donation: The Hero Level Donation is for are our seriously valued users!
($100) Superhero Level Donation: At this level of donation, you are contributing to our ability to bring unique level content. We are setting up interviews with the cast and crew but that takes time and travel and at this level you are helping us bring specialized content that will be unique to this site! You will also be added to our "Heroes Section" which sits on this page as well. Heroes are held in the hero section for one whole year.
($200) Legend Level Donation: Legends are some of our dearest site friends. A legend level donation will get you a special (Legend) title added to your username. Your name or username will be added to our realm of legends below for as long as the site is online! A donation of this size is simply incredible and will make your mark on the site forever. Also, as a legend, we will keep you apprised of anything special coming up on the site. We'll do our best to keep you in the loop first.
($300) House of El Level Donation: Welcome to the House of El! This donation level is reserved for the mightiest of the users on our site. This kind of donation allows us to travel to conventions where the cast and crew are, hire videographers and sound staff, and conduct interviews! When we get an interview lined up, we will contact you and ask you to give us a question you'd like answered by the cast or crew (pending acceptance from administrators, accounting for good taste). Your name will be added to the House of El area on our site! You will live there forever as long as the site is up, and we will add a special moniker to your username identifying you as a member of the house of El league.
Donate Here
---
---
House of El
---
Romulus | Coach4 | Jacksc01 | cmsm
---
Legends
---
No Members Yet
---
Superheroes
---
No Members This Year
---
Heroes
---
Captain Past