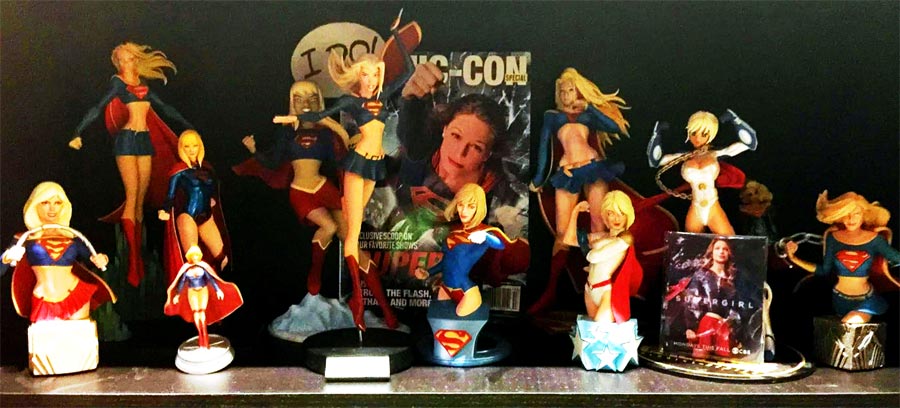 Lend Your Support to Supergirl.tv
We are here to do everything we can to give you the best professional Supergirl experience possible! But we can't do it alone. Even though we're non-profit, just like other sites, we still have bills to pay. There are hosting fees, photo fees, conventions, travel, equipment and advertising. Currently we pay for this out of our own pockets. In the beginning the site had very little cost to run, but as the popularity of the show increased, we started growing by leaps and bounds! Its been a very exciting and humbling experience to see the site become the web's number one source for Supergirl News, Rumors, Spoilers, Videos and Media. We are also committed to keeping this site 100% advertisement free. To do this, we humbly ask for your help.
Before you donate, know this:
100% of your donation goes toward running our site which includes, paying hosting fees, purchasing exclusive paparazzi photos, and to pay for media privileges at various comic book conventions. Not a single penny goes to anything other than Supergirl.tv business. Our staff is 100% volunteer, so rest knowing that every cent is used to further the day to day work of the site and not go into anyone's pocket for profit or salary.
Here are a few ways you can help support Supergirl.tv
Spread The Word: We know that not everyone is in a place to donate. Because of that, the best thing every fan can do is spread the word about our site. We are here for all Supergirl fans. So tell your mom, your friends, your family, this is the best place for all things Supergirl!
Follow Us On Social Media: We spread the word of Kara Zor-El as much as we can. One of the ways we do that is through our social media accounts. We have Facebook, Twitter, Tumblr and Google Plus. If you aren't yet, please consider following us on these social media platforms to get our instant updates when the new stories are posted.
One Time Donation: There are costs to running our site and we appreciate any help you can provide. To make this option open to as many people as possible, we have several one-time donation options available below.
Subscribe: Subscriptions are the best thing for us at Supergirl.tv. While spreading the word, following us on social media, or even one time donations are huge, this subscription option helps us gauge how much budget we can expect to rely on month to month. Subscriptions repeat monthly. For example, if everyone of our users donated just $1 a month, we could cover hosting fees, travel costs, hotel costs, advertising fees, and have enough left over to purchase specific behind the scenes images from multiple sources! Furthermore, we are still committed to our pledge of not making profit on this project. So any money that is collected over our needs goes right back into the website. Bringing on more staff, enhancing the site's capabilities, new features, more programming, all can be added to our operating budget.

To pull back the curtain and be as straight forward as possible, it costs Supergirl.tv $838.34 a month to be in existence how we are. This includes hosting fees, travel fees, hotel fees, food while traveling, transportation, advertising costs, sponsorships, and convention fees. Obviously some months are lighter than other but when all the costs are added up and divided monthly, this is our golden number. As it stands now, this cost comes out of our pockets (minus one-time donations, which covers maybe $50 a month).

We don't just want to be on the receiving end of this deal either, the subscription option comes with some exciting gifts too!



($1) Tier 1: This lets us know that you appreciate our site and that we are doing a good job!
($5) Tier 2: This really lets us know what we are doing a good job and you want the site to stay advertisement free!

($10) Tier 3: This is the best way to keep advertisements off our site! If 80 users did this option, we'd be set!

($20) Tier 4: At this subscription level we try to be your voice when we talk with cast and crew. When we go to conventions, press events, round tables, or interviews, we'll ask to gather questions from this tier of subscriber. We know that not everyone can go to comicon, Paleyfest or other events, which is why we'll try to do this all for you! We'll also send you a specialized thank you card from Supergirl.tv!

($50) Tier 5: T-Shirts! Heck yea! If you can commit to $50 a month (for four months), we will send you a Supergirl.tv T-shirt! (design is coming soon). We will get it ordered for you in the size and or color you desire! (minimum of four months at this tier for shirt). We'll also send the personalized thank you card.

($100) Tier 6: This is a fast route to the Supergirl.tv T-shirt (design coming soon)! At this level it only takes a two month subscription to get to the perfect Supergirl.tv T-shirt! We'll also include the personalized thank you card from us as well!

($150) Tier 7: Become a guest author for every month you subscribe at this tier. We'll include the T-Shirt of course, but you'll also get to be a guest author on our site. At this tier, for every month you remain at this level, you'll be given a guest column to talk about the show. (We'll need to put disclaimers up first that its an 'opinion piece', and obviously we'll need to know what you plan to write about first but we'll make sure you get your space on the site!). We'll also send the personalized thank you card.

(Supergirl.tv reserves the right to edit all content, for protection and legal purposes)



($300) Tier 8: This is the highest we could even imagine, anyone subscribing at this amount is our hero! At this tier you'll get the T-shirt, the guest authorship like above, the personalized thank you card, and your name will be added to the House of El area on our site! You will live there forever as long as the site is up, and we will add a special moniker to your username identifying you as a member of the house of El league.
---
Subscribe Here
---
One-Time Donation Here
---
House of El
---
Romulus | Coach4 | Jacksc01 | cmsm
---
Legends
---
No Members Yet
---
Superheroes
---
No Members This Year
---
Heroes
---
Captain Past