9/22/2017 8:11 pm

Running Supergirl.tv has it's challenges but it majoritively is filled with a lot of joys. Going to Comic Con, attending the red carpet at Paleyfest, and speaking with several of the cast and crew are just a few of the privileges we get to enjoy as the administrators of Supergirl.tv. Today is an occasion where we get to share another wonderful privilege with you. Back on May 30th, we were excited to tell you about an all new companion novel coming out this Fall, "Supergirl: Age of Atlantis". Today we can share with you our exclusive interview with author of the novel, JoAnne Whittemore!
Supergirl.tv: Supergirl wrapped its second season and is going to begin it's third October 9th. With two seasons of the show already established, how do you jump into an already existing world?
One of the first things I was told when I accepted this project was that I couldn't make any drastic/lasting changes to the characters that could affect the future of the show. And I had no desire to retcon the past. So in order to immerse myself in the world and stay true, I watched both seasons a ridiculous amount of times. Seriously.

The other day, my husband and I were at the store when "She's a Bad Mama Jama" came on, and I grinned at him and said, "This is a Supergirl song!" He's even more into comics than I am, but he just stared at me until I added, "When Kara and Winn are working on her costume."

"You've seen that show way too many times," he replied.
Supergirl.tv: Kara Zor-El's voice is well known to fans, what kind of research have you done to find Supergirl's character?
Kara and Supergirl might be the same person, but their personalities are different, so I analyzed them as individuals, studying body language, tone, demeanor, carriage…their reactions to big events as well as small ones. I want people to feel as if they're watching an extended episode of the show when they read the books, so it was important for me to get a feel for Supergirl and, honestly, all the main characters.
Supergirl.tv: The book's target audience is Grades 5-9 what techniques does a writer use to tell a compelling story for that age group?
I often say that the difference between Middle Grade and Young Adult is perspective. In Middle Grade, it's about how the world affects you; in Young Adult, it's about how you affect the world. So in Middle Grade, a lot of times the plot drives the character, which means the action scenes need to be strong and need to build. In Young Adult, the character tends to drive the plot more, which requires a strong main character in order for us to believe they're capable of certain actions.

Since I'm writing a Middle Grade novel but using a superhero who tends to take the Young Adult perspective, I have to focus equally on setting up strong action scenes and building strong characters to satisfy both.
Supergirl.tv: When does the book take place? Does this happen before, during or after a season of the show?
The book takes place closer to the end of Season 2 but before Rhea goes Uber-Mommy Dearest.
Supergirl.tv: Besides Kara, what other characters from the show can readers look forward to reading about?
Alex, of course! And J'onn, Winn, Mon-El, and James. There are also a couple recurring secondary characters that make appearances.
Supergirl.tv: Who is Supergirl to you?
Hope. Bravery. Compassion. The kind of person I strive to be on a daily basis.
Supergirl.tv: What drew you to this project, have you had an interest in telling superhero stories?
This project actually came to me! My friend Barry Lyga (who's doing The Flash companion novels) suggested me as someone to write the Supergirl books, based on all our conversations about comics in the past. I've actually had a superhero novel in my back pocket for a few years, so of course I said yes!

I've always loved underdog stories, and even though superheroes are more powerful than average people, they're still underdogs to me. They have thankless jobs where they risk their lives for people who can love them one minute but just as quickly hate them or fear them the next.
Supergirl.tv: Where can fans go to learn more about you and maybe pick up some of your other works?
They can check out my website www.jowhittemore.com and follow me on Twitter for the latest and greatest of what's going on. Also, when the book comes out, I'd love to show off some fan art and see peoples' interpretations of scenes from the story!
We want to take a moment and share our sincerest thanks to JoAnne Whittemore for her time and her very incredible answers to what is going to be an amazing new adventure for our Girl of Steel. JoAnne will be at New York Comic Con on October 5th with Flash novel companion author Barry Lyga. If you are at New York Comic Con be sure to visit them, they will be discussing their new companion works on The Flash and Supergirl! Also be sure to follow JoAnne on twitter at @JoWhittemore! Finally, just as JoAnne suggested, after you read the book, make sure to share your fan art works with her, and with us!
Supergirl returns to October 9th on The CW at 8pm. Let us know what you think about Supergirl: Age of Atlantis in the comments below and in the forum! Also keep us your advertisement free source for Supergirl news and help us to keep bringing exclusive content like this by visiting the support page.
9/22/2017 11:30 am

New key art has been released today for the true four part crossover event coming up in November this year! True to form, The CW has created a comic-like poster for the event which features illustrated versions of all the members of the four shows (Supergirl, Arrow, Flash and Legends). More excitingly, is that the cover features the alternate and evil looking versions of the heroes that might be showing up to crash Iris and Barry's wedding! This has got to be the biggest clue as to what the crossover event will be about and as comic book fans know, any "crisis" event is a BIG ONE! Check out the poster below: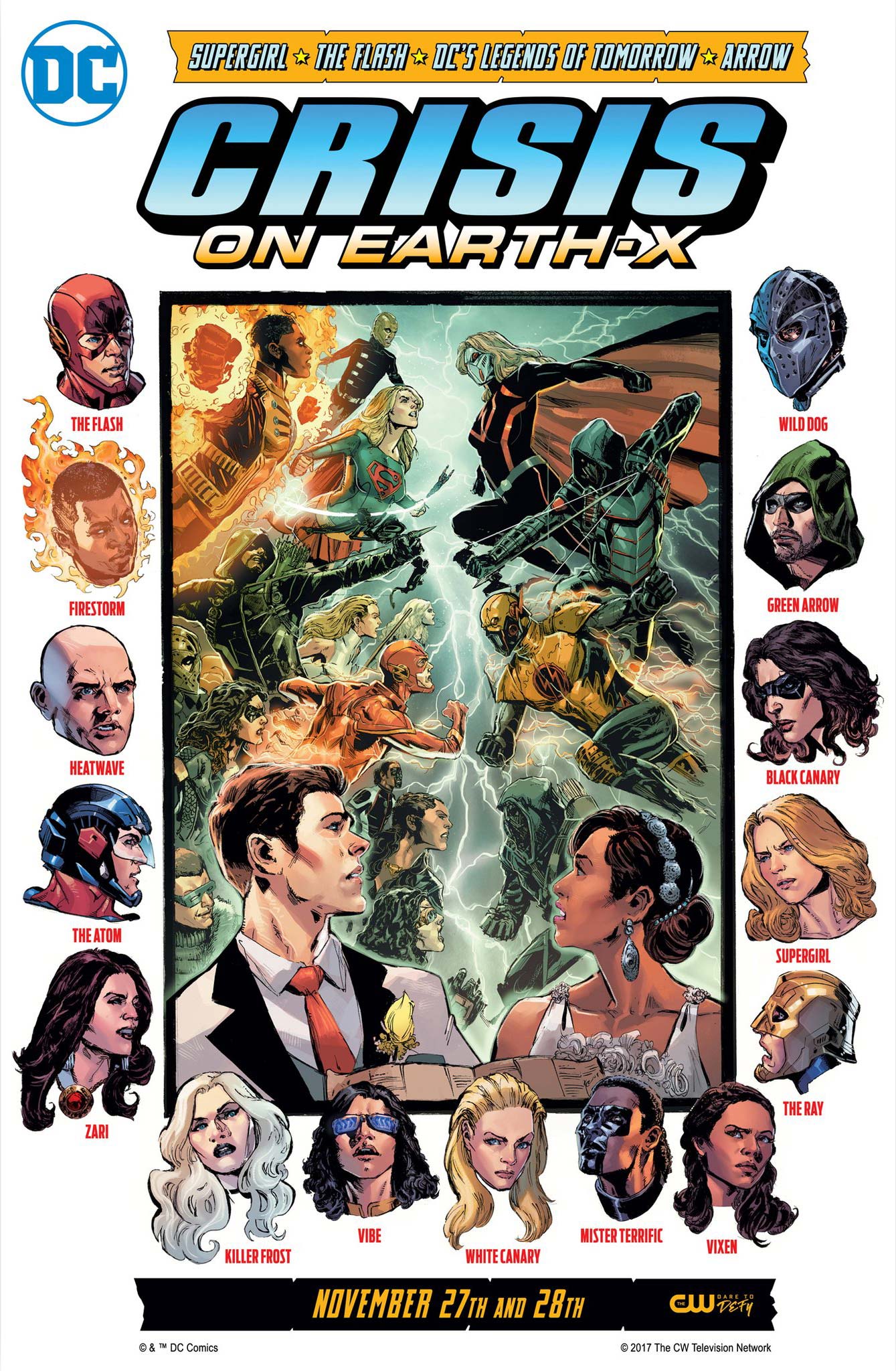 The artwork here was done by the famous Phil Jimenez. All the producers of the CW shows wanted to get his spin on this cover. They said in a joint statement:
Phil was the perfect choice to bring the comic book cover iteration of this idea to life. You can count on one hand the number of artists who could compellingly represent so many characters in a single image. Phil is one of them. And his design invokes the cover of Justice League #207, which was the 20th Annual JLA/JSA crossover. Our 10-year-old selves are in heaven.
Of course Phil Jimenez was elated to have the oppotunity to do the work for The CW and capture the network's heroes in one amazing cover. He said:
Some of the first DC Comics I ever read were those insane crossovers with a dozen characters from alternate earths and dimensions — the kind of stuff I later became known for! So when CW asked me to do an homage cover inspired by those amazing team-up covers, I couldn't resist the chance to draw all of The CW's DC superheroes in one crazy action sequence.
Looking through such a dynamic piece of art, its easy to get lost in all the detail. One detail you might have missed was the addition of a new hero to the line-up. The Ray, not to be confused with The Atom's Ray Palmer, has been added to the crossover event! TVline.com has learned that Russell Tovey from Quantico will take on the iconic part of the homosexual superhero. The official description of The Ray is:
Raymond "Ray" Terrill was a reporter who discovered a group of government scientists working on a secret project to turn light into a weapon of mass destruction. But before he could report on his findings, the project head exposed Ray to a "genetic light bomb." The bomb failed to kill him and instead gifted Ray with light-based powers. With these abilities, Ray realized he could go beyond reporting on injustice — he could take action to help stop it. Calling himself The Ray, he was recruited by Uncle Sam and the Freedom Fighters to fight violence and oppression wherever it exists.
For those that were excited to learn of The CW's plans for an animated show Freedom Fighters: The Ray, will also be glad to know that Russell will voice The Ray on the animated version as well. Melissa Benoist, Grant Gustin, and Stephen Amell who are also confirmed for voice work.
THIS LOOKS INCREDIBLE! Let us know what you think in the comments below and in the forum! Keep us going and visit the support page!
9/21/2017 7:30 pm

With less than 18 days to go until the premiere of Supergirl's third season, the time for news and the regular press release schedule has returned! The CW is going to be releasing more and more information about upcoming episodes as well as those great promotional episode photos and inside look videos! As we know, the episode title for this premiere is "Girl of Steel". Now accompanying that is of course the official episode description:
Kara (Melissa Benoist) deals with the loss of Mon-El (Chris Wood) by focusing all her energy on being Supergirl and the mysterious new threat against National City. Alex (Chyler Leigh) confesses a secret to Maggie (guest star Floriana Lima) about their impending nuptials. A citizen of National City has a mysterious connection to Kara, and Lena (Katie McGrath) makes a bold move.
Of course, if you'd like to read more about the premiere, we've got a lot more information in our spoilers section! Read at your own risk!
Supergirl's third season episode "Girl of Steel" airs on The CW October 9th, at 8pm! Let us know what you think in the comments below and in the forum! Keep us your advertisement free source for Supergirl news and visit the support page!
9/21/2017 2:04 pm

We know that Supergirl is in a very tough place when the new season begins October 9th. She feels like she's alone having lost Mon-El in her efforts to save the planet from the Daxamite invasion. Furthermore we know from our interviews with Jessica Queller and Robert Rovner from San Diego Comic Con this year that Kara is going to be questioning her humanity and diving deep into her Supergirl persona. With all that said, this first poster for season 3 is really reasonating with those themes! Check out "Flying Solo":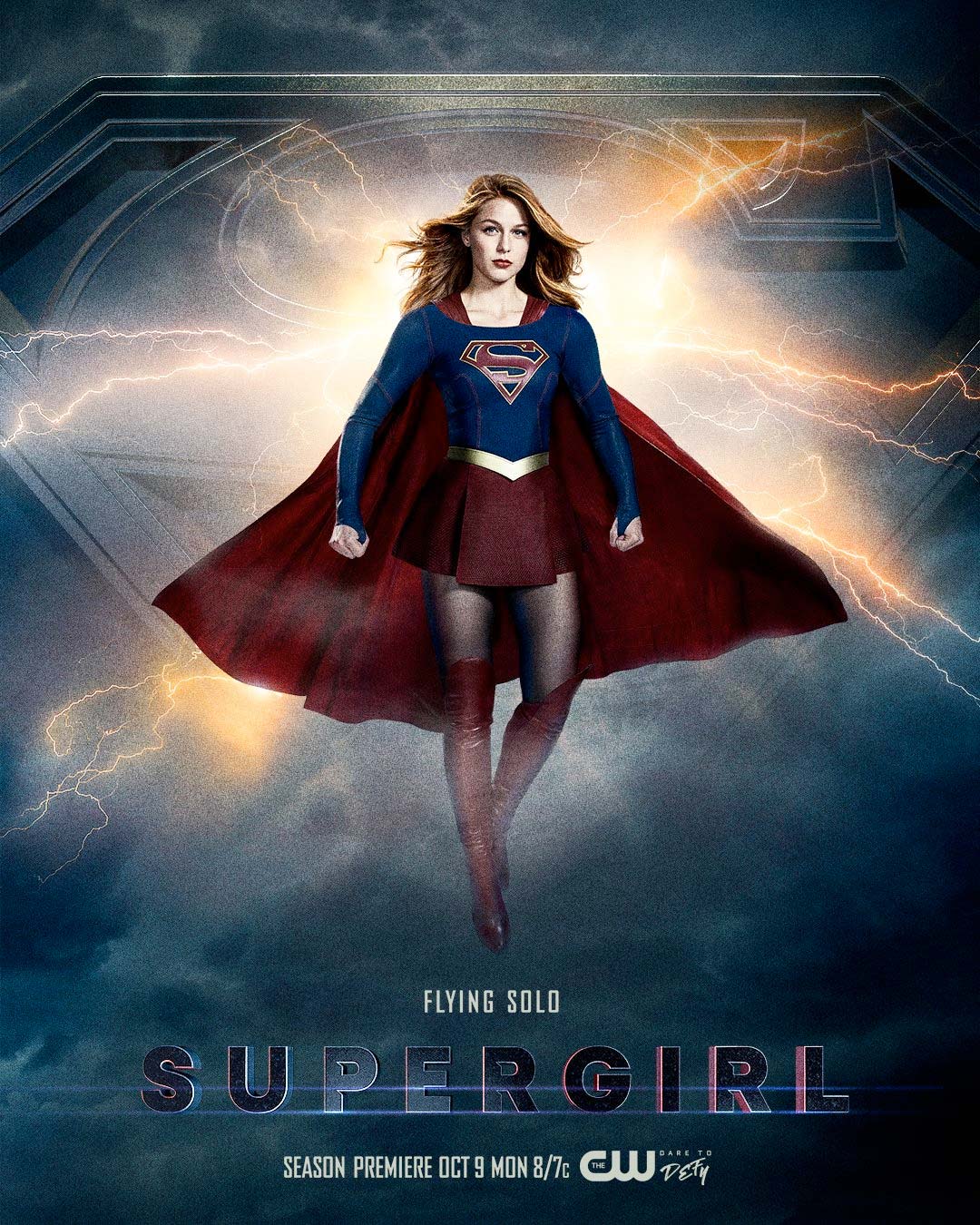 Season Premiere of Supergirl's third season begis October 9th at 8pm! Let us know what you think of this awesome poster in the comments below and in the forum! Keep us the only Supergirl news source without advertisements and visit the support page!
9/19/2017 9:30 am

'Midvale', Supergirl's sixth episode for season three, has us all a flutter with getting to see how our favorite sisters developed the relationship we get to see today! Judging by your comments and the feedback we've seen on social media, even the fanbase is starting to look forward to this episode more and more. 'Midvale' could become a defining episode in the Supergirl story! Because of this hype, we were jumping out of our seats when we saw this instagram photo of Izabela Vidovic (teen Kara) and Olivia Nikkanen (teen Alex) by Supergirl season 3 makeup artist, Claurieartistry. As of now the two young actors have wrapped on their special episode of Supergirl but we can't wait to see it!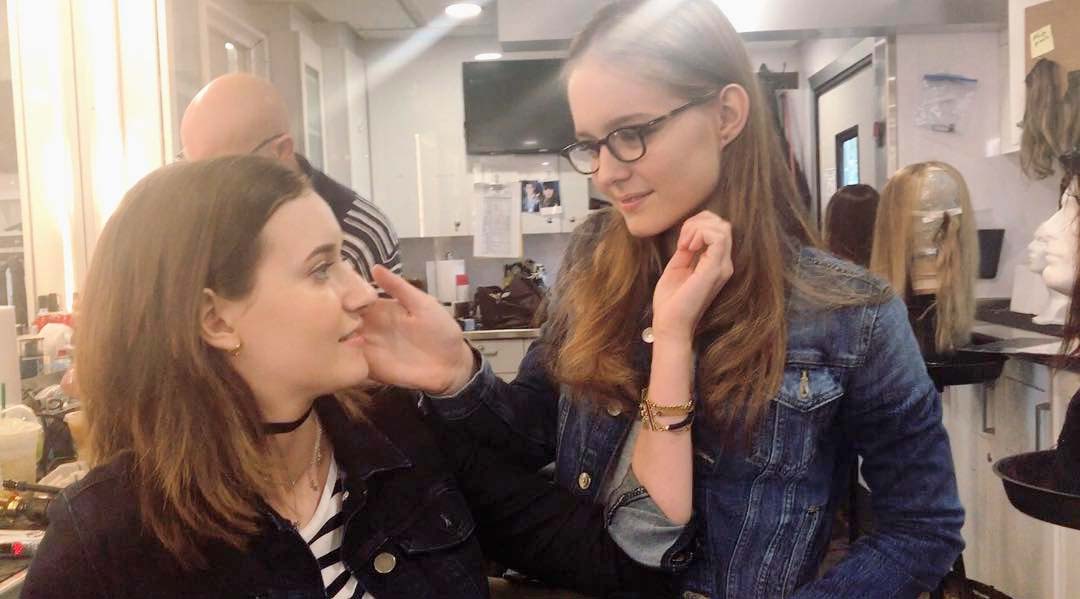 Supergirl returns October 9th, 2017 on The CW at 8:00pm! Let us know what you think of the new sisters in the comments below and in the forum! Keep us your advertisement free source for Supergirl news and visit the support page!