5/7/2021 12:00 pm

So set photos and paparazzi shots have leaked to show Azie Tesfai suiting up as her brother's mantle, Guardian, and joining team Supergirl. Today, The CW released the first official photo of the new Guardian and gave us a bit more about the episode that Azie co-wrote for this season. As mentioned before, this will be episode twelve titled "Blind Spots" and addresses racial inequality. David Ramsey directed the episode and will also appear as John Diggle. This episode will air September 21, 2021. "Supergirl" will air one more episode this Tuesday, May 11, and then return on August 24 at 9pm ET for the final run of the series. Check out Kelly's new threads below: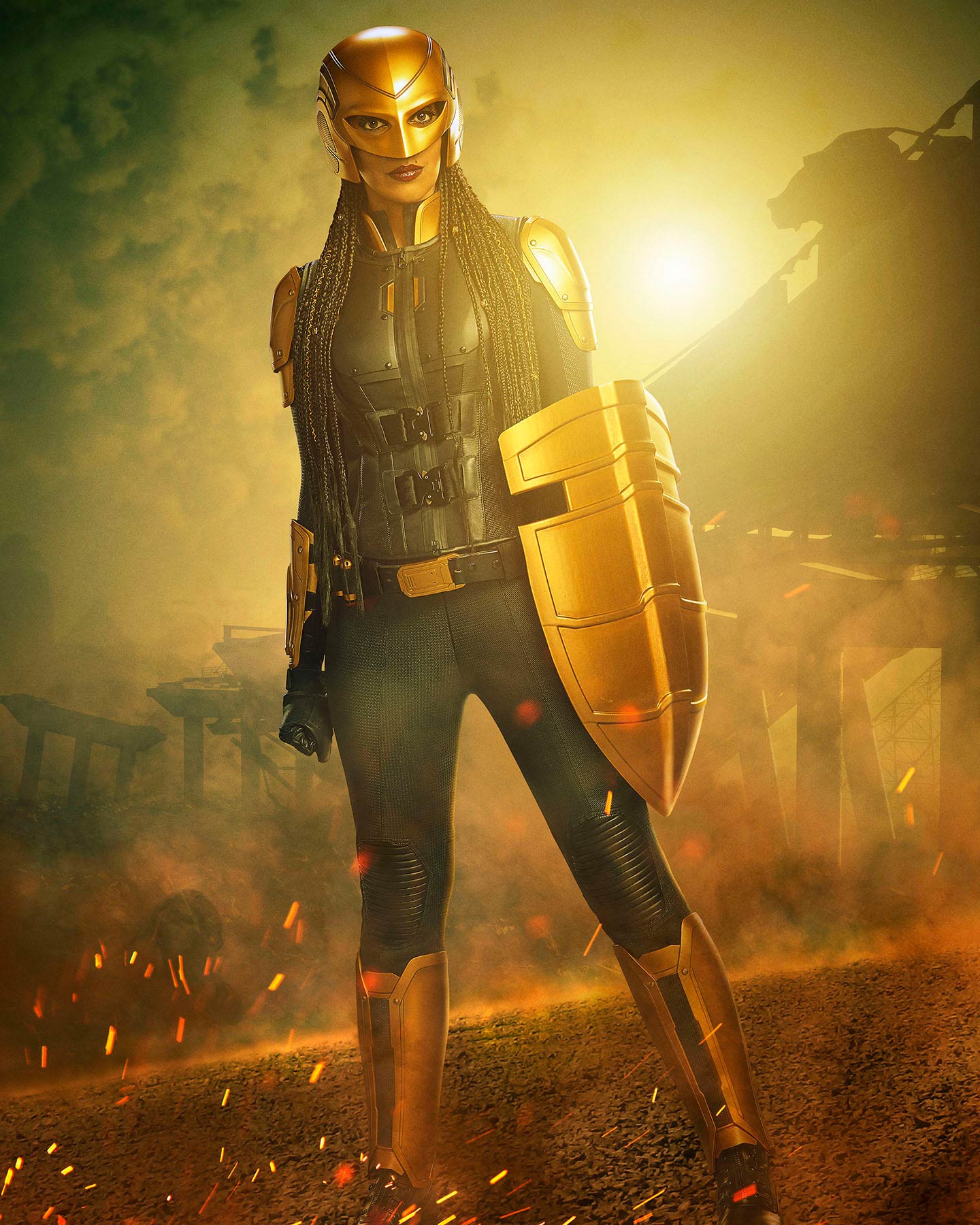 Let us know what you think in the comments below and in our forum! Keep us advertisement free and visit the support page!
5/5/2021 2:19 pm

It's time to get Supergirl out of the Phantom Zone! After Brainy and Nia were able to get the DNA off of the Kryptonite rock young Kara hit, they have a homing beacon to help find her in the maze that is the Phantom Zone. This feels like a season finale within a season, we know that there will be thirteen more episodes after next week but there definitely feels like this is closing a chapter. While last week, we got to enjoy Chyler Leigh's directorial debut, this week we welcome back David "Money" Harewood to the director's chair. He'll be doing double duty as he directs and acts in the episode! Will this episode set us up for the final thriteen episodes or will it end with Kara free from her nightmare? Check out the gallery below:
Let us know what you think in the comments below and in our forum! Keep us advertisement free and visit the support page!
5/4/2021 7:11 pm

As all good things do, our time in Midvale has come to an end. While we really love and cherish Olivia Nikkanen and Izabela Vidovic as young Alex and young Kara respectively, having Chyler and Melissa back as the best sister duo on TV has us excited! If that wasn't enough, guess who's directing the final episode of the Phantom Zone arc? Mr. Money himself, David Harewood! What happens when Kara is finally freed from the phantom zone? Does Zor-El make it out with her? All to be answered next week, here's the trailer for the final part of the Phantom Zone:
Let us know what you think in the comments below and in our forum! Keep us advertisement free and visit the support page!
5/4/2021 7:00 pm

Chyler Leigh makes her directorial debut tonight! We are very excited to see how Chyler did and where we end up with Prom Night, the meteor, Kara telling her boyfriend about moving, and Cat Grant hunting down the story. There was a lot set up last episode for us to wrap up tonight. Looking at the polls, last week's episode didn't get the adulation we thought it would. Too fast paced? Regardless, we are so excited to return to Midvale with young Kara and young Alex and can't wait to see how this all wraps up. Here's what stood out to us:
Kara to the Rescue: When we first meet Kara in season 1, she's repressed her powers by quite a lot. She even forgets how to fly. Back in Midvale, Kara is quite adept with her powers. She hears Brainy and Nia in trouble and the three of them are able to dispatch the alien captors. Cat Grant, however, uses a horrible drone to capture the fight. Thinking the mission is over, Kara and Kenny head to get ready for prom. Before going to the dance, Alex and Kara have a healing conversation. Brainy and Nia share a dance aboard his ship. Cat, having new footage from the alien fight goes to find the cloaked ship and accidentally frees the aliens.
Cat in the Cage: The aliens have captured Cat Grant and put her in a cell on their ship while heading to capture Kara. Kara sees the meteor, she flies up and destroys it. She crashes into the gym but the alien collectors show up and threaten the school. Kenny arrives and offers himself up as a Kryptonian to save Kara.
Bait and Switch: The aliens are now going to Kenny as bait to call out Kara. Kara is not doing well after the Kryptonite poisoning. Kara is ready to go save Kenny but Dreamer puts her under and Brainy and Nia are ready to take on the rescue. After getting the Kryptonite removed from her hand, Alex helps Kara escape. She is hit by the moonlight which is reflected sunlight and is instantly healed. Nia, bound in a dream captures her dream tiger. She somehow manifests it in the real world where it begins to attack the alien collectors.
Captured on Two Fronts: Cat Grant is gathering the story, the aliens have escaped and the cops have arrived. Kara exposes herself as a super in front of everyone. Nia and Brainy's only recourse is to use their time machine to travel back in time again. Their plan is to stop Cat from releasing the aliens in the first place.
Four and a Half Hours Earlier: Time ship has a stow away. Kara gets on the time ship and travels back in time with Brainy and Nia. Nia is able to find Cat and bring her drone down. The PW on the cage ended up standing for Perry White and Nia is able to use this knowledge to inspire Cat Grant to build her own media empire and send Cat back to Metropolis.
In the last act of the episode, Cat gets a call from Perry and she quits The Daily Planet to start her own empire. The aliens are sent to South America where the DEO will capture them. Finally Kara destroys the meteor and is poisoned by Kryptonite where Brainy and Nia can get the DNA they need. With the recent events fresh in her mind and the reality that she could be captured and turned into a government lab rat, Kara changes her choice and decides to move to National City. Nia and Brainy were successful in the time travel mission.
Let us know what you think in the comments below and in our forum! Keep us advertisement free and visit the support page!
4/28/2021 1:33 pm

The time has finally come. Ever since 2019 when we were able to break the news that after Melissa Benoist made her directorial debut in season 5, Chyler Leigh would have the chance to get behind the camera and direct her first episode. It is very perfect in our minds that Chyler, who has been Alex since day 1, gets to direct another wonderfully talented actor, Olivia Nikkanen who is playing the part of her own character just a bit younger. Chyler is a subject matter expert on Alex and Kara and their relationship so we are thinking that the events of last night were all set up for Chyler to just knock it out of the park with her basically new cast! Check out these 26 new images from next week's episode and a few behind the scenes of Chyler directing!
Let us know what you think in the comments below and in our forum! Keep us advertisement free and visit the support page!