2/17/2019 6:16 pm

What's So Funny About Truth, Justice and the American Way? Well that seems to be the question in the upcoming episode of Supergirl. Quick reminder that next Sunday we are off but episode 413 will air on March 3rd! The Elite will make their debut with Manchester Black, Menagerie and The Hat! Who's going to stand in their way? Supergirl and her "Super Friends". That last part made us laugh! For now, you can check out the trailer for the next all new episode of Supergirl in two weeks, below:
Let us know what you think of the trailer in the comments below and in the forum! Keep us advertisement free and visit the support page!
2/17/2019 4:51 pm

It's been a little bit of time since we've last been able to recap a new episode of Supergirl but that is how it goes in the second half the season. It's much better than having a huge nine week break like we had last year. Tonight, we were introduced to a new villain and member of The Elite. Menagerie, played by Jessica Meraz, made her debut and brought a new challenge for Supergirl and Dreamer to face off against. That wasn't all though, Kara teams with J'onn and Brainy and Nia share a Valentines Day moment! Here's what stood out to us:
J'onn J'onzz Is Touching Lives: J'onn's new office is flooded with valentines from clients that are thankful for all that he's done. Multiple flowers from aliens and humans alike. Alex and Kara show up to J'onn's office to welcome him where Alex confesses she is seeking more and may possibly get back into the dating world. As Kara leaves, a mystery woman appears and let's J'onn know that her husband might have been kidnapped.
Brainy Asks to Train Nia: Brainy knows that Nia has her powers and is considering embracing them. Because of that, he shows up to her apartment with his "mind mazes" to begin training her. Nia is not ready, however, since the passing of her mother was so recent. Nia does use the opportunity to sneak in a date request which Brainy accepts. He agrees to visit her Valentines Day party!
Villans in Motion: In a brief visit to the prison, Ben Lockwood tells his son that he needs to be a man ... of action. He enlists his son to carry the Children of Liberty banner after his mother walks away. In the next scene, we see the DEO investigating a meteor strike where a ship and alien took the heart of Menagerie's ex-partner.
J'onn and Kara Private Detectives: Catco has a wide network of research on many different topics. Specifically, the members of President's Marsden staff that helped craft the Alien Amnesty Act. With J'onn working a case for the wife of one of the members that wrote the act, he teams with Kara to work together and share resources. When Kara and J'onn go to investigate, they discover the two with their hearts missing and Alex and her DEO strike team arriving to investigate as well!
Lena Luthor, Contract: Lena gets some troubling news that makes her want to take James on a spontaneous trip to Paris. A little bit later, Colonel Haley arrives, already in Lena's office, to offer her a government contract to help make the United States army as strong as the aliens they might face. Lena hesitates on the request.
Nia's Party: In a series of coincidences, J'onn, Alex, Brainy, and Kara arrive at Nia's party. Brainy is hiding in a closet at the party to escape Nia's roommate. J"onn and Brainy begin to analyze the blood sample. Alex runs into a date she had drinks with a few times and they go to catch up. Once the results of the DNA test are in, the four head off to find Pamela.
Enter Menagerie: Kara is missing working with Alex so much she is overjoyed to continue to work with Alex and hunt down Menagerie. Upon arriving at Pamela's, Brainy kicks her immediately. This forces Menagerie to reveal herself and after quickly being over-powered, Menagerie escapes. Kara, having to remain Kara, sneezes away the threat.
Lena and James Break Up: James can't accept that Lena might share her research on making humans "Super" with the government. Because of it, there is a rift in James' and Lena's relationship. Lena decides that this rift is too much for her to get over and just like that James is asked to leave the vehicle.
Heart Benefit Ball: Menagerie, The Children of Liberty, The DEO and Supergirl all arrive. The DEO and Children of Liberty are pretty much taken out quickly. Supergirl forces Menagerie outside where Dreamer makes her debut and flawlessly attacks as she saw in a dream. Supergirl is able to take Menagerie out but she lands at the feet of new Agent of Liberty, Ben Lockwood's son. He takes the opportunity to follow in his dad's footsteps and cut the head off of Menagerie's symbiote.
In the final wrap up moments of the episode, Alex tells Kara that she needs to be able to trust that people can protect themselves. Alex is ready to start the rest of her life and move forward with adoption! Lena gets a call from the government and lets them know she is in and will help. Finally, because Ben Lockwood only attacked non-humans, he was able to be released because the Patriot Act only goes into effect when it deals with humans.
Let us know what you think of the episode in the comments below and in our forum! Keep us your advertisement free source for Supergirl news and visit the support page.
2/14/2019 5:29 pm

Comic book fans will certainly recognize the title for the thirteenth episode of Supergirl this season! For those that don't remember, it's titled "What's So Funny About Truth, Justice and The American Way". This is a call back to a major comic arc that Superman went through. Specifically it was how he dealt with the villianous team, "The Elite". With Manchester Black's partners starting to show up (we'll meet the first one, Menagerie, Sunday night), it's no surprise this storyline is coming to the surface! Check out the synopsis for episode 413 below:
SUPERGIRL FACES OFF AGAINST THE ELITE — Manchester Black (guest star David Ajala) breaks out of prison with the help of his new team, The Elite, who are set on punishing the anti-alien forces. Supergirl (Melissa Benoist) pulls double duty as she tries to apprehend Manchester Black and his team as well as deal with a shocking new development with Ben Lockwood (Sam Witwer). Alexis Ostrander directed the episode written by Eric Carrasco & Aadrita Mukerji (#413). Original airdate 3/3/2019.
Let us know what you think about the synopsis in the comments below and in the forum! Keep us your advertisement free source for Supergirl news and visit the support page!
2/5/2019 8:42 am

Not sure if you watched it, but with the Superbowl being as bad as it was, The CW probably could have run a new episode of Supergirl without a ratings drop. Just kidding. That said, we are less than two weeks away from Supergirl's return and The CW has released another look at the next episode in the form of a different 20 second trailer. This shows that Agent of Liberty's son seems to be taking on his father's crusade and could be leading the next wave of the Children of Liberty. That's not all, we get to see Menagerie in action and a few new shots of Dreamer! Check out the new trailer below:
Let us know what you think of the trailer in the comments below and in our forum! Keep us advertisement free and visit the support page!
1/31/2019 2:26 pm
Well well well! Here we go Supergirl fans! The CW has just officially renewed Supergirl for another season. With the announcement of Crisis on Infinite Earths to debut later this year (2019), the likelihood that the show would return was pretty high in fans' minds but this all but seals the deal! If that weren't enough, the entire Arrowverse was renewed! DC TV is also celebrating the renewal of Black Lightning as well! 2019 - 2020 season of television is going to continue hosting the most successful crossover of superhero shows ever! Congratulations Supergirl cast and crew!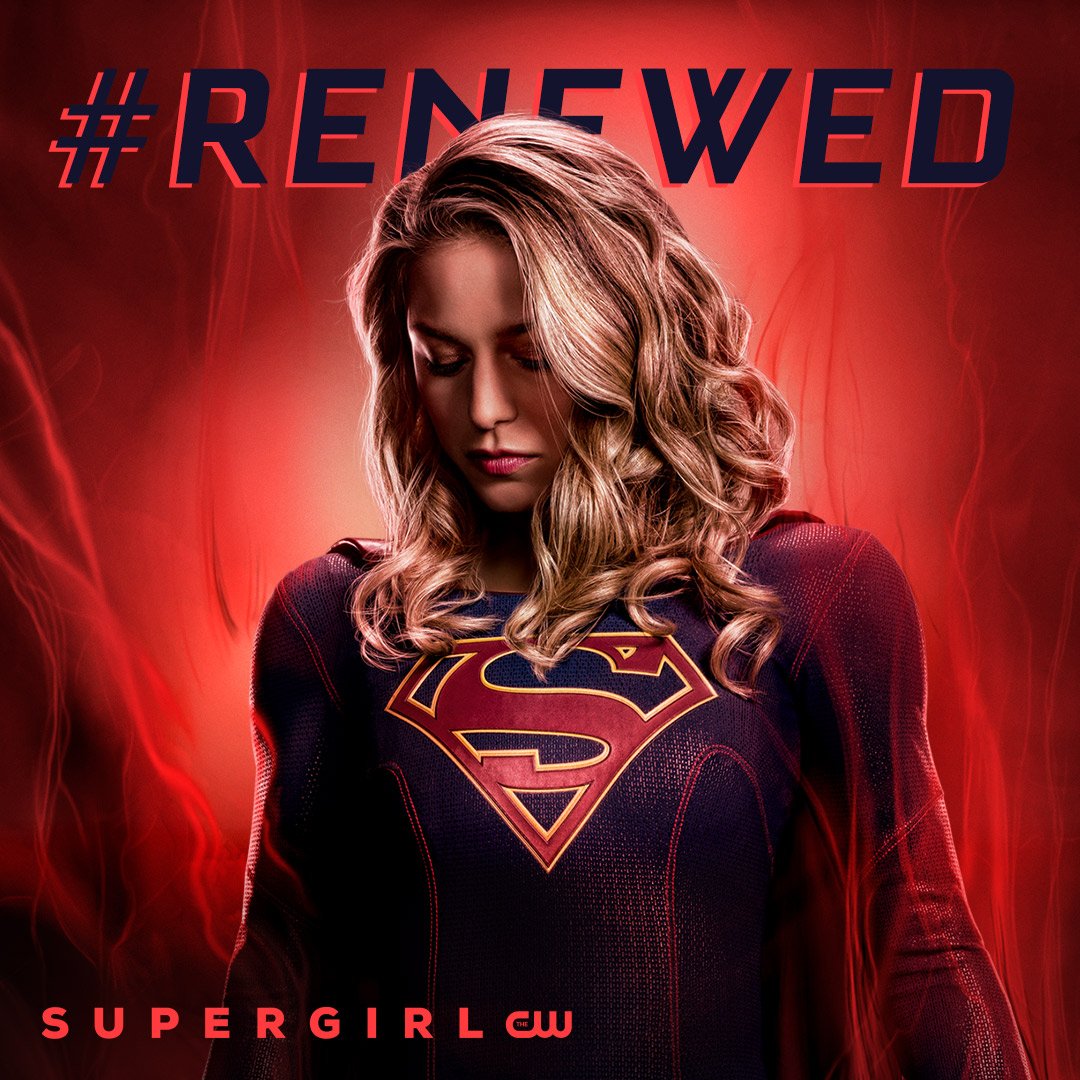 Let us know what you think of the renewal in the comments below and in the forum! Keep us advertisement free and visit the support page!