1/18/2019 10:30 am

Some of the biggest and exciting events in the comic book world and by extension, the TV superhero world, are when we can get a first look at a superhero's uniform. Seeing the suit, costume or emblem makes the alter-ego become real. Today, this is even more special as we get to see Nicole Maines as Dreamer, the first transgender superhero on TV! Her look has some familiarity with her comic book character as well as her 31st century Legion of Superheroes relative. Further enhancing the image is the artistic dreamer waves emanated from her in this new poster!
As you've seen in the season return trailer posted here, there is a shot of Nia opening the box that holds her future suit. It should be noted that while we will get to see this iconic suit in episode 411 titled "Blood Memory", it won't be until episode 412 titled "Menagerie" (which airs February 17th) that Nia Nal will fully wear the suit and embrace her alter-ego! This is a very special reveal and we are so excited to share it with you. Check out Dreamer below:
Click to Enlarge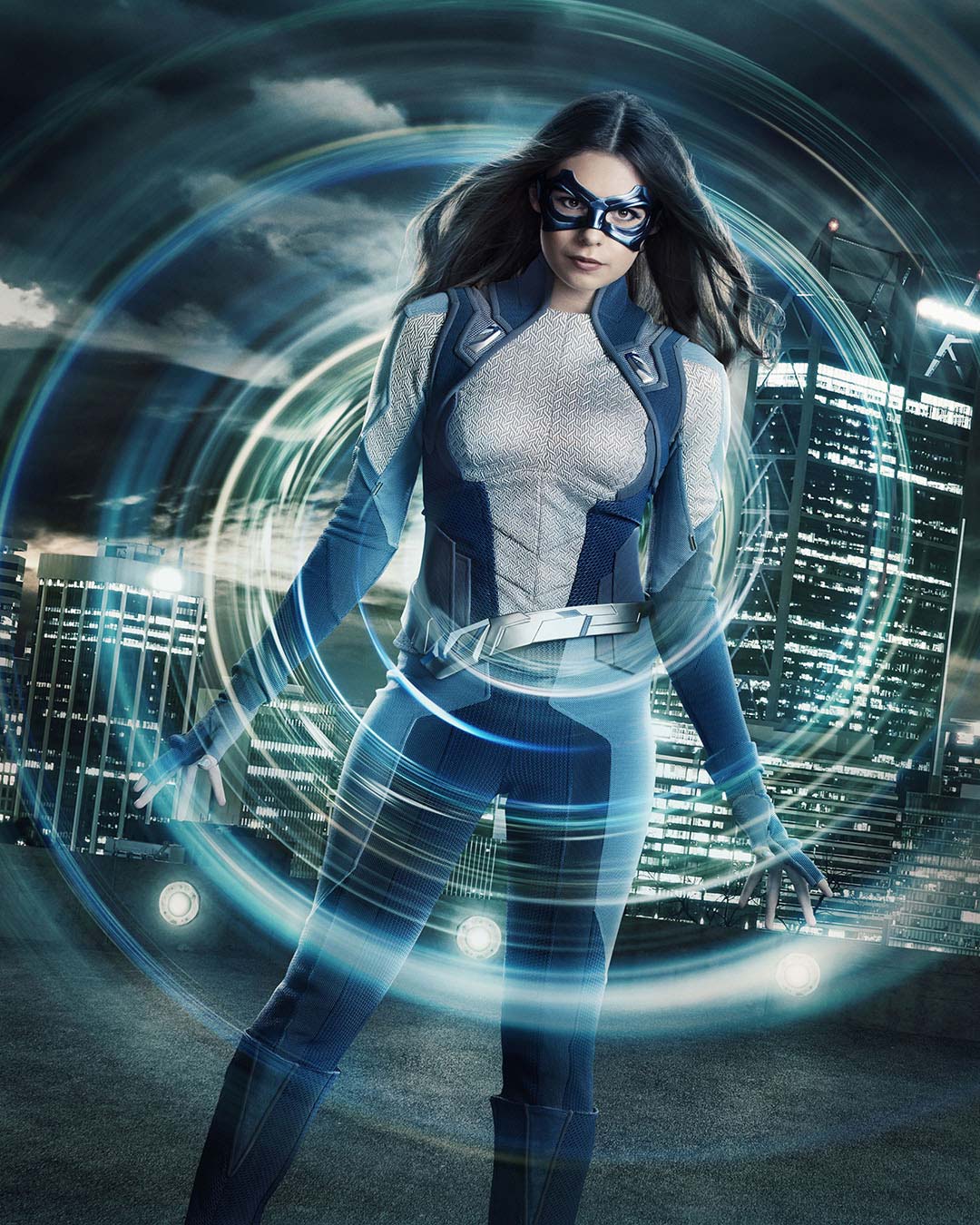 Such an incredible look! We love it! That said, there was an important piece of the puzzle revealed about the show's schedule as well. Because of the Superbowl and other award shows (at least it would seem), episode 412 that has this huge debut won't happen until a few weeks after episode 411. Certainly an understandable pause which will only grow our anticipation of seeing Dreamer in action!
Let us know what you think of the big reveal in the comments below and in the forum! Keep us advertisement free and visit the support page!
1/18/2019 7:56 am

Happy Friday everyone! Only two more days until The Girl of Steel flies again! Any DC Universe fans out there might be celebrating three more new episodes of Young Justice! Don't forget to visit our sister site for those recaps! So we've got some pretty big news to share a little later today but before we do, Entertainment Weekly sat down with Executive producers, Robert Rovner and Jessica Queller to talk about the second half of Season 4 and they revealed some interesting choices. Here are the big elements that stood out to us, you can read the whole article here:
Jeremy Jordan: This was the biggest news for us at least. Given how season 4 has been going and where the executive producers want to take it, there doesn't seem to be room for Jeremy's return this season. They said they are interested in doing a big arch with him in season 5 which has all sorts of implications. Does this mean season 5 is a sure thing? Likely so with the Crisis on Infinite Earths revealed. Does Winn bring back the Legion with him? So many questions come to mind. Here is what the Executive Producers had to say:
We love Jeremy Jordan, we love Winn. It looks like, in terms of our storytelling, something we'd like to do at the beginning of next season as opposed to this season. We have a lot of stories that coincided with his availability at the end of the play. We don't want to short shrift Jeremy or the character. So, we think it's something that's better served in season 5.
Lex Luthor: It wasn't a big surprise for us to hear that Lex would stay pretty close to how he's been portrayed in various other outlets. So far, Lex has not made his way on screen but the Executive Producers did mention that he has been seen in wardrobe and make up so the vison of Lex is complete! Jon Cryer, who is tapped to play the part, will make his first scenes starting next week! Here's what the EP's had to say about Jon Cryer's Lex Luthor:
Robert Rovner: We're super excited about the introduction of Lex Luthor into our world and Jon Cryer's portrayal of the character. I think that he's the biggest supervillain we've had in the show, and his plans will kind of touch every character and impact the entire season moving forward once he arrives. Jessica Queller: The character is not that dissimilar to what we've seen in canon. He just [has] a sparkle in his eye and is smarter than everybody in the room and 12 steps ahead of everyone, and just a large, delicious villain.
A Culminating Multi-Piece Theat: We know through casting announcements that Manchester Black is building his "Elite" team. Additionally we saw in the end of episode eight that Agent of Liberty's popularity was growing. With the addition of Colonel Haley being perhaps more foe than friend, that still leaves Red Daughter and Lex Luthor coming up. The Girl of Steel could be facing a five-way attack where she'll need to play against others to prevail. Here's what the Executive Producers had to say:
Rovner Regarding Seeing More of Red Daugher: Very much more. The Red Daughter story becomes, well not front and center because we have a lot of stories going, but it plays a much bigger role. We'll get to see a lot more of her and see her origin story in the second half of the season. Queller: Also, something that you're going to see is that it may not appear so right now but all of our big bads and storylines are going to dovetail, including Red Daughter. So, they're all of a piece, and how those pieces fit together are hopefully going to be pretty exciting.
Whew, so with that, we've learned a lot about how season four's second half is shaping up! Let us know what you think about Jeremy, Lex and these new villainous plans in the comments below and in our forum! Keep us advertisement free and visit the support page!
1/17/2019 4:00 pm

It's certainly not a nine week break like we had to suffer through last year, but it is something for all Supergirl fans to note. After two new episodes for The Girl of Steel in season 4, we are going to have a break on February 3rd. That means we will get to watch Suspicious Minds on Sunday and Blood Memory the following Sunday but then a break! At this moment there are no indications that the break will be longer than this one night pause but anything is possible. Remember these one to two week breaks are quite normal in the second half of the season. For those that are interested, we'll be treated to a rerun of Call to Action.
Chare your thoughts in the comments below and in the forum! Keep us advertisement free and visit the suppot page.
1/16/2019 10:15 am

We are only four days away from welcoming back the Girl of Steel to our television screens. As a special gift, The CW has released an extended look at Sunday's episode! There are two very special moments to look for! The first is we get a first glimpse at Dreamer's new super suit! Nia doesn't wear it but she opens the box that is holding it! The second big moment which feels like a BIG spoiler from our point of view, is that Colonel Haley mentions Supergirl's real name right in front of her! So perhaps she does figure it out? Check it out below:
Let us know what you think of trailer in the comments below and in the forum! Keep us advertisement free and visit the support page!
1/14/2019 6:21 pm

Less than a week away and then we get to see our Girl of Steel back on the screen! If that wasn't enough, CW has released a second trailer for the episode coming up. We are all feeling pretty great after the Elseworlds crossover but its time to get back to reality. Manchesster Black, Children of Liberty and now Colonel Haley is going after Supergirl. Thankfully, the writers didn't want us to forget about another big issue looming, the Red Daughter makes an appearance in the trailer too! Watch it below and see if you catch it!
Let us know what you think about the trailer in the comments below and in the forum! Keep us advertisement free and visit the support page!