2/22/2021 8:32 am

Greetings Supergirl fans! There's been a lot of SUPER news lately just unfortunately not about OUR Girl of Steel. That said some of us on the forum have been talking about that Super news. If you aren't aware, The DCEU, the name majorly used to identify the movies of DC, has cast their Supergirl. The role went to Sasha Calle and we couldn't be more excited for her and that choice of casting. That said, we want to hear your thoughts on if Supergirl.tv should cover the DCEU for you now that there is a Supergirl there too.
On the other hand, Superman and Lois is going to debut tomorrow. We also were curious if we should cover that show here. Your opinions were yes and no. Fans wanted our media group to cover the show, but keep them separate as to honor both characters separately. Well, it was a BIG job but after the carpal tunnel syndrome I gave myself with writing all that code (just kidding but it was a lot of code) we've launched https://supermanandloistv.com. We wanted to get the .tv for consistency but someone else owns it.
Anyway, if you are interested in that show and want to follow along go ahead and make an account over there! In the same vein as Supergirl.tv we wanted to provide you coverage of the Kryptonian and his family advertisement free! Many of the pages have yet to be published, we are working as fast as we can on that, but the comments and forum have been set up so we can all gather as fans and share our thoughts! Thanks for being fans and we hope to see you over at Supermanandloistv.com!
2/1/2021 3:28 pm

We all know that it's been bitter sweet when it comes to this final season of Supergirl. Knowing its the end for our favorite Girl of Steel sucks but knowing we get to go on one last adventure before we depart does help immensely. While we've seen David, Melissa and this season Chyler sit behind the camera and direct, we haven't had an actor co-write an episode before. Well our very own Azie Tesfai is claiming that honor as Deadline reports that the actor has teamed up with the writers room to do just that! The episode will be the twelfth in the season and Tesfai has this to say about the opportunity:
I am so grateful to write for Supergirl's final season. It's been such an honor to play Kelly Olsen, a BIPOC and queer character in the DC universe. Working in our amazing writers room and co-writing an episode has been an immensely educational and empowering experience. Writing is such a passion for me and I'm excited to continue on this creative journey.
The executive producer team went on to comment on the actor pulling double duty:
Azie has been an integral part of Supergirl for the past two seasons and when she expressed a desire to write this episode we were thrilled. We couldn't be more excited or proud. She's deeply talented and her perspective is a welcome addition.
Executive producers and showrunners Robert Rovner and Jessica Queller added:
We are so excited to have Azie co-write this episode of Supergirl. On screen, Azie has beautifully brought Kelly Olsen to life — we've been so impressed by her acting and now equally impressed by her writing. It's been especially wonderful collaborating with her on this episode.
Let us know what you think in the comments below and in our forum! Keep us advertisement free and visit the support page!
1/22/2021 10:08 am

We're back! It is a little bit bitter sweet because this is the final season of Supergirl but, for us, its a little easier knowing that going into a season rather than not having a season renewal and not wrapping up storylines. That said, while some preliminary filming has taken place, the new Mom-of-Steel is back at work and the final season has begun principal photography! Our favorite Space-Dad is back behind the chair directing an episode as well as getting work done in his new beefed up Martian Armor suit! Love those shoulders! We still don't have a release date but our countdown clock is set to our best estimate. We do know that this final season will have 20 episodes like seasons before and we can't wait to see what's in store! Check out this behind the scenes photos of Space-Dad getting work done below: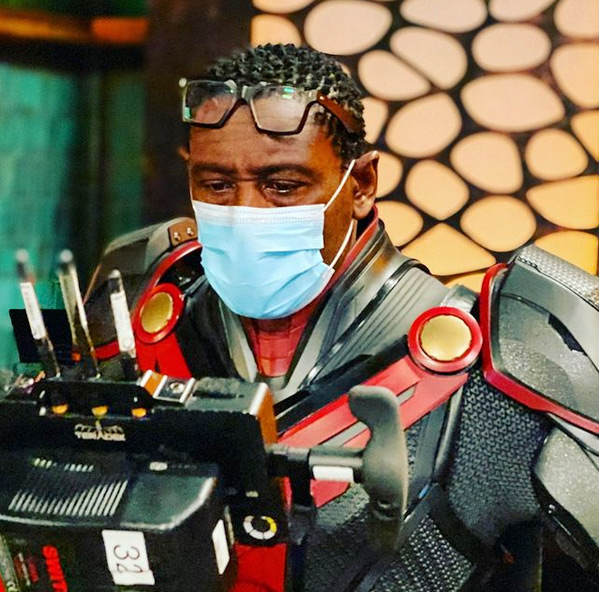 Let us know what you think in the comments below and in our forum! Keep us advertisement free and visit the support page!
10/7/2020 10:39 am

We've taken some time to really process the news that Supergirl is coming to an end. We started this journey on a whim by buying a domain and turning it into a blog. From there we've grown into the largest Supergirl related website on the planet. That is all because of you guys! We know many of you are wishing and wanting more Supergirl. We are right there with you but what is nice is that it isn't over yet. One more season of 20 episodes is coming and we want to spend it all with you, our Supergirl.tv family! With the news that the show is coming to an end, covid-19 dominating the news cycle, what seems like too much polics on the news, there was only one thing we thought would be 100% sure to lift your spirits, season 5 blooper reel! Check it out below:
Thank you all for being here, thank you for sharing your experiences with this show, and here's to one more time around the sun! El May Arah!
Let us know what you think in the comments below and in our forum! Keep us advertisement free and visit the support page!
9/22/2020 1:11 pm

All good things must come to an end. Entertainment Weekly just broke the news that season six will be the last season of the show. The writers room is already working on developing a final 20 episode season to send off the Girl of Steel. Whether this choice comes from cancellation or that Melissa didn't want to keep doing the show is unclear. We are still pleased that we will get one more season with The Girl of Steel and our hope is that this will be the best one yet! Of course, the new show, Superman and Lois will be a great crutch for us to lean on and opens the door for guest apperances!
Additionally, our Girl of Steel herself had this to say about the final season:
To say it has been an honor portraying this iconic character would be a massive understatement. Seeing the incredible impact the show has had on young girls around the world has always left me humbled and speechless.

She's had that impact on me, too. She's taught me strength I didn't know I had, to find hope in the darkest of places, and that we are stronger when we're united. What she stands for pushes all of us to be better. She has changed my life for the better, and I'm forever grateful.

I'm so excited that we get to plan our conclusion to this amazing journey, and I cannot wait for you to see what we have in store. I promise we're going to make it one helluva final season. ♥️ el mayarah
Let us know what you think in the comments below and in our forum! Keep us advertisement free and visit the support page!