6/16/2019 11:42 am

It's been three weeks in the making. Three rounds of voting, four seasons in battle. In the end, it was season one episode sixteen that took the crown as the best episode of Supergirl so far! Now, it has been pointed out to me that there is a potential that due to the rules of voting, we can really only be 100% sure that Falling is the one episode that will end up in people's top three more than any other. But at this point, we think we've voted this topic to death. So with that we will name "Falling" as the best episode of Supergirl so far! Here are some interesting facts about the episode for you:
The episode originally aired March 16th, 2016
It was directed by Larry Teng who did many of the season 1 episodes
Current showrunners, Jessica Queller and Robert Rovner wrote the episode!
The episode did a 1.4 live in the ratings with an adjusted 2.1 live + 7.
Viewership was 6.7 million viewers live and adjusted to 8.8 million live + 7.
Of course, Falling has some pretty good competition. Specifically the second and third place positions. When we did the polls the first time (two rounds), Midvale edged out For The Girl Who Has Everything by one vote! This time, For The Girl Who Has Everything edged out Midvale by one vote! It's difficult to apply the mathematics about the poll, elements like poll fatigue, demographics, and poll engagement. Basically, we think we could go back and forth on these two episodes each time we hold a poll.
Finally in forth and fifth place were Red Dawn and The Pilot respectively. These results seem to match up with all rounds of the polls. We'll let you guys draw your own conclusions from how everything ended up!
What we'd like to know next is, how did you guys enjoy this exercise? Was it fun? Are there ways we can improve? Would doing more events like this in the off season be fun? We have a few ideas but want to hear from you as well! As always, share your thoughts with us in the comments below and in the forum! Keep us advertisement free and visit the support page!
6/12/2019 9:58 am

We are mostly digital these days, but when it comes to Supergirl, getting our hands on any or all content we can is essential. Even more so, we are in it for the extras! Today, Warner Brothers has shared the release date and list of extras for the season four dvd and blu-ray releases. You can purchase your copy beginning on September 17th! Additionally, if you purchase the Blu-Ray copy (and only the blu-ray not the DVD) you'll get the other two hours of Elseworlds included! Probably most important to us, season 4 has a GAG REEL!!!! Check out the list of all the included elements below:
Just in time for the fifth season premiere on The CW, catch up with one of TV's favorite DC Super Heroes as Warner Bros. Home Entertainment brings you Supergirl: The Complete Fourth Season on Blu-ray and DVD on September 17, 2019. Fans can purchase the sets which, in addition to all 22 super-powered episodes from season four, also contain the DC Crossover featurette, the show's 2018 Comic-Con panel, deleted scenes and a gag reel! All three DC Crossover: Elseworlds episodes will also be available only for fans who purchase the Blu-ray set. Supergirl: The Complete Fourth Season is priced to own at $39.99 SRP for the DVD ($51.99 in Canada) and $44.98 SRP for the Blu-ray ($52.99 in Canada), which includes a Digital Copy (Available in the U.S.). Supergirl: The Complete Fourth Season is also available to own on Digital via purchase from digital retailers.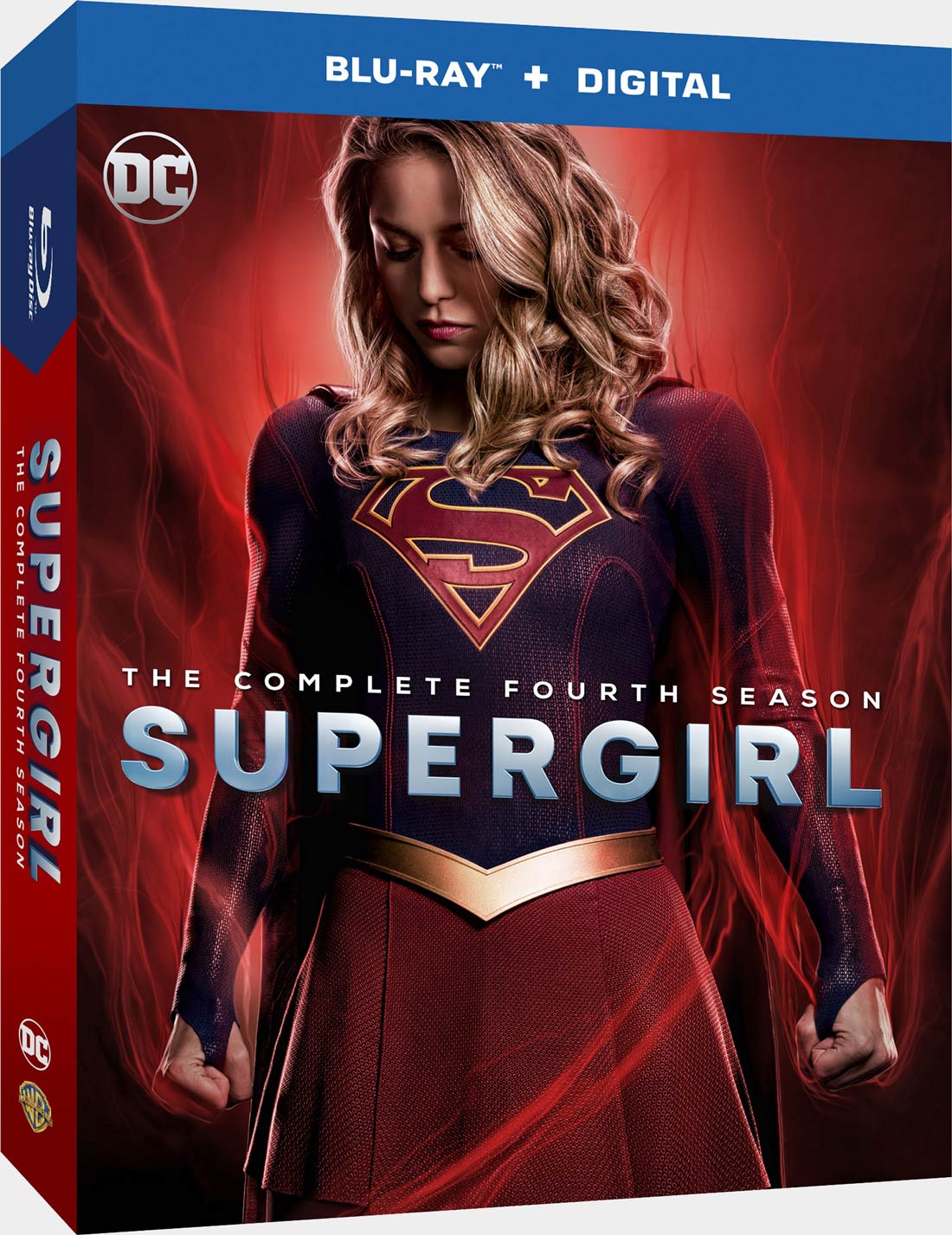 Let us know if you'll be picking up a copy in the comments below and in the forum! Keep us alive and kicking through the summer and visit the support page!
6/8/2019 4:18 pm

Surprise! There's a third round in our quest to find the best episode of Supergirl so far! While in round one, we restricted voting between seasons, now we are going to have an all-out free-for-all! We want to know, if the boundaries between seasons were removed, would the results for top 5 episodes be the same? To further add to the difficulty of this round, we are taking away two of your votes! You will only be able to vote for THREE EPISODES PER USER! We didn't want to make it a one vote and done because that seems a bit too difficult. Speaking for myself, there are a few episodes I love equally. Be sure to use your three votes wisely!
The question remains, will Falling continue to be our users absolute favorite episode? Will the other four continue to be in the top 5 or will the removal of seasonal boundaries push a few episodes aside? We will keep the poll running for one week and this time next week on Supergirl Sunday, we will have an absolute answer!
You must be logged in to see the vote and results button, some additional css classes were added so you might need to refresh your cache.
Let us know your thoughts and try and persuade your fellow users in the comments below and in the forum! Keep us alive and kicking this summer and visit the support page!
6/7/2019 9:32 am

Our friends at DC TV Podcasts, (Supergirl Radio) are holding their annual charity event Saturday, June 29, 2019. We wanted to let everyone in our circle know about it because we really believe that we get such a wonder gift with the shows we watch, and the fandom we are in, it is important to pay that forward as well. Listeners can help raise money while also enjoying their favorite DC television podcasts for Arrow, The Flash, Supergirl, Legends of Tomorrow, Black Lightning, Krypton, Titans, Doom Patrol, Batwoman, Swamp Thing, Stargirl, as well as classic DC TV shows. This year, with the growth of the DC TV Podcasts network, the live event will now include an additional two hours! The podcasting fundraising event will be hosted via Mixlr at mixlr.com/dctvpodcasts and will begin on Saturday at 7 AM PST/10 AM EST.
This year, the charity that is being supported is Magic Wheelchair. You can learn more about them at their site here, but here's a little bit about them:
Magic Wheelchair is a nonprofit organization that builds epic costumes for kiddos in wheelchairs — at no cost to families. Our vision is to put a smile on the face of every child in a wheelchair by transforming their wheelchairs into awesomeness created by our hands and their imagination.
We hope you'll join us in supporting this incredible effort by DC TV Podcasts!
6/4/2019 10:40 am

We interrupt our continuing coverage of tracking down the best episode of Supergirl so far to bring you our first SDCC Exclusive! Icon Heroes is debuting a VERY LIMITED edition of a Dark Supergirl Statue! This statue imagines what might happen if Kara Zor-El's good and evil souls split apart, creating a dark side manifestation. Made of high-quality polystone resin, highly detailed and expertly painted, this incredible collectible stands approximately 9" tall! You can see the figure in all it's detail in the thirteen images below!
The statue will be available for purchase in the Icon Heroes booth #3345 at SDCC 2019 with only limited quantities available each day. For those unable to attend San Diego Comic Con, preorder information will be available soon at Icon Heroes. There are only 300 of these so be ready to act fast if you want one!
UPDATE: Here is more preorder information:
If you are unable to attend this year's San Diego Comic Con, Icon Heroes will have an extremely limited quantity of our show exclusives available for pre-order online June 17-21, 2019 at this link! There will be a limited quantity available for pre-order each day. Pre-orders will be charged immediately but Icon Heroes will not begin shipping pre-orders until July 22, 2019. We will only ship to the United States (physical addresses only - NO P.O. BOXES).
Let us know what you think of the statue in the comments below and in our forum! Keep us advertisement free and alive and kicking through the summer and visit the support page!