1/22/2020 4:05 pm
Ever since Superman comics in the early days, there have been stories of power-transfers, Kryptonite that can split whole people into two and even merging people back together. Now, we don't know how, what, or who this is character-wise, Chyler Leigh did send out a very awesome Instagram photo that would lead us to believe that the episode currently filming would have Alex Danvers with powers like Supergirl. What makes us think that this is more of a merge of the two sisters than it is a power transfer is how perfectly it would seem the suit is merged. It has black color and pads on the shoulders like Alex's DEO uniform would, but it has Blue like Supergirl and Supergirl's emblem. The sleeves don't go over the thumb like Supergirl and the collar is risen like Alex's DEO suit. Finally, Alex is sporting Kara's haircut.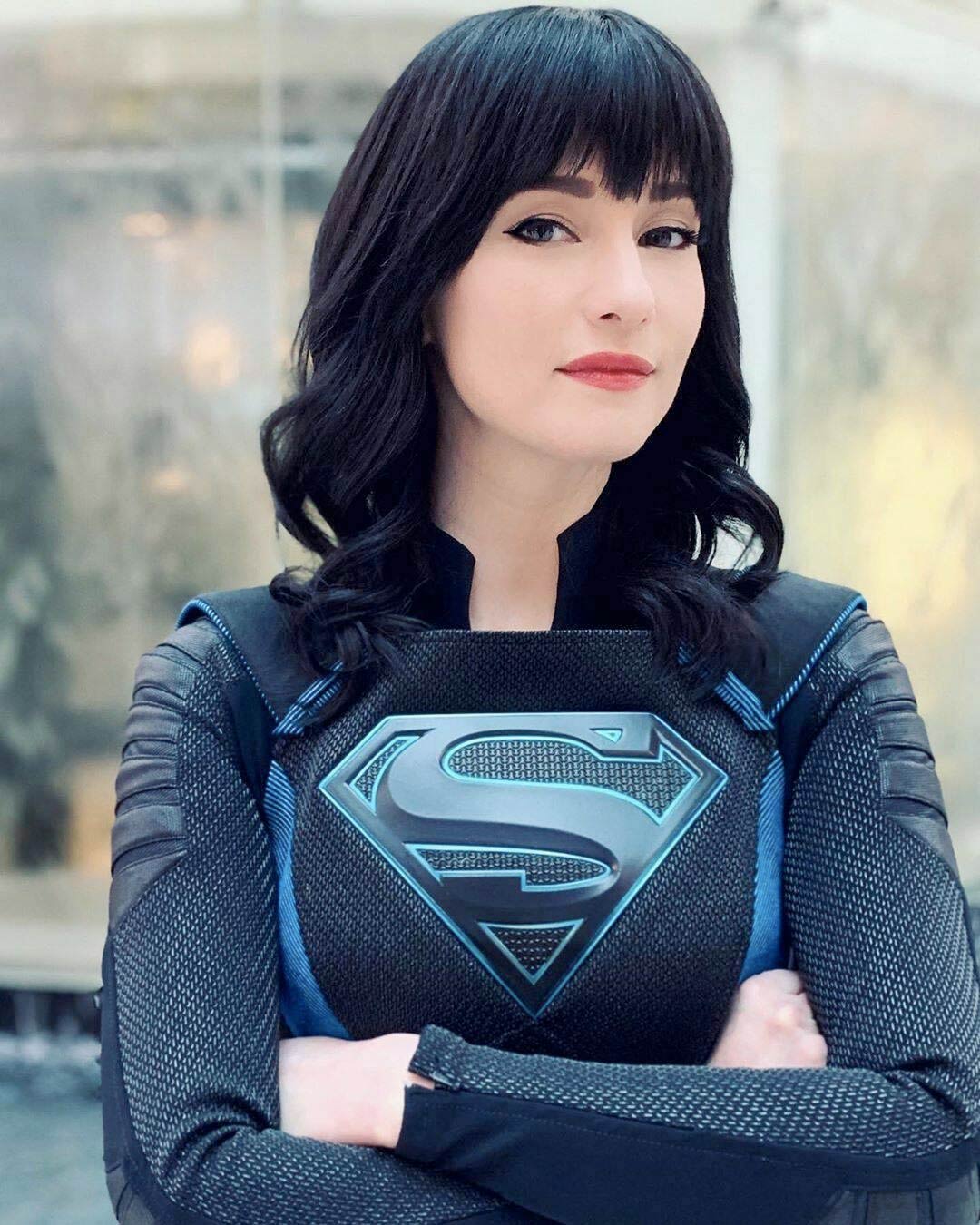 So far no plot points have been shared about this new suit but my goodness, are we excited to see it! What do you think is happening? Will Helen Slater and Olivia Nikkanen be in this episode too? Let us know in the comments below and in the forum! Don't forget to visit the support page and help us get through 2020.
1/22/2020 3:16 pm

He certainly didn't look or sound like our Winn Schott in the trailer for Sunday's all new episode of Supergirl, but seventeen brand new images have us starting to question whether or not this really is our Winn Schott? Fans likely know that Jeremy Jordan (Winn Schott) is slated to be around for at least three episodes this season including the big 100th episode! So we ask you guys to take a look at these photos below and let us know if you think it is our Winn pulling a necessary ruse? or some evil doppleganger?
Real Winn or Doppleganger? Let us know in the comments below and in the forum! Don't forget to visit the support page and help us get through 2020.
1/22/2020 1:34 pm

Every once in awhile, there is a guest star that just really stands out and you have to find a way to bring them back. Jon Cryer's Lex Luthor might be the ultimate example of this. Lex is a household Arroverse name now! When it comes to just Supergirl fans, there are three other names that stand out; Olivia Nikkanan, Izabela Vidovic and of course Helen Slater. Today, The CW confirmed for Supergirl.tv that at least two of these three lovely guest stars who played Young Alex Danvers, Young Kara Danvers and Eliza Danvers respectively will make another appearance in season 5!
We know specifically that Nikkanen and Slater are confirmed but can't confirm Vidovic. Details on their return, if this will be a flashback or some kind of time travel episode or any other plot points aren't known, but fans have consistently delighted when these younger versions of our favorite sisters appear along side their mother!
Are you excited for the return of Olivia and Helen? Let us know in the comments below and in our forum! Dont' forget to visit the support page to help us get though 2020!
1/19/2020 7:24 pm

Lex Luthor seems to have won Crisis on Infinite Earths! You can't beat coming back from the dead and having the whole world feel like you are one of the best people on the planet! Now that he is running the DEO, Supergirl, Alex and Nia will have to keep an eye on him! We'd say Brainy would be too but his new evolution seems to have given him a new mission to conquer! Leviathan seems to be the only thing on his mind! Check out the trailer for Winn's return below:
Let us know what you think in the comments below and in the forum! Keep us advertisement free and visit the support page!
1/19/2020 5:56 pm

The Paragon of Hope is back! After a very big diversion into losing all of reality, being stuck in the vanishing point for nearly a month, and then fighting to restore reality back, it would make sense that the Girl of Steel take a well earned break. Unfortunately for her, that was not what happened! Lex Luthor saw to that! Kara may have all her friends back and exist with her fellow heroes, but she's really trapped under Lex Luthor's rule! Here's what stood out to us:
Lena's Memories: Kara and Alex are walking the streets of National City and they see an ad that shows the DEO is public. What they don't know is that Lena does have her memories. Lex saw to that. Kara is still planning on telling Lena everything but Lena already knows. Lena wakes up to Lex explaining how he rewrote history. Lex pitches to his sister that they should partner up. However when Lena mentions Leviathan, Lex knows nothing about it.
Brainiac 5's Many Forms: Brainy and Nia are on a date when they run into another Brainy. Neither can tell which is which and they both arrest each other to take them in to the DEO. When there, we meet a female version played by Meaghan Rath, who claims she is the director of the DEO, another Brainy gets up from a desk and yet another seems to warp and blink into existence.
Lex, Lena, Lillian: Lena goes to her mother who is now running the Luthor foundation. She want's guidance to which team she should back, Supergirl's side or Lex's side. Lillian let's Lena know that if she sides with Kara she will likely let her guard down again and be hurt. But if she sides with Lex, she knows she can never trust him.
Nia Finds The Bad Brainy: Nia heads to the DEO to meet the other Brainys. She walks in on one that is trying to free a bottled Earth. In doing this, it could kill both Earths and since Crisis, this is the only Earth they have! Brainy takes Nia out but Supergirl gives chase!
The Full Culluan: Brainy vs Brainy! In Al's bar, our Brainy removes his inhibitors and turns full green! He is connected to The Big Brain and taps into his true potential. He is able to convince the evil Brainy to stop trying to free his world and instead work with the people of Earth-Prime to find a safe way to free that Earth. The Evil Kryptonian Witches agree with Kara and our Brainy and they all return to the bottle that evil Brainy saved.
In the final moments of the show, the last two Brainys decide to leave their corporial bodies and live digitally in the Big Brain! Female Brainy tells our Brainy that Leviathan is everywhere. Their two worlds are almost identical and she warns him that Lex is hunting Leviathan. Brainy must hunt this threat alone. We cut to Lex who claims that death has changed him. He puts on a truth seeker and answers Lena's questions. Lex reveals he wants to work with Lena because he doesn't want to be alone. Then we go to Nia's place. Brainy has to break up with Nia in order to hunt Leviathan. Finally, it turns out William is suspicious of the Luthors, and Kara and him team up. Brainy goes to Lex and offers to help him. We then learn a doppleganger has been found and arrested. Its Winn!
Let us know what you thought of the episode in the comments below and in the forum! Keep us advertisment free and visit the support page!