11/23/2017 6:01 pm

Happy Thanksgiving everyone! Whether you are in the United States celebrating today or you are international, please know that Kelsey and I are both very thankful for you guys. Without you, Supergirl.tv wouldn't be worth the digital server we are hosted on, and you guys have created an amazing community with us. So again, thank you all for joining us here at Supergirl.tv. But that said, on to the news! Kelsey and I were visiting family when this trailer came out so sorry for the delay, but The CW seems to have released the part two trailer for the crossover event early. We say early because in the trailer you can literally here the announcer say, "tomorrow" meaning this is intended to play after night one of the crossover. Check it out below:
Let us know what you think of this trailer in the comments below and in the forum! Keep us your advertisement free source for Supergirl news and visit the support page!
11/22/2017 2:13 pm

The CW is starting to really push the two night four show crossover event and we couldn't be happier! The newest trailer comes in at one minute and has a much more ominous tone. As for our Girl of Steel, it looks like she is going to be taking a pretty big fall ... literally! There is a moment in the trailer where we see Kara fall from the sky looking to be unconscious! For those of us that are interested in more powerful villains to go toe-to-toe with Supergirl, it seems that is exactly what we're going to get! Check out the trailer below:
Let us know what you think of this newest trailer in the comments below and in the forum! Help Supergirl.tv out, and keep us your advertisement free source for Supergirl news by visiting the support page!
11/21/2017 12:45 pm

Today, the CW is releasing a new live action poster (not illustrated like previously) to help promote next week's Crisis On Earth-X two night four show crossover! In it, we are seeing some previously unseen characters that are certainly standing out! It looks like a Red Tornado-like character is playing for the Earth-X team as well as a possible Kryptonite powered robot, metallo in his only metalic form? Regardless this poster has some amazing action and is really raising the excitement for next week! Check it out below: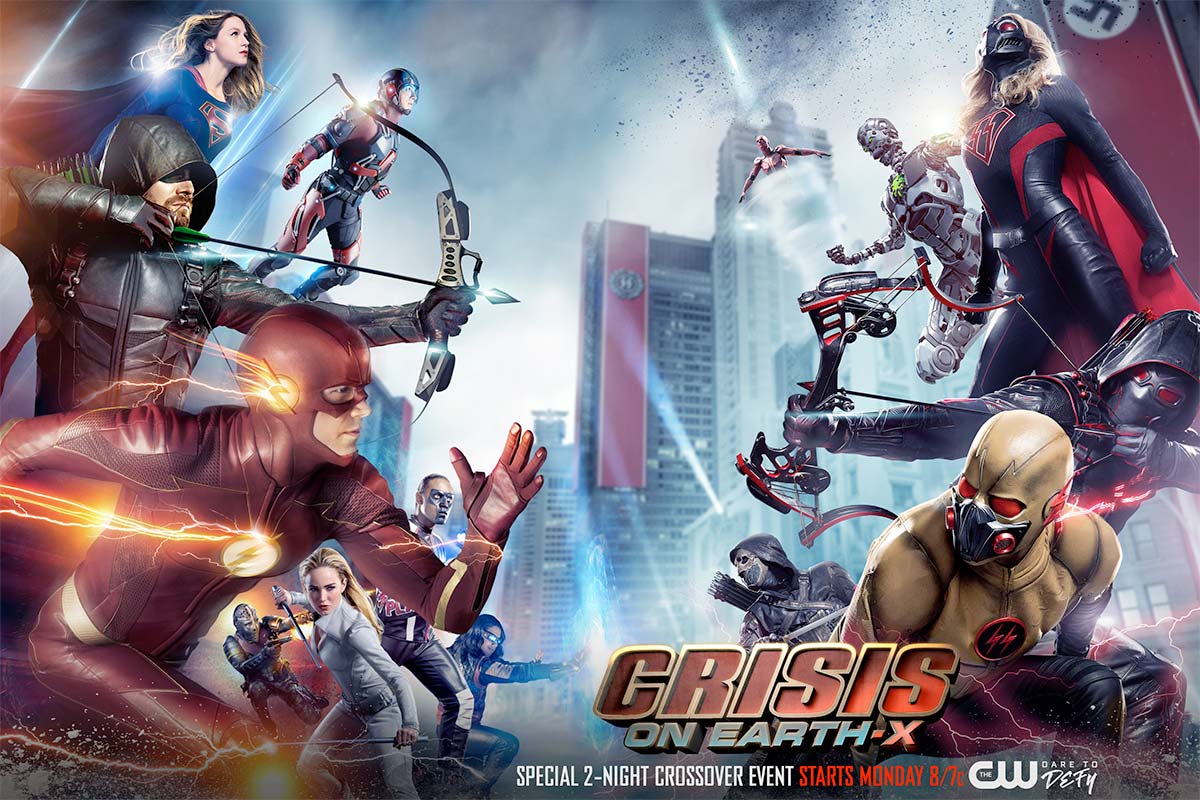 Let us know what you think of this amazing poster in the comments below and in the forum! Keep us up and running and advertisement free by visiting the support page!
11/20/2017 6:33 pm
There isn't much more we can say about the crossover after seeing today's two and a half minute trailer, but nonetheless...CW did give us one more look at next week's major two-night four-show crossover event with a brief teaser for part one. Check it out below because it contains just a bit of new footage that we haven't seen in the other trailers so far. We are excited for this like never before. Crisis on Earth-X sets up all these shows for a level of greatness you can only get when the whole ensemble of the Arrowverse is together.
Let us know your thoughts below and in the forum. Keep us advertisement free and running by visiting the support page!
11/20/2017 2:35 pm

He's been missing since the end of season 2 and producers have been teasing that his return would herald a new and different Mon-El as well as be show-altering! Now, Mon-El is back and he brought some friends with him. The ship trapped underground/water has finally been identified and boarded! For those that thought it was the remaining World Killers, not this time. It was indeed a Legion of Superheroes ship! Of course, that wasn't all. Carl Lumby reprized his role as J'onn's father, M'yrnn and just by watching the sneak peeks, you know Betty Buckley joined the show as Sam's adoptive mother and deviously hid secrets from her. In an episode that explores origins and re-origins, here are the elements that stood out to us:
The Legion of Superheroes Arrived: 12,000 years ago! Or at least that is how long the ship appears to be embedded in the rock under National City. Additionally, a metal that is not on a periodic table is a statement that is pretty amazing, not just for Earth today but the DEO has access to Krypton's knowledge. We'd have to imagine they know more about the periodic table that we do, so that metal is even beyond Krypton's knowledge!
Mon-El is Different: From the first time Mon-El speaks, he is literally speaking a different language! From there you can tell the changes have really cemented. While at this point we don't know how long he's been gone, it's clear that what was seven months for Kara was much longer for Mon-El. He felt older and more seasoned from the get go. We are already enjoying these changes.
Sam Visits Her Adoptive Mom: Already the second line of out of Sam's mom's mouth is that she hasn't met Ruby or even remembers her name. We hear that Patricia kicked Sam out of the house as soon as she was pregnant. It sounds terrible. Also, Patricia seems to know more than she is letting on. After some prodding, Sam is finally shown her ship! The parallels with the Kal-El legend are really well done with Sam. Adopted, farm house, but the exact opposite of Kal's growing up happened. Sam's mom wasn't the Kents, she kicked Sam out. We really loved this whole scene!
This Brown Water: We mentioned it on Twitter earlier, but there is just something so adorable about how Carl Lumby plays M'yrnn. He's clearly an alien on Earth and doesn't know what Co'ff'ee is, but he approaches things on Earth with the wonder of a child. That makes his scenes incredibly joyful to watch and more heartbreaking when you let him down.
Winn and Mon-El: Early in season 2, Winn and Mon-El did have some great bro-down moments that were some of our early favorites. It seems that friendship grew and Mon-El pleads to Winn to let him out and return him to the Legion ship. It felt genuine, but there was a part of us curious if he was just playing on Winn's love for Kara to get him to help.
7 Years: Kara has been worrying and missing Mon-El for 7 months. However, for him it's been 7 YEARS! He confirms he's been living in the future aka the 31st century on Earth. He even notes that L Corp develops a cure for his lead poisoning 400 years from now! It's clear he will always have a place in his heart for Kara, but how he reacts to Saturn Girl shows he's tried to move on as well.
Fortress of Reign: Continuing with the parallels and opposites of the Kal-El legend, Reign seeks out a place in the desert to create her fortress rather than the arctic. Just like the arctic, it's pretty lifeless but unlike the arctic, it's hot! The same but different again! Love it!
J'onn & M'yrnn: They get a place together to live and to make a life. As the only two members of their race left, they find a way to have a life and not just live a life on Earth.
Final wrap up moments. The time difference between Mon-El's departure and Kara is what made for this difficult situation and while it's not ideal for Kara, it's clear that Mon-El still has a place in his heart for her as he became the man he is today because of her. But seven years is a long time and he needed to move on. That ultimately is what we believe Kara would have wanted for him given the circumstances.
Than there's REIGN! The new sets they made for this season are amazing! J'onn has a home now but more importantly, you have the fortress of Reign! It would seem that the only thing that paused Sam's awakening was Ruby. Now that the delay is over, Sam awakens as Reign! What her powers are and will be are very exciting and she already feels stronger than Supergirl giving us a villain we can really worry about/be entertained by!
Let us know what you thought about the episode in the comments below and in the forum! Longest trailer for the crossover is here. Finally, if you like Supergirl.tv and we are your first go-to after or even during an episode, help us keep it that way and visit the support page!