4/20/2018 7:45 am

The glory times are here again. Seems like everyday we are getting something new from the CW and today is no different. Following the theme from a few of the other posters this season, with the lightning and dark skys, we are now getting a look at a new Mon-El poster. This time highlighting all of the detail and textures of the more aligned classic comic book suit. Regardless if you are DC or Marvel or whatever other comic affliation, we think this suit looks movie quality. The lines, folds, and patterns that make up the noticable yet hidden diamond shape are genius. The costume department has done a great job on this one, headed up by Kiersten Ronning! Check out the poster below: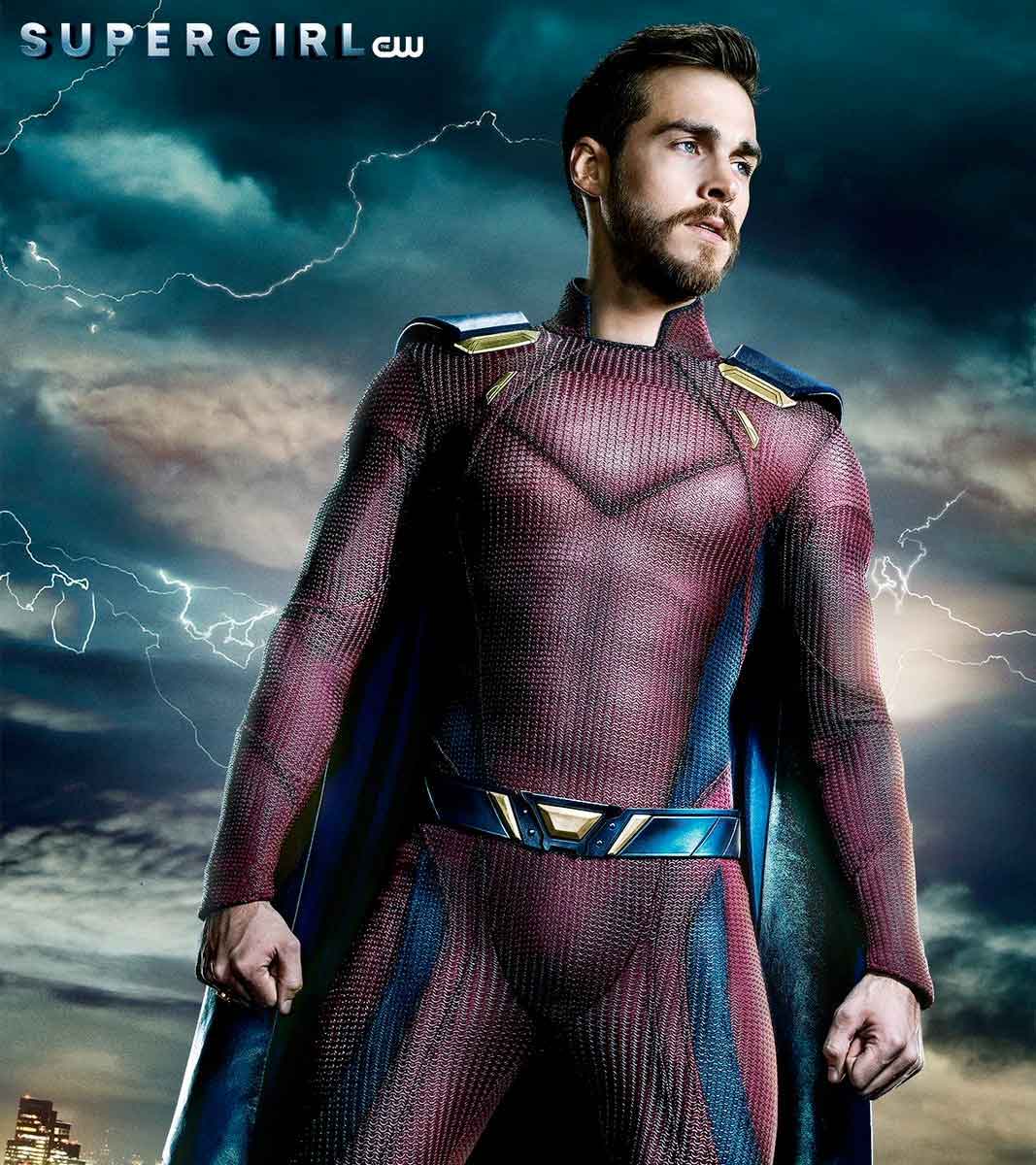 Let us know what you think of the costume in the comments below and in the forum! Keep us up and running and advertisement free and visit the support page! Thank you!
4/19/2018 4:20 pm

Supergirl is certainly back and firing on all cylinders! Yesterday we got to see new images from episode 316 and today we are getting our first look at the synopsis for episode 317 titled "Trinity"! As we suspected from the episode title, this episode refers to when all three worldkillers are united and stronger than ever! Furthermore it looks like we will see some friction from Lena and Kara as Lena's secret about Sam seemingly gets out. Check out the synopsis below!
SUPERGIRL TAKES ON ALL THREE WORLDKILLERS – Still reeling after learning about Lena's (Katie McGrath) secret, Supergirl (Melissa Benoist) asks Guardian (Mehcad Brooks) for a favor that could alter his relationship with Lena forever. Meanwhile, with all three Worldkillers united, Supergirl and the team brace for an epic battle. Caitlin Parrish & Erica Weiss directed the episode with story by Jessica Queller and teleplay by Caitlin Parrish & Derek Simon (#317). Original airdate 5/7/2018.
Let us know what you think in the comments below and in the forum! Keep us your Supergirl source for news and spoilers and visit the support page!
4/18/2018 7:47 pm

Are you still singing and rapping from the last episode? Are you excited for the the next episode with Mon-El's new costume and the hunt for Pestilence? Well, here is an even more special extra surprise. Today we are getting our first look at episode 316 "Of Two Minds"! While we don't see who it is in the photos, it looks like Pestilence certainly brings the pain in this episode. Both Alex and Winn are in intensive care at the DEO! What could this mean? Check out the images below:
Let us know what you think of the photos in the comments below and in the forum! Keep us your source for Supergirl news and visit the support page!
4/16/2018 6:38 pm

How good did it feel to have Supergirl back in our lives tonight! We are still riding high from all those Karaoke scenes! Believe it or not there are another nine more of these amazing weeks ahead! Starting off for April 23rd, 2018 we have "In Search of Lost Time". Based on what we saw at the end of tonight's episode, there looks like there could be some big things in store for Lena and Sam, as well as the debut of Mon-El's new costume! Check out the trailer below:
Let us know what you think in the comments below and in the forum! Keep us your advertisement free source for all the Supergirl news and visit the support page!
4/16/2018 5:55 pm

Welcome back everyone! This is the beginning of a marathon of new episodes of Supergirl! We couldn't be happier! If you didn't see already, we are celebrating the return of the show with an exclusive giveaway of a yet to be released Supergirl figure by Joelle Jones! Check it out in the article below to enter! That said, it was so exciting to see our friends again! Winn, Kara, James, Lena, Alex, J'onn and M'yrnn to name a few. On top of that, the show was even further elevated by Laurie Metcalf! But that wasn't the only thing we were impressed by, here are the elements that stood out to us:
"Kara"oke: OMG this was possibly the best way to bring us back to Supergirl! Kara was rapping and dancing all over the stage. The gang was happy and letting the darkness of this season melt away! Then, out of nowhere, we get James, Alex, J'onn and M'yrnn doing their own songs! This was flawless! Truly some of the best parts of Supergirl are reflected in the sweetness of the characters in this moment.
M'yrnn Slips: This was the first sneak peek we saw from last week. Everyone plays this scene perfectly, the concern, the sadness but then the triumphant resolution to do what was right for M'yrnn. Alex does love a tomato pie appetizer!
Monkey Attack: The only way the toy attack was successful at all was based on sheer numbers. Supergirl did a tremendous job cutting down all of the flying monkeys! Perhaps our favorite moment from this fight was when Winn yells "Its My JOB MOM"! Hilarious!

Jacqueline Nimball

the Apprentice: This woman really played up the crazy perfectly! Having worked with Winn's dad in prison, she learned all of his secrets! Furthermore, she really played up the dangerous toys! The maze she put the team through was scary as hell! We loved seeing the life-sized action figure! So many comic book call backs!
Kara and Mon-El Chat: Kara stands up to Mon-El and lets him know that she can't be the confidant that he needs. Then the bombshell drops, Pestilence evolves into Blight in 1000 years and the Legion is there to stop her! Mon-El goes on to reveal his original Legion suit was damaged but Winn can repair it!
M'yrnn and J'onn: M'yrnn can't handle that he has hurt Alex and by extension J'onn. He comes clean finally and J'onn realizes that he is loosing his dad! It was perfectly handled when J'onn walks into the bar to find Alex. Without speaking a word they embrace knowing the difficulties ahead.
Lena and Sam: Well after last episode's big reveal, we spent much of the episode wondering where Lena and Sam where. Of course right at the end, we discover that she is working with Sam to try and out the Reign component! This sets us up for the team finally learning who Sam really is!
Special notes: There were actually a lot of instances that we wanted to call out with Winn tonight but decided to do one big wrap up. This was far and away Jeremy Jordan's best episode! He was funny, he was sweet, he was human. He really carried the episode along with Laurie Metcalf and the two seemed to have genuine Mother/Son chemistry. Some of the quirks Metcalf added helped raise up Winn's character throughout the episode. Possibly the best scene for us was Winn describing what his mother did to him by not showing up at the police station. EPIC.
It is pretty incredible to see so many real world emotions, stories, and situations in a comic book show. That, in our opinion, has been one of the reasons why Supergirl is so good. A story about an alien semi-god has never made us feel more human.
Let us know what you thought of the episode in the comments below and in the forum! Keep us your number one site for Supergirl news and visit the support page!