4/25/2018 11:22 am

Trinity, episode 317, now has a new gallery that showcases 14 new images! We are finally seeing a full look at Alex's new costume that presuably might make her powerful enough to at least be in the same room as a Worldkiller and not get her leg broken again. That is totally a guess on our part, we have no idea why she has an upgraded suit but it looks amazing! Further, it looks like the DEO might find where Reign's lair is and Lena visits the DEO! Check out the images below:
Let us know what you think about the images in the comments below and in the forum! Keep us advertisement free and visit the support page!
4/23/2018 6:23 pm

Pestilence is coming and since she becomes Blight in the future, Saturn Girl makes a bold and powerful statement! "I'm from the future and she becomes Blight, you fail". That right there is the reason why the Legion has returned to this time to stop the powerful Pestilence before she can become something much much worse! Just how bad is Pestilence? Well, we will get to see next week! For now, check out this amazing trailer for "Of Two Minds"
Let us know what you think of the trailer in the comments below and in the forum! Keep us your advertisement free source for Supergirl news and visit the support page!
4/23/2018 4:39 pm

Tonight Supergirl debuted a new superhero costume for Mon-El as well as dealt with an all too real affliction affecting many around the world. The episode was given great care and held some incredible comedic moments. We know it was from the sneak peek, but the delay of Kara ripping open her shirt was just too funny. That said, the episode tackled some tough topics too. M'yrnn's decline took center stage at the D.E.O. but revelations about Kara and Mon-El were learned as well. Let's also not forget Lena and Sam came to some epiphanies as well! Keep reading to see the moments that stood out to us:
Family Front and Center: Some of the favorite scenes that are universally adored by all fans are when we get to see the team act like family. In many ways they all are family but seeing them all together at Kara's apartment was a major high point! Very heart warming!
Sam and Lena: We got a small moment with Sam and Lena last week that showed Lena is taking on the problem of Reign, but now we are seeing what is really going on. Lena knows fully that Sam is Reign and she's built a cage to keep her safe but also keep her out from being in the real world.
Cape Tricks: Kara's cape, a gift from Superman, was actually the model that Mon-El and the Legion used to create Mon-El's cape! It seems to have the ability to take commands not unlike Dr. Strange's cape in Marvel, but to a much lesser degree.
Taking Away The Keys: Such a sad but real moment here, Kara talking about how her uncle Jor-El used to say, "The father becomes the son and the son becomes the father". As parents get older and their abilities decline, it can take drastic measures like what Alex's mom did to keep her grandmother safe. So when J'onn goes to take an action that will reduce but protect his dad, M'yrnn shows his strength.
M'yrnn Attacks: The thought of being caged again is too much for M'yrnn to take and he lashes out showing just how strong he is. Unfortunately the cells at the D.E.O. are opened and everyone not wearing a dampener begins to fight! Luckily, Supergirl is wearing her blocker and is able to take back the D.E.O. with Mon-El, Winn, Alex, and J'onn's help. She even pulled off the cape trick!
The Son Becomes the Father and The Father Becomes the Son: A truly epic use of the line all Superman fans are going to recognize! It fits perfectly for this situation! While heartbreaking, J'onn does what he needs to do to stop and contain his father.
The Last Sorry: Mon-El and Kara finally address what they needed to about their relationship last year, the way Kara was treated, and the things Mon-El has done to become better. In the end, it was agreed that they should stop saying sorry to each other and just go be heroes!
Final wrap up elements: We need to give a special shout out to Katie McGrath tonight as she really brought the power of Lena to the forefront. Also, MVP has to be a tie between Carl Lumby and David Harewood for showing a real believable father-son relationship on screen. The episode ends with Supergirl and Mon-El out flying over the city, a scene very akin to the comics, only to be interrupted by a plague-like event. Pestilence is coming!
Let us know what you thought of the episode in the comments below and in the forum! Keep us your source for all things Supergirl and visit the support page! BTW winner for the Joelle Jones figure will be announced soon!
4/23/2018 8:10 am

It's Super-MONDAY! Time for our second installment of this ten week streak of new episodes of our favorite show! For now, we are getting our first sneak peek at tonight's all new episode and with it some pretty hilarious scenes. Ever wonder if Supergirl ruins her shirts when she does the famous shirt rip? Looks like we are going to get an answer to that as well as a sweet moment shared from J'onzz childhood! Check out the sneak peek below:
We can't forget just how hard Kara's battle with Reign went the last time she had to go toe to toe with the Kryptonian super-villain. What can she do to be better this time? Check it out in the sneak peek below:
While the first two clips seem to show us a bit about the larger seasonal plots, this all new inside look is telling us all about the big issue the team will need to deal with tonight! Check out what Executive Producers Robert Rovner and Jessica Queller have to say about tonight's episode below:
Let us know what you thought of the sneak peeks in the comments below and in the forum! Keep us your Supergirl source for news, spoilers, and everything else and visit the support page!
4/20/2018 7:45 am

The glory times are here again. Seems like everyday we are getting something new from the CW and today is no different. Following the theme from a few of the other posters this season, with the lightning and dark skys, we are now getting a look at a new Mon-El poster. This time highlighting all of the detail and textures of the more aligned classic comic book suit. Regardless if you are DC or Marvel or whatever other comic affliation, we think this suit looks movie quality. The lines, folds, and patterns that make up the noticable yet hidden diamond shape are genius. The costume department has done a great job on this one, headed up by Kiersten Ronning! Check out the poster below: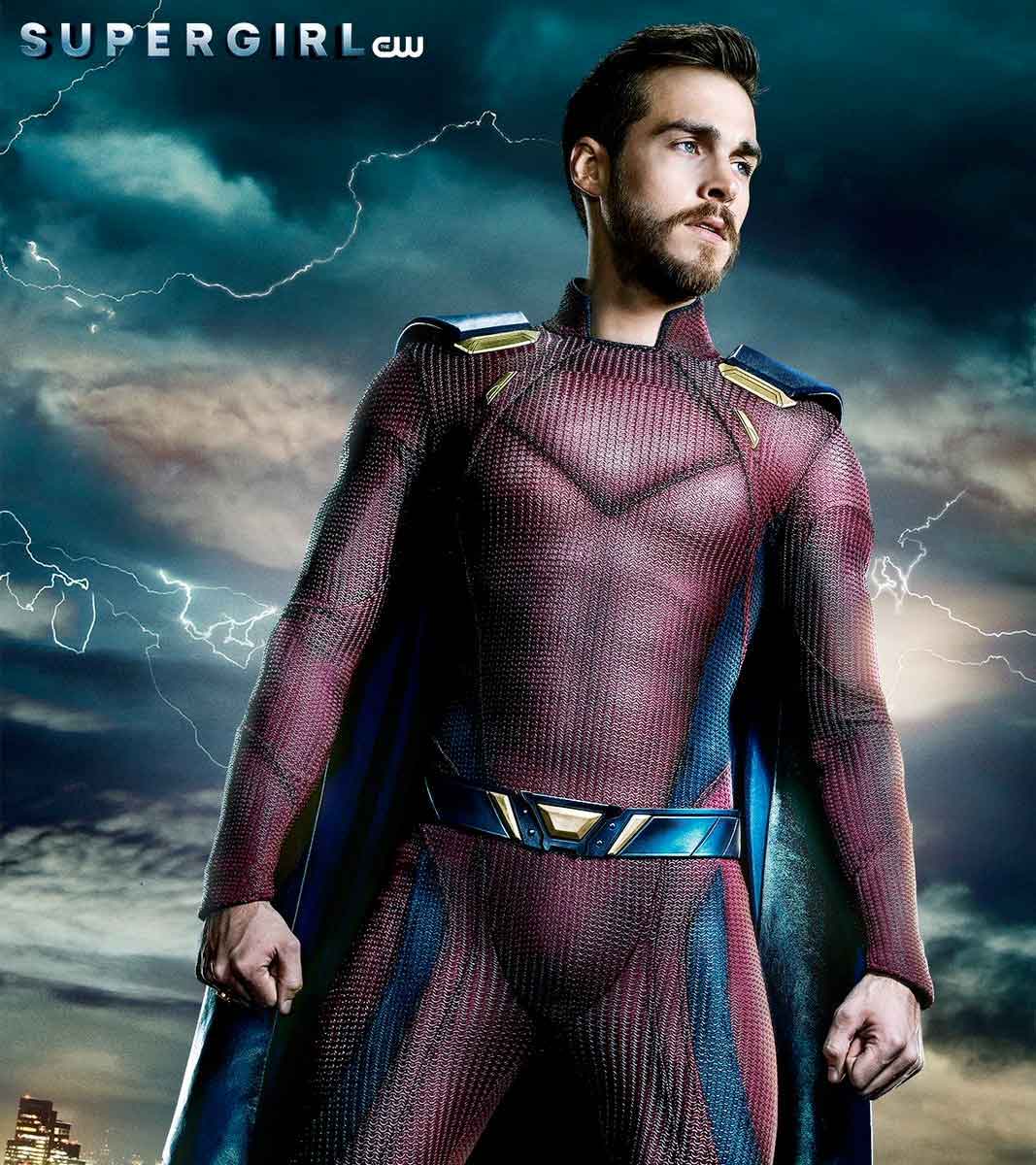 Let us know what you think of the costume in the comments below and in the forum! Keep us up and running and advertisement free and visit the support page! Thank you!