10/15/2018 11:22 am

Today, Stephen Amell has set the internet on fire! For those that don't know, Stephen plays Oliver Queen on Arrow. In addition, the Elseworld crossover event between Supergirl, The Flash, and Arrow is currently filming. This includes our first look at a live action Batwoman! It would seem today, we are getting our first look at a different Superman as well! The DCEU has been dying over the fact that we never got to see the famous Black Superman Suit, but the Arrowverse is not afraid! Stephen tweeted out this amazing photo of Grant Gustin, Tyler Hoechlin and himself on set! Check out the new Superman suit below: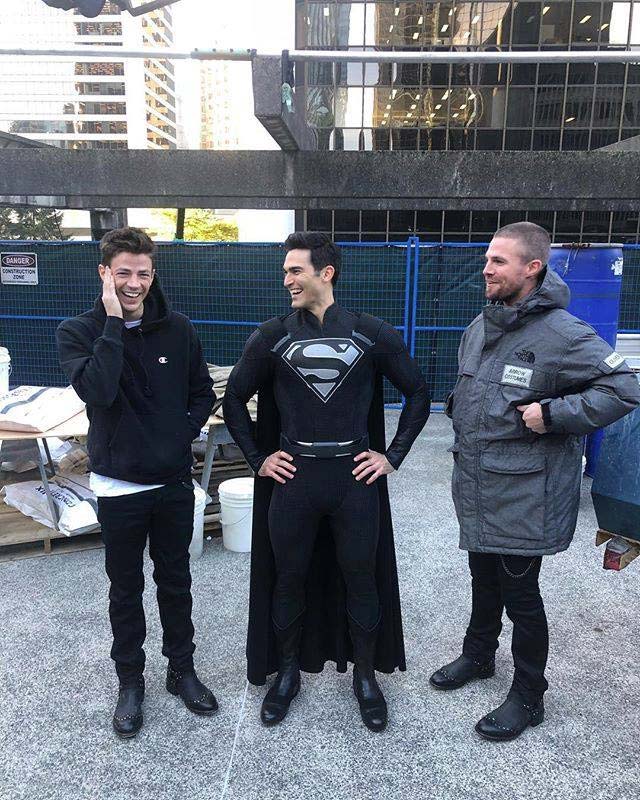 Let us know what you think of this Superman we've never seen before in the comments below and in the forum! Keep us advertisement free and visit the support page too!
10/14/2018 6:24 pm
Welcome back everyone! Hope you all are enjoying your relaxing Sunday evening before the work week begins (or school week)! How amazing was the first episode of Supergirl this season? Look to our recap below for that. Now we are talking about next week! Supergirl will have to fend off the fallout from the news that the President of the United States is actually an alien! There is quite an iconic scene with Supergirl holding the American Flag outside the White House! It also looks like Agent Liberty and Mercy Graves have another hit prepared for The Girl of Steel! Check out the trailer below:
Let us know what you think in the comments below and in the forum! Keep us advertisment free and visit the support page!
10/12/2018 7:57 pm

It seems like it's been a year or more since Kara went toe to toe with Reign and reset the timeline creating her doppelganger. We guess the Arrowverse shows have two things in common, jails and timeline resets. Don't get us wrong though, we aren't complaining. The concept of another Kara on Earth is a huge idea that can swing either positively or negatively (as it has in the comics)! While many fans were thinking this could be the major villain of the season, Supergirl's season four premiere set out right off the bat to give us a new enemy to look at, the fuse was lit. Of course, that wasn't the only thing to focus on, here's what stood out to us:
Clark is off world: If this was the 1984 movie of Supergirl, hearing that statement would disappoint us (like it did when we finally got around to seeing Supergirl the movie), but in this case it actually was welcomed news. At the end of season three, Clark's absence from being able to see and live among some of Krypton's culture felt displaced. We know we get to see Tyler Hoechlin return in the crossover so we are excited for his return, happy that he is getting to know his aunt and his native culture, and most of all, love that the whole planet is getting protection from our Girl of Steel and allowing her to step into the spotlight!
Alex is kicking butt: Just because Alex has taken on the role of director, she isn't wasting any time getting her team trained up in hand-to-hand combat. Of course taking on the role of director means Alex adopts Brainy as well since he is working out of the DEO as Winn's replacement.
Sam and Ruby are in LCorp Northeast: With the popularity of Sam and Reign last season, it's no surprise that the show had to keep the character around in some way. You never know, the opportunity for Sam to return or guest is certainly out there with this new Northeast role.
Mercy and Otis make their move: The ex-Luthor security team seem to be working for someone else or they've gone into business for themselves. The team looks to have experience with Kryptonians as they have technology specifically used to incapacitate Kryptonians. With the help of Brainy, however, Supergirl is able to get back on her feet only to narrowly miss out on catching the duo.
Kara meets Nia: In a very silly and fun twist of fate, Nia catches an elevator with Kara where she spills her guts about why she is late and how she wants to impress ... Kara Danvers. Almost instantly, Kara can see herself in Nia. Nia goes on to pitch her story idea to Kara about fashion and its meaning to her. A unique pitch really makes an impression on Kara who clearly feels she'll need to keep an eye on Nia.
Lena and Lillian have been meeting: Lena has been playing chess with her mother to get to know her better. While in prison, Lillian comes to terms that she doesn't want to die alone and her only way to do that is to reach out to her daughter. Wary, but interested, the two have seemed to form a better relationship than we've seen before.
J'onn stays out of the fight: J'onn has taken his word to his father very seriously. He is staying out of the fight both in the alien watch group and helping Supergirl fight at Camp David. We found it kind of special that J'onn, as powerful as he is, is staying committed to his new passive nature. But just like any time when there is a fight among friends, it hurt to watch Kara dismiss J'onn in the alien bar.
Kara discovers the Earth First Movement: Kara discovers that Mercy and Otis are planning on attacking Camp David. Even more so, she sees all the chat rooms and tip lines dedicated to taking out aliens on Earth. Supergirl goes on to note that she feels this is the biggest threat she's ever faced because the enemy looks like the people she saves.
Camp David: Kara is able to stop Mercy and Otis but Mercy does get away. Alex is able to protect the President but she does get hit while cameras are recording. Because of that, her biology as an alien is revealed and the Earth First movement gets its fuel. Or as the episode says, the fuse was lit.
Lena makes a deal: Lena goes behind James' back to get the Guardian case dropped. James applauds Lena for letting him deal with the issue on his own and she keeps her mouth shut that she helped. In the end, however, a press conference says that if James ever takes on his Guardian persona again, he will be arrested! Does this mean the end of Guardian?
The episode wrapped up with a huge hint that Kara's doppelganger was literally punching a tunnel underground for her ... keepers, captures, friends? We have no idea but want to hear from you. Is the other Kara trapped or is she a willing participant? Let us know in the comments below and in the forum! Keep us advertisement free and visit the support page!
10/12/2018 7:54 pm

Believe it or not, it's only two days away until a new episode of Supergirl airs! We've been so excited for it and tonight, in an unprecedented Friday night release, we have our first sneak peek at the premiere. Supergirl is actually absent from this clip but it features our favorite sister, Alex, and new DEO agent, Brainy! First and foremost, it's clear from this clip that Alex has not lost her badassness! She is in her top form and is teaching new DEO agents the art of hand-to-hand combat! The surprise, however, comes from Brainy and a very special guest he was supposed to warn Alex about. Check it out below:
Let us know what you think of the sneak peek in the comments below and in the forum! Keep us advertisement free and visit the support page!
10/12/2018 5:22 pm

It's been an episode that many have assumed would welcome back Tyler Hoechlin as Superman. Supergirl.tv fans know that is not the case. Today, the CW has released the synopsis for Man of Steel and it's a bit different than everyone thought! The third episode of season four will be a flashback episode that shares with us the origin of Agent Liberty and how he gained his anti-alien sentiment though his life and his father, guest-star Xander Berkeley. The timing of an episode heavy with a new character would align perfectly with the updated filming schedule to accommodate for Melissa on Broadway. This was actually the first episode of season four that was filmed. Read the full synopsis below:
XANDER BERKELEY GUEST STARS IN THE ORIGIN STORY OF AGENT LIBERTY — Ben Lockwood (Sam Witwer) didn't always hate aliens. Through a series of incidents, and input from his anti-alien father (guest star Xander Berkeley), Ben slowly transforms from a mild-mannered professor into the villainous Agent Liberty of today. Jesse Warn directed the episode written by Rob Wright & Derek Simon (#403).
Let us know what you think in the comments below and in our forum! Keep us advertisement free and visit the support page!