12/13/2017 10:08 am

Welcome and hello again to all our Supergirl fans out there, the beginning of this piece comes to you from your trusty Supergirl.tv Admin (Eric). As some of you may know, our support page lists that at certain levels of donations, we provide and encourage guest and opinion pieces to be writen by you, our users and supporters! Today we are overwhelmed and excited to bring you our first opinion piece brought to us by one of our biggest supporters, user jacksc01! We thank her for her support and encourage you all to read her thoughts on Season 3 so far, below:
---
One Supergirl Fan's take of Season 3 so Far (Episodes 1-9)
Very well done. Episodes 1-9 did not disappoint. They are filled with all the characteristics that make Supergirl one of the best action packed series on television. What do I consider the best characteristics of a good show to be for this series?
Increase number of sister moments with extended dialogue
Supergirl front and center in her show at all times in all episodes.
Butt kicking Supergirl action with the help of her friends including Alex, J'onn, Winn, James and the DEO.
Realization that Supergirl is not a robot who upon getting injured can just be placed under a sunlamp and everything is all better both mentally and physically.
A show that let's children know that even if you are adopted, you will be loved.
A show filled with love, morals and a show that can be watched by the entire family.
So let's take a look at Season 3 and see how Episodes 1-9 make out when judged by these criteria points.
Increase number of sister moments with extended dialogue
This season so far Kara and Alex have had many sister moments with extended dialogue. The writers heard the fans and gave us what we wanted. Every episode so far has had a sister moment with extended dialogue. Girl of steel- regarding whether Supergirl should retain the persona of Kara or just be all Supergirl with Alex providing her own opinions to answer that question. Triggers – with Alex letting Kara know that no matter what happens, she always has her. Also, Alex providing that extra needed boost to Supergirl for the final showdown with Psi. Far from the tree – Alex and Kara sharing time at the beginning regarding the wedding shower that Eliza was throwing for Alex and Maggie. The Faithful where at the end Alex and Supergirl worked together to protect the citizens in the stadium. Damage – where Alex and Supergirl were fighting the criminals on the bus and Alex confirmed to Kara that was the day she was going to tell Maggie and of course the scene at the end where Kara comes to the bar and makes plans for them to go home. Midvale needs no explanation since this whole episode was dedicated to the sisters (yippee!!!!). Wake up where Alex gives Kara a shoulder to lean on regarding MonEl and his wife. Crisis on Earth-X, Alex and the team trying to save Supergirl from Overgirl. Last but not least we have Reign where Alex warns Supergirl that there was something about this villain that scared her and finally the moment where Alex sees her sister in a heap of cement not really knowing whether she will live or die.
Yes, episodes one through nine definitely gave us sister moments with extended dialogue in every single episode and I am a happy camper.
Supergirl front and center in her show at all times in all episodes.
Definitely Supergirl has been front and center in all of her episodes one through nine. Looking at the show this season we see Supergirl/Kara deeply involved in the main plot of each episode. So far there have not been any episodes this season where you see Supergirl for only 5 minutes or less and then she doesn't appear for the remainder of the episode. Again the writers heard what people wanted and provided it.
Butt-Kicking Supergirl action with the help of her friends including Alex, J'onn, Winn, James and the DEO.
Well not all episodes had butt kicking action but even those that did not had our girl of steel front and center. Examples of episodes with kick butt action include Girl of Steel, Far from the tree, Crisis on Earth-X and of course Reign where Supergirl got beaten by Reign but not before Supergirl put up a darn good fight.
Realization that Supergirl is not a robot who upon getting injured can just be placed under a sunlamp and everything is all better both mentally and physically.
I think that has been shown very well in the third season. Beginning with the episode Girl of steel we see that mentally, Kara has not recovered from losing MonEl and the show makes you aware that she has been grieving for some time. This point has also been shown in the episode Reign in which Supergirl is beaten to the point where her recovery requires more than just putting her under the lights. Thus again showing the point that she does have that human side that requires time to heal both mentally and physically.
A show that let's children know that even if you are adopted, you will be loved.
What I have always loved about this show is the way that Kara is loved by the Danvers family. Eliza's love is unwavering and she refers to Kara as her daughter, her youngest. The sisterly bond between Alex and Kara is extremely close and even though Alex in previous episodes made us feel that it was a conditional love, the episodes this season (especially Midvale) let us know it is not. They may have arguments like normal siblings but that love is there to stay. Any young child who is awaiting adoption or has been adopted can see from the show that yes, you can be loved by your adopted family as if you were born into that family. What a beautiful message to send.
A show filled with love, morals and a show that can be watched by the entire family.
In my opinion there isn't an episode this season that could not be watched by the entire family. As for morals and love, I think the show stresses that with each episode. Supergirl is the personification of all that is good and moral. The show is realistic in showing that when you hold yourself to these morals, you may find that you have to defend what you believe in. Sometimes you win and sometimes you lose but if you keep trying and your heart is in the right place, you will eventually succeed.
In conclusion, the episodes 1-9 this season have fulfilled everything I could have asked for in this show. Major theme of this season: "Wake Up" and basically that is what this season has done. We asked the writers to "wake up "and give us the things we asked to see in the show – and in my opinion they have. If the remaining episodes keep on this track then I can honestly say that young and old have found a female hero in the Girl of Steel.
---
Admin here again, Thank you again to guest author Chrystal Eve! As always let us and her know your thoughts on this opinion piece in the comments below and or the forum! Also please remember that the site's rules still apply and we will moderate opinion comments as well. If you've donated before at the levels that allow for opinion pieces and want to write your own, please let us know! Or if you are interested in sharing your own opinion piece, check out the support page where we've made that option available. Thank you all!
12/12/2017 6:20 am

TVline.com has learned this morning that, "This Is Us" actor, Krys Marshall, has been cast for a recurring role in the second half of season 3. As it stands now, very little is known about the role but some details shed light on who this character might be. The character is named "Julia Freeman, a 20-something musician living near National City who holds clues to Reign's true identity". Your guess is as good as ours when it comes to this new role but our thinking is that she might be a Fort Rozz escapee who either shared a cell with the disgraced Kryptonian Priestess or she is the Priestess. That, or she has a connection to Samantha's past and she remembers strange occurrences where Sam did extraordinary things that Sam doesn't remember.
Let us know what you think in the comments below and in the forum! Keep us going over the holiday break and visit the support page! It keeps the advertisements off the site!
12/11/2017 10:09 am
The holidays are quickly arriving, and I get it, it can be tough to search for gifts for a Supergirl Fan. I, Staffer Kelsey, created a list of gift ideas that might help! As a note, we at Supergirl.tv have not been compensated by any person or organization on this list in any way. Our policy is, as it always has, to remain an ad-free source for fans. We have listed items and ideas that we truly and personally would love to add to our own homes. At the end of the article, I have an Amazon Shopping List that includes most of the items listed below. I hope this helps make it easier to find items for you and your loved ones.
Charities
Sometimes the best gift a Supergirl fan can receive is the gift of donating to a wonderful charity. Below are a few that are supported by the Supergirl cast members such as Melissa Benoist, Chyler Leigh, Chris Woods, and many more.

IDONTMIND, idontmind.com
IDONTMIND is a mental health awareness program, working to break down the barrier of stigma and to bring help to those that need it. Our goal is to get people talking about their minds, and to generate positive messaging about mental health.
SHETHORITY, represent.com/shethority
We ladies of the DCTV world believe in the power of woman and we want you to know, WE GOT YOUR BACK. @Shethority The proceeds of this shirt will go to Girls, Inc and to building SHETHORITY into a positive and inspirational space for women.
CREATE CHANGE, createchange.me
These innovators are artists, celebrities, teachers, healers, entrepreneurs, scientists, designers, spiritual leaders, business moguls, advocate bloggers, and civic activists. Our mission at Create Change is to connect the high profile world of entertainment to these innovators in order to shine a spotlight on them and their causes.
Music
You don't have to wait for the next Music Meister incident to enjoy the songs of the talented cast! Here are some tunes to enjoy:

Tears Away, Mehcad Brooks - $.99
Amazon Purchase Link
Supergirl Season 2 Soundtrack, Blake Neely -$12.99
Amazon Purchase Link
Newsies: the Musical -$10.28
Amazon Purchase Link
Nowhere, East of Eli (feat. Chyler Leigh)
Amazon Purchase Link
For The Kids
... or the Kids at Heart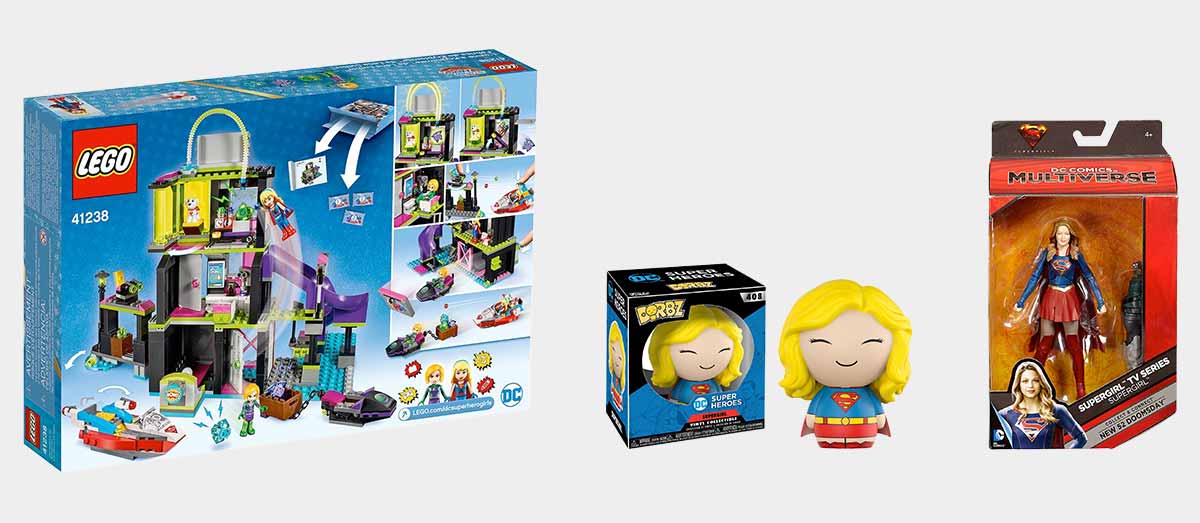 LEGO DC SUPER HERO GIRLS Lena Luthor Kryptonite Factory (432 Piece) -$57.93
Amazong Purchase Link
Includes Supergirl and Lena Luthor mini-doll figures, plus Krypto the dog and 3 Kryptomite figures: green, purple and blue. Also, who says Lena has to be evil? It's your adventure after all! Also, those Kyptonite pieces are adorable!
Funko Dorbz: DC-Super Girl Collectible Vinyl Figure -$7.94
Amazon Purchase Link
From DC, Super girl, as a stylized Dorbz vinyl from Funko! This stylized collectable stands 3 inches tall, perfect for any DC fan! Growing up in Hawaii, I had a massive collection of kokeshi (Japanese wooden dolls) and this will be a welcome piece to my collection.
DC Comics Multiverse Supergirl Figure (Mattel) -$19.99- $24.99
Amazon Purchase Link
Flying in to the rescue is a highly detailed, 6" collectible action figure of TV's newest hit, Supergirl. Wearing her iconic suit, she features authentic sculpting, and 18+ powerful points of articulation for epic battle and dynamic posing. She also includes a bonus piece to build a Comic Book Doomsday figure when added to other figures' pieces in the assortment (or you can just keep it at one leg, I'm not judging).
Books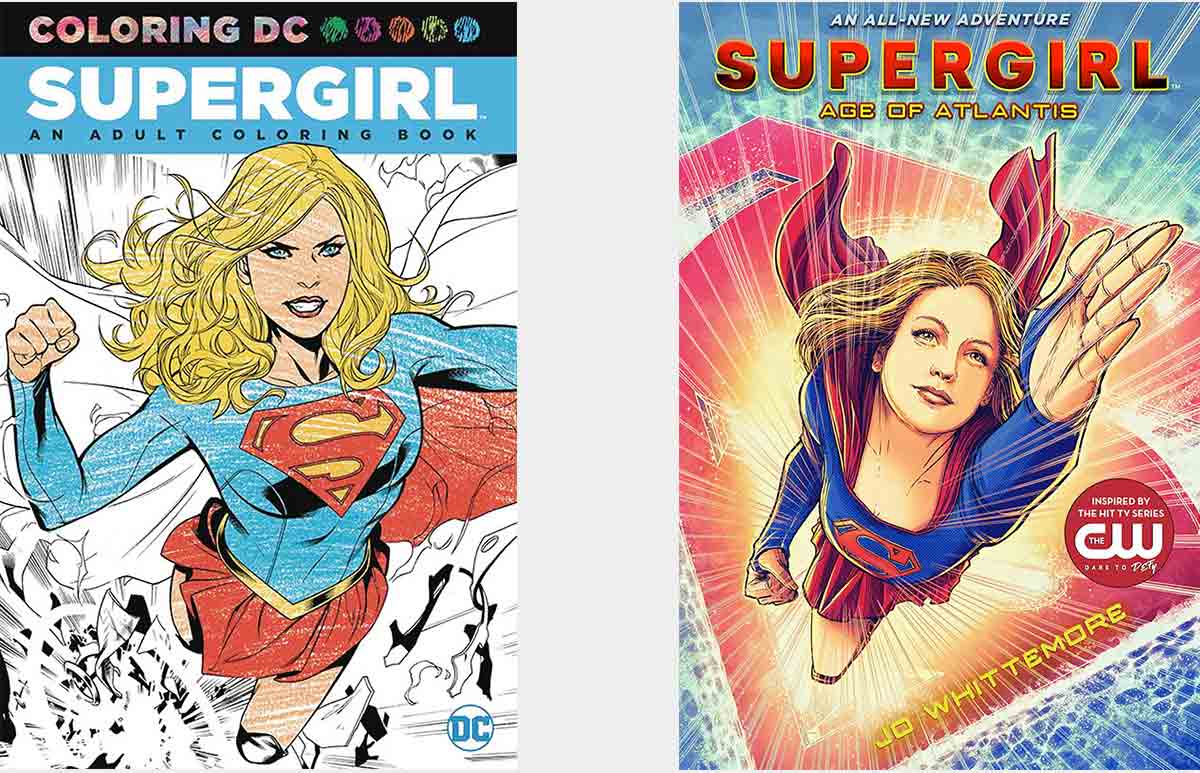 Supergirl: Age of Atlantis, Joe Whittemore -$8.54- $13.95
Amazon Purchase Link
Supergirl (aka Kara Danvers) has been running across average citizens performing amazing feats all over National City. But that's not even the weirdest thing going on. The Department of Extranormal Operations has captured a mysterious humanoid sea creature. Supergirl must find out what has drawn him to National City, and his connection to this surge of super-citizens. Written by celebrated author Jo Whittemore, this is one adventure fans of the TV series won't want to miss!
Supergirl: An Adult Coloring Book -$12.79- $15.99
Amazon Purchase Link
This new adult coloring book collects covers and pin-ups of Supergirl by such renowned artists as Gary Frank, George Perez and more! SUPERGIRL: AN ADULT COLORING BOOK features coloring pages with characters straight from her hit TV series!
Apparel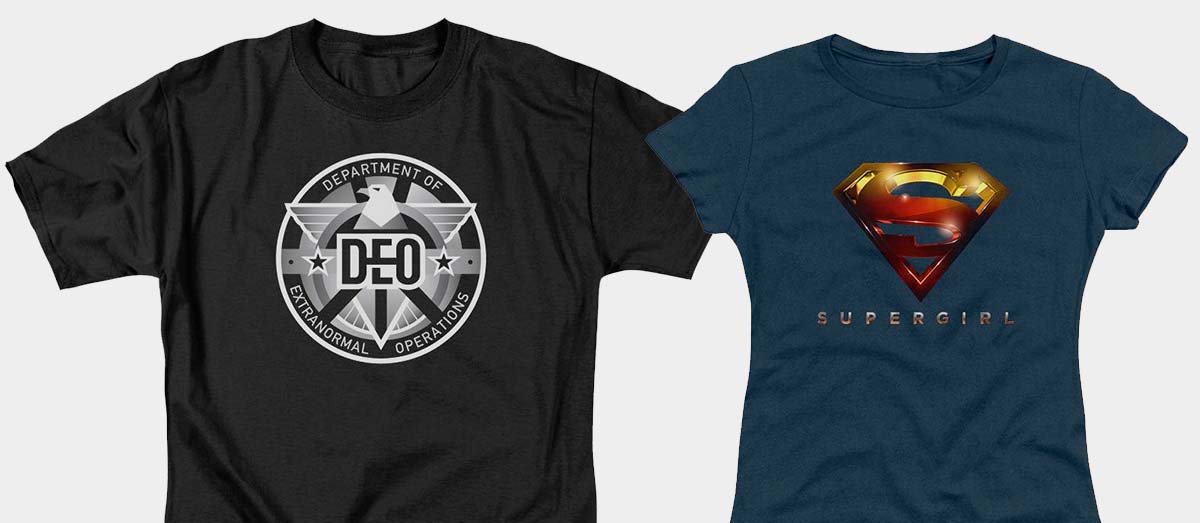 Supergirl TV Series DEO Adult Black T-Shirt - $24.95 - $26.95
Shop DC Entertainment Link
Show your support for the Department of Extranormal Operations, as seen on Supergirl, with this stylish T-shirt.
Supergirl TV Series Logo Glare Navy Juniors T-Shirt - $24.95 - $26.95
Shop DC Entertainment Link
The t-shirt features the Supergirl TV Series logo in a 3D style. This design is based on the popular CBS television series, Supergirl.
Collectables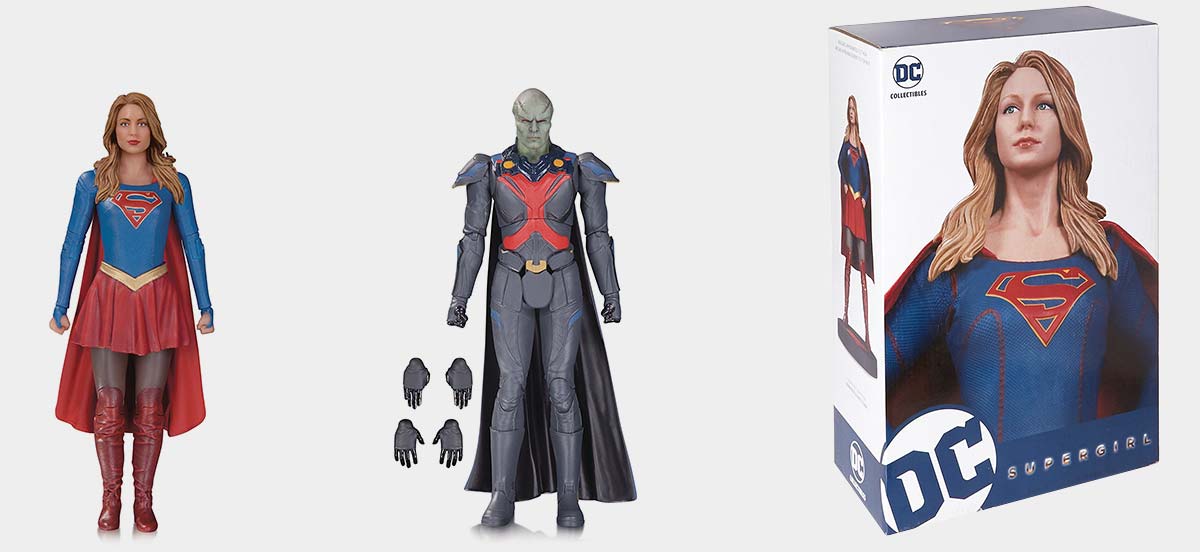 DC Collectibles DCTV Supergirl TV Series Action Figure, $26.60-$28.00
Amazon Purchase Link
Figure stands 6 3/4" tall, and is heavily articulated figure. Note: It only comes with one face (the smiling version is based off of an earlier prototype), but does come with various hand positions).
DC Collectibles DCTV Martian Manhunter Supergirl Action Figure, $25.95-$28.00
Amazon Purchase Link
Figure stands 6 3/4" tall, and is heavily articulated figure. This is a great chance to hangout with Papa Bear wherever you go!
DC Collectibles Supergirl TV Supergirl Statue, $114.00
Amazon Purchase Link
Sculpted By Adam Ross, and measures approximately 12.5" tall.
2018 Favorites

Although these are not releasing for the holidays, I am keeping an eye on these beautiful pieces in 2018:
Icon Heroes Supergirl TV Statue (1st Quarter 2018) -$65
Icon Heroes Pre-Order Link
Kara is sculpted here in a dynamic flying pose and measures about 11" tall. This polystone statue is hand painted, individually numbered, and includes a Certificate of Authenticity.
Kotobukiya TV Series: Supergirl Artfx+ Statue (April 25, 2018) -$69.99
Amazon Pre-Order Link
Sculpted in 1: 10 scale, with magnets under her feet provide stability when displayed on the included metal base. It also includes interchangeable parts so you can display her in three different poses!
Kotobukiya DC Comics Supergirl Returns Bishoujo Statue Action Figure (May 30, 2018) -$84.99
Amazon Pre-Order Link
DC Collectibles DC Cover Girls: Supergirl by Joelle Jones Resin Statue (July 25, 2018) -$125
Amazon Pre-Order Link
Designed by Eisner-award- winning artist Joelle Jones. Statue stands 9" tall.
Here is an Amazon List to help find most of the items above:
Let us know what you think of our list. What other gift ideas do you have? Comment below or share your ideas in the forum! I hope you all have a relaxing holiday break before Supergirl returns Jauary 15th at 8pm on The CW!
12/8/2017 2:31 pm

Its a bit of a mixed bag of news when it comes to today's newest press release. The CW has given us the final schedule for all of the remaining episodes of Supergirl for the rest of the season. In doing so, we can finally say definitively that season 3 will run for the often sought after 23 episodes! That's one more than last year! However, with Black Lightning joining the schedule mid-season, The CW wasn't entirely sure what to do with Legends of Tomorrow so it would seem Legends will be borrowing Supergirl's 8pm time slot for 9 weeks starting February 12th to finish out it's season. Starting back up again on April 16th, Supergirl will return to run its final ten episode uninterrupted! While some may read into this as a concerning sign, we don't take it that way at all. The season is usually set into thirds anyway and the consecutive uninterrupted nature of a new comic show on Monday nights at 8pm would seem to be a strong draw for the CW. The only hurdle we think we'll have to get through is surviving on 4 new episodes before going on break again!
Let us know what you think of this schedule in the comments below and in the forum. Keep us going over the break and keep us advertisement free and visit the support page.
12/4/2017 6:32 pm

Kara was beaten to within an inch of her life. She may be in a coma and without her, the city is essentially defenseless! Kara needs to find a way to heal but in her stead, Mon-El and the Legion of Superheroes will step up to take on Reign! We'll get to see Mon-El, Saturn Girl and Brainiac-5 in action! Of course, if that isn't enough, we'll get to see Reign return as well! Is she fully gone over to the dark side or is Sam still in there at all? Only 42 days to go until we get to see for ourselves! For now, check out the trailer below:
Let us know what you think of this trailer in the comments below and in the forum! Also, help us keep the site up and running and best of all advertisement free over the break by visiting the support page!