5/24/2017 10:31 am

You've seen the second season live, you've probably got each episode DVR'd on your cable box, and you've watched and rewatch each episode at least twice. Well, looking to free up some space on that DVR? Coming in August you'll be able to get Supergirl's entire season 2 on DVD and Blu-Ray! The package comes out August 22nd and, of course, features some extras you won't find anywhere else:
Supergirl: 2016 Comic-Con Panel
Supergirl: Alien Fight Night
Aliens Among Us
A Conversation with Andrew Kreisberg and Kevin Smith
Supergirl Lives Audio Commentary featuring Andrew Kreisberg and Kevin Smith
Did You Know facts for fans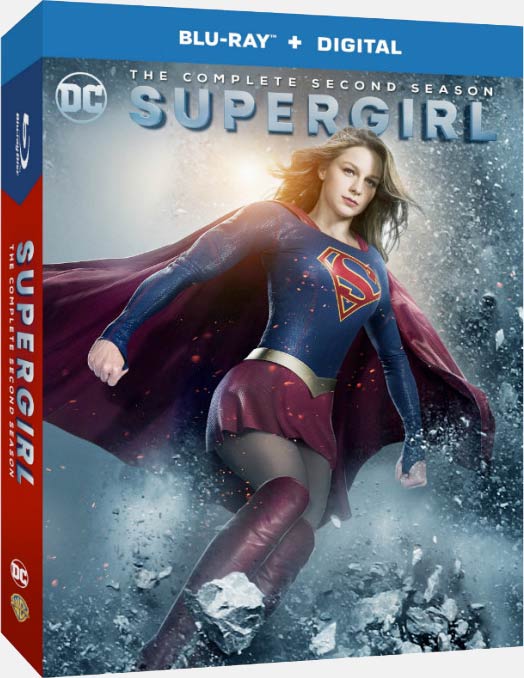 Boxset image simulated, actual cover and box may vary.
No word yet on a blooper reel but we're keeping our fingers crossed! In the mean time, The CW's deal with Netflix is also still in effect and you can expect to see the full second season of Supergirl on Netflix on May 30th (eight days after the season finale aired).
We'll certainly be watching again! Let us know if you plan to as well in the comments below and in the forum! Also, keep us going this summer and visit the support page so we don't have to put advertisements on the site!
5/24/2017 10:04 am

Greetings Supergirl.tv users! We wanted to let you know about a great auction that is going to happen this weekend where you can get a piece of original Supergirl comic art as well as support an amazing cause! Some of you may know already that Mega Con is coming up this weekend. It's in Orlando Flordia, but don't worry, even if you aren't in Florida, this auction is for all! The comic book Love is Love is going to be auctioning off their original artworks from the book and a few others. This includes original art from: Walter Simonson, Rafael Albuquerque, Joyce Chin, Jock, Terry Moore, Adi Grannov, Jock, Ivan Reyes, Michael Avon Oeming, Leinil Yu, Adam Hughes, George Perez, Allison Sohn, Mitch Gerads, Jose Luis Garcia-Lopez, Amanda Conner, Cat Staggs, Eddy Barrows, Mike Perkins Brandon Christopher Peterson and Nick Bradshaw!
All proceeds of this auction will go to Equality Florida, Florida's largest civil rights organization. Here's more information:
Come bid on the art in an auction on Saturday May 27th. Sign up to bid on http://www.biddingowl.com/LoveIsLove over 50 pieces available by artists (mentioned above). You can learn more at our Facebook page, or get tickets for the gala on Friday here.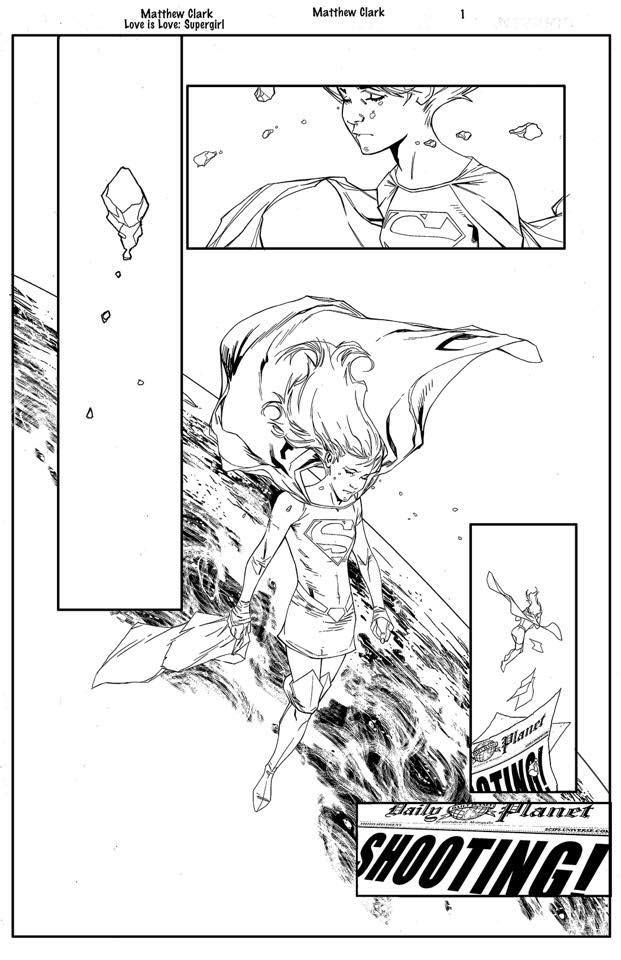 Happy bidding! Thank you to Matthew Clark for sharing this great info with us.
Comments are below, forum is live and keeping us free is as easy as a visit to the support page!
5/22/2017 6:11 pm

Well, undoubtedly all of us are feeling a bit emotional after a season finale like that. There were a ton of highs and lows and new questions to be answered. However, there was a lighthearted and fun moment outside the show. The Wonder Woman Boots commercial! Seeing Kara wear Wonder Woman's boots was hilarious and exhilarating! It reminded us of an old Superman the Animated Series episode where Superman had to dress up as Batman to save Gotham. Kara could totally pull off that Wonder Woman suit! See an extended version of the commercial below:
Share your comments below and in the forum! Keep us advertisement free during the summer and visit the support page!
5/22/2017 4:37 pm

Here we go! This is the biggest event of the season, possibly the series so far! Daxam has invaded Earth, Superman is under some kind of mind control, and Cadmus could be planning on taking advantage of the situation! There are so many questions that were answered and of course, a few new questions that will need to be analyzed! We were delighted to see Tyler Hoechlin return as the Man of Steel, but that wasn't the only thing that stood out to us. Here are the events we'll take a closer look at:
Superman vs Supergirl: Everyone on the social media networks, this site, and in person said there had to be something controlling Superman and as we saw, that was the case! The fight, however, was jaw-dropping! Seeing these two beloved characters go at it was heartbreaking but powerful! Silver Kryptonite made Superman see ZOD! Superman was not holding back no matter what! The battle was intense and fought at full force!
Lillian Luthor the Snake: So in a major moment of weakness for Lena, Lillian sees an opportunity to see if she can't get her daughter to adapt one of Lex's major anti-Kryptonian devices using her trans-mat tech. Lillian certainly strikes at opportune times for herself.
Lex's Box: Well we were wondering what kind of horror the box Lex made would bring to remove Superman and Supergirl from the Earth. Turns out it was an atmosphere particle distributor! The plan is to put lead into the atmosphere that Humans can tolerate, but Daxamites can't. Of course, this would mean Mon-El couldn't stay on Earth. (Fans of our site knew the box Lillian got from Lex's lair would play a part in the finale for a while on our spoilers page)!
Rhea vs Supergirl: The battle between Supergirl and Superman might have shook National City, but this was the main event! The outcome would affect everyone on Earth! How did Rhea get the power one up on Supergirl, Kryptonite poisoning in her blood! Of course, Rhea didn't honor tradition and the city came under attack.
Superman, White Martian Friends, and M'Gann: Couldn't be more epic, Superman working with J'onn, J'onn calling out to M'gann, James seeing Superman fight again! LOVED IT!
Lead Poisoned Atmosphere: It was the only option Kara had, the world needed to be saved and Rhea was never going to be reasonable. There was no honor in Rhea's fight and it took Superman, Martian Manhunter, White Martians, and Miss Martian to just keep the city together while Kara pulled the trigger. Of course this led to ...
Mon-El's Departure: It was an incredibly well-acted scene! Kara gives Mon-El her necklace from Alura and they finally say they love each other only to have to spend life apart, at least for now.
Superman and Kara, Alex and Kara: Kara is broken and her world has stopped with Mon-El leaving, but Superman and Alex were there to comfort her in her despair! It was an awful moment for Kara because she sacrificed her happiness for the sake of everyone. It was no small feat, but she is surrounded by those that love her.
Alex and Maggie are Getting Married: This is huge and so exciting, Maggie smiled and nodded but did she say yes? We assume yes! But just wanting to cover it all, she may not have said it. We, however, believe that is a go and we are dancing in the streets!
Cat Grant Knows!: Not much else to say here except YES! SO PERFECT!
Finally, Rain, or Reign, or R'ain? No idea. But a third Kryptonian survived the destruction of the planet? This sets up season 3 for some epic storylines!
Thank you to all of our visitors, users, and supporters for sharing another season of Supergirl with us! This episode was even bigger than we imagined and there will be a lot for us to unpack over the coming break. Stay with us during the summer as we continue to bring you breaking Supergirl news! We'll be covering Comic Con in person again this year as well as a few more surprises! So share your thoughts with us in the comments below, in the forum, and keep us going during this summer, and visit the support page!
5/22/2017 9:52 am

Its been 41 episodes in the making, but tonight is the season finale for Supergirl's sophomore season! Rumors are flying around about how this will end. Could someone be giving the ultimate sacrifice? Will all of team Supergirl make it through the Daxamite invasion? Who or what is controlling Superman? All answers will be revealed in less than eight hours! To help us further along our speculations, check out this sneak peek below:
Let us know what you think of this sneak peek in the comments below and in the forum! Keep us advertisement free and visit the support page!