7/15/2019 1:56 pm

HERE WE GO! THE FIRST LOOK AT MELISSA BENOIST'S NEW COSTUME! It looks amazing to us! The red long boots help keep the suit color balanced and we are loving the nod to Superman's costume with the cape being clipped down on the shoulders! Her belt looks much more prominent than before and certainly does a great job of breaking up the costume. Finally, the arms and shoulders look like they are more armored. She looks like she is ready for a fight much more than before! Check out the costume for yourself below: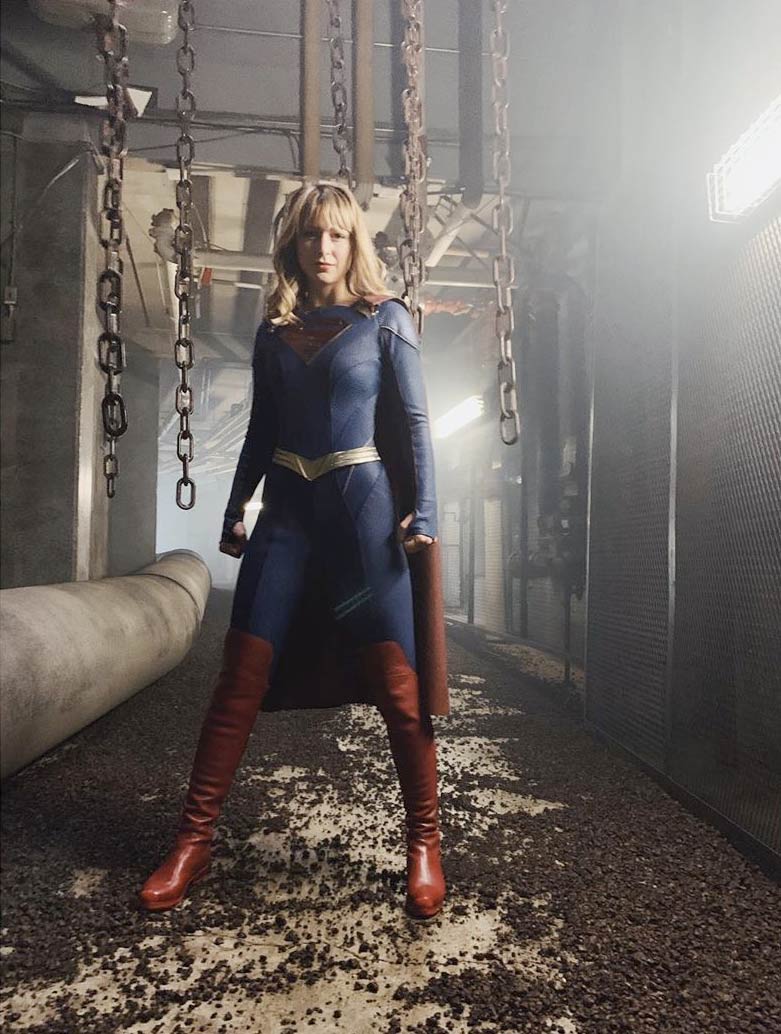 Let us know your thoughts in the comments below and in the forum! Keep us advertisement free and visit the support page!
7/15/2019 10:12 am

Sometimes news is too big to wait for San Diego Comic Con and we are ok with it! Entertainment Weekly has learned that the lead actor herself will helm an episode of Supergirl this season! Melissa has had aspirations to get behind the director's chair since season three but scheduling conflicts wouldn't allow her to do so last year, hence we got to see David Harewood in the director's chair first. Fans can look forward to Melissa's directorial debut in episode 17 this season! When asked about the new opportunity, Melissa had this to say:
I've been wanting to direct since season 3, but couldn't last year because of scheduling conflicts, so [star] David Harewood did it first. I just felt really drawn to it for a couple of seasons now, just because you know the show so well, and you get to know the character, and the world, and the tone of the show so well that you can't help but envision certain scenes in a certain way. I want to play with that.

These shows are so massive that it's not like directing any other show on TV, I would imagine, and everyone has said as much to me. I'm literally trying to be a sponge, and I will learn something new every single day I'm shadowing. It's just a matter of talking to actors, making sure everyone feels creative and collaborative even though we have these massive constraints with budget and special effects. It's like a chess game, I've realized. You move your pawn one way, and then someone knocks your rook down because you can't do a certain stunt you wanted to do. It's all about compromising and trying to be as creative as you can within those boundaries, which is a cool challenge.
---
Additional news dropped today, the official SDCC collector swag bag is out! It features the key art from season 4 though. Check it out below: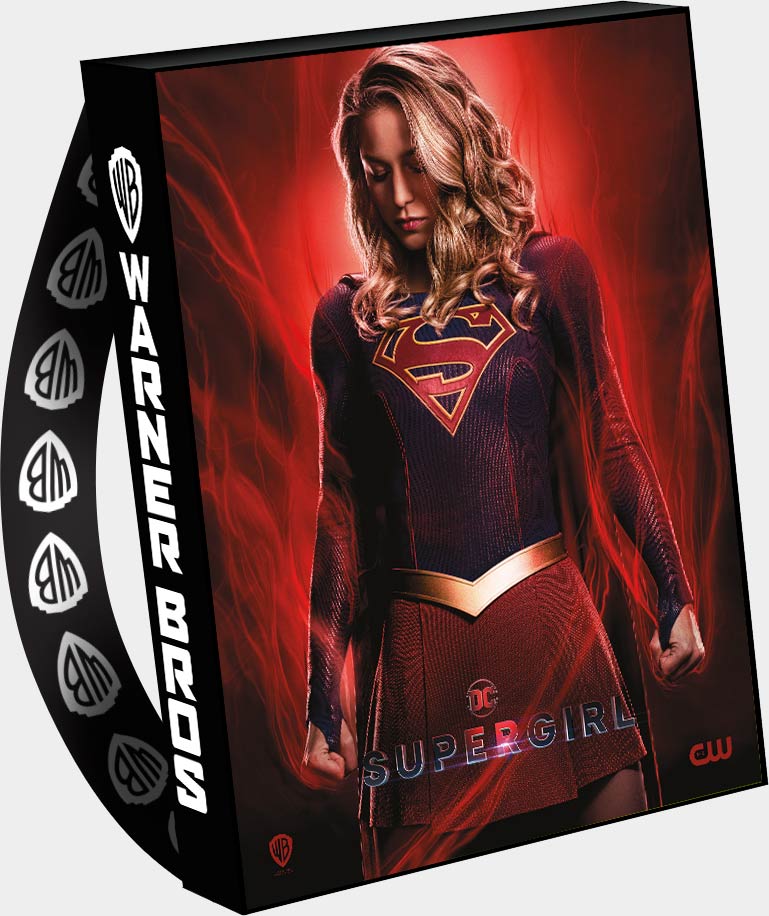 Of course look for even more exciting news about Supergirl coming from the SDCC floor where we will be giving you up to the minute scoops! Share your thoughts below and in the forum! Keep us alive and kicking at SDCC and visit the support page!
7/13/2019 7:48 pm

Just on the cusp of San Diego Comic Con, Melissa Beniost was at a video gaming event with Kevin Smith and Jay Mewes this weekend. During the celebrity videogame challenge, Melissa was defeated early by another player but Mewes took the win. That, however, gave Kevin Smith and Melissa Benoist some time to catch up after the match. Kevin was quick to turn the conversation to season five of Supergirl. Melissa admitted that she was in fact getting a new super suit this season! Additionally, she was able to mention that she is going the way of pants! That's not all though, Melissa was able to speak about her upcoming wedding to co-star Chris Wood and a few other extras! Check out the interview below:
What do you think of this new costume news? Let us know in the comments below and in the forum! Keep us alive and kicking during Comic Con and visit the support page!
7/9/2019 12:34 pm

Its time for San Diego Comic Con yet again! This year will be the biggest year yet for us! We'll be there to cover four active shows including Supergirl, of course! Much like last year we have a few public events we'll be attending, also a few private events as well! Be sure to folllow us on social media for all the up to the minute news! Speaking of SDCC, TV Guide has teamed up with Warner Brothers yet again to bring special edition comic con TV Guide covers to you! The one that is the most interesting to our Supergirl audience would be the "Powerhouse" cover. It is a cover featuring all the strong women of comics and dead center and biggest of all is our Girl of Steel! Check it out below: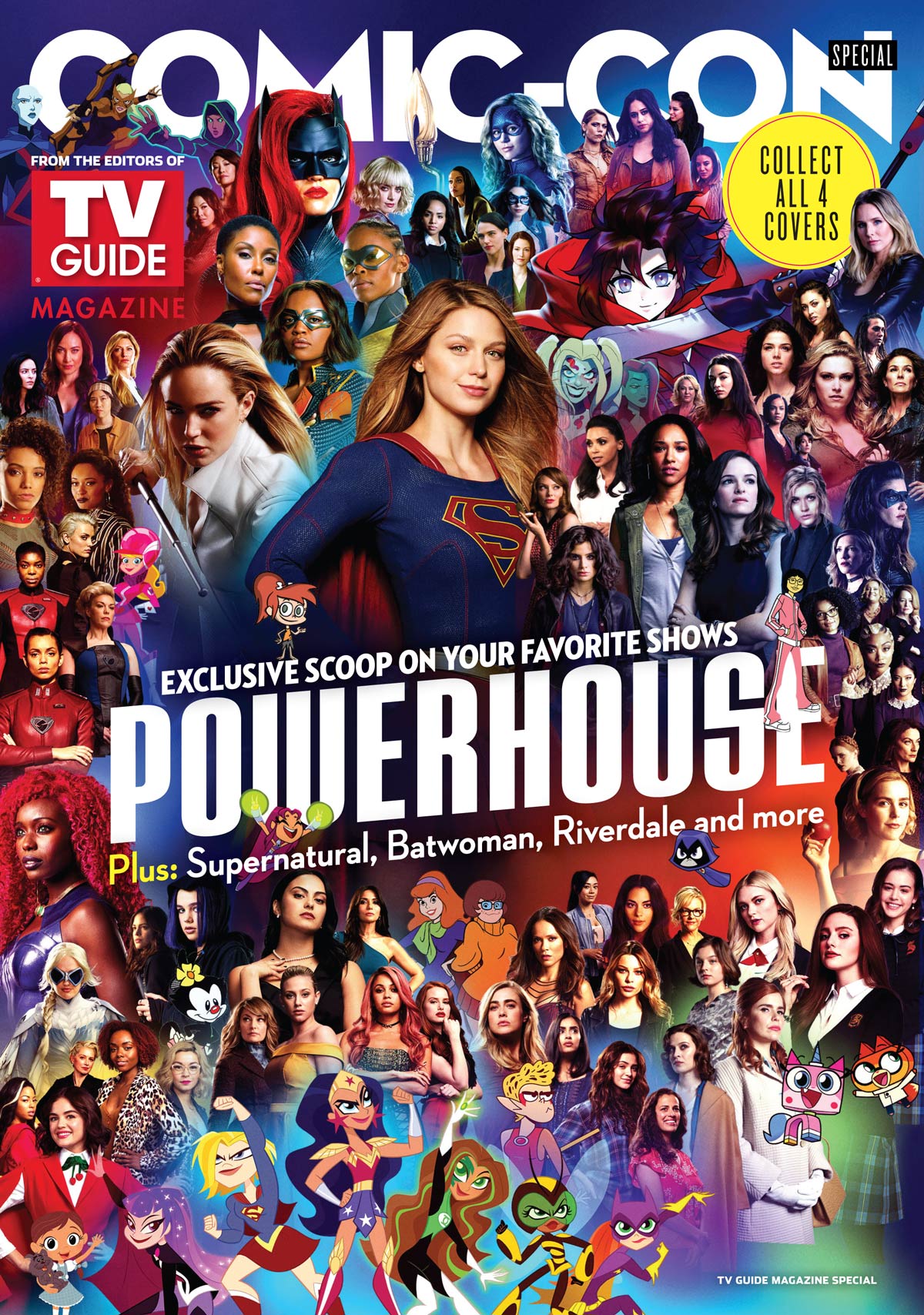 Let us know what you think of the cover in the comments below and in the forum! Help send us to SDCC this year and visit the support page!
7/7/2019 11:17 am

After a hard fought, three week battle, with your nominations, to voting through categories, to the final 20 scene battle royal, we have our top scene for Supergirl so far and its from season 4! The clear favorite was when Alex broke through the mind block that J'onn put on her to remember that Kara and Supergirl are the same person. Through that breakthrough, she was able to give Kara the dire confidence needed to try and pull the life-saving sunlight from the plants and trees around her!
A close second was the vicious and simply brutal fight scene between Supergirl and Reign! That scene still stands out to us personally as some of the best action in the show, heck even the Arrowverse. Both Reign and Supergirl are so SOOO strong that a brute battle like that held such raw energy. It was incredibly well done, great acting, great fight mechanics, and it leaves us feeling sick to our stomachs with the outcome.
The third scene which is trailed by only two votes, was a blast back from season 1. Alex confesses to Kara that she killed her aunt in order to save J'onn. Chyler's ability to show how emotional Alex felt in that moment was outstanding! Alex literally fears she'll lose her sister for this action. Then Kara forgives her but David and Melissa's hand hold seals this scene in our hearts. Sometimes family is the people you choose and as the audience, we witness those three choosing each other as family.
The fourth scene sends us back to season two. This now rounds out that each season has a favorite scene in the top four. The alien ship is taking off from Earth and Alex is on board along with many other aliens. If the ship can get high enough it can activate it's warp drive and it won't be able to be caught. Supergirl has to use brute force to over-power the ship and force it back to Earth. The only way Kara is able to summon the strength needed is with the helping guiding hand of Alex. The two share a moment touching hands through the glass of the ship and Supergirl literally tears the ship from the sky.
Finally, we have the scene from season 1, where Kara comes to after having been poisoned by Red Kryptonite. Its a fitting scene to finish with because it is directly related to our top episode so far, "Falling". Some of you have said this was one of those scenes where we have to wonder if we really deserve Melissa Benoist. She could be way over qualified for a super hero role. That said, Melissa makes Supergirl the best show of the Arrowverse because of her ability. She is INCREDIBLE! As the audience, we are pulled into the absolute pain Kara feels when she remembers all the horrible things she did under Red Kryptonite. Its one thing to see, but audiences across the globe felt Kara's pain on that medical table.
Honorable mention, Eric's favorite scene, was a close sixth place. Supergirl destroys Red Tornado. That was the moment when I feel the show really found it's footing.
Any way, thank you all for sticking it out with us during the break! This has been a lot of fun! As you guys might know, Kelsey and I are going to San Diego Comic Con in a little over a week. We'll bring you as much news as we possibly can while there! Keep checking the sites, our social media, and Facebook and we'll try and go live as much as we can!
Share your thoughts in the comments below and in the forum! Help us keep the lights on and visit the support page!