The name Joëlle Jones might be familiar to some Supergirl fans, especially comic book lovers. In 2016, Joëlle illustrated the graphic novel, Supergirl: Being Super, written by acclaimed writer Mariko Tamaki.
The DC Cover Girls line, by DC Collectibles, is inspired by the powerful women of the DC universe. Joëlle Jones is the first female designer to take over the line, starting with Harley Quinn and soon followed by Supergirl. Future additions include Batgirl and Catwoman! Supergirl.tv had the opportunity to (and gratefully) ask this talented illustrator a few questions about Supergirl and upcoming projects!
You did a mini-series with Mariko Tamaki called, "Supergirl: Being Super". In that series Kara is very different than how our tv audience knows her. What was it like drawing this new version of Supergirl?
I wasn't very familiar with Supergirl before going into the project so I had to go back and do some research. So between that and the way Mariko wrote the character it was really exciting to get to know her. I really enjoyed the project.
We love to ask this question to everyone we interview, who is Supergirl to you?
She's young and there's a wonderful vibrancy to her. She's not as world weary as other characters I work on. There's a hopefulness about her that I love.
You are doing a new run for DC Collectibles' Cover Girl line. Were you assigned those characters or were you able to choose? If you chose the characters, why those women in particular?
They were assigned to me but they took my input into consideration.
Is Supergirl's costume based on your vision for Kara and what she would potentially wear if "Supergirl: Being Super" continued, or was it inspired elsewhere?
Well, I never drew her costume in the book. But for the statue it was part of a brief and I went from there. The women in the Cover Girls line are confident and alluring, but are not, in some figures, seen as a sexual objects.
Being the first female designer in the DC Cover Girl line, how are you able pay homage to their personalities, while finding a solution to often over-sexualized poses?
I don't really analyze it too much. I'm a lover of comic books and characters. So, I just try to stay true to the characters. (Their characteristics.)
How did you get started with comics? Who or what was your inspiration?
I took my portfolio to a convention and showed it to Diana Shutz. I was given the opportunity to work on something not long after that and have been working ever since. I've been reading comics since I was eight. I started with my brother's copy of Punisher and never really stopped. So I wouldn't say there was one thing or one book.
If you could illustrate any book or title you wanted to, what would it be and why?
Well, I always said Catwoman and I'm lucky enough to be working on that right now. So I guess I'll have to figure out the next "big get" at some point in the future.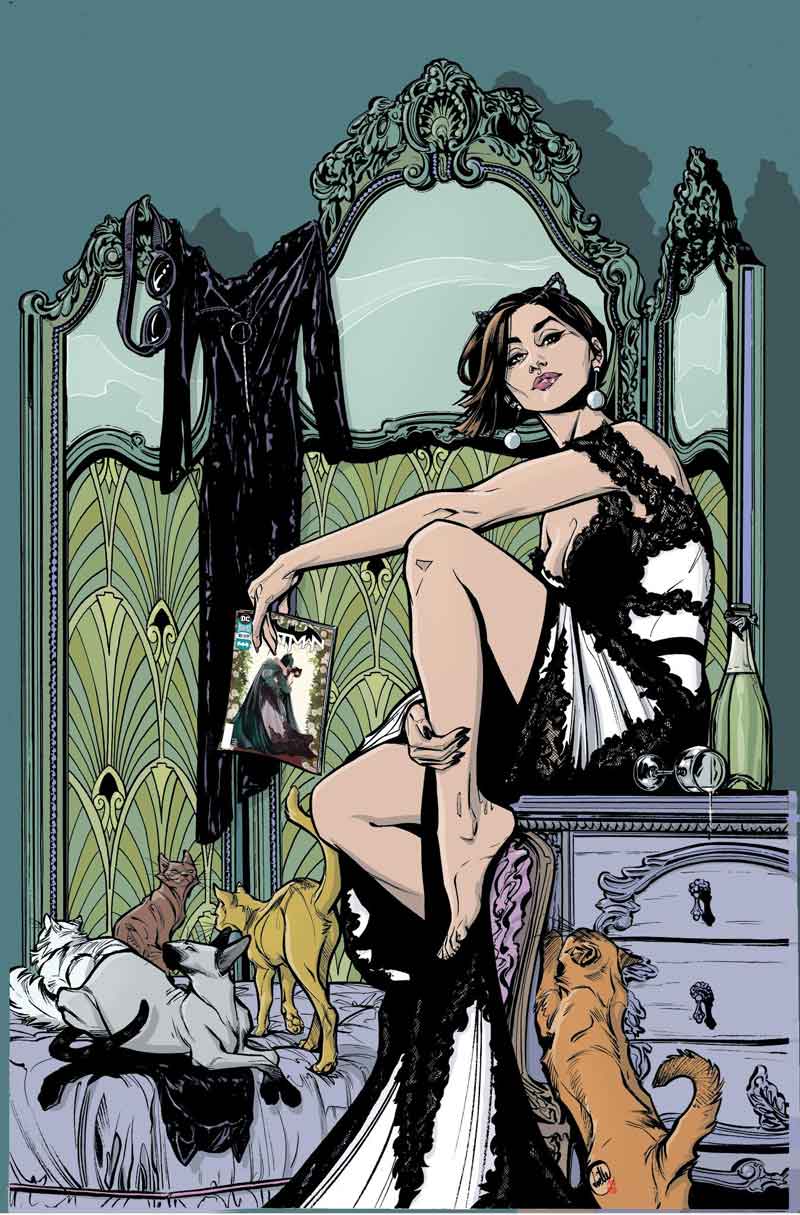 What can you tell us about some of your new upcoming works?
Catwoman! Coming out July 4th 2018! I don't want to reveal too much but it's gonna be fun.
What advice would you give someone who is aspiring to get into the comic book world?
Whether you're an artist or a writer it all comes down to putting in the work. Write every day. Draw every day. No matter what. You can't skip on the work.
If you wish to learn more about Joelle, please visit her website at www.joellejones.com, and send some love! Also, congratulations to our very own Marysocontrary1 who won the Joelle Jones Supergirl figure giveaway!