Hear me out on this explanation. This has to do with the revived and rebooted 70's toy company Mego. Well Saturday night I tuned into on YouTube a video chat of the Mego Ambassadors. These are people who are longtime fans of collecting Mego action figures and/or people involved with the designs on the reboot.
During that chat, it was brought up that this year is the 50th anniversary of one of Mego's greatest lines "World's Greatest Superheroes." To celebrate, Mego is putting out versions of the greatest superheroes from DC including Superman in their
old school style window boxes
. The figures will not have the famed or infamous banded bodies which seemed to dry and break over time. These sculptures have no bands and allow for endless posing possibilities.
Well, it was mentioned on the stream
that Supergirl will be joining them with a peace belt!
Now the outfit will be based on the 1972 Supergirl one known for its puffy blue sleeves and ballet slippers. But, when the line first came out with the female heroes called Super-Gals, some of the Supergirl figures were give a belt with the peace symbol on it, making it a rare item. Note the top picture (from Mego Museum)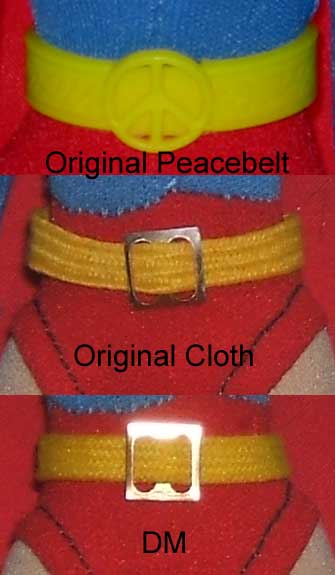 These figures are due out in October, at least according to Entertainment Earth.
I hope that the Supergirl TV series characters will one day get the Mego treatment.