By now, many of the Supergirl audience has heard of the allegations raised against Executive Producer Andrew Kreisberg. On Friday evening, Variety.com broke the story that 15 women and 4 men have brought allegations of sexual misconduct from Kreisberg. Out of fear of retaliation, the accusers asked not to be named in the article. However, the accusers range from extras to prominent show employees, as well as former and active employees. Warner Brothers TV Group issued this statement and action:
We have recently been made aware of allegations of misconduct against Andrew Kreisberg. We have suspended Mr. Kreisberg and are conducting an internal investigation. We take all allegations of misconduct extremely seriously, and are committed to creating a safe working environment for our employees and everyone involved in our productions.
The Arrowverse is a group of television shows comprised of Supergirl, Legends of, The Flash, and Arrow which are all produced by Berlanti Productions. Greg Berlanti and Production Company President Sarah Schechter offered this statement:
We were recently made aware of some deeply troubling allegations regarding one of our showrunners, We have been encouraging and fully cooperating with the investigation into this by Warner Bros. There is nothing more important to us than the safety and well-being of our cast, crew, writers, producers and any staff. We do not tolerate harassment and are committed to doing everything we can to make an environment that's safe to work in and safe to speak up about if it isn't.
Kreisberg has strongly denied the allegations and has gone on record to state his position. He is quoted as saying:
I have made comments on women's appearances and clothes in my capacity as an executive producer, but they were not sexualized. Like many people, I have given someone a non-sexual hug or kiss on the cheek. I have proudly mentored both male and female colleagues for many years. But never in what I believe to be an unwanted way and certainly never in a sexual way.
The article continues with several quotes from the unnamed sources noting the nature and type of abuse that Kreisberg is accused of.
---
It is at this point we would like to note our site's point of view as Supergirl.tv. We apologize that it has taken us this long to offer our thoughts, but we gave this the necessary time and processing that we needed to personally do before forming our opinion. Upon hearing the news, we have remained in a state of shock and disappointment. As investigations continue, it important to keep in mind that there are those that strive to endlessly uphold the ideals of Supergirl herself. We believe that the users of this site and the community we've built here are one such group of people who understand the power and inspiration that Supergirl provides.
Although there are people in power who fail us by betraying the faith and trust given to them, there are hundreds more who continue to reform the industry itself, much like our own Girl of Steel, Melissa Benoist who added this statement via social media this evening: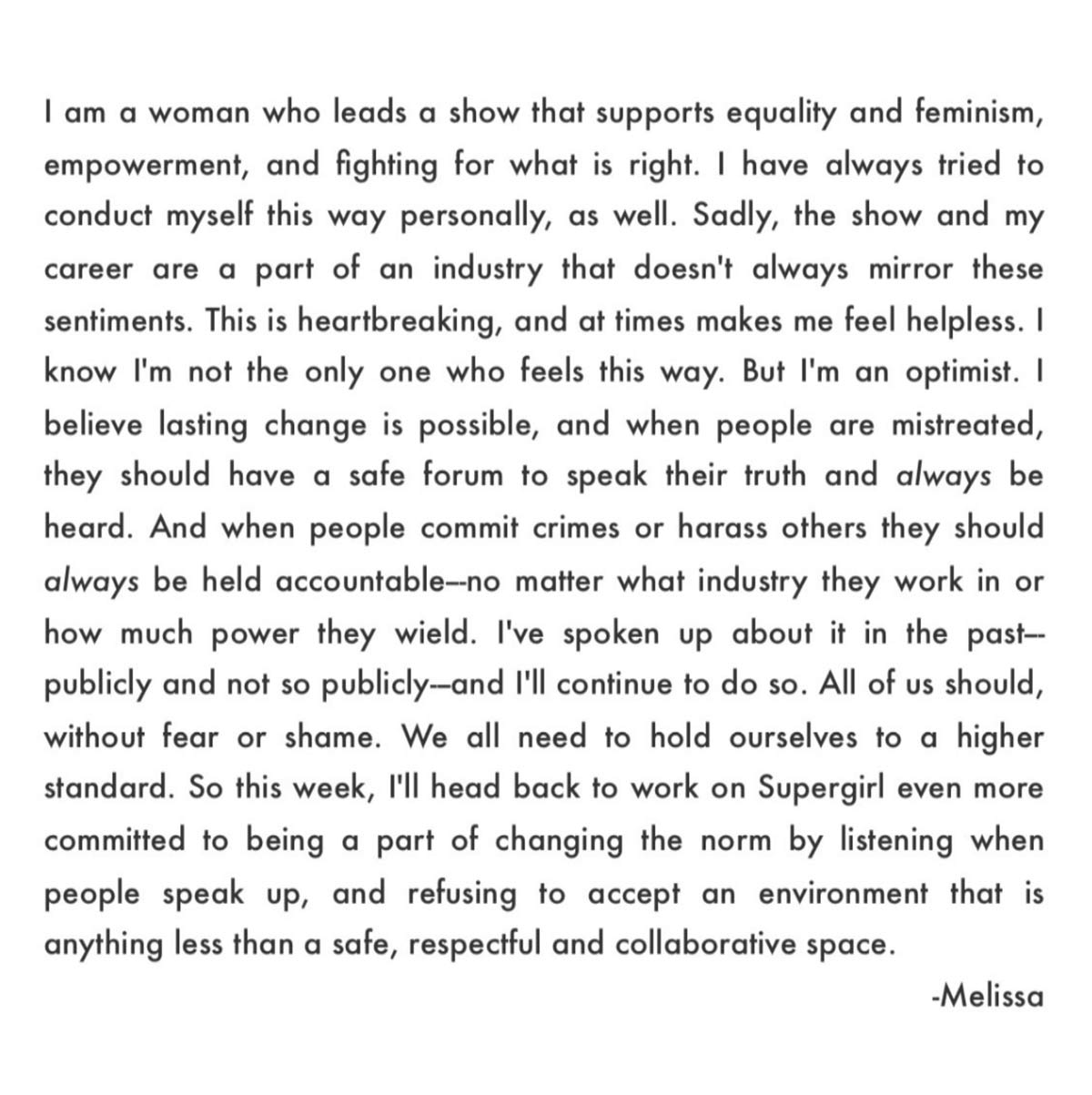 Remember that Supergirl has, and always will stand for:
"Hope, Help, and Compassion for All."
~Kelsey Johnston