Collider.com had the great opportunity to sit down with the newest member of the prestigious club of actor's to portray Kal-El, Tyler Hoechlin and talk about his ideas on Superman.
What does it mean to play Superman on Supergirl?
HOECHLIN: It's an incredibly humbling and flattering thing to be given that opportunity. I know it's such an iconic character that means so much to a lot of people. The interesting thing to me is meeting people who are much older than me and saying, "Oh Superman has always been my hero" and shaking my hand, it's such a weird position to be in because you're not just assuming that this is a character for a younger generation, it's for anyone who's a fan of the character. It's really exciting, I'm really looking forward to be putting our own spin on it, seeing where this character fits into this storyline, and this version of Superman. Like I said, I take it with great respect for the character and what it means to people so I'm excited to get to work on it and see what comes out of it.
I have to ask, was it your agent, how did you get presented with the role and did you have that moment of, "Really, wait, what?"?
HOECHLIN: I had been meeting with Greg Berlanti and Andrew [Kreisberg] over there at his office and we just sat –I didn't know what the meeting was for originally and it kind of came up and they said, "Is this something you would like to talk about?" and I was like, "Yeah, sure, let's talk about it." And I think we had similar views in what makes the character interesting and fascinating, and it just kind of worked out.
I think Greg Berlanti is a great producer and what he's done with the shows under his umbrella is really unbelievable.
HOECHLIN: It really is, it's really impressive, and I'm just excited, he's such a great guy and I'm really excited to work with them and see what happens in the future.
---
Perhaps this may date your admin a bit but here is an interesting fact we'll share. Back in 2002, I had two favorite movies, Road to Perdition and The Count of Monte Cristo. At the time, rumors were circling that Jim Caviezel was being looked at for a Superman role in a movie coming up. Playing the role of Caviezel's son in Monte Cristo, was Henry Cavill. Cavill was just 19 years old when the movie came out. As for Road to Perdition, the movie also came out in 2002 and starred Tom Hanks and Paul Newman. Tom Hanks' character saves his last surviving son from the vicious life of the mob and murdering by killing his would-be assassin before dying himself. Who played Tom Hanks' son? Tyler Hoechlin. When the movie debuted he was just 15 years old. Now, both actors claim the mantle of Kal-El in 2016! Also fun fact, Tyler was once considered from the role of Batman.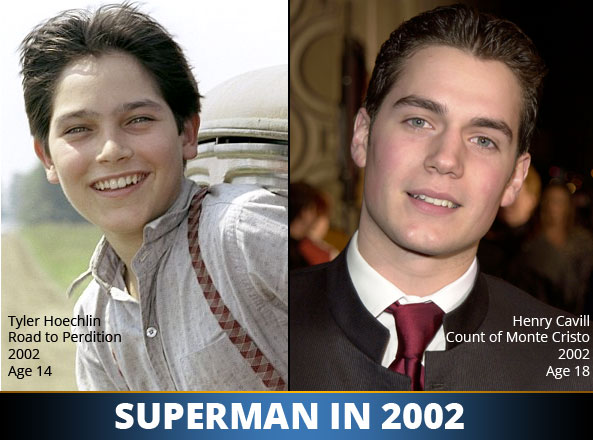 Are you excited to see Tyler Hoechlin's Superman on Supergirl? Do you think the Berlanti creative team will make a Superman we can love? Let us know in the comments below and in the forum. Also help keep us advertisement free and visit the support page!