Its less than two weeks until Supergirl debuts on CBS (October 26th at 8:30pm). We've seen some tremendous things that Melissa Benoist has done as the Girl of Steel and it has warmed our hearts. She's met with girl scouts one on one and showed them the studio where Supergirl is shot, she's appeared at private screenings and answered questions from all sorts of fans, and shes worked tireless hours filming the show all the while wearing that iconic smile.
However, Melissa Benoist isn't the only Supergirl changing lives. Supergirl.tv wants to take a moment and introduce you to Arizona's own Supergirl, Alyssa Contreras AKA (AZ Supergirl). Alyssa is arguably the first professional cosplayer to adorn the Melissa Benoist Supergirl costume. While many professional cosplayers would do the obligitory photoshoot and sell posters, Alyssa is truly making a difference. The AZ Supergirl works with one of the sweetest charity organizations we've come across, Comicare.org. Comicare.org is described as "[An organization that strives] to brighten the day of hospitalized children by delivering comic books and visiting superheroes." The following is our interview with Alyssa, the Arizona Supergirl:
Supergirl.tv: What got you into cosplay?
Alyssa: I grew up surrounded by superheroes. Some of my favorite shows growing up were the Justice League and Lois and Clark. I was first introduced to the Cosplay community through my Dad, he's been doing charity cosplay for over a decade. He has always been a huge Superman fan and took every chance he would to wear the cape. Once he started doing his work with Comicare I decided it was time for me to give it a try, and I instantly fell in love.
Supergirl.tv:Why did you choose to cosplay Supergirl, and for that matter, Melissa Benoist's Supergirl costume?
Alyssa: When I decided to start working with Comicare it was important that I find a costume that was not only iconic but kid friendly as well. I have always admired Supergirl and thought she was a great role model for girls to look up to. Around the time that I was looking into which Supergirl costume to get I saw the release of Mellissa Benoist as Supergirl. The timing couldn't have been more perfect (I have even recently ombre'd my hair so it looked just like Melissa's). Ever since I have started wearing the costume I couldn't be happier with my decision. Melissa has taken this role and turned it into an inspiration for so many girls. I feel honored to wear the same costume as she does.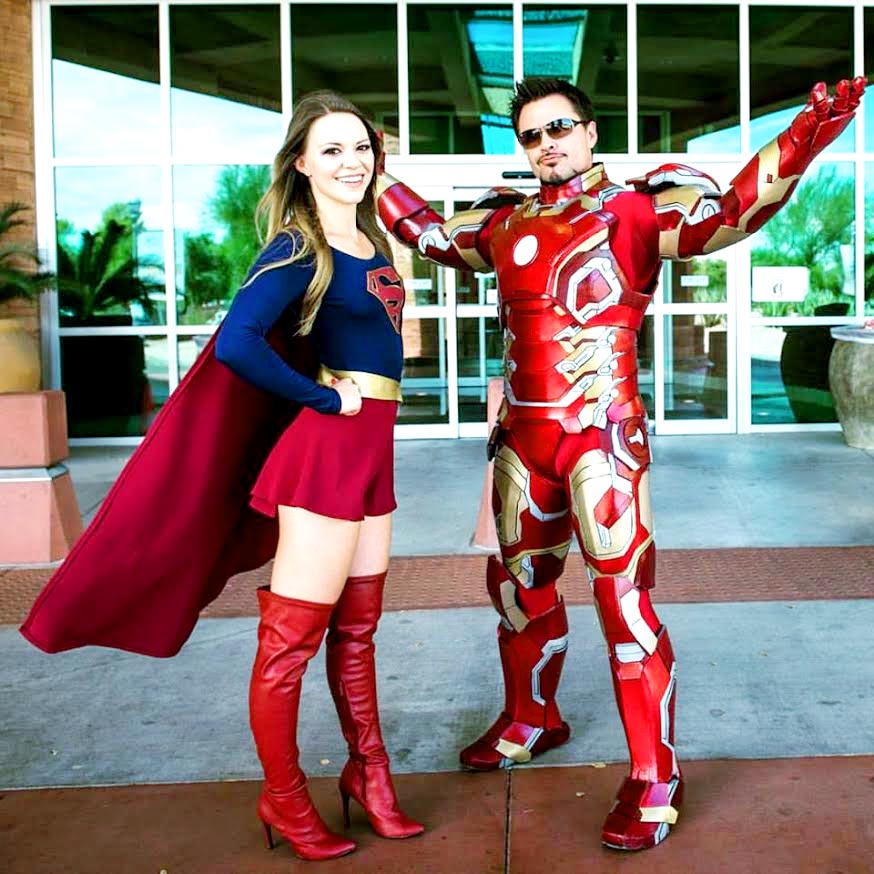 Supergirl.tv: How long did it take to make the costume?
Alyssa: I did not personally make my costume, however my dad and I have been fortunate enough to find skilled costume makers over the years. We had Greg Maraio make this suit for me.
Supergirl.tv: What was the hardest part when making the suit?
Alyssa: The hardest part about putting this whole costume together was finding the right boots. I started out with thigh high stilettos that looked great but killed by feet. Luckily Keith Howard was able to make me a beautiful pair of screen accurate boots that are much more comfortable and really bring the whole suit together!
Read More and see Alyssa's Supergirl Gallery in the Read More Section!
Supergirl.tv: So often, Melissa Benoist is asked what she thought the first time she wore the costume, what were your thoughts wearing the costume for the first time?
Alyssa: My first debut of the costume was at the Arizona Diamond Backs game. It was their superhero night and my father and I were hired to work at the game through Gordon's Getups. I was so nervous! Not only had I never worn the Supergirl costume before, but I had never done any other sort of Cosplay either. However as soon as I stepped on the field I knew that Supergirl was the right choice for me. It was awesome to see how people (especially kids) reacted to Supergirl. I had little girls coming up to me and giving me hugs and I could tell that they thought I was a real superhero.
Supergirl.tv: You recently went to PHXCC, how was the fan reaction to your costume, where there any take-aways from that event?
Alyssa: I had such a blast at Phoenix comicon! It was awesome to see so many different cosplayers in one place. Everyone I talked to loved my Supergirl costume and couldn't wait for the new show to start. For most of the Con I worked at the Comicare booth taking pictures with people and encouraging them to donate to our organization. It was a lot of fun being able to see people not only get excited about my costume, but Comicare as well.
Supergirl.tv: What are your thoughts on the new show? What are you looking forward to the most?
Alyssa: I am so excited about the new show! I cannot wait finally watch Kara Zor-El star in her own show! They could not have picked a better actress to portray Supergirl, I love Melissa Benoist and cannot wait to see what she does with this role! From what I've seen so far this show is very empowering for girls, so I am looking forward to having a positive female role model for girls to look up to.
Supergirl.tv: Since you embody Kara Zor-El often, what is your favorite character attribute, what do you personally share most with the character?
Alyssa: My favorite character attribute about Supergirl is her youthful spirit. She questions authorities and stands up for herself. I like to think that I take after her in that aspect and stand up for the things I believe in. In my personal life it is important for me to be a role model not just for the kids that I visit but for my sisters and other family members as well.
Supergirl.tv: Comicare.org is truly a wonderful organization, bringing professionally dressed superheros to visit children in need or sick in the hospital, how did you get involved?
Alyssa: My dad (AZTonystark) is the co-founder of Comicare. Once I saw all the amazing work he was doing to bring smiles to children all over Arizona I knew that I wanted to get involved. He has helped me throughout the whole process and after years of visiting children as Superman, my dad has primarily moved on to visiting kids as Ironman. However he was more than happy to help me take over the family cape.
Supergirl.tv: What has been the most rewarding experience of working with Comicare?
Alyssa: Every hospital visit I go on is extremely rewarding. It is the best feeling to be able to go into a room and make a child smile, even if it is just for a couple minutes. Not only do we visit with the children in the hospital, but their families as well. Many times the whole family is there including siblings and other relatives. I can only imagine how difficult this time must be for these families, so to be able to make them smile and laugh even for just a couple of minutes makes it all worth while.
Supergirl.tv: How many visits do you do a month?
Alyssa: Comicare averages about 4 to 6 a month and I try to make it to at least 2 visits a month. I go to school in Tucson at UofA, and Comicare primarily works with hospitals in Phoenix, so it is hard for me to make it to every visit, but I make it to as many as I possibly can. We are also working with Tucson hospitals to set up some visits here, so once that is established hopefully I will be able to attend even more visits.
Supergirl.tv: Are all the visits hospital based or are there other events you attend?
Alyssa: Comicare primarily visits children in hospitals. Occasionally we do other charity events and we do attend various comicons as well. I have also been promoting Comicare on here at UofA by setting up a book drive for Comicare through all of the Greek houses on campus.
Supergirl.tv: What are your hopes for the future of cosplaying and Comicare?
Alyssa: In the future I would like to continue cosplaying as Supergirl with Comicare. I hope that Comicare continues to grow and thrive and continues to make kids smile all over the southwest.
Supergirl.tv: If people want to get involved and or donate to Comicare, where can they do that?
Alyssa: There are many ways for people to get involved with Comicare. You can donate monetary or comic book donations on our website comicare.org. Or you can contact us on facebook at https://www.facebook.com/comicare. If you are not able to donate comic books or make monetary donations we love it when you like and share our pictures from Comicare or AZSupergirl. This is how we get the word out about our organization and how we have been able to grow and continue to grow.
Supergirl.tv: Is there anything else Supergirl.tv fans should know about Alyssa Contreras?
Alyssa: I have a Facebook page and Instagram dedicated to my work as Supergirl. My facebook page is https://www.facebook.com/azsupergirl1 and my instagram name is AZ_Supergirl. Comicare's info is comicare.org or https://www.facebook.com/comicare . I have also worked with Flexcomics which is a really cool website for ordering funny comic related workout related items. Their Instagram name is flexcomics and their website is https://www.flexcomics.com