We are extremely fortunate today! We can finally say that we've seen the Supergirl pilot. With the blessings of CBS and Warner Brother's we were able to watch the pilot ahead of time to give you all our first impressions about the show. And we'll be the first to say, Supergirl makes quite the impression! The following review is spoiler free so read on!
---
FIRST IMPRESSIONS:
WOW! The 6 minute preview released almost a month ago gave us chills of excitement. It did a wonderful job of providing us the flavor of what the show was going to be like. After seeing the pilot, its like a whole new universe has opened up! Greg Berlanti and Ali Adler clearly had a vision and when you see the pilot, it comes through so clear! This is a show that has purpose, meaning, and light. In this golden age of superhero movies and tv where darker is considered better, Berlanti and Adler have brought back the brightness of Christopher Reeve's Superman and put it into Melissa Benoist's Supergirl. We all felt like kids again looking up to a hero once more.
---
THE ACTORS:
Melissa Benoist is the very definition of "Adorkable" in the pilot. Her slipping glasses, choice of outfits, even the way she does her hair all contribute to a character that the audience instantly falls in love with. Kara is clumsy by practice and by choice, not because she can't gracefully walk through a steel wall, but because she has to be clumsy to fit in. Benoist's portrayal of Kara hits this perfectly in the bull's eye. You can clearly see the difference in the way Kara walks when she is in her supersuit as opposed to when she is just Kara Danvers. Finally, its Melissa's smile that grabs you. Just like when Christopher Reeves smiled in the Superman suit, Melissa's smile fills you with hope and it makes you feel safe, like you know you are going to be alright no matter what happens.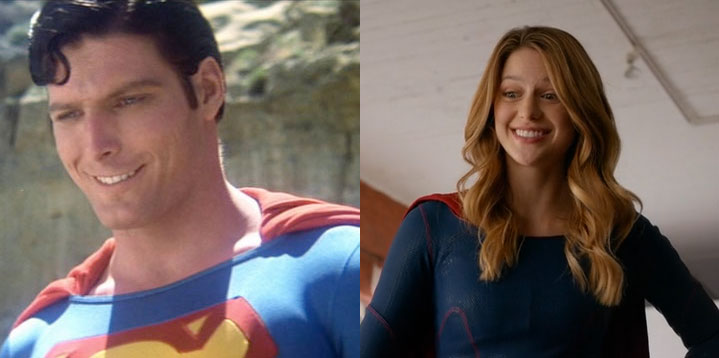 While Melissa clearly steals the show, she is supported by an amazing ensemble of cast members. First, Chyler Leigh is the perfect sister. The audience is struck with the feeling that even though these two aren't blood related, they are family. Alex provides a much needed human balance to Kara's extremes. Chyler does this with ease proving to be a concerned older sister while still motivated to be someone of means on her own.
Next is Jeremy Jordan. Talk about being friend-zoned. Just kidding. Jeremy, however, is an outstanding nerdy companion to Kara's new found super-heroism. In such an astonishing world with flying women and aliens, Jeremy shows the audience a character that almost every male viewer will identify with.
Mehcad Brooks brings the anchor to this ensemble. His character of James "Jimmy" Olsen acts as an almost mentor. We don't get to see him much in the pilot but its clear James knows more than he is letting on. Mehcad, in this respect, is charming and confident but most of all patient. Best of all he does it with a smile. He comes across as extremely likable. It will be really fun to see his character evolve in future episodes.
Calista Flockhart is everybit the powerhouse veteran you think an actress of her caliber to be. We know from the trailer that Cat is a strong woman who defends naming the new hero of National City 'Supergirl'. In every scene she is the most confident and powerful woman in the room. What made Flockhart's performance magical however, was a scene toward the end of the pilot where this mighty woman of industry sees Supergirl flying outside her window. In that moment we see Cat Grant realize she is no longer the most powerful woman in the city and its simply a delight to watch!
David Harewood's Hank Henshaw is exactly who you want him to be! He comes across as a man with the weight of the world on his shoulders. As leader of the DEO, Henshaw is responsible for the safety of the entire planet in regards to alien activity. Think of Men in Black but it all falls to one man. Harewood's performance is one of a seasoned actor. He is concise with every movement he makes as Henshaw and it shows. Henshaw is clearly a man who's time you don't want to waste.
Finally we have Laura Benanti. As Supergirl.tv readers you know that she appears in the show in three ways. Its that third way that is going to leave your jaw on the floor. As for her performance, Laura is a perfect example of a loving and caring mother. In her limited scenes, she exudes the heartbroken mother's struggle of saving her child but not being there to raise her. The audience will feel a genuine care for Alura.
---
FINAL THOUGHTS:
Much like some of the other Berlanti superhero properties, Supergirl has a great plot for both episode-to-episode drama and an overarching series debacle that is sure to challenge Supergirl every week and build to an amazing season finale! To anyone with concerns that this show is just a "Devil Wears Prada" with a superhero show, fear not. As several have said before, its really about relationships. That includes relationships to friends, family, enemies, bosses, co-workers, and yes love interests. But its so much more than just a rom com like some have described. No, this is a show that even the most hard-nosed comic enthusiast will be able to get behind. Supergirl, the show, pays respects to the massive lineage Supergirl, as a character, has gone through and still brings it into the 21st centurny where a whole new generation will be able to relate to it. Ultimately it won't matter who you are, if this show has been on your radar, you are going to love it!
As always we'd love to hear your thoughts, but please remember, officially the pilot has not been released so keep spoilers to yourself. We will see about setting up a forum topic where spoilers can run free but for now, please respect your other fans. Thanks