With just another 25 minutes to go until another new episode of Supergirl, CBS has released the episode title and synopsis for Episode 5. You may remember we already brought you the title of episode 5 "Livewire" but now we can present the synopsis:
"Livewire" – Kara's Thanksgiving may be ruined when she suspects her foster mother, Dr. Danvers (Helen Slater), who is coming to town, disapproves of her new role as a superhero. Also, when an accident transforms a volatile CatCo employee into the villainous Livewire, she targets Cat and Supergirl, on SUPERGIRL, Monday, Nov. 23 (8:00-9:00 PM, ET/PT) on the CBS Television Network. Brit Morgan guest stars as Leslie Willis/Livewire and Helen Slater guest stars as Dr. Eliza Danvers, Kara's foster mother.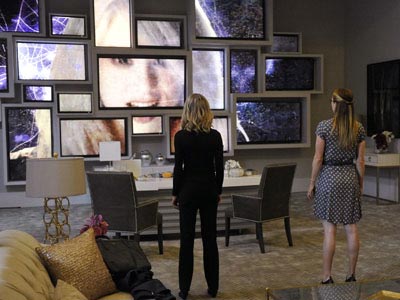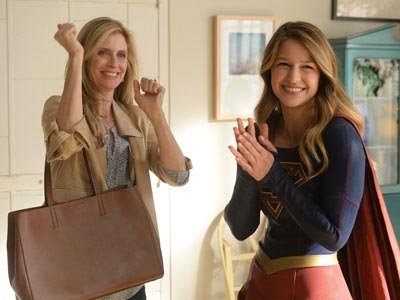 We'll be getting larger photo resolutions soon but check out the first Livewire photo of Brit Morgan on those sceens in the background!
What do you think of the synopsis and the new images? Can you believe we won't see this one until Nov 23rd! SO exciting though. Share your thoughts with us in the comments below and the forum!