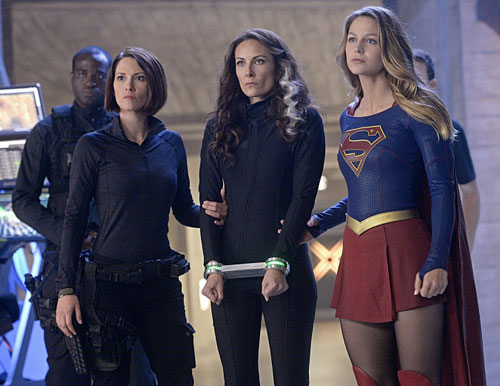 Title: Blood Bonds
Directed By: Steve Shill
Air Date: January 4th 2016 8pm CBS
Written By: Ted Sullivan and Derek Simon
Official Description: With Astra in captivity at the DEO, her husband, Non (Chris Vance), captures Hank, leading to a tense standoff between the two sides. Also, Kara continues to refute Cat's allegations that she is Supergirl, on SUPERGIRL, Monday, Jan. 4 (8:00-9:00 PM) on the CBS Television Network.
Reoccurring Cast: Peter Facinelli (Maxwell Lord) | Glenn Morshower (General Sam Lane) | Laura Benanti (Alura/Astra) | Chris Vance (Non) | Robert Gant (Zor-El) | Briana Venskus (Agent Vasquez)
Guest Stars: Christopher Showerman (Tor) | Rey Hernandez (Commander) | Ric Sarabia (Alien Soldier) | Michael Albala (Scientist) | Hope Lauren (Comatose Woman)
Special Notes: Robert Gant returns to play the role of Zor-El. Most likely a Kryptonian flashback.
Clark Kent provides Kara with support via text messenger again. Check out the screen shot below! Click to enlarge: