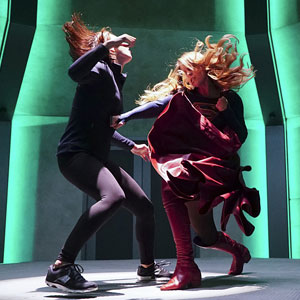 Title: "Hostile Takeover"
Directed By: Karen Gaviola
Air Date: December 14th 8pm CBS
Written By: Roberto Aguirre-Sacasa & Caitlin Parrish
Official Description: Kara goes toe-to-toe with Astra when her aunt challenges Kara's beliefs about her mother. Also, Cat is threatened with being removed as the CEO of CatCo after a hacker exposes her private and damaging emails, on SUPERGIRL, Monday, Dec. 14 (8:00-9:00 PM, ET/PT) on the CBS Television Network.
Reoccurring Cast: Malina Weissman (Young Kara) | Peter Facinelli (Maxwell Lord) | Jenna Dewan-Tatum (Lucy Lane) | Laura Benanti (Alura/Astra) | Eric Steinberg (Commander Gor)
Guest Stars: Chris Vance (The Kryptonian Non) | Tristin Mays (Paulina) | Jeannine Cota (KNOC Newscaster) |Aaron Lustig (Lawyer #1) | Rene Ashton (Lawyer #2) | Dar Dixon (Board Member) | Casey Strand (Reporter) | Bryan Lugo (Looter)
Special Notes: Expect some flashbacks since Young Kara, Malina Weissman returns. Chris Vance makes his first appearance as the Kryptonian Criminal Non.