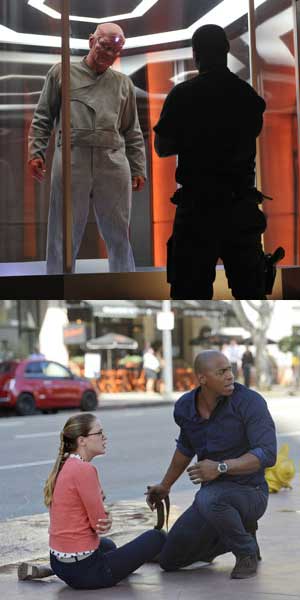 Title: "Human for a Day"
Directed By: Larry Teng
Air Date: December 7th 8pm CBS
Written By: Yahlin Chang & Ted Sullivan
Official Description: Kara and her friends must rely on their inner strength and courage when an earthquake strikes National City. Also, Alex's mistrust of Hank reaches a breaking point when the earthquake traps them in the DEO with Jemm (Charles Halford), a powerful alien escapee, on SUPERGIRL, Monday, Dec. 7 (8:00-9:00 PM, ET/PT) on the CBS Television Network.
Reoccurring Cast: Laura Benanti (Alura/Astra) | Peter Facinelli (Maxwell Lord) | Luke Macfarlane (Agent Donovan)
Guest Stars: Charles Halford (Jemm) | Ashton Bingham (Senior Tech) | David Lim (Agent Tsung) | Ayo Sorrells (Agent Reynolds) | Stephanie Arcila (Woman) | Zhuair Haddad (Store Owner) | Casey Strand (Reporter) | Bryan Lugo (Looter)
Special Notes: There is an Earthquake in National City, furthering our assumption that National City is in California. Supergirl, however is powerless! We aren't sure if its from episode 6 or something that happen in this episode.
As we learned from David Harewood's interview with SupergirlTVTalk, These should be a big reveal regarding Hank Henshaw and who he is in this episode!