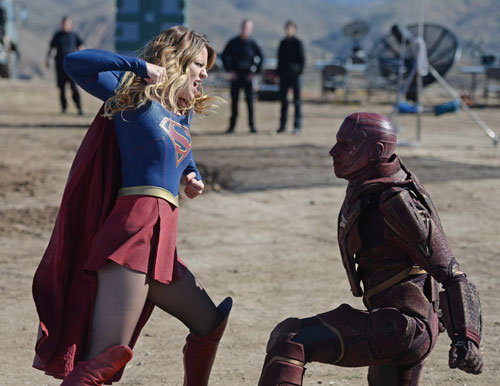 Title: "Red Faced"
Directed By: Jesse Warn
Air Date: November 30th 8pm CBS
Written By: Michael Grassi & Rachel Shukert
Official Description: "Personal and professional stress get the better of Kara when she goes too far during a training exercise against Red Tornado, a military cyborg commissioned by Lucy Lane's father, General Sam Lane. Also, Cat's tough exterior is shaken by a visit from her judgmental mother, Katherine, and Alex enlists Winn to look into her father's mysterious death, on SUPERGIRL, Monday, Nov. 30 (8:00-9:00 PM, ET) on the CBS Television Network."
Reoccurring Cast Jenna Dewan-Tatum (Lucy Lane) | Peter Facinelli (Maxwell Lord) | Briana Venskus (Agent Vasquez)
Guest Stars: Iddo Goldberg (Dr. T.O. Morrow/Red Tornado) | Glenn Morshower (General Sam Lane) | Luke Macfarlane (Agent Donovan) | Joan Juliet Buck (Katherine Grant)
Special Notes: Iddo Goldberg's Red Tornado seems to go off his programming and threatens National City. Could this be because Supergirl beats the living daylights out of him? Also, based on this episode's description and confirmed by Dean Cain, it sounds like and scenes with Jeremiah Danvers are going to have to be flashbacks since he's mysterious deceased.