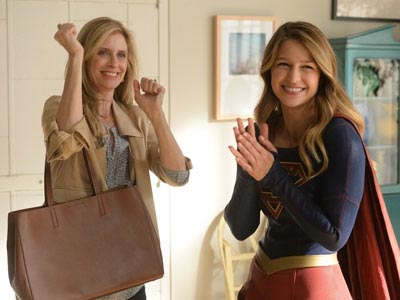 Title: "Livewire"
Directed By: Kevin Tancharoen
Air Date: November 16th 8pm CBS
Written By: Roberto Aguirre-Sacasa & Caitlin Parrish
Official Description: Kara's Thanksgiving may be ruined when she suspects her foster mother, Dr. Danvers (Helen Slater), who is coming to town, disapproves of her new role as a superhero. Also, when an accident transforms a volatile CatCo employee into the villainous Livewire, she targets Cat and Supergirl, on SUPERGIRL, Monday, Nov. 23 (8:00-9:00 PM, ET/PT) on the CBS Television Network."
Reoccurring Cast Jenna Dewan-Tatum (Lucy Lane) | Malina Weissman (Young Kara) | Helen Slater (Dr. Eliza Danvers) | Dean Cain (Dr. Jeremiah Danvers) | Jordan Mazarati (Young Alex) | Jay Jackson (Male Newscaster)
Guest Stars: Brit Morgan as Leslie Willis/Livewire | Helen Slater as Dr. Eliza Danvers, Kara's foster mother.
Special Notes: We know from our friends at SupergirlTVTalk that this episode will feature a few flashbacks. Seeing also that Jordan Mazarati, Malina Weissman and Dean Cain are in this episode, we are looking for Earth based flashbacks! This episode was supposed to air after "How Does She Do It" but the terror attacks in Paris have delayed that episode.