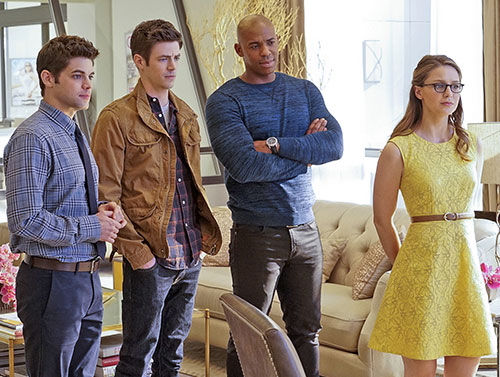 Title: Worlds Finest
Directed By: Nick Gomez
Air Date: March 28th 2016 8:00pm CBS
Story By: Greg Berlanti
Teleplay By: Andrew Kreisberg & Michael Grassi
Official Description: Kara gains a new ally when the lightning-fast superhero The Flash (Grant Gustin) suddenly appears from an alternate universe and helps Kara battle Siobhan, aka Silver Banshee, and Livewire in exchange for her help in finding a way to return him home, on SUPERGIRL, Monday, March 28 (8:00-9:00 PM, ET/PT) on the CBS Television Network. Grant Gustin crosses over as The Flash.
Reoccurring Cast: Jenna Dewan-Tatum (Lucy Lane) | Chris Vance (Non) | Italia Ricci (Siobhan Smythe) | Brit Morgan (Leslie Willis/Livewire) | Christopher Showerman (Tor) | Jay Jackson (News Anchor) | Dan Warner (Fire Captain)
Guest Stars: Grant Gustin (The Flash/Barry Allen) | Jamie Kaler (Pundit #1) | Samantha Harris (Pundit #2) | Zarek King (Young Boy) | Sarah Robson (Dr. Amelia Hamilton) | Harriet Sansom Harris (Sinead) | Dawn Greenidge (Pedestrian Woman)
Special Notes: Andrew Kreisberg & Greg Berlanti were quoted saying:
We are so incredibly excited to announce something that we have dreamed of happening since we starting making Supergirl – The Flash and Supergirl are teaming up! We want to thank Grant Gustin for making the time to come visit (on top of his already immense workload) and all of the folks at CBS, The CW, Warner Bros. and DC for working this out. And finally thanks to the fans and journalists who have kept asking for this to happen. It is our pleasure and hope to create an episode worthy of everyone's enthusiasm and support.
The Flash is speeding to National City! THE FLASH star Grant Gustin, in his role of Barry Allen/The Flash, will cross over to SUPERGIRL in an episode to be broadcast Monday, March 28 (8:00-9:00 PM, ET/PT) on the CBS Television Network. Details of the episode will be announced at a later date.
From Entertainment Weekly, we learned that Grant will supliment his speed in Central City by utilizing a tachyon device. He'll end up going so fast he runs into another dimension, Supergirl's! While it seems like the Flash is only gone for a second in Central City, he'll end up spending a whole day in National City. We also learned that there is some romantic chemistry between the two heroes that could only develop further if there were time.