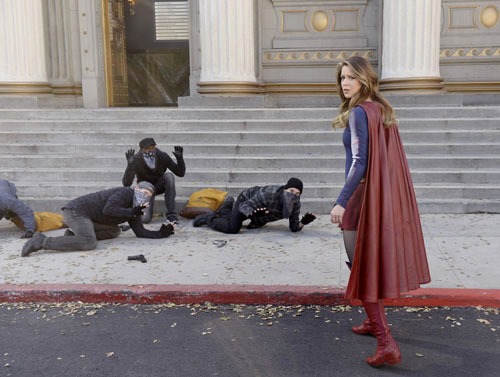 Title: Manhunter
Directed By: Chris Fisher
Air Date: March 21th 2016 8pm CBS
Story By: Derek Simon
Teleplay By: Cindy Lichtman and Rachel Shukert
Official Description: J'onn J'onzz reveals the details of meeting Kara and Alex's father, Dr. Jeremiah Danvers (Dean Cain), and assuming Hank Henshaw's identity. Also, Kara debates trusting someone new with her secret identity and Siobhan (Italia Ricci) plots against Kara, on SUPERGIRL, Monday, March 21 (8:00-9:00 PM, ET/PT) on the CBS Television Network.
Reoccurring Cast: Jenna Dewan-Tatum (Lucy Lane) | Dean Cain (Dr. Jeremiah Danvers) | Italia Ricci (Siobhan Smythe) | Briana Venskus (Agent Vasquez) | Jay Jackson (News Anchor) | Malina Weissman (Young Kara) | Jordan Mazarati (Young Alex)
Guest Stars: Eddie McClintock |(Col. James Harper) | Daniel Josev (DEO Agent #2) | Vincent Giovanni (Police Officer) | Maisie Klompus (Cat's Assistant) | Angela Martinez (Field News Reporter) | Zayne Emory (Rick Malverne) | Mackenzie Brooke Smith (Female Student #1) | Jaiden Jiron (Female Student #2)
Special Notes: Andrew Kreisberg has been quoted saying:
We bring on Project Cadmus to Supergirl in episode 17, How it's going to be personified, we're still not sure.
Col. James Harper is a guest star, who is The Guardian in DC Comics, a hero who works with Project Cadmus!