Title: Truth, Justice & The American Way
Directed By: Lexi Alexander
Air Date: February 22nd 2016 8pm CBS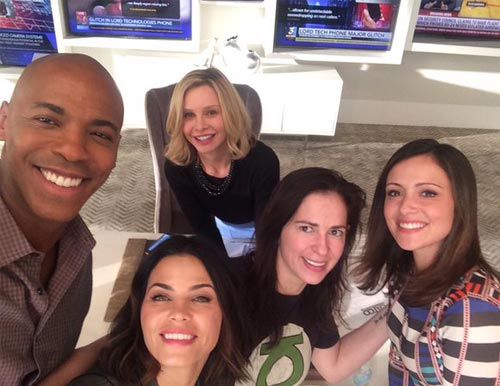 Story By: Michael Grassi
Teleplay By: Yahlin Chang and Caitlin Parrish
Official Description: Supergirl does battle with the deadly Master Jailer (Jeff Branson), who is hunting and executing escaped Fort Rozz prisoners. Also, Cat hires a second assistant, Siobhan Smythe (Italia Ricci), who immediately tries to one-up Kara, and Kara and James disagree over the DEO's methods, on SUPERGIRL, Monday, Feb. 22 (8:00-9:00 PM, ET/PT) on the CBS Television Network.
Reoccurring Cast: Peter Facinelli (Maxwell Lord) | Laura Benanti (Alura/Astra) | Chris Vance (Non) | Jenna Dewan-Tatum (Lucy Lane) | Briana Venskus (Agent Vasquez)
Guest Stars: Italia Ricci (Silver Banshee) | Jeff Branson (Master Jailer/Draper) | Todd Sherry (Professor Luzano) | Blake Berris (Gabriel Phillips) | Jacqueline Grace Lopez (Brooke) | Ray Campbell (Jim Warren)
Special Notes: Italia Ricci makes her debut as Siobhan Smythe. See her description below:
Cat Grant's latest hire at CatCo, who at first becomes a work nemesis for Kara but proves a more deadly foe for Supergirl when she becomes DC villain Silver Banshee.
Sarah Schechter spoke about Italia Ricci's role:
She has a very exciting arc, there's definitely more going on with her than we first realized. Her character is very much in Cat Grant's mold, which is incredibly challenging for Kara. Watching a young Cat Grant, as well as the actual Cat Grant, facing off against Kara is endlessly fun. It's great to see how Kara's finally gotten a handle on her work life and then to have this uber-asssistant who is incredibly ruthless come in is funny and quite terrifying. Italia was apologizing after the read-through for some of the lines she had to say because they're very, very tough.
Jeff Branson is cast as the Master Jailer from DC Comics lore, See his description below:
The Master Jailer is a genius who is able to create traps that have come close to defeating the mightiest of heroes. As an escape artist his only two peers are Batman and Mister Miracle.
Jeff Branson will recur as the forceful and unrelenting jail guard on Fort Rozz who showed no mercy. Now on Earth, he is hellbent on catching all of the Fort Rozz escapees and brutally bringing them to justice.