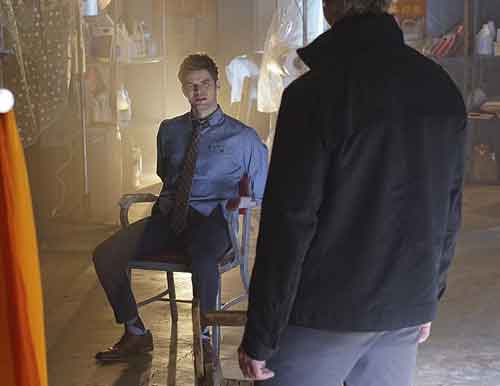 Title: Childish Things
Directed By: Jamie Babbit
Air Date: January 18th 2016 8pm CBS
Story By: Yahlin Chang
Teleplay By: Anna Musky-Goldwyn and James DeWille
Official Description: Kara does her best to support Winn when his father, the supervillain Toyman, breaks out of prison and seeks out his son for unknown reasons. Also, Cat offers Lucy a job at CatCo and Alex asks Hank to use his powers to help uncover Maxwell Lord's plans, on SUPERGIRL, Monday, Jan. 18 (8:00-9:00 PM, ET/PT) on the CBS Television Network.
Reoccurring Cast: Peter Facinelli (Maxwell Lord) | Jenna Dewan-Tatum (Lucy Lane) | Tristin Mays (Paulina)
Guest Stars: Henry Czerny (Winslow Schott Sr. aka Toyman) | Chris Jai Alex (Guard #1) | David Salsa (Guard #2) | Isaac Keys (Guard #3) | Bruno Amato (Security Guard) | Kavita Patil (Doctor) | Chester Dunholtz (Scott Alan Smith) | Emma Caufield (Agent Cameron Chase) | Hope Lauren (Comatose Woman)
Special Notes: This was a story we were excited to break for you guys. With Henry being the Toyman, we now know that Winn won't be against Kara, at least yet. Also this is the official description of Toyman:
a classic D.C. supervillain, a mad criminal genius known as Toyman – and Winn's estranged father. Toyman weaponizes toys to wreak destruction and revenge but is ultimately driven by one thing – the obsessive desire to reunite with his beloved son.
This episode also includes Emma Caufield. Looks like this will be the debut of Cameron Chase. Her Character Description is Below:
After her father's violent murder, Cameron Chase decided to dedicate her life to law enforcement. Now a stern, no holds barred FBI agent, Chase's weapons of choice are manipulation and manpower. With little sympathy, and plenty of suspicions, she pursues her targets with ruthless determination.
Greg Berlanti added:
When [Toyman] comes to town, it will somehow lead Winn into a romantic setting. It was one of those things where [Czerny] is sort of perfect casting. It's a really great moment for Winn from here going forward. There will be a little tryst for Winn coming up. He's not just pining for Kara.