Next Monday's episode of Supergirl is going to bring some major milestones to the series including our first live action look at James Olsen's Guardian! Another milestone is the return of fan favorite director, Larry Teng! Fans will remember that Larry directed many of the most vaunted episodes of season one including, "Human for a Day", "Falling" and season finale "Better Angels". Supergirl.tv spoke with Larry about what we can expect from his return and episode 6 in this exclusive interview (generally spoiler-free but we are talking about next episode so read with care):
---
Supergirl.tv: First and foremost, on October 21st you were able to announce that you'll be returning to the show as a producer starting in January, what can you tell us about this great news?
It was just really a matter of it working out between my schedule and their schedule for me to go back up to Vancouver and resume the same responsibilities I had when the show started in LA. I'm just happy that it worked out and even though it's sort of a short term deal I can go up there and help them sort of make the show in the best way possible. [I'm] just looking forward to flying up this weekend so my first day of work will be Monday and I'm looking forward to get back together with the cast. I miss those guys up there and it's nice to be up there semi-full- time. it's one of the best casts you could ever work with and I truly mean that, it's no joke or exaggeration, they're definitely one of the best groups of people you could ever make a show with so I consider myself very lucky.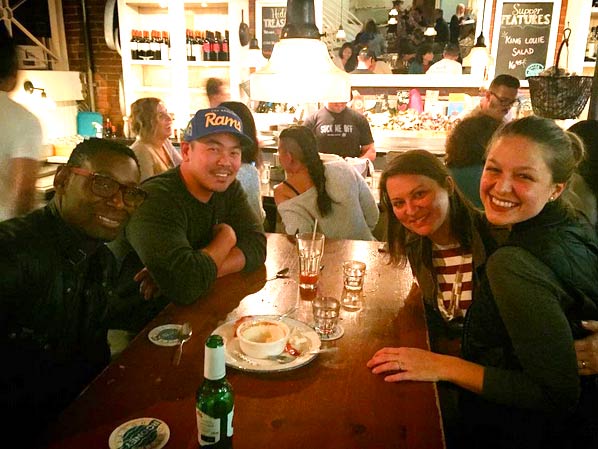 Supergirl.tv: You've been away from the show for a bit with director titles on Lethal Weapon and Training Day, how did it feel to be back and on set?
It was great, it was familiar and different all at the same time. Walking into Kara's loft or walking into CatCo and it sort of just looked virtually identical, it's just a great feeling knowing that you're north of the border. It was a trippy experience for myself and for the actors, too, it's just it's odd, it's a very, very weird feeling, and you kind of get used to it quickly, but just to know that you can actually do that, that you can literally pick up an entire set and then resurrect it in a different country, in a different place, it's pretty incredible to me. The art department did a really great job making everything look virtually identically the same. There are very small differences here and there, a lot of that has to do with either the studio space that they have up there or small modifications they made for whatever reasons, but I'd say it's about 98.5% exactly what we saw last year.
Supergirl.tv: Does it feel weird that maybe Kara's apartment now is in a different area even though it looks the same, for example you don't literally walk to the same spot anymore?
Yeah, sure that's definitely weird because in LA we had so much stage space: CatCo was on a stage by itself, the DEO occupied a few stages, Noonan's occupied a stage, the loft was a stage…we had a lot of stage space. It was a huge luxury and now everything fits under one roof so and in that sense making moves from set to set it's good it's a sort of uniquely different feeling that you need to get adjusted to.
Supergirl.tv: As we learned last episode, James is going to take a on HUGE new role on the show. How did you and Mehcad approach The Guardian?
I think there's a learning curve for the character and I think we took it from there. I can't give too much away because we're only five days out but there's a learning curve that the character has and we tried to honor that as best we could to make the transition feel real, but I can tell you that both Mehcad and I were real excited to make this character come alive.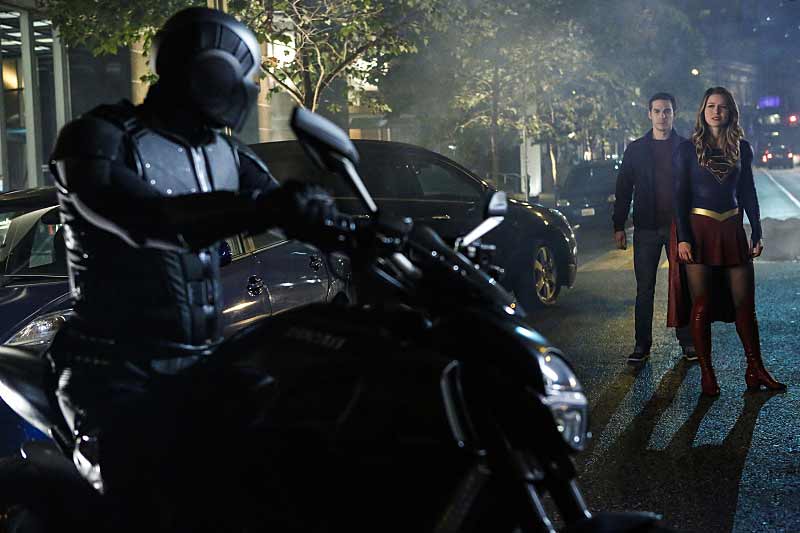 Supergirl.tv: How was seeing Mehcad in The Guardian suit for the first time?
Oh yeah, that was pretty awesome to see in all its glory in live-action.
Supergirl.tv: The Parasite is on IGN's top 100 Supervillains list ranked at #61! Supergirl has handled some tough enemies before, what can you tell us about how she'll approach this version?
Early concept sketches and concept art between myself and Andrew and Armen over at Encore Visual Effects we had to figure out how big he was going to be so all the framing basically yielded to his size. Armen feels about 10 feet tall, but really I had the easy part I just sort of shot the plates, he did all the animation, all the rendering and it looks amazing, it looks absolutely incredible. We wanted him to look like a monster and you know there's many interpretations of The Parasite in the history of the comics but we wanted our version to embody more of a monster, than anything else and the product is really awesome. It's full-on, it sort of follows Armen's work as Gorilla Grodd and King Shark, we used some of the same techniques when it came down to filming and we storyboarded all that stuff extensively to figure out exactly what we needed The Parasite to do in those scenes and I'm looking forward to it.
Supergirl.tv: Even just the snippet we saw in the trailer, it's movie level stuff on television.
Oh yeah, it's nuts, that's the great thing about making television in 2016 is that we can do that. I don't know if 8 years ago you could say "Hey, let's put Parasite on TV," so that's really exciting.
Supergirl.tv: Chyler Leigh's Alex Danvers came to the precipice of a discovery about herself last week, can fans look forward to more of Alex's journey? Are there any Maggie/Alex scenes we can expect?
Yeah, if you look at what Andrew said a few days ago, I forget which outlet it was, definitely there's more to come and I think it was handled in a really respectful and compelling way. I know Chyler and I worked really hard in terms of just working on those beats and I think it's going to be a really satisfying storyline and I think Alex Danvers fans will be by her side and will be really endeared by this whole storyline.

Supergirl.tv: Mon-El is arguably a second chance for Kara to mentor someone in Earth culture and super-heroism. Mon-El tried on Kara's life last week, what can we expect to see from Mon-El now that he is looking to make his own way?
Chris is going to be around for the rest of the year so there's plenty more to come with Mon-El and his development, I think we're all really excited about that. You can tell by the photos that he gets to go out there and do his thing so I think it'll be a worthwhile chapter in his development on Monday's episode. If you think about it there's a similarity to Kara's journey a little bit from last year in terms of him finding his place in this world, what he's meant to do, what he's not meant to do, what he knows and what he doesn't know, and I think those are some of the fun parallels that we'll get to write.
Supergirl.tv: So we have to ask, have we seen the last of Tyler Hoechlin's Superman or can fans hope to see him again this season? Can the same be said for Calista Flockhart?
I honestly, I do not have a clue. Not even joking, I just don't know. I hope we get to see both. From what I saw from the early episodes, I love seeing him, he brought a great energy to the show and I hope there's more and Calista is just one of my favorite people. Every time she's on-screen, she makes that character sing, so I could only hope for more but that's above my pay grade.
Supergirl.tv: Finally, we just have to say we've been loving the show and it being on The CW.
I might have told Frank and Tim on the podcast (Supergirl TV Talk) a few months ago that the move to the CW was going to be a good thing for the show and I really do think the show has really grown leaps and bounds and it's really fulfilling its promise of being a worthy story-tell in the CW/DC Universe so I've been really excited with everything I've seen and hopefully you guys are, too, but the world definitely seems bigger this year than it did last year and a lot of it has to do with having more financial flexibility and also the CW being so great and opening up the comic book world for us to tell.
Our sincerest thanks to Larry Teng for taking the time to talk with us and be sure you all tune in for Monday's episode! Also, if you aren't following Larry Teng on instagram, then you are missing out on gems like this:
Share your thoughts on our interview with Larry in the comments below or in the forum. Also, help us stay your one and only advertisement free Supergirl source and visit the support page. Thank you!