Supergirl has arrived. There is no better way to accept someone in an iconic roll than to see them dressed in that roll. Today Melissa Benoist completely became Supergirl! There was a massive response to the photos. Tens of thousands of tweets, thousands of Facebook messages and every entertainment outlet immediately grabbed up the photos for their own interpretation. During the onslaught, there were several key tweets and messages that appeared. It was incredibly easy to miss them so we grabbed as many as we could so we could show you how Melissa broke the internet today.
We'll start with Melissa herself. Not only was she gracious about taking the role, she dropped some comicbook knowledge on us with her "House of El" comment!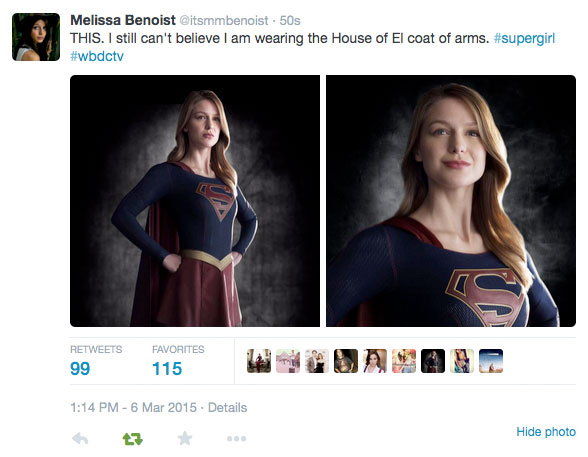 Next we have The Flash himself, Grant Gustin weighing in on the Epicness.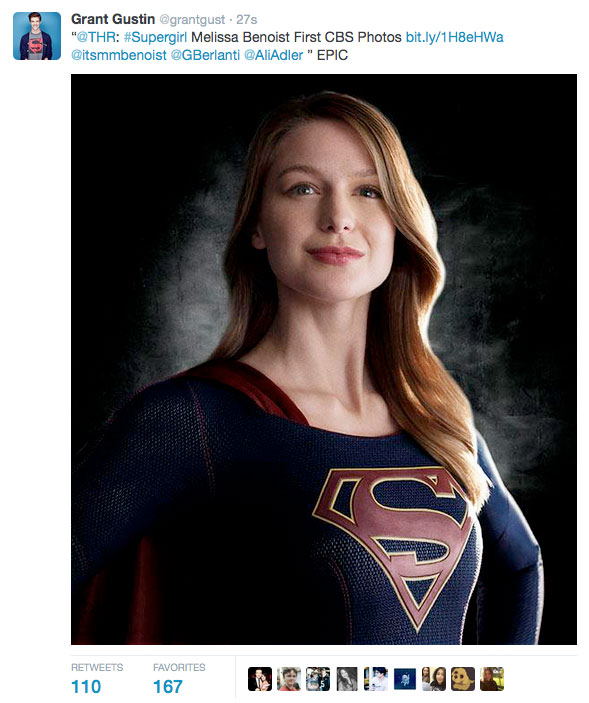 As if that wasn't enough, Mr. Gustin had to weigh in again on that \S/

Coming next, Brandon Routh, Former Superman current Atom welcomed Melissa to the DC TV universe.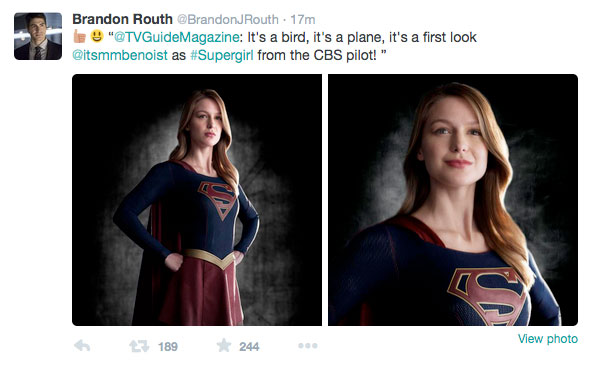 Of course fellow Supergirl castmate, playing Kara's foster sister, Chyler Leigh commented on seeing Melissa in the suit earlier in the week!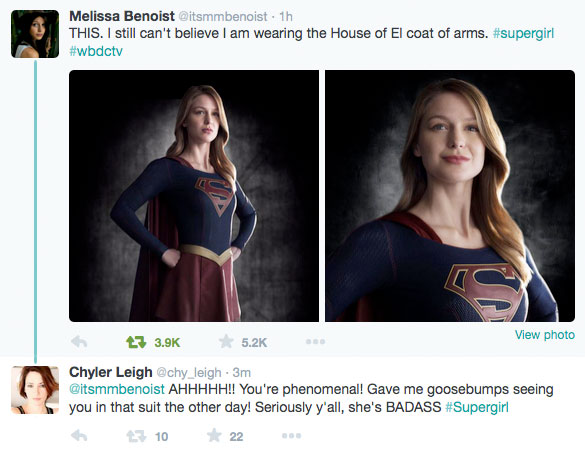 Finally we have the first Supergirl, the queen herself, Helen Slater.

Also it sounds like Helen Slater wrapped filming her parts today so she thanked the Supergirl team. Great costume comparison here.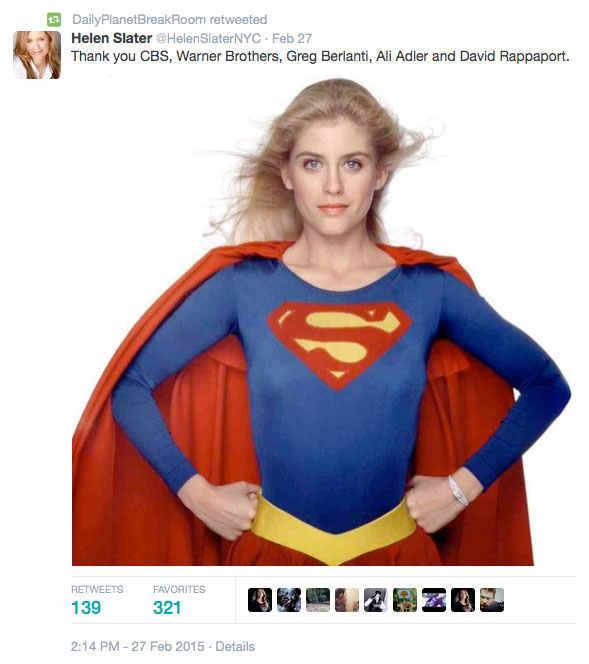 Speaking of suit comparisons, We think the new Supergirl suit is a great bridge between Helen's Supergirl Costume, and the Man of Steel Costume.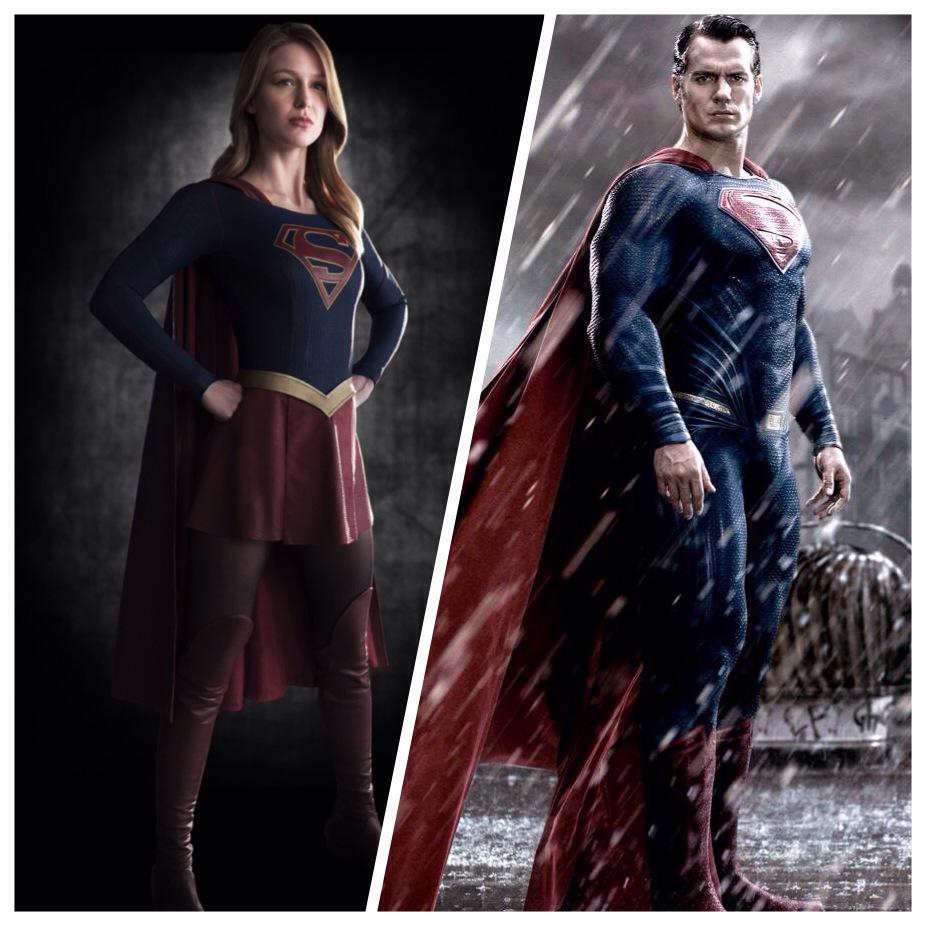 This comparison and Supergirl's new suit was Superman approved!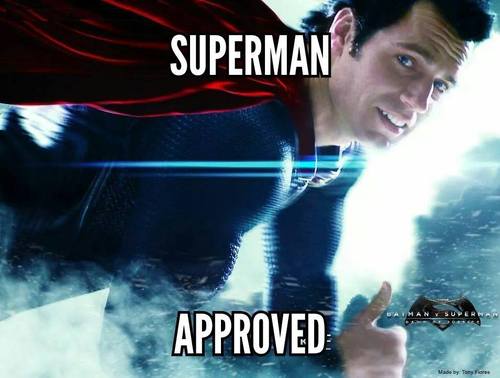 So put all that together with the thousands of other tweets, its no surprise Melissa broke the internet today.
Well we've heard some great comments from you about the suit but if you didn't get a chance to see all of these messages, we'd love your thoughts, comments below!