Now that you've seen the first episode of Supergirl, we can talk about the giant elephant in the room. No, not where is Superman, we are talking about Supergirl's aunt, her mom's twin sister Astra! DANG we didn't see that coming! Entertainment Weekly talked with Executive Producer Andrew Kreisberg about what we can expect to see in the future, here are the highlights:
Regarding Kara's Aunt:
Her name is Astra. She's a character that we've created for the show, who doesn't come from the comics. On all the other shows, whenever the big bad has been personally tied to the hero, it's always been that much more evocative — certainly you look at Slade Wilson (Manu Bennett) and Malcolm Merlyn (John Barrowman), and, in a lot of ways, Harrison Wells (Tom Cavanagh). We thought it was really exciting that the villain be part of Kara's family that Kara thought was dead. But beyond that, she's her mother's twin sister. Even though it's not her mother, the big bad of the year wears her mother's face. That's certainly going to create emotional issues for Kara when she's placed in situations where, perhaps to save Earth, she's going to have to end her aunt's life.
What can you tell us about Astra's motivations? Is it just to make Kara pay for her mother Alura being their judge?
It's actually a lot more complex than that. One of the most interesting things about our show is that everyone is doing what they're doing for the same reasons, they're just going about it in the wrong way. Very soon, when Astra and Kara finally confront each other, Astra says, "I'm here to save the Earth," and she'll say, "I watched one planet die, and I'm not going to do that again." It's always great when the hero and the villain are two sides of the same coin. Astra's version of saving the Earth is quite different from Kara's.
What can you tell us about Maxwell Lord (Peter Facinelli)?
You're not quite sure where he stands. That's what's so interesting about him. Like I alluded to earlier, if you ask Kara and Astra what their goals are, they'd say they're here to save the world. Ironically, that's what Max would say, too. All the people on the show are all trying to save the world; they're just going about it in very different ways. Max is one of those great characters, a little bit of that Tom Cavanagh on The Flash, where one minute he's helping you, and the next minute he's decidedly not helping you. How that plays out and what his true agenda is is part of the fun and the mystery of the show.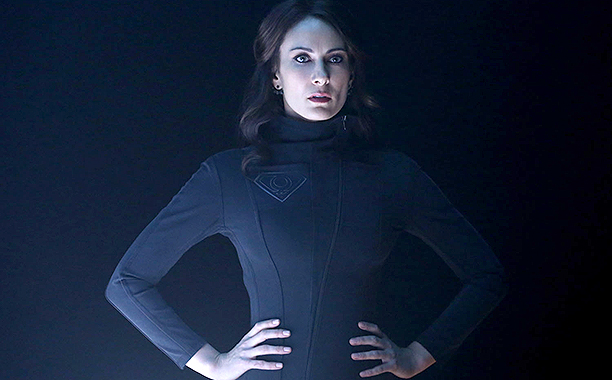 What did you think of the pilot? What about that HUGE Twist at the end? Share your thoughts with us below! Also the forum. As for our live online chat, well we broke our server. Sorry about that. We already have folks upgrading it for the future