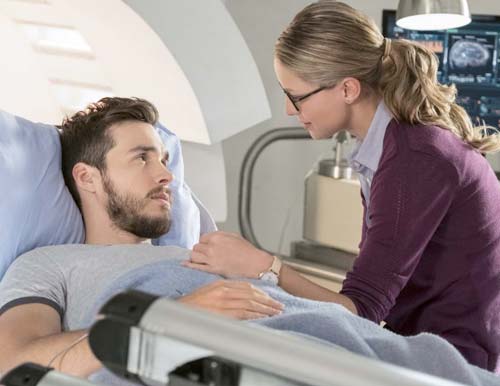 Title: Wake Up

Directed By: Chad Lowe

Air Date: November 20th, 2017 8pm The CW

Written By: Gabriel Llanas & Anna Musky-Goldwyn

Official Description: When Winn and the team discover an alien ship has crash landed deep underwater beneath National City, Kara/Supergirl is called in to investigate. Meanwhile, Hank attempts to bond with his father, M'yrnn. Samantha, eager for some understanding of the changes she has been experiencing, looks to her estranged mother, Patricia Arias, for answers.
Reoccurring Cast:

Guest Stars: Saturn Girl (Amy Jackson) | Patricia Arias (Betty Buckley) | M'yrnn (guest star Carl Lumbly)

Special Notes: Rumors are going about that Mon-El will return this episode but things will be different. Betty Buckley will make her first appearance on the show as well as Samantha's adoptive mother. Her character is described as:

Patricia [Arias] is Samantha Arias' (Odette Annable's) adoptive mother. Patricia is honest, but stubborn. She and Samantha have been estranged for many years, the result of Samantha getting pregnant as a teenager. Their troubled relationship is made all the more complex by the secrets Patricia holds.