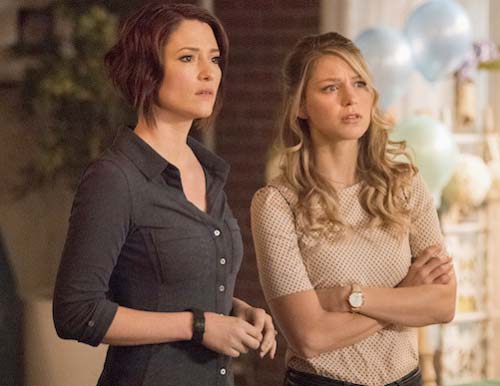 Title: Far From The Tree

Directed By: Dermott Downs

Air Date: October 23rd, 2017 8pm The CW

Written By: Jessica Queller & Derek Simon

Official Description: CARLOS BERNARD ("24") GUEST STARS; HELEN SLATER RETURNS — Eliza throws Alex and Maggie a wedding shower, which causes Maggie to reach out to her estranged father. Supergirl joins J'onn on a personal mission.
Reoccurring Cast: Maggie Sawyer (Floriana Lima)

Guest Stars: Oscar Rodas (Carlos Bernard) | M'yrnn J'onzz (Carl Lumbly) | Da'rack (Unknown) | M'Gann M'orzz (Sharon Leal*) | Eliza Danvers (Helen Slater)
Special Notes: It's a Martian episode! Actually there is a lot in this one. Maggie Sawyer and Alex Danvers are thrown a wedding shower at Kara's apartment. The newly engaged couple, however, certainly have their difficulties with their fathers and wouldn't you know it, Maggie's father, a fellow cop named Oscar Rodas played by (Carlos Bernard) shows up. Meanwhile another father shows up in the mix, J'onn J'onzz's father, M'yrnn played by (Carl Lumbly). A mysterious White Martian is also in the mix named Da'rack who is inspired by M'Gann's resistance movement on on Mars. *M'Gann is rumored to appear this episode.