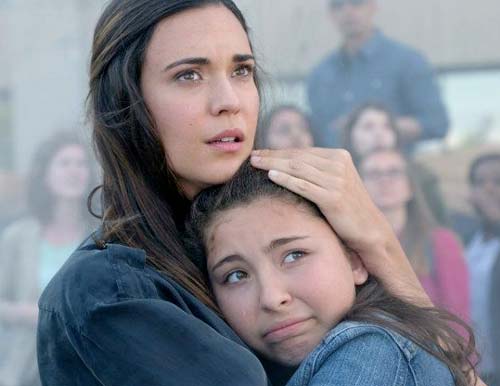 Title: Girl of Steel

Directed By: Jesse Warn

Air Date: October 9th, 2017 8pm The CW

Story By: Andrew Kriesberg

Teleplay By: Robert Rovner & Caitlin Parrish
Official Description: "Dream a little dream of you" Kara deals with the loss of Mon-El by focusing all her energy on being Supergirl and the mysterious new threat against National City. Alex confesses a secret to Maggie about their impending nuptials. A citizen of National City has a mysterious connection to Kara, and Lena makes a bold move.
Reoccurring Cast: Morgan Edge (Adrian Pasdar) | Ruby Arias (Emma Tremblay) | Maggie Sawyer (Floriana Lima)

Guest Stars: Cat Grant (Calista Flockhart)
Special Notes: National City celebrates Supergirl's defeat of the Daxamite invasion! However during a reveal of a Supergirl statue presented by Lena Luthor herself, a disastrous missile attack occurs orchestrated by Morgan Edge and carried out by Robert Dubios aka Bloodsport! Reign aka Samantha March will be in attendance with her daughter Ruby during the attack. With Supergirl otherwise engaged in saving the day Samantha will have no choice but to expose her powers to save her daughter from the falling statue. Lena will call out Morgan on the attack but won't be able to prove it which will give Lena "all of Morgan's attention". Supergirl, continued to be troubled by the loss of Mon-El debates what it is to be human and dives deeper into her Kryptonian personality Supergirl, all but abandoning Kara Danvers. Finally, a shake up at Catco will force leadership roles to possibly change and despite Cat's return last season, James will remain in the drivers seat at Cat Co.