While we weren't personally able to make it to C2E2 this year, Supergirl.tv was well represented at the convention! We want to take a moment to thank Kev-El, one of our users (we're sure you've all seen him around the site), for taking the time to get this amazing photo done for us. With that said, we'll let Kev-El take it away:
I love it when a plan comes together. When I first learned of C2E2 with Melissa and Chyler's appearances, I was very tempted to take advantage of this opportunity as Chicago is close to my Central Ohio home. I threw together a quick 24 hour trip - that was the longest time I could afford away from my 2 jobs and family obligations. This was a Friday evening after work flight for my niece and myself with a return Saturday night. It was expensive but a Supergirl fan needs to have a little fun!
C2E2 is an absolute comic book overload with dozens of writers and producers on hand, booth after booth of cool wallet draining souvenirs, trinkets, shirts, artwork, toys, etc. By 2pm the crowd was shoulder to shoulder in every aisle and everywhere you turned was hundreds of Cosplay costumes. As someone with experience organizing shows, I was impressed with the social media communication and every location in the show always had a friendly knowledgeable staff worker to answer questions. Thursday I was thrilled to discover on their website that I could reserve, pay, and print a ticket for photo-ops with Melissa and Chyler.
My gift to my fellow fans on Supergirl.TV! I hope you all enjoy this photo of Melissa and Chyler acknowledging this site. Special thinks to Admin for emailing me the logo. Both ladies are aware of this site and their reaction to seeing this mini-poster was "Yes, we will take this picture!"
Click to Enlarge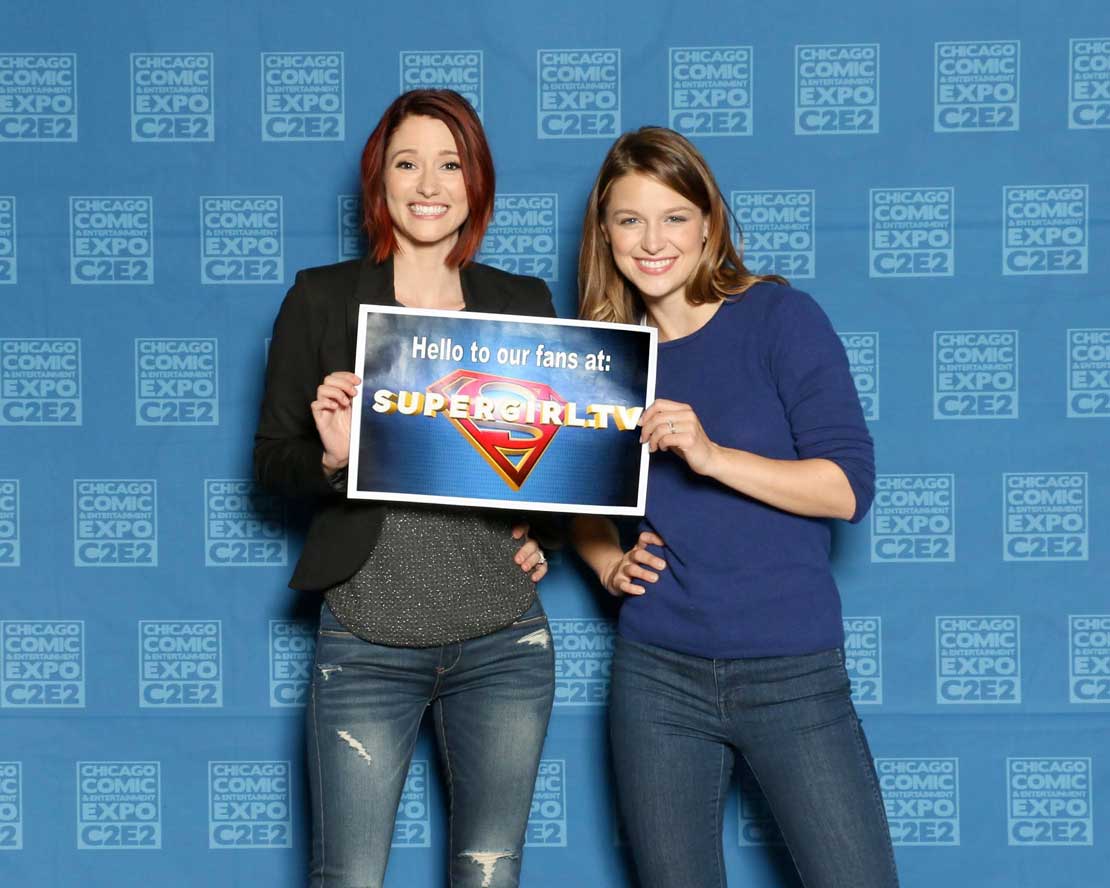 My gifts to Melissa and Chyler. I gave both actresses copies of Action Comics #334 (1966) and Action Comics #360 (1968) - both issues were 25 cent 80 page compilations (re-prints) of early Supergirl stories. I get the sense from her interviews that Melissa has not seen all of the early Silver Age Supergirl lore - now we know she has her own personal copy. The comic Melissa is holding (now hers) was bought new by me 48 years ago. On the left is my niece Sindy and never mind the guy on the right.
Click to Enlarge
Melissa is so genuine and impressed with any thoughtful or sentimental gesture. We took the picture with the comics and she was so surprised when I told her they were for her. She was equally pleased to participate in my other photo ops - one holding a picture of my youngest nieces and yet another acknowledging a co-workers daughter - all big fans of Supergirl.
I had a blast seeing our 2 sisterly stars and the C2E2 panel with them was pure fun. Fans of all ages were lined up to ask questions.
As usual can't wait for Monday, and can't wait for the youngest niece to see the pics!
KEV-EL
Thanks again to Kev-El, loved seeing this photo! Our hearts swelled with pride! Comments are below, forum is a go, and support page is a glow!