Alex Danvers: I hardly call what he does uncooperative.
He has a presence! He is mentioned, photographed, and referred to several times. Who is he? That's what we want you to tell us! Superman has all but a physical body in this new Supergirl show. Whether you believe Supergirl doesn't need Superman in her life, or that you can't have Supergirl triumph and escape from his shadow without having him around, the mythos of Supergirl and Superman are intertwined. Who knows, the show may be able to go 10 years without ever having to show Superman, but in the case that they do, we ask, who do you want to play Superman if he appears in CBS' new Supergirl show?
We've taken your suggestions, put together a bracket based on acting ability, looks, and availability and came up with the bracket below! Special consideration was given to those that have worn the tights and cape (or played the part of Kal-El). Obviously, the one that currently wears the cape is the in the top position! Also note, it is our goal to maintain the possibility of a shared universe with Arrow and The Flash so Brandon Routh was eliminated from the bracket as he is The Atom.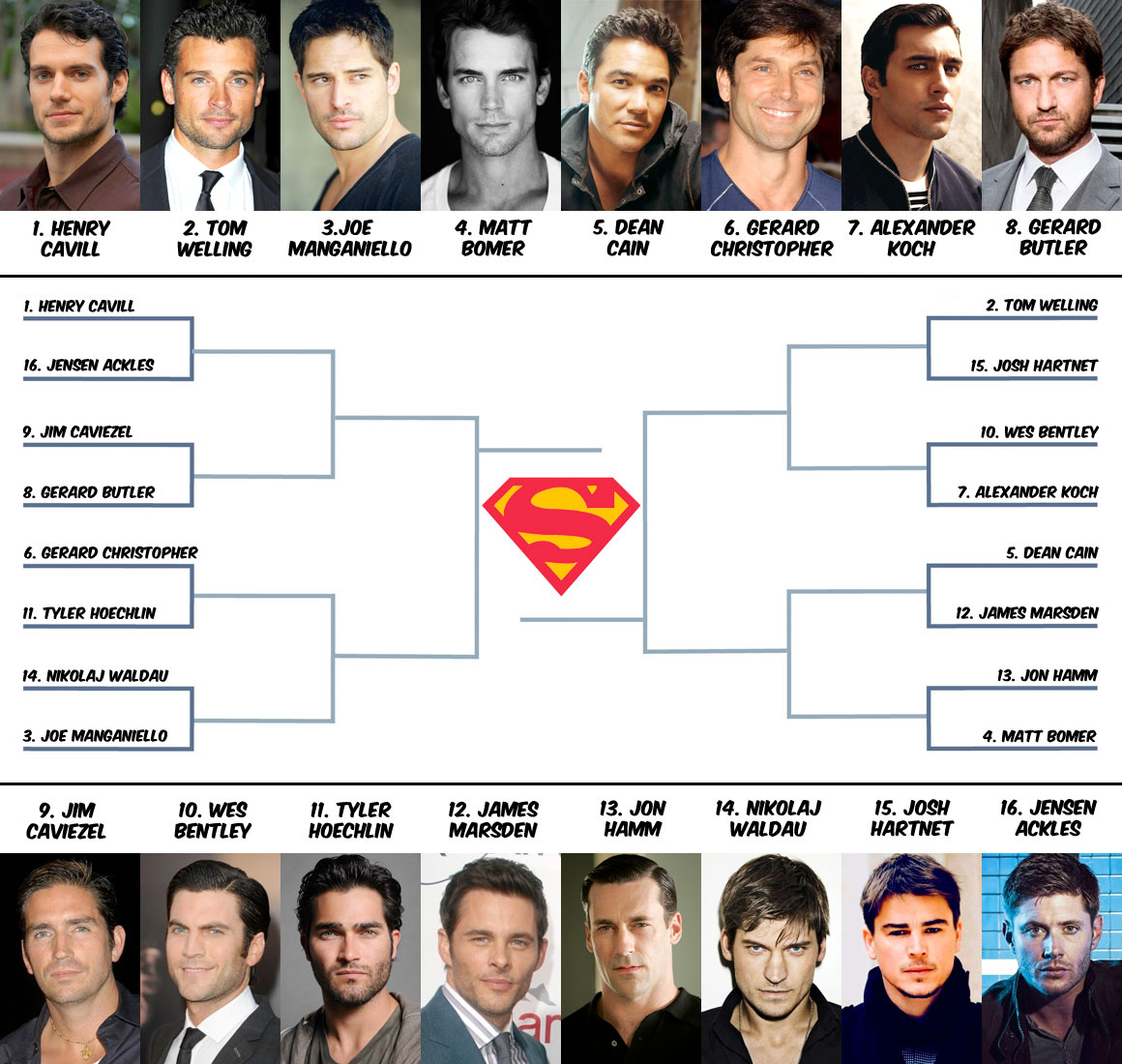 So below is your opportunity to vote, but we urge you to read our thoughts fully before voting. We are treating this as seriously as possible (but it is just for fun). So that said, there are some things to consider when you vote.
You have quite a power here fans. Consider all the angles when you vote. For example, sure, you could vote to have Henry Cavill appear and take up the role, however, this would scramble the Arrow, Flash universe. Flash both exists in the movie universe and the tv show universe, so that might erase all the good work Grant Gustin did. On the other hand, the clear favorite, Tom Welling, has been unwavering in his convictions to never wear the tights and cape. Even if we, as fans, want to have him play the role, would he even accept? Finally we have actors like Joe Manganiello who would LOVE to take on the role and have the physical presence to back it up. So consider carefully who you would want to play Kal-El and appear on screen with Melissa Benoist.
Voting closed. Thank you for participating.