Entertainment Weekly is having a MASSIVE battle between 64 shows to see which show they should put on their Fall TV Preview cover. The official contest has begun already and is described as:
The competition launches June 6 at 12 p.m. ET, and you'll have the chance to make your voice heard when it ends August 1 at the same time. Come back each round at 12 p.m. ET to vote for your next Entertainment Weekly cover star — and enlist your fellow fans to boost your show's chances with the hashtag #EWCoverBattle.
Round 1: 7/6 • Round 2: 7/11 • Round 3: 7/15 • Round 4: 7/19 • Semi-Finals: 7/23 • Finals: 7/27
We don't normally do too many of these fan rally competitions because they tend to promote the contest holder rather than the show, but we are all in on this one. Winning the cover of the Fall Preview issue would cement Supergirl as the premiere superhero show with the best fans anywhere. On top of that the contest covers over 64 TV shows, winning this contest would put Supergirl over titan shows like Walking Dead and Scorpion.
Lets all get in on this and get our Girl of Steel on the cover! Go here and vote!
CURRENT MATCHUP: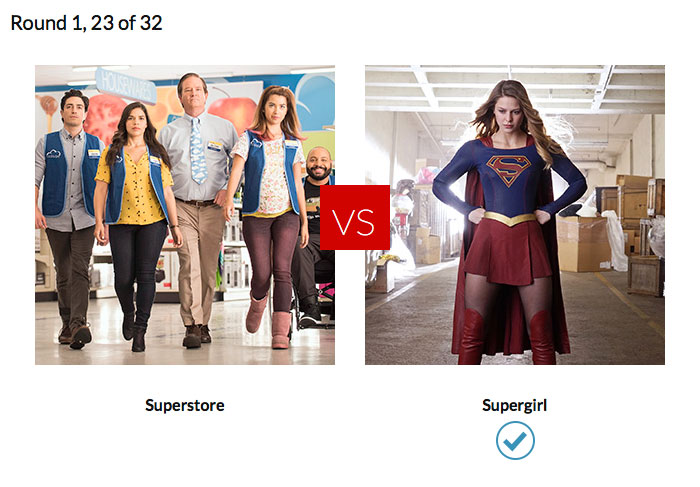 Let us know if you voted and what other shows you might be voting for in the bracket system. Personally we are voting for the weaker shows to lessen Supergirl's competition in the later rounds. Devious of us? meh, we love our Girl of Steel. Comments are open below and the forum is a go! Also, help us keep Supergirl advertisement free and visit our support page. Thanks!